By looking closely at your guide metrics, you'll be able to evaluate your promotional strategy, your guide layout, and whether people continued to use your guide after they downloaded it. You can view your guide metrics at any time by heading to your guide dashboard.
If you are looking for additional tools to measure User engagement and/or track specific User activities in your guide, click here to learn about Audience Insights.
By default, metrics will only show information from the past two weeks. You should adjust the date range (in the upper right corner of the page) to include the entire time that your guide was published and accessible to users.
User Adoption
User adoption is the measure of the number of users who have downloaded and accessed your guide, out of your total audience size. Your user adoption rate is heavily influenced by your promotion strategy, and by how easy you've made it for people to access your guide.
Aim high: for most events, a 70% adoption rate is a good starting goal, and a 100% adoption rate is feasible.
By looking at your adoption rate as the start of your event nears, you can see if your current promotion strategy is effective, and make adjustments if necessary. In general, you want people to download your guide at least two weeks before your event.
For an interesting deep dive on how you can improve your guide download numbers, using real-world examples, check out this article.
What metrics measure user adoption?
Guide Downloads

Guide promotion started Dec 30, the event started on Jan 15
Guide downloads will show you the total number of downloads over your selected date range. By clicking on this section, you'll be able to bring up a graph showing the number of downloads per day. You can use this graph to see if your promotional efforts are working; you should see an immediate spike in downloads after people learn about your guide. If you send out an email announcing your guide, yet downloads remain flat, perhaps the instructions weren't clear.
Guide Downloads by Acquisition Method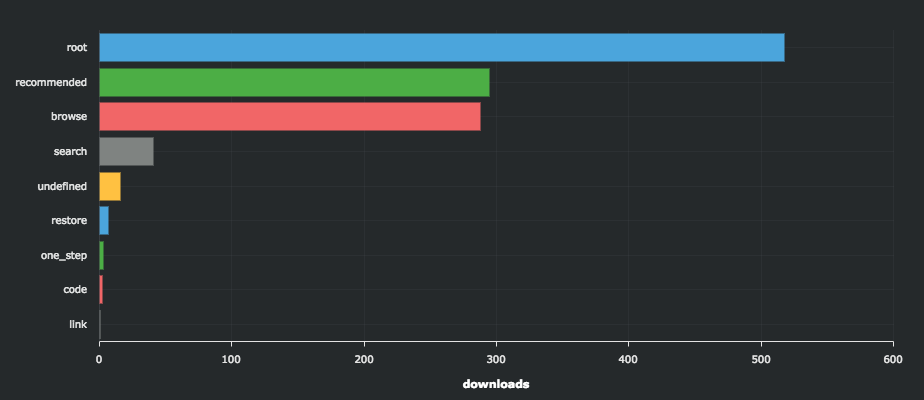 Most people found this public guide on the homepage of a Branded app

Guide downloads by acquisition method tells you how people discovered your guide for download. If you use different methods for different promotional efforts, you'll be able to see how effective they were. Perhaps you created a promo poster with a QR code, and stationed it at the entrance to your event. If all of your downloads came from the landing page link included on your email campaign two weeks prior, you'll know that the poster was unnecessary.
For explanations of the different download statistics, see Part 1's Guide Insights section here.
Guide Downloads by Location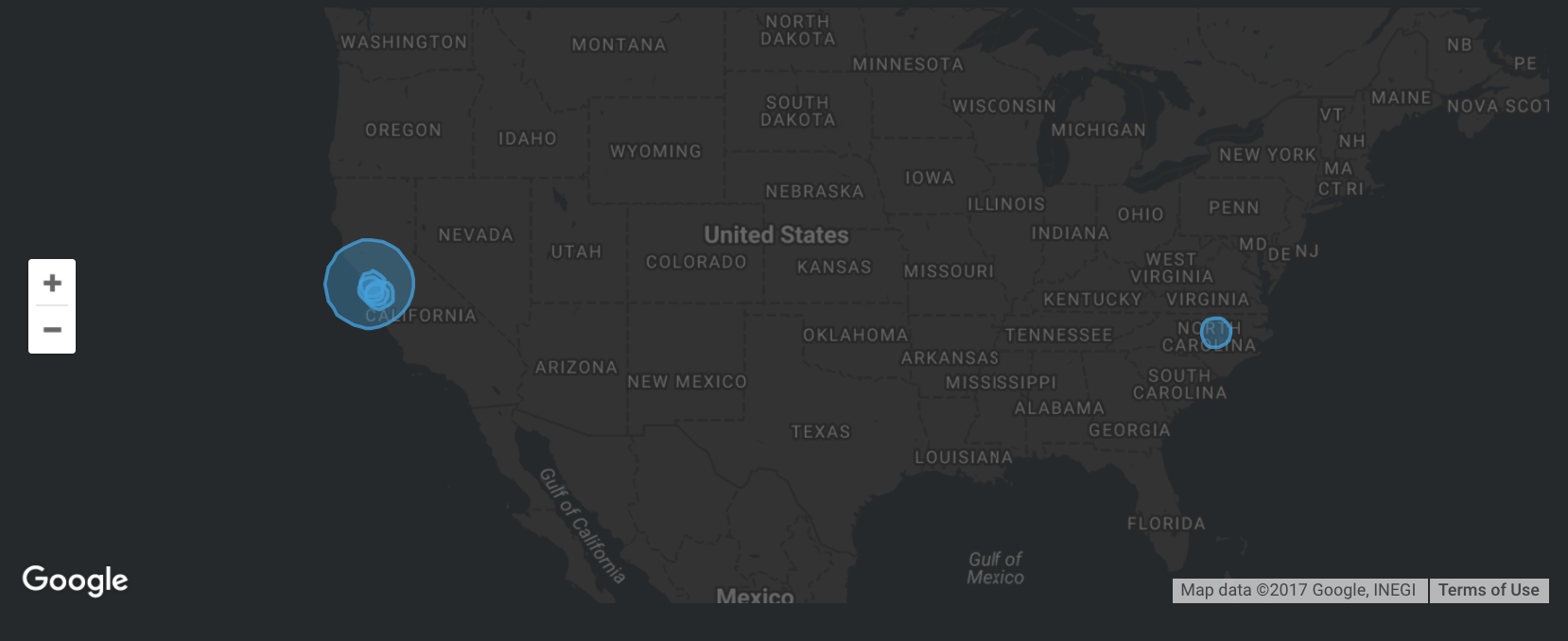 It's important that people learn about your guide before they show up for your event. People should be excited to attend, and downloading a well-crafted guide a few weeks out helps to build a sense of anticipation. A large portion of schedule building occurs within the first hour after a guide is downloaded, regardless of whether the download occurs the day an event starts or six days prior. Giving people the chance to access your guide early means they will be more likely to spend time in it later.
If you look at your downloads by location and see that the majority of downloads occur in the same place as your event, that may mean that people only downloaded your guide after they had already arrived!
How can I improve my user adoption?
The biggest differentiating factor between a low adoption rate and a high adoption rate is your promotional strategy.
Begin promoting your guide at least four weeks before your event starts.
Ensure that it's easy for people to download your guide by including a link to your landing page.
Make your guide the go-to source of information for the event. If your schedule or speakers change, make sure you update your guide.
For more tips and tricks, read our article on guide promotion, or our whitepaper on best practices.
User Engagement
User engagement is a measure of how much time users spend in your guide, and how many actions they take. By looking at the time spent in your guide, you'll be able to determine whether people found the guide information to be useful. A high adoption rate is meaningless without a correspondingly good user engagement rate. If all of your attendees download your guide, but only open it once, was all the time and effort you spent building out the guide worthwhile?
What metrics measure user engagement?
Guide Sessions

The Guide Sessions metric measures how many times your guide is launched. A higher number of guide sessions indicates that users returned over and over again. This in turn, indicates that people found your guide useful. This gives you a good sense of overall usage.
Unique Guide Users

Unique Guide Users will show you a graph of how many unique devices accessed your guide on each day of your selected date range. The top-level number for this section will display the greatest number of unique users from a single day period.
Guide Sessions Per User

Guide Sessions Per User shows the average number of sessions per unique user. While the total number of guide sessions will give you a great sense of overall usage, Guide Sessions Per User tells you more about how frequently one individual might use your guide. Look for this number to spike when downloads begin, and then again when your event starts.
How can I improve my user engagement?
Aside from having a great guide, there are a few awesome Guidebook features which you can utilize to drive user engagement: