Guide Metrics provide keen insights into how your guide was used by your attendees. These are accessible to users from all plan levels at anytime from Guidebook Builder (our content management system), and provide accurate and detailed data regarding your users' experience.
Watch this video for a quick overview of Metrics:
To view your guide's metrics, find your guide from the Dashboard view, and then click on the "Metrics" section from your Guide's Desktop.
Metrics is divided into four areas:
I. Trends
II. Insights
III. Exporting Metric Data
IV. Organization Metrics 
---
This section contain "widgets" with insightful numbers about your guide's use. Be sure to update the date range for the Metrics you want to review, as the page will default to last 14 days from the current date. To adjust the date range for your data, use the date picker to the top right hand side of the Metrics page. To maximize any of the widgets of data, you can tap on them and their details will display on the top panel of your Metrics section.
Below is a GIF that demonstrates how to change the time frame for data you are viewing and how to magnify the smaller widgets. When evaluating your metrics, please be patient, as data may take a few moments to load.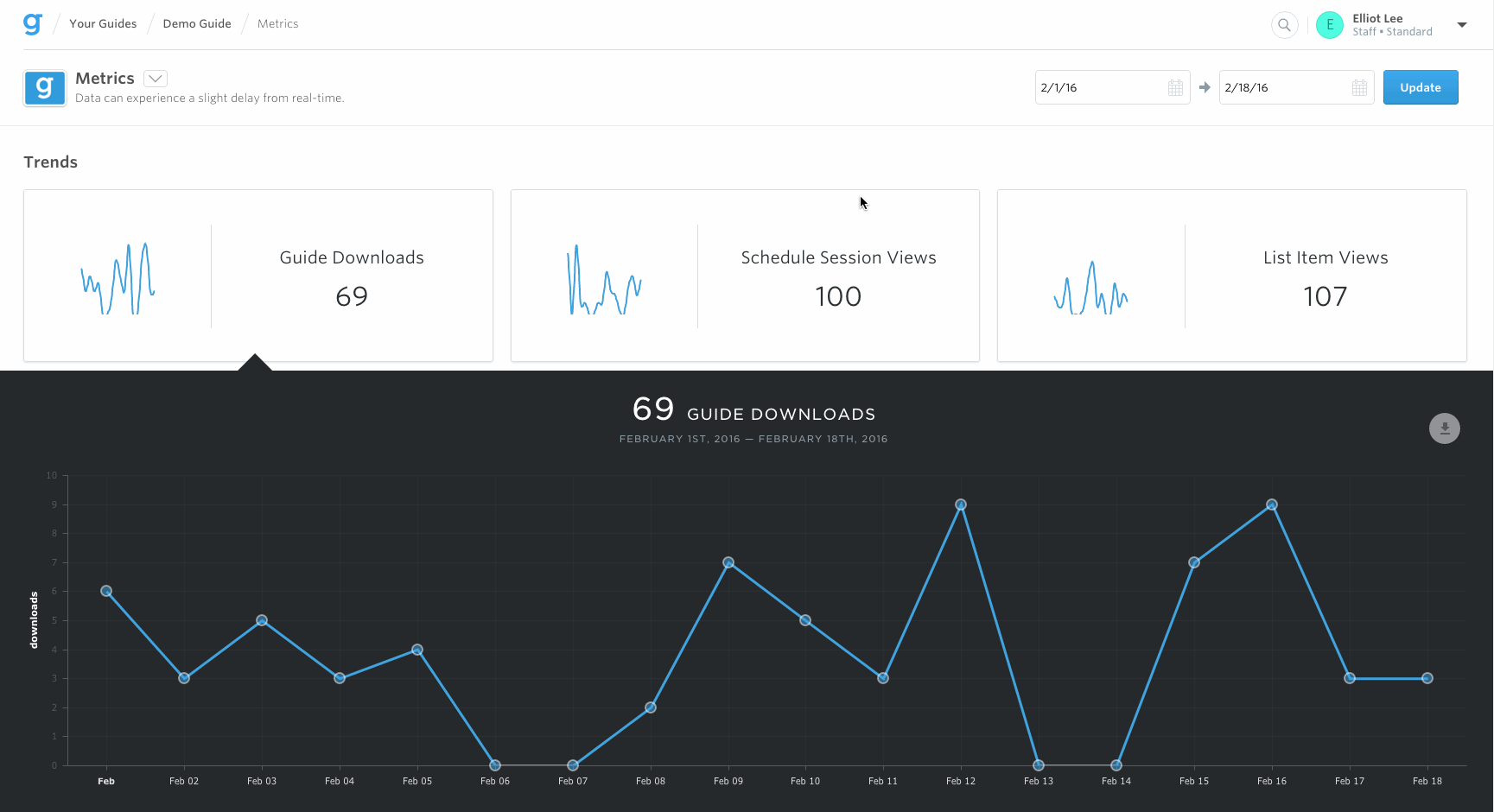 Awesome! Now that you know how to display the correct data set, let's explore some key terms you will need to know when reading the numbers on each widget.
Note: Please keep in mind that each of the following numbers will be specific for the time frame you determined above, and the data always reflects aggregates across unique devices.
A. Guide Downloads: Total number of times your guide was downloaded onto a unique device.
Tip: This is especially valuable when you want to check the effectiveness of your app promotional strategy. Spikes in download rates can usually clue you in on whether a particular social media or email campaign had its desired effect.
B. Schedule Session Views: Total number of times events on your schedule were viewed in your guide.
C. List Item Views: Total number of custom list items viewed in your guide.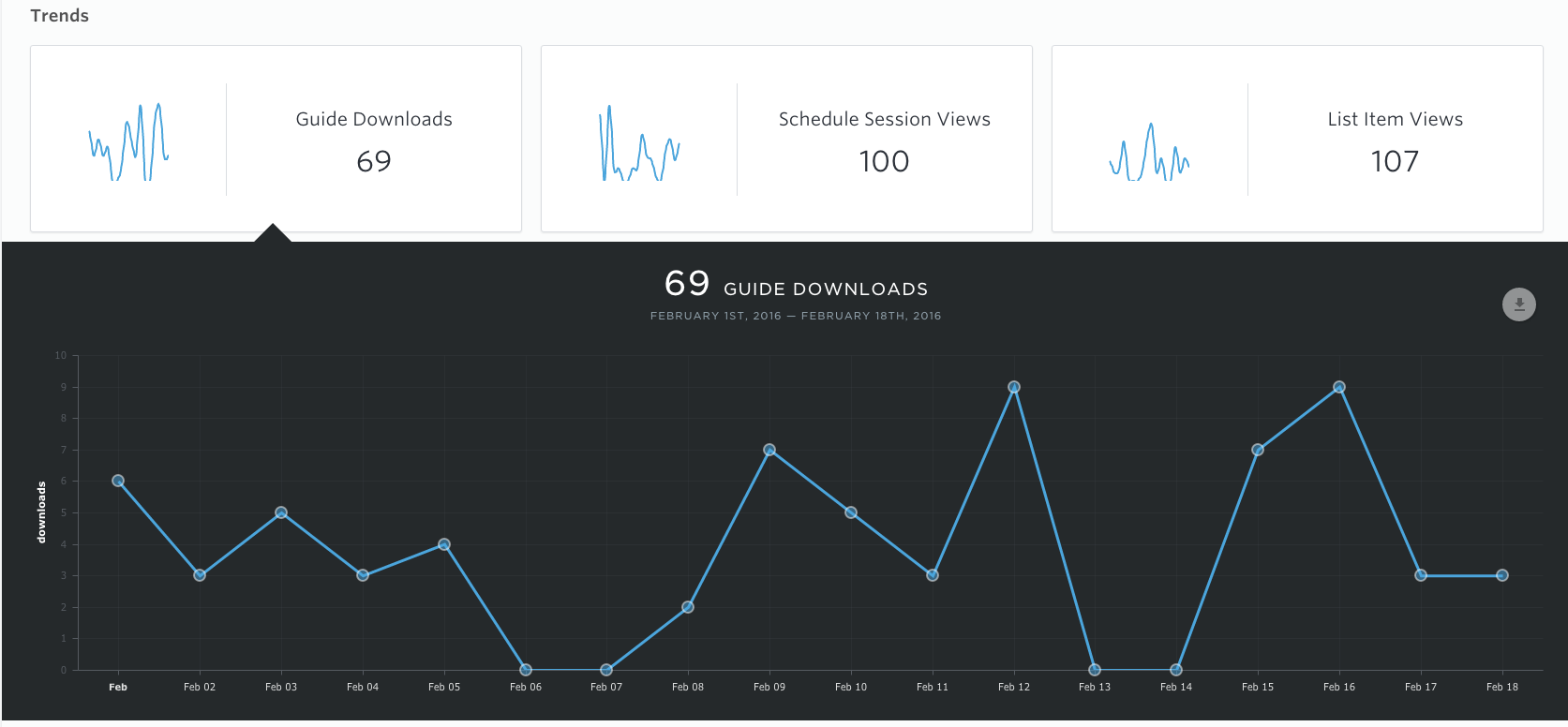 D. Menu Items Launched: This counts the aggregate amount of times menu items (icons from your home page) were triggered by your guide's users.
Tip: Taken together, schedule session views, list item views, and menu items launched can show you just how much guide activity you are receiving. If you are uploading interesting, useful content, these numbers should be much higher than your download rates.
*E. Guide Sessions: Each "session" is counted as a separate visit to your guide. The number displayed here is the total number of times your guide was visited by end users. You can think of a visit as a user "opening up the guide" on their device.
Tip: Guide Sessions will let you know how "sticky" your guide is as a tool to your event. This is the best way to answer the question of: "After downloading my guide, are people actually using it?" A high number of guide sessions will indicate that people are constantly revisiting your app, and therefore are using it to reference information, plan their agenda, and so on.
*F. Avg. Session Duration: The average duration for each session (visit to your guide) in seconds.
G. Web Session: The amount of times your guide was visited via web browser.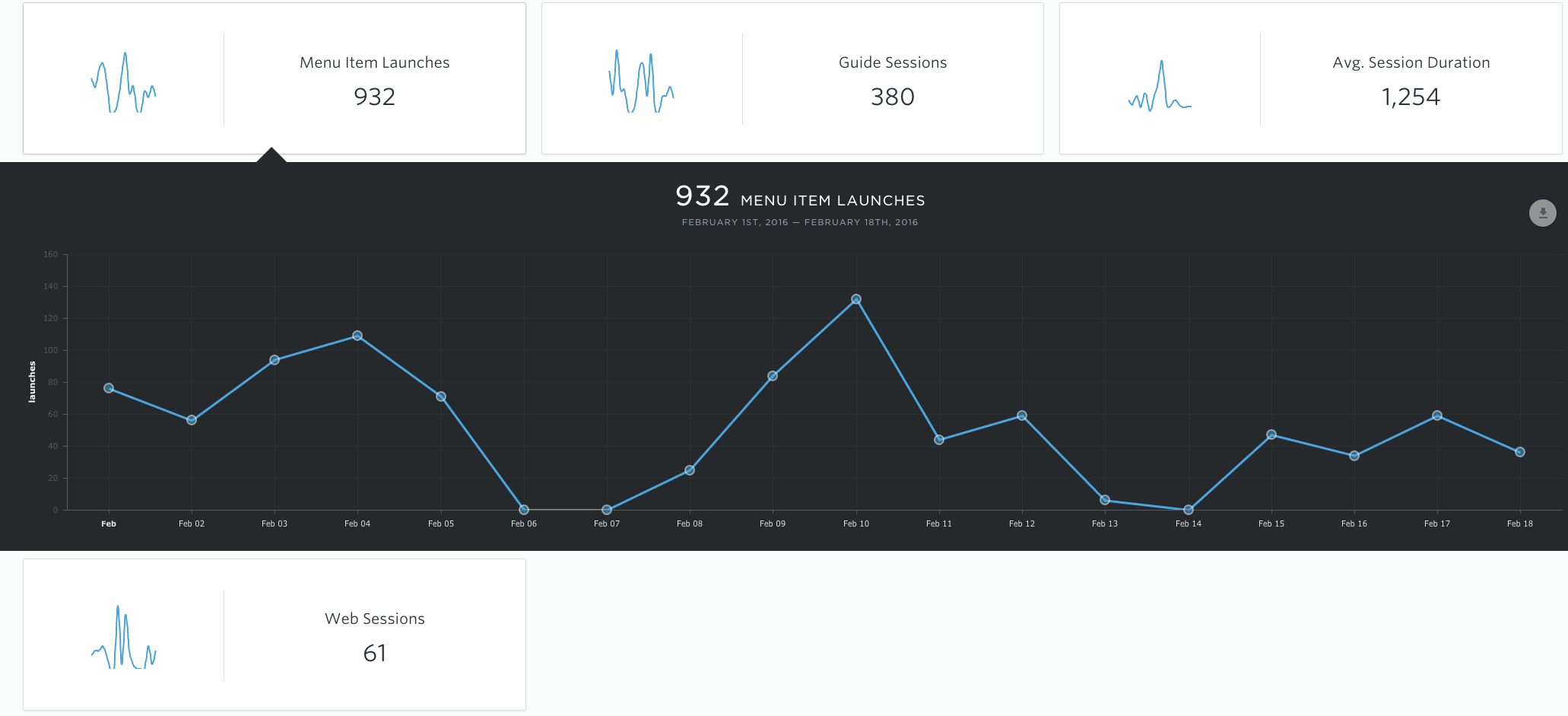 *These sections only includes data for guide experiences on Android and iOS mobile devices. They do not track user data from the web version of your guide.
---
This area is designed to create dynamic reports on four questions in particular:
What were the most popular points of interest among your guide's end users?
How were people able to find and download your guide?
Which operating system reigned supreme on mobile devices?
How many downloads did your guide receive? 
We recommend using Engagement Insights in conjunction with the numbers from the "Metrics at a Glance" section to see which content truly drove engagement. Below, you'll find details on each Engagement Insight section:  
1. Sponsor Data:
- Impressions: Total amount of times a sponsor banner is displayed to end users. Both aggregate and individual sponsor impressions are displayed. 

- Taps: Total amount of times users have tapped on sponsor banners. Both aggregate and individual sponsor taps are displayed.

Tip: Use the insights from this section to improve your sponsorship ROI. If you launch the app early enough and find that not many people are tapping on the sponsorship banners, you may wish to consider changing the uploaded banner. You can also encourage people to tap on the sponsors for more information either at the event or via push notifications - this is especially effective if the sponsor information has a compelling incentive (ex. "Visit Booth 41 for a chance to win a bottle of champagne!")
2. Top Content:
- Events (Schedule Sessions) 
- Custom List Items
- Menu Items
- Scheduled Events  (Events/sessions that users placed on their "My Schedule" module.)
- Added to to-do list (Custom List items that users placed on their "To-Do" list.)
As shown below, these bar graphs display the total visit data broken down by type. The tables also show the breakdown of how many times each event or item was viewed.

Tip: Taken together, these insights provide you with powerful quantitative metrics that indicate what was popular at your event, and how you can iterate both your event and the app for next time. 

Top Events, paired with Scheduled Events, can reveal which streams and topics of interest resonated best with your audience, and which Keynote speakers were the biggest draw.

Top Custom List Items show you which particular pieces of information were sought out by most people - at a glance you can find which speakers, sponsors, or even FAQ items were being accessed the most. Added to To-do list is often the best indicator for most popular exhibitors or any pre-populated To-do's you have provided people.
Menu Items reveal whether your guide layout was effective. Which features did people derive the most value from? Did you arrange it so that the most important information was easily accessible in your guide? At an event with a big tradeshow, for example, an interactive map and list of exhibitors are likely to be the most-frequented menu items. At a conference, the agenda, speakers, and general information are likely to draw the most attention. You can also see at a glance whether or not people were taking advantage of networking via the app (through the Attendees and Direct Messaging modules).
 3. Guide Downloads:
Using the three Guide Download sections, you will be able to view a breakdown of where your guide has been downloaded — both by geographic location and by device OS. In addition you can also see by which method users discovered your guide!
Guide Downloads By Location will show a list of geographic locations where users have downloaded your guide. There are some limitations to this:
Users who have disabled location services will not be represented.
Location reported using the location of the device IP address, not a precise GPS location. This may be less accurate.
Locations will not be reported unless there is more than one download in that area.
Guide Downloads By OS will show the ratio of downloads from iOS devices or Android devices — pretty straightforward!
Guide Downloads By Acquisition Method is perhaps the least transparent of the download metrics, but you may see any of these values in this area:
Code: reported when a user enters your passphrase into the "Enter passphrase" box to download your guide
Search: reported when a user searches for your guide by name
Scan: reported when a user scans a QR code to discover your guide
Recommended: in the Guidebook app, a user will have discovered your guide in our "Guides For You" recommendation area
Root: you'll see this when someone finds your guide directly from the homepage of the guidebook app, or your own Branded app
Browse: a user will have discovered your guide by browsing a category (such as Trade Shows & Events)
One_step: If your guide lives on the Guidebook app, you can link to your landing page (found in the Promote section). From your landing page, your users will be able to download and install the Guidebook app. Then after the app is launched, they'll even be prompted to download your guide!
Bundled: If you have a single-guide Branded app, your guide comes with the app! Downloads will count here
Restore: When you restore your iPhone or iPad from an iCloud or iTunes backup, it will reinstall all the apps and app data that were previously on your device. After the user launches the Guidebook app (or your own Branded app), they will be asked if they would like to re-download their previously saved guides. If they tap yes, you'll see those downloads here.
Just to note: These three "Guide Downloads By…" sections will only include data for usage that occurs in an app on iOS and Android devices. Usage data from the web version of your guide will not be included.
To Export your data, go to the Metrics area in Builder, and from there, tap on the arrow next to the "Metrics" title at the top of the page. Once you tap in, you will see an overlay with different pieces of data you can export as a CSV file. CSV files can be imported into Excel. The small demo below should help you walk through this as well.
Note: The data that is exported will reflect the time period determined in the date picker. Therefore, if you want a different range of data, go to the date picker, change the date range, wait for the system to update, and then export the data.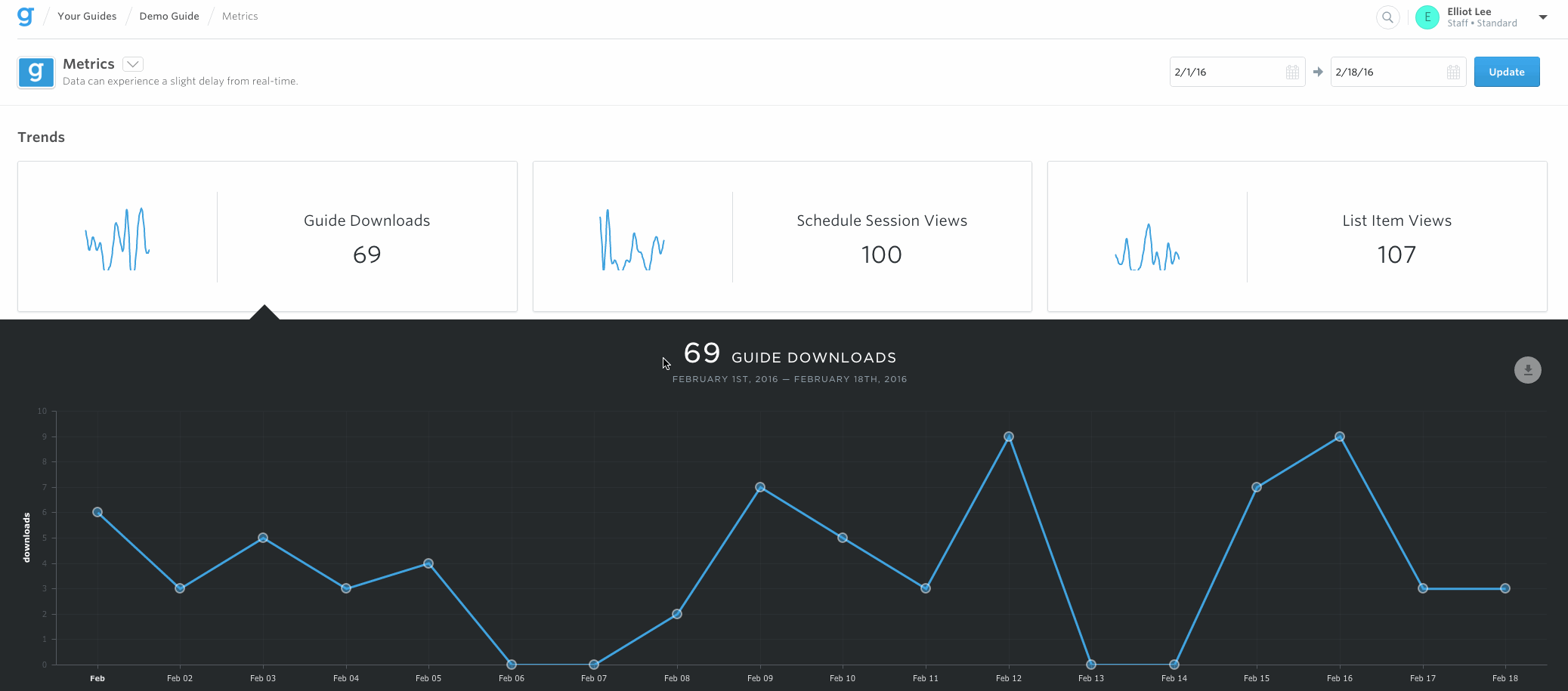 Additionally, you can download specific data sets from any of the widgets themselves. To do so, simply hover over the download button in the upper-right corner of the graph. We support the following formats:
Image: PNG, JPG, PDF
Spreadsheet: CSV, XSLX
We also give you the option to print this data.
Tip: Use the image-download tool to quickly capture relevant graphs and include them in your post-event results. Your stakeholders will be grateful for any additional insights, and it's a great way to champion using an app for next time.

IV. Organization Metrics
For those with Multiguide Applications, we now offer metrics that pertain to your organization as a whole. These metrics cover aggregate data of aspects like total guide downloads, specific guide downloads, and downloads by device.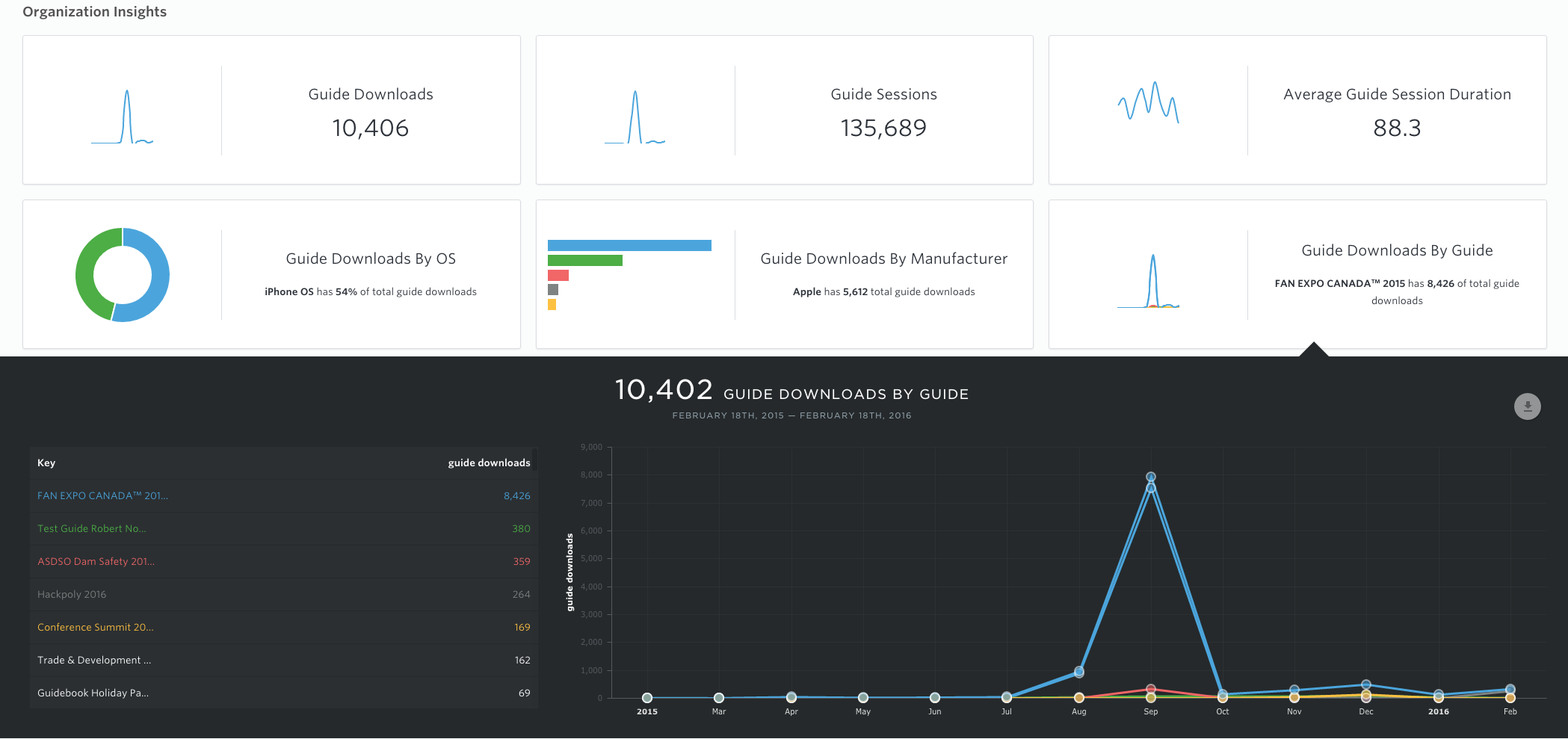 These numbers should allow you to determine how to continue to excel at Guidebuilding and help your team do the same. To learn more about real clients that have chosen to go mobile with Guidebook, and to see event technology best practices, visit our blog. It is the most approachable and complete resource for all things mobile technology, mobile apps, and your planning career. We even run a special series on metrics written by our resident Data Scientist, Patrick McNally!
Want to discuss your event metrics in greater detail? Reach out to your Account Manager - they'll be glad to go over your recently deployed guide, discuss best practices, and ensure you are making the most out of the available insights.