In this article, we will discuss the survey components, as well as how to edit or delete a survey, and how to view responses.
Before Getting Started
Guidebook's surveys are only available through the Guidebook or Branded apps; they are not available via Guidebook Web at this time. If your survey needs to be accessible on a browser, you can incorporate a survey of your choosing via the web view feature or by linking a URL to a Schedule session or Custom List item.

Live Polls are now available on Guidebook Web for collecting quick feedback from a live audience.
Creating your Survey
To begin, navigate to the Surveys & Polls section of your guide dashboard.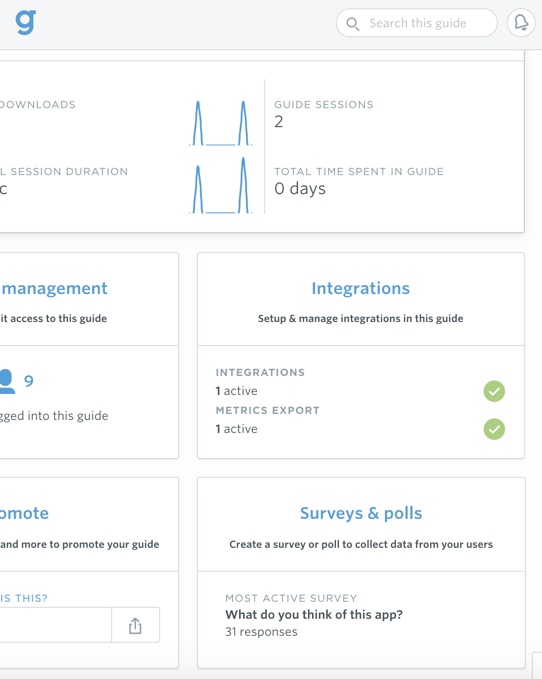 Next, click on the Create a survey button towards the upper left-hand corner. From here you can name the survey and supply additional basic details, like a "call to action" and 'description" (we like to think of these two as the "subtitle" and "introduction" to your survey).
There are customizable aspects to every survey: Purpose, Questions, Submission options and sign-in requirement.
Survey Purpose
One of the most important aspects of the survey feature is the survey purpose, as it directly influences where the survey can be found within your guide. There are three different options that you can choose from when selecting your survey purpose:
Create a Menu Item Survey: Choosing this option will add the Feedback icon to your guide's main menu, with the survey attached.
Create a Schedule Survey: After choosing a Schedule survey, you will be given three additional options:
Create a single survey that will be associated with every session in your guide's schedule.
Create a survey that is associated with all sessions of a specific schedule track.
Create a survey for a single, specific schedule session.
Create a Custom List Survey: When choosing a custom list survey, you will be given two options:
Associate the survey with all the items in a single custom list.
Attach the survey to a specific item within a custom list.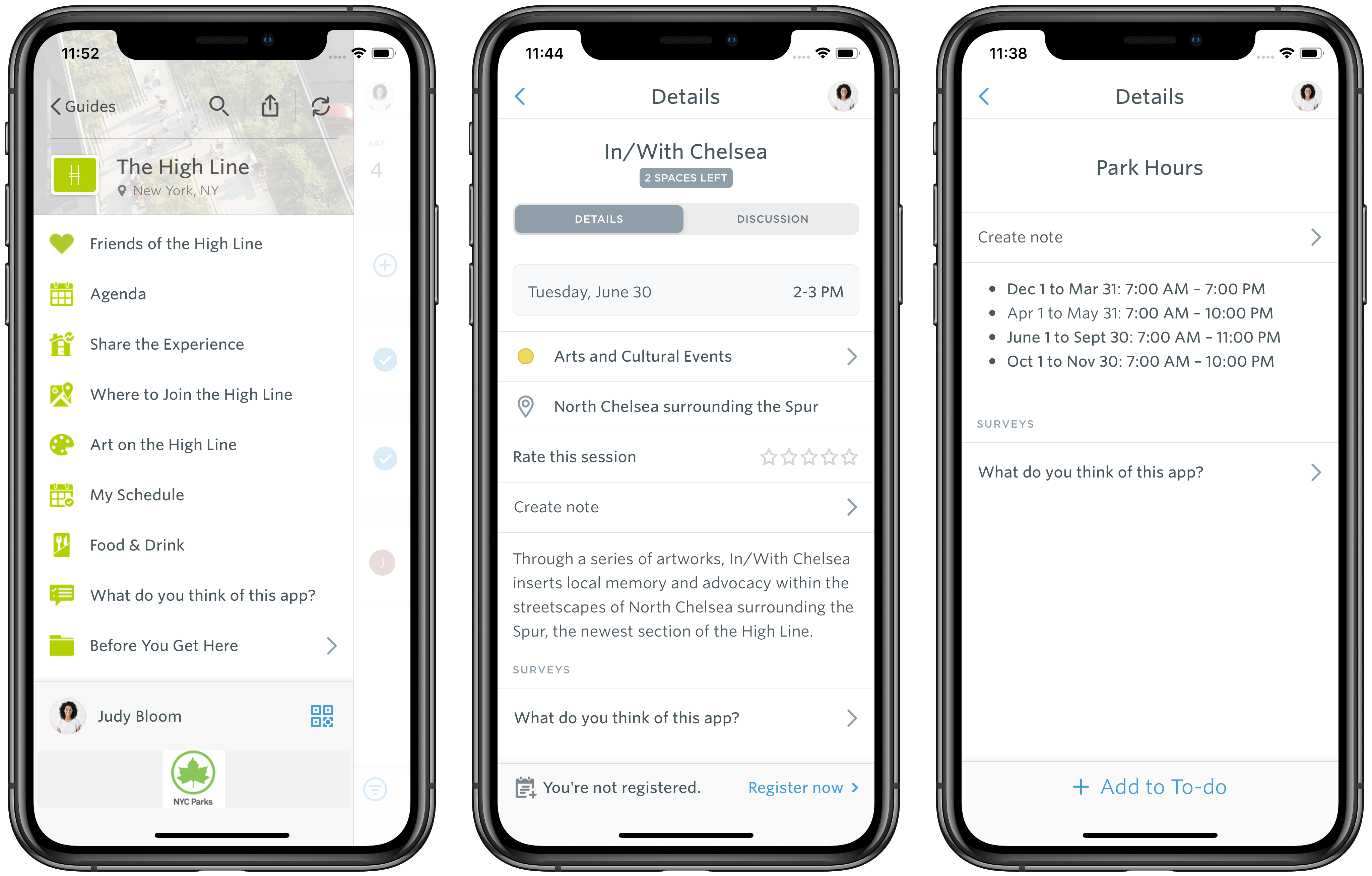 After your survey has been created, changing the Survey Purpose will result in the loss of all existing responses.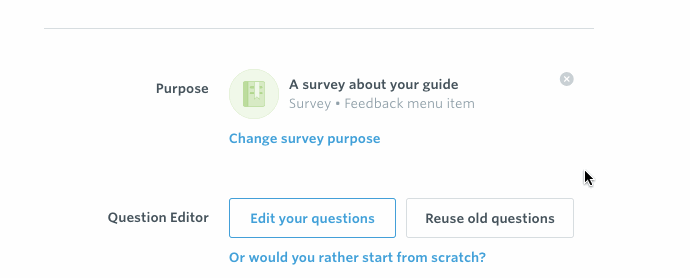 Question Editor
When setting up your questions, you can elect to create new questions or you can reuse questions from an existing survey. When you choose to reuse questions from an existing survey, it will take a moment to clone those questions into the new survey.
The types of questions that are available are as follows:
Multiple Choice: The user selects one answer from the choices given.
Dropdown: The user selects an answer from the choices given in a dropdown menu.
Checkbox: The user is allowed to select answers based on the requirements set (No limit, exact number, or a minimum number).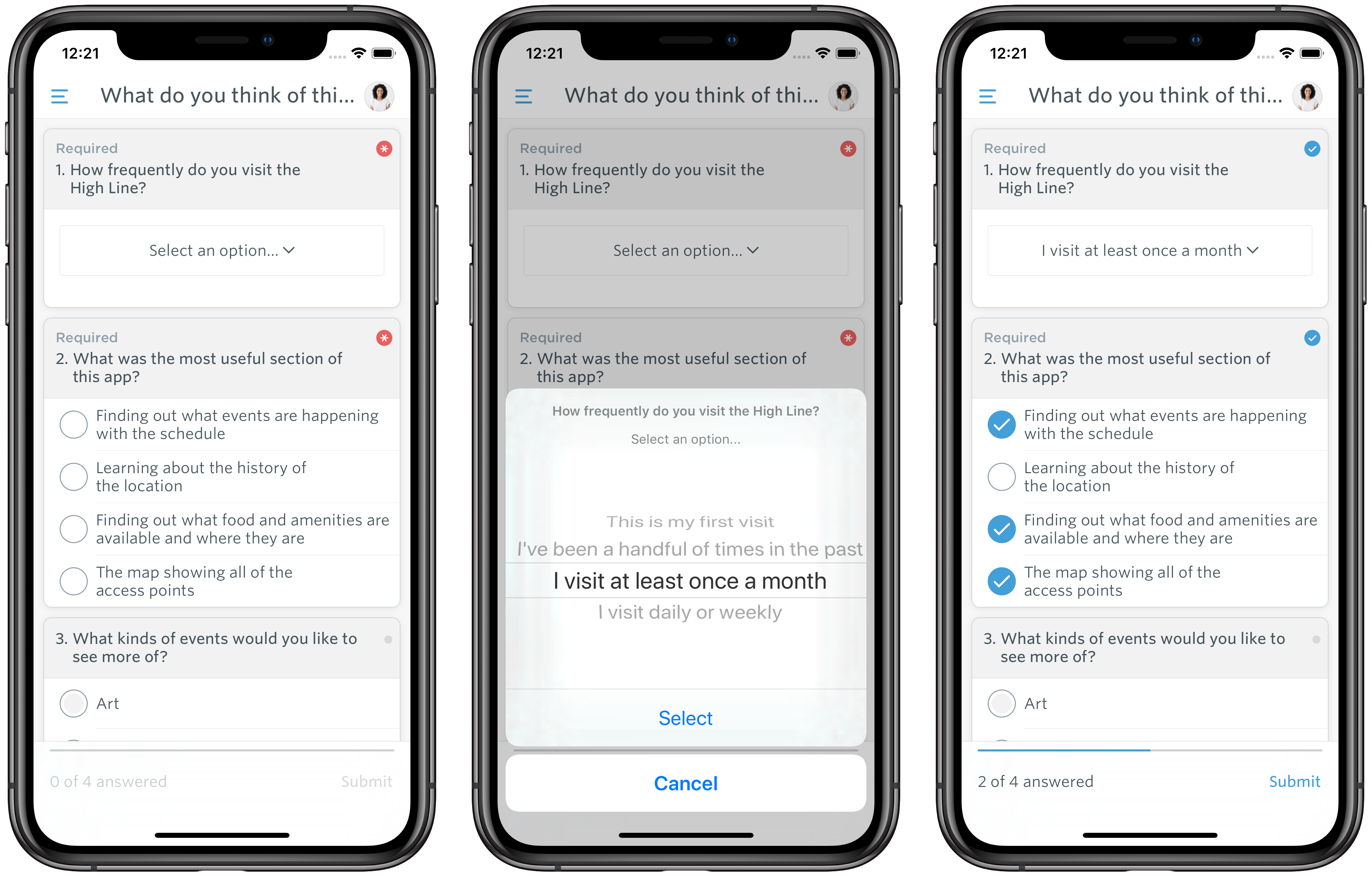 Branching Path: Branching path questions allow additional questions based on the answer that the user has provided. For each answer choice, you can select to Do nothing or Send to question branch. If you select the latter, you will create another question for that branch.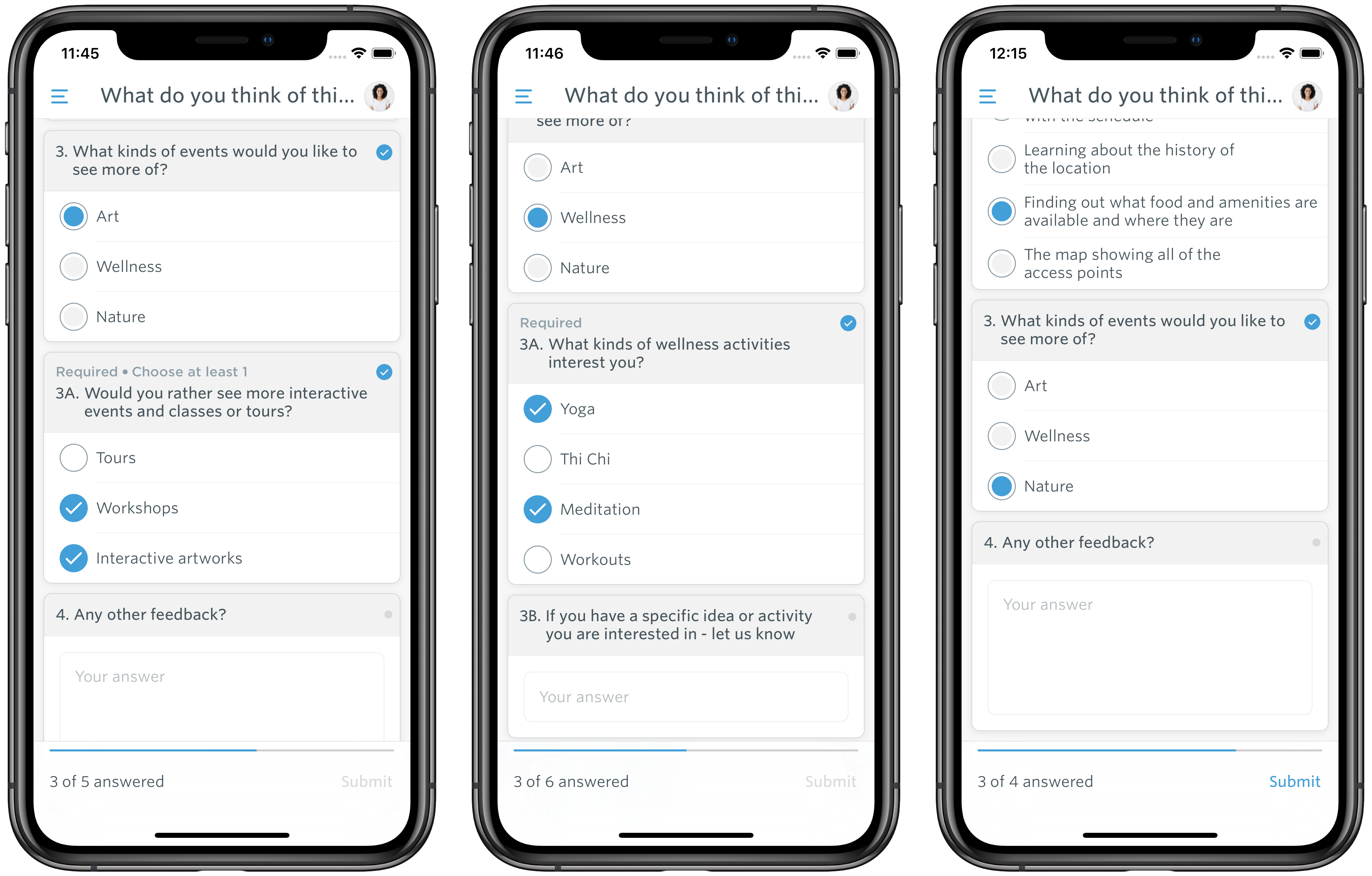 Sliding Scale: The user gives a rating on the numeric scale you set.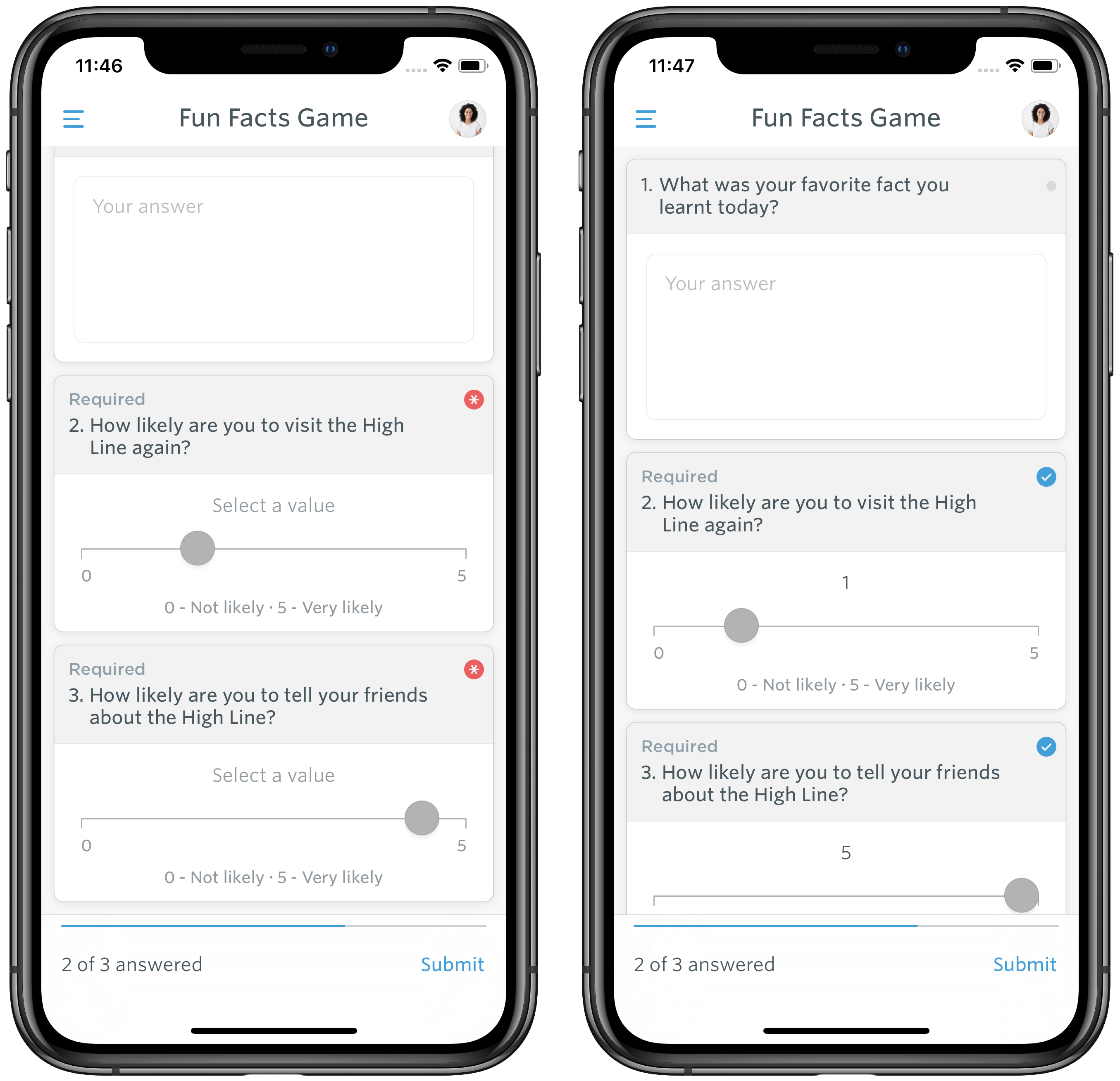 Free Response (long): The user has a larger amount of space to type in a response.
Free Response (short): The user has a smaller amount of space to type in a response.
Grid: The Grid question type allows for multiple questions with the same set of answers, through question rows and answer columns.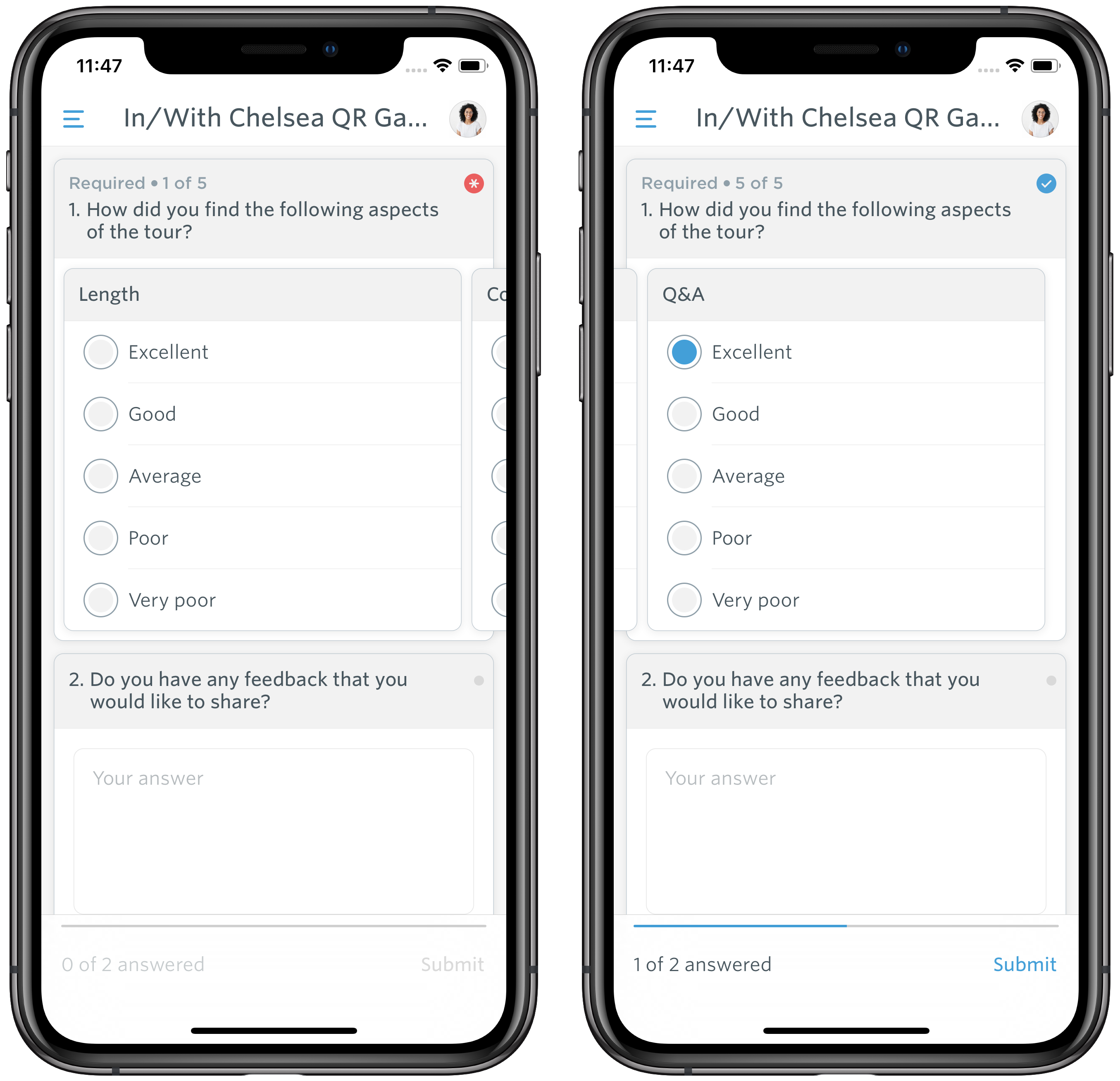 When creating your questions, please refrain from asking users for personally identifiable information (e.g. first name, last name, email address, etc.). The system will capture that information from users who are logged in and have opted into privacy data sharing.
Submission Options
Single Submit — No revisions allowed: Once the user submits the survey, they are not able to edit their responses and cannot submit additional responses.
Single Submit — Revisions allowed: Users are unable to submit additional survey responses, but are able to revise their submission.
Multiple submissions allowed: Users may submit more than one response.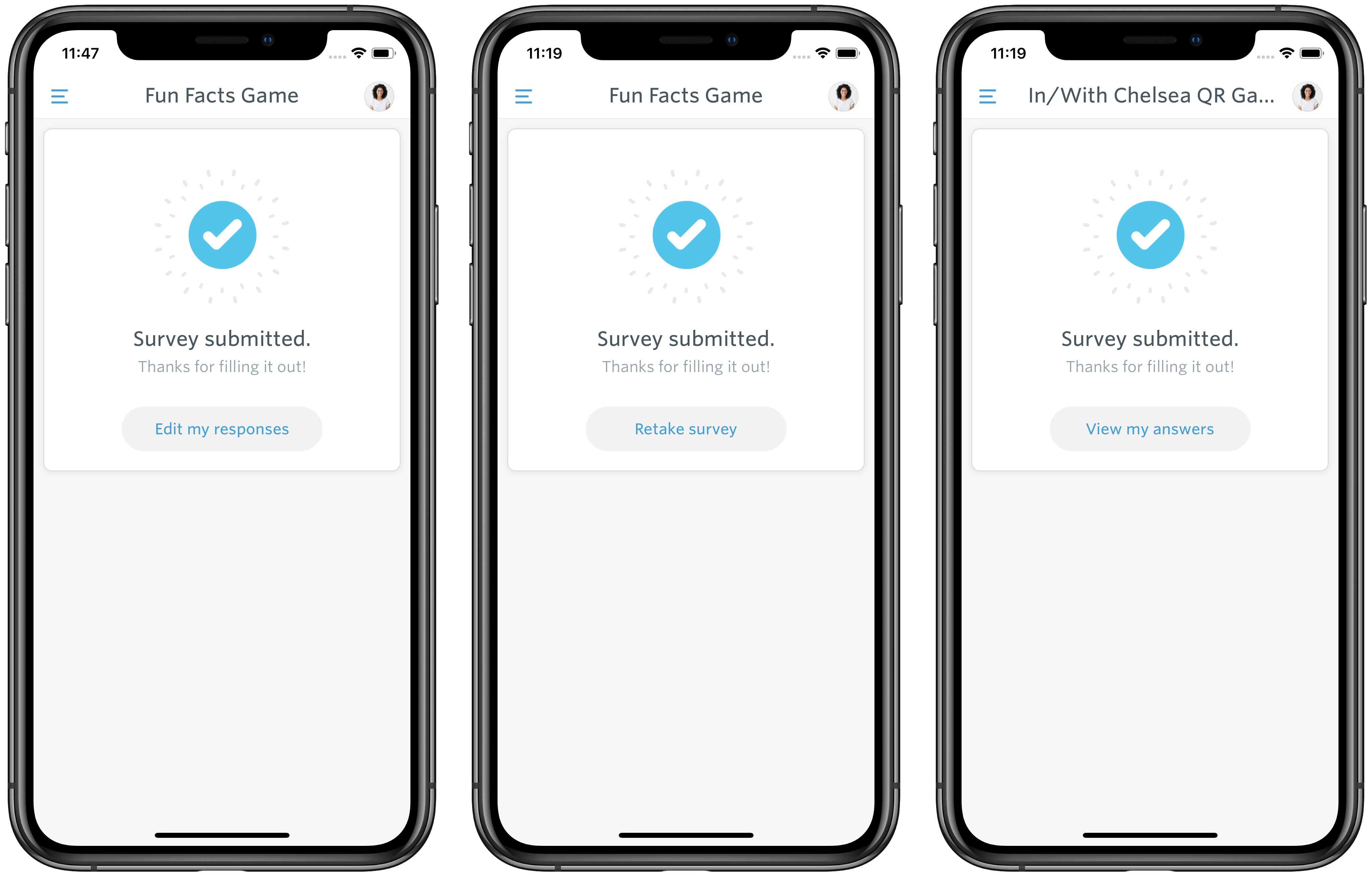 Sign-in Required
Enabling the Sign-in required toggle will require users to log in to the guide before they are able to submit a survey response. When users are required to login to take the survey, it ensures that their personal data is captured so you can associate users with submissions (as long as they have consented to share their data). If you have Sign-in required toggled on and users are not signed in when they go to complete the survey, they will be met with the following message.
To comply with GDPR regulations, survey responses gathered will only show users information who have opted into GDPR privacy. Users who do not consent to share their data will be made anonymous in this data. For more information, you can refer to our GDPR documentation.
Editing a Survey
If you need to make edits after your survey has been created, you can certainly do so. All survey fields are editable from the details tab of the survey.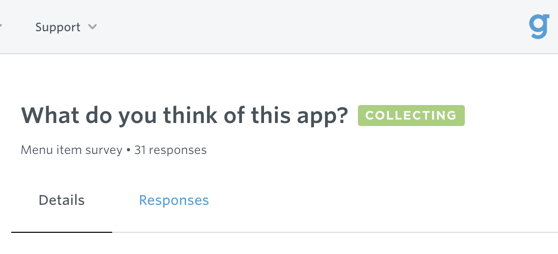 However, it's worth noting that there are two actions that will cause existing survey responses to be deleted – changing the survey's purpose or adding/removing/editing the questions. If either of these actions are attempted, Builder will supply a warning message that indicates all existing survey responses will be lost.
If you determine that there is an error in your questions and need to update those, we recommend disabling the survey and leaving it in place to retain your existing survey responses. You can then create a new survey and clone the existing questions into it for submissions going forward.
Disable or Delete a Survey
If you no longer want users to submit survey responses, there is a toggle that will disable the survey immediately (and it does not require you to publish guide updates). Just navigate to the Surveys & Polls section of the guide dashboard, and then click on the survey you would like to disable. In the top right corner of the page, there is a toggle that allows you to activate and deactivate collecting responses (pictured below). The effects of this toggle are immediate.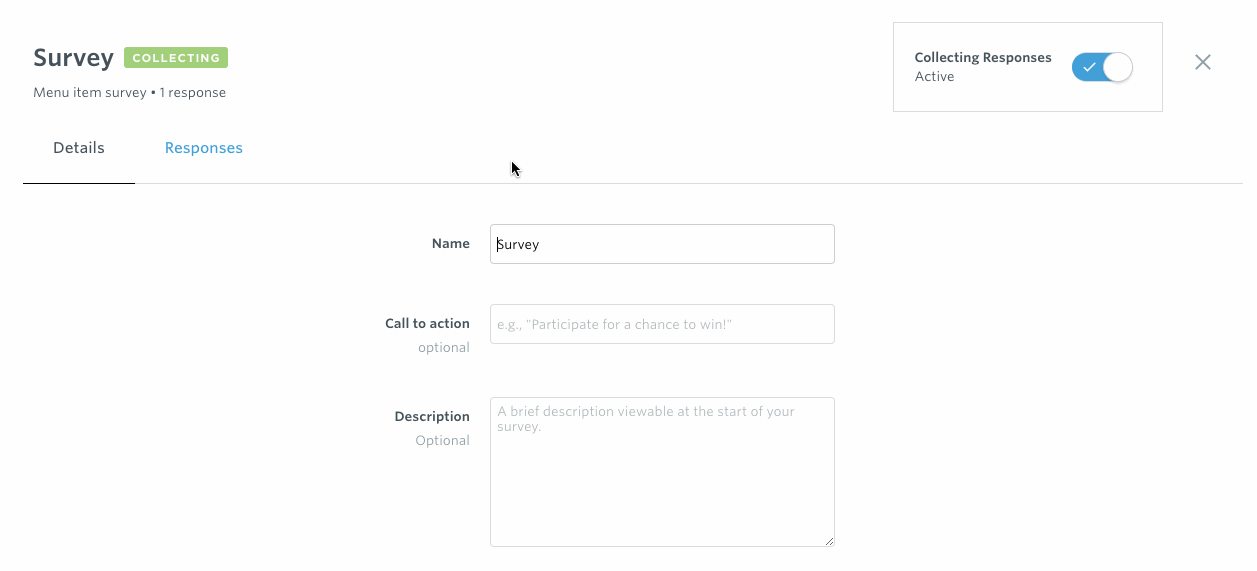 Another way to disable your survey is to remove the survey purpose. After removing the purpose, you will need to publish the pending updates for the change to take effect.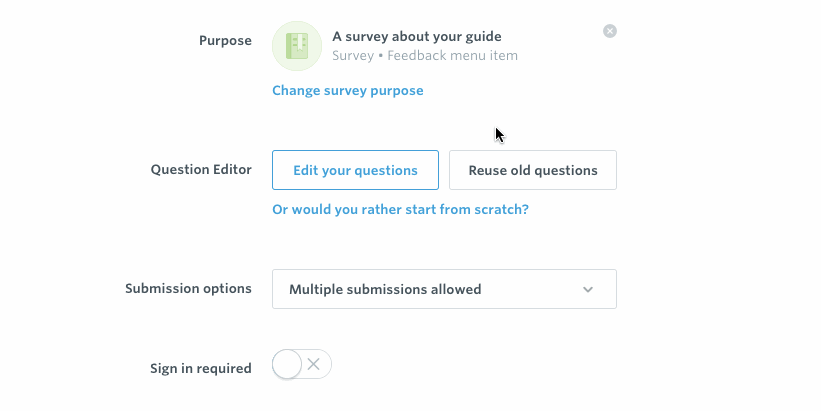 Once the survey is no longer collecting responses, the user will see the following message on their mobile device when trying to access the survey:
Deleting a Survey
When viewing the list of your surveys, a survey can be deleted using the gear icon on the right-hand side. Please note that deleting your survey is permanent, and cannot be undone. You will lose all responses associated with the deleted survey, so we highly encourage keeping all surveys in your guide if there have been user submissions.
Exporting Survey Responses
To export your survey responses., navigate to the Surveys & Polls section of the guide dashboard. Click into the survey you want the data for, click on the responses tab, and there will be a blue Download Responses button in the top right corner (as shown below). Once you have clicked on the button to download your responses, the system will send you an email with a link for you to download the data.

With the updates to the Survey feature, the export is now downloaded with the submissions in a more digestible format. The Excel macro that was previously used to reformat your exported survey data is no longer necessary.
Viewing Survey Responses
In addition to downloading your survey responses, you can also see an overview of the responses in the builder site. Here is an example: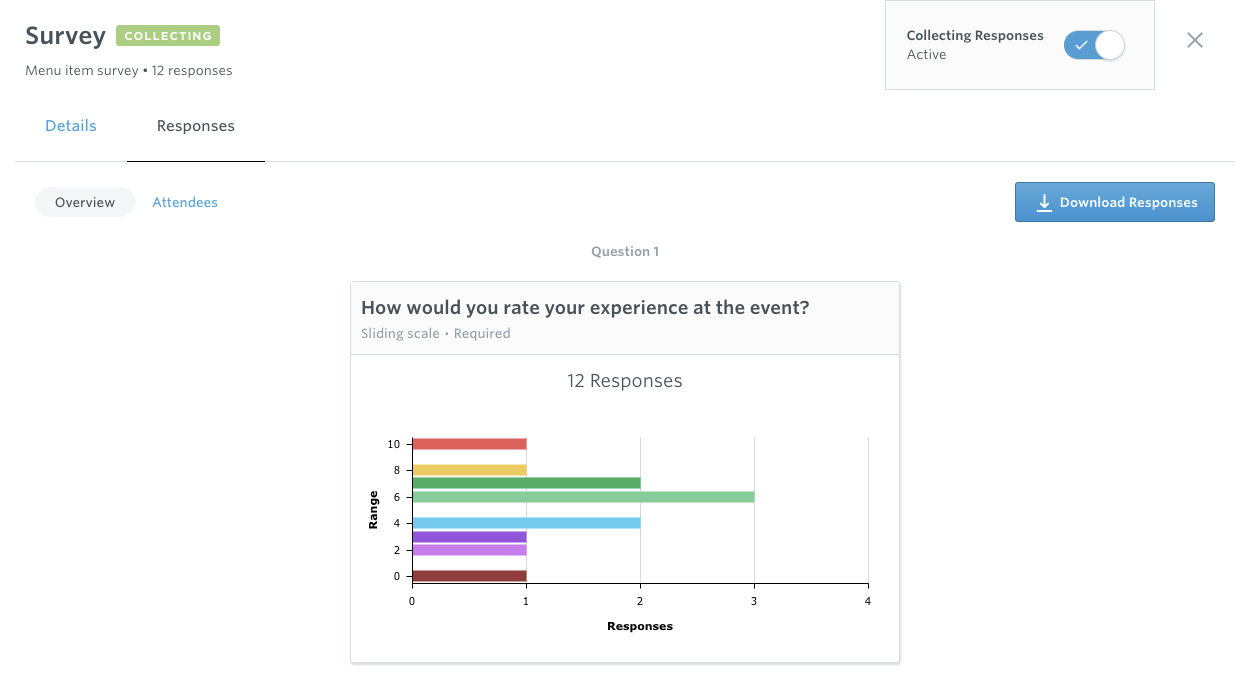 Additionally, when you switch to the Attendees tab under Responses, you can see each of the respondents along with the time the survey was taken. Please note, the user's name will only be shown if they consent to provide their data to the guide owners.

FAQs
Will I still be able to use the old survey feature in my guide?
As of June 6, 2019, the legacy survey tools will not be available in newly created guides.
If I switch from my existing survey to the new survey feature, is there a way to switch back?
Converting your legacy survey to the new survey feature is permanent and cannot be reversed.
Whenever I switched from the old survey feature to the new one, I was sent a file with all of my existing responses. Will this file expire?
Yes, this file will expire within 48 hours. If you don't download the file, no worries. Reach out to support@guidebook.com and we can work with our developers to retrieve the data.
When I click into my sessions, I no longer have a Feedback tab. Is the Feedback tab still available for the new version of the Survey feature?
With the new iteration of the Survey feature, the Feedback tab has been removed from individual sessions. All Survey creation/manipulation/linking takes place from the Surveys & Polls section of the guide dashboard.