Keep your users informed with notifications. Whether you need to announce a schedule change, you would like to send a reminder, or you have included notifications in your sponsorship packages, the Notifications tool provides a quick and easy way to communicate with everyone who has downloaded your guide.
To ensure your users receive your notifications, encourage them to enable notifications for the app. Notifications also require network connectivity (Wi-Fi or cellular data).
Be sure to set the time zone before editing any content or setting up notifications in your guide.
The Two Types of Notifications
Inbox-Only Notifications
All Notifications sent will be stored in the Notifications module (previously called the Inbox). In the app, users will see an unread message indicator next to the Notifications menu item.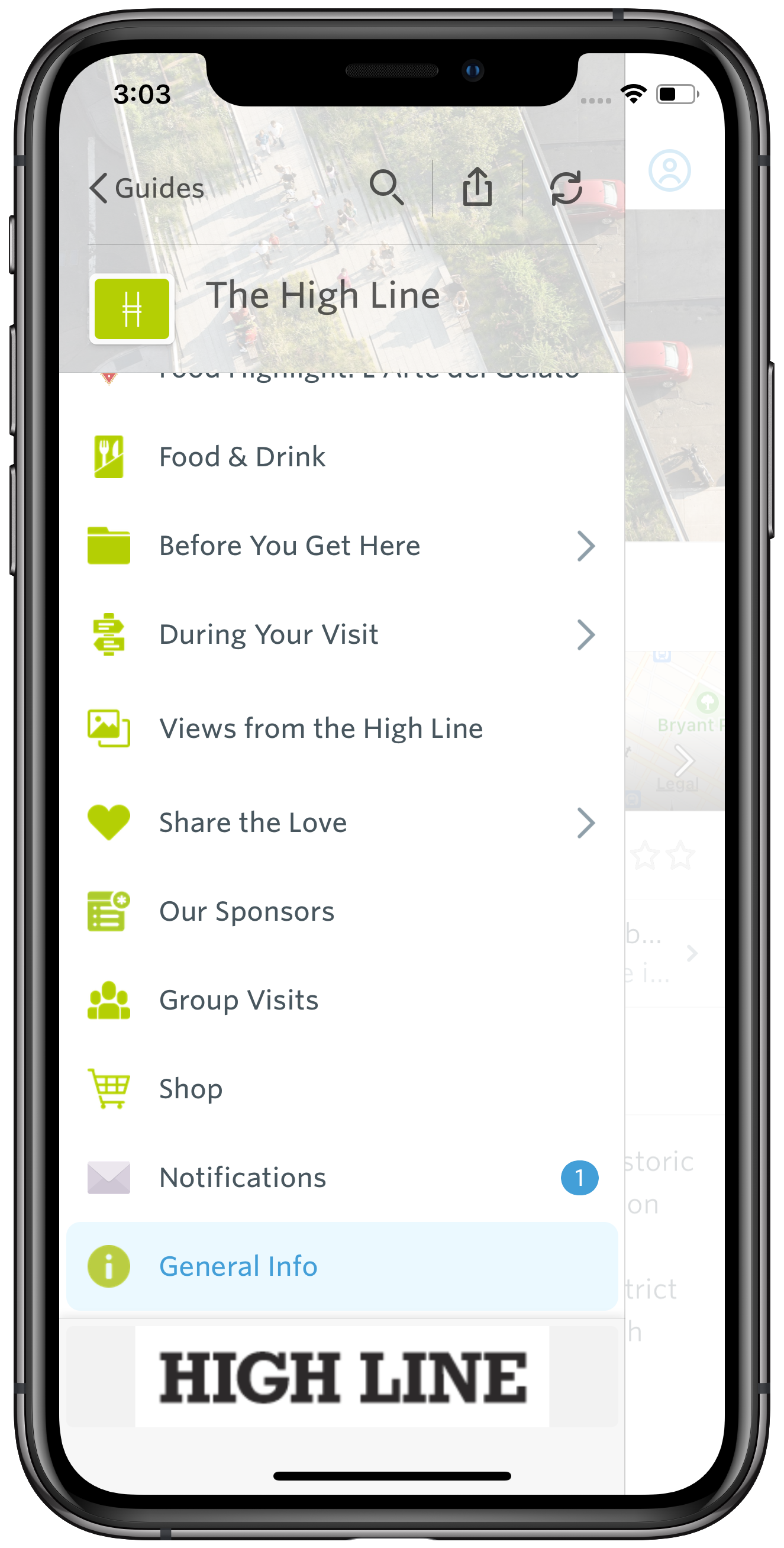 An Inbox-only notification will not alert the user outside of the app. Users will only know they have a message waiting for them when they open the guide and check the Notifications module.
Push Notifications
Push Notifications are alerts that appear outside of the app on users' devices. These messages are also stored in the Notifications module for later viewing.
This feature is only available on a Premium plan.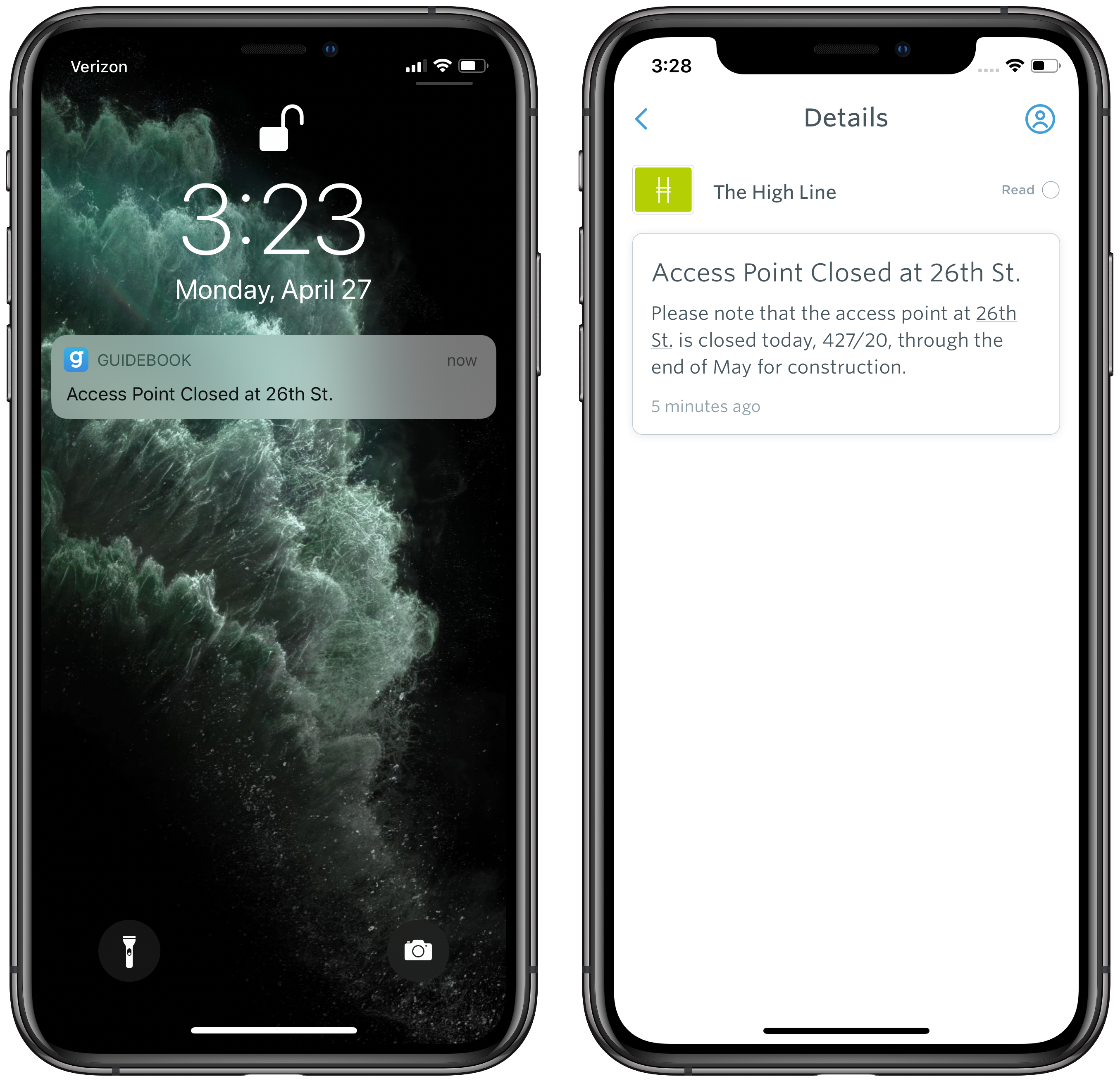 Sending a Notification
Go to the Notifications section of your guide. Make sure you have added the Notifications module first, or else you will not be able to send notifications.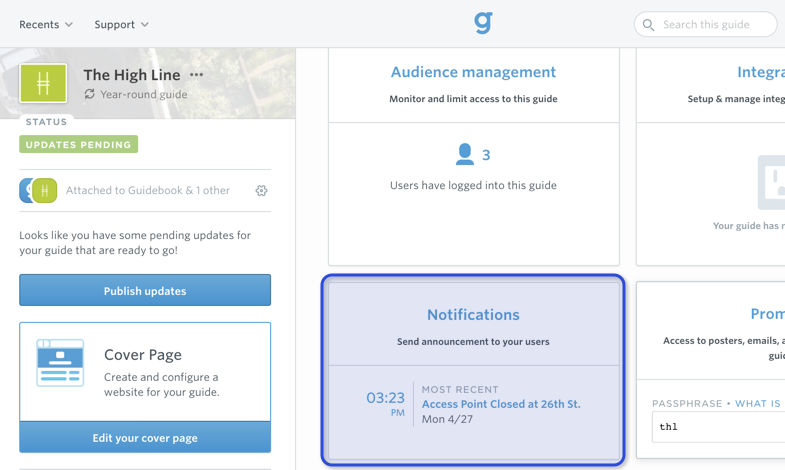 Tap the blue Compose button.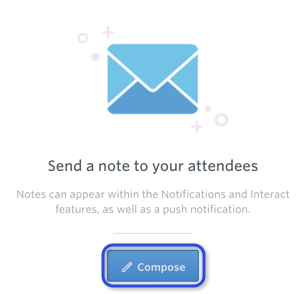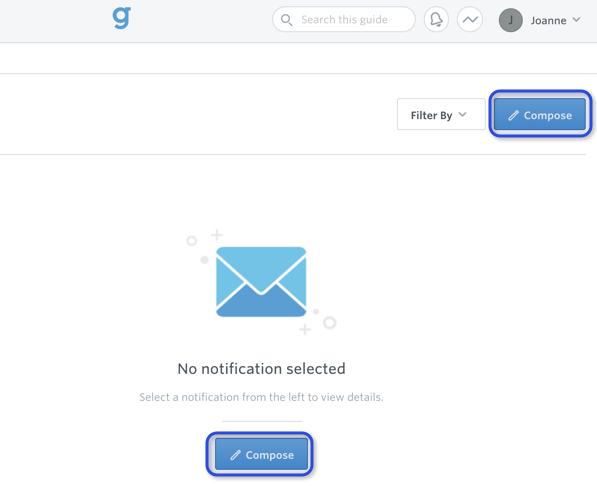 Fill in the message title and the message body. The message title cannot exceed 80 characters, including spaces. The message body cannot exceed 1024 characters, including spaces. You can include web address URLs in the message body.
You can choose to Link to a custom list item or session within the guide. If this is enabled, the user will be directed to the linked item/session when they tap on the notification.
If your guide is on the Premium plan, you can send the notification as a push notification. This means that the notification will be sent as a device alert to users' mobile devices assuming they have allowed notifications for the Guidebook or Branded app. Toggle the button on to see your push notification options which are detailed below.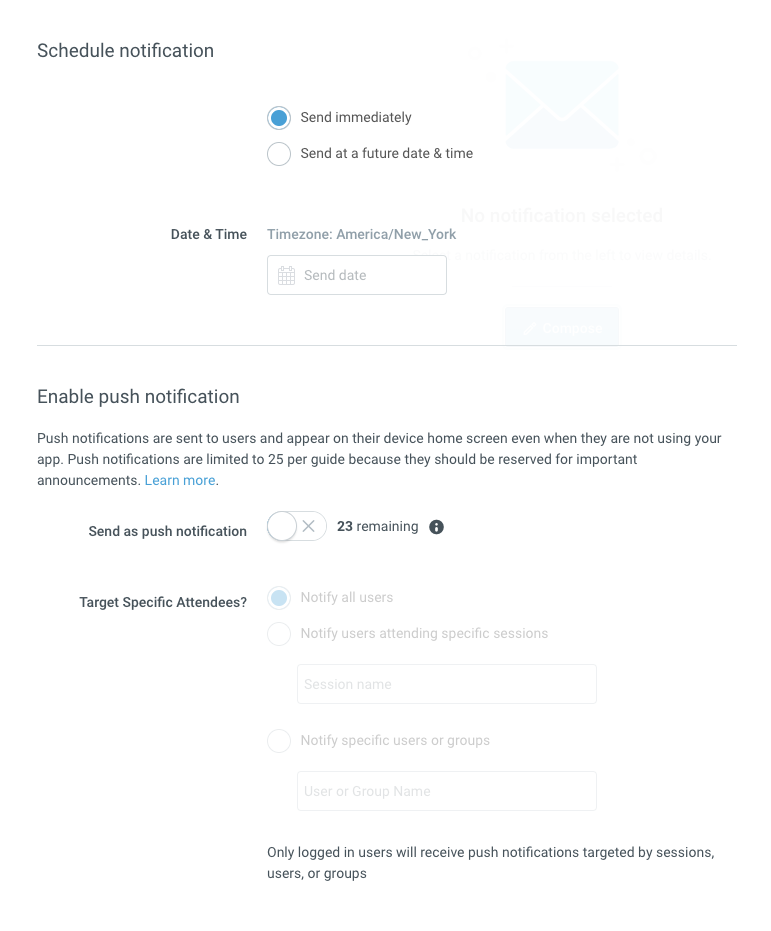 Schedule Notification: Send a notification out at a specific date and time, rather than sending one immediately. The time is determined by the guide's time zone, which is set from the Guide Details section.
Link Within Guide (Push Notification Only): Attach a schedule session or custom list item. When users tap/swipe on the notification, they will be taken to that item in the guide. This linked item is not visible in the notification message.
Targeted Notifications: Send Your Push Notifications to Specific Users
If you are on the Premium plan, you can use targeted push notifications to send relevant updates to specific users in your guide.
There are two different ways you can target specific users in Builder—by schedule session or by user account.
Attendees of Specific Sessions
Select this option to send a push notification to users who have added a specific session to their My Schedule.
Simply click on a session from the drop-down menu or search to add the session to the group notification list.
Users and/or Groups
Select this option to send a push notification to specific users or groups.
Users must be logged in to receive this targeted notification.