With Audience Management, you can enhance your promotional strategy and your communication with your users. You can see who has downloaded your guide and logged into their account and segment your users into groups. You can also see how many users (and who) are registered for sessions in your schedule as well as assign sessions to users using Preset Schedules.
The Users Tab
In Guidebook Builder, open the guide you are working on. From the guide dashboard, click on Audience Management. You will arrive at the Users tab.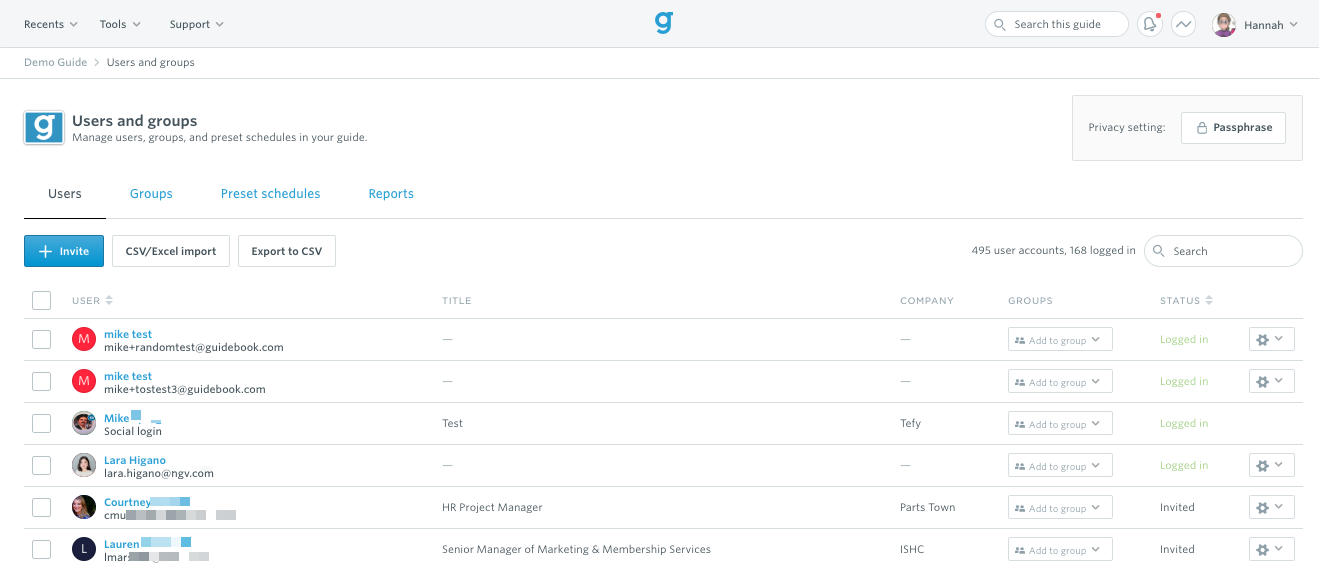 The Users tab will always show who has been invited to your guide and who has downloaded it and logged into their account.
The possible status for users in this tab are:
Created: You have added the user to the Users section but haven't sent an invite.
Invited: You have sent this user an invitation.
Logged In: This user has downloaded your guide and logged into their account.
Revoked (Invite-Only): You sent this user an invitation but you have revoked their access.


If a user has already downloaded the guide, the next time the guide refreshes, they will lose access to it.
If a user has not downloaded the guide yet, they will not have access to it—just like any other user who is not invited.
If a user has downloaded your guide but not logged in yet, they will show as Invited.
For assistance with inviting users, please see our Invite Your Users article.
Users and Guide Privacy
Public Guides and Private Guides (Passphrase-protected)
For public and passphrase-protected guides, you will simply see a list of users who have downloaded your guide and logged in.
There may be users you do not specifically invite via Builder who download your guide. If these users download your guide but never log in, they will NOT appear in the Users tab. Users must log in to be visible in the Users tab.
Invite-Only Guides
For Invite-Only guides, only users you have invited will have access to your guide.
Change your guide's privacy to Invite-Only to enable this restricted access setting. (Enabling this privacy setting will disable access to the web version of your guide, but your cover page will remain publicly available.)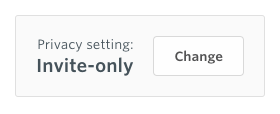 Please set your guide's privacy as early on as possible. Changing your guide privacy between public, passphrase, and/or invite-only repeatedly will cause confusion and a poor user experience. To learn more about the different privacy settings click here.
The Groups Tab
Segment your users into groups for targeted communication and preset schedule management.
Segment your users into groups as you identify who has already accessed your guide content and who might need additional reminders to download your guide. You can use the Export users to CSV option on the Users tab for a spreadsheet version of the Users list, to help with email campaigns.
This export will only show details based on users that have opted in via guide privacy. You can read more about this here.
On the Premium or Metered plans, take advantage of Push Notifications and/or Preset Schedules to send messages and assign sessions to your Groups, especially if numerous users need to receive the same information at once.
To create a group, click on the New button on the Groups tab.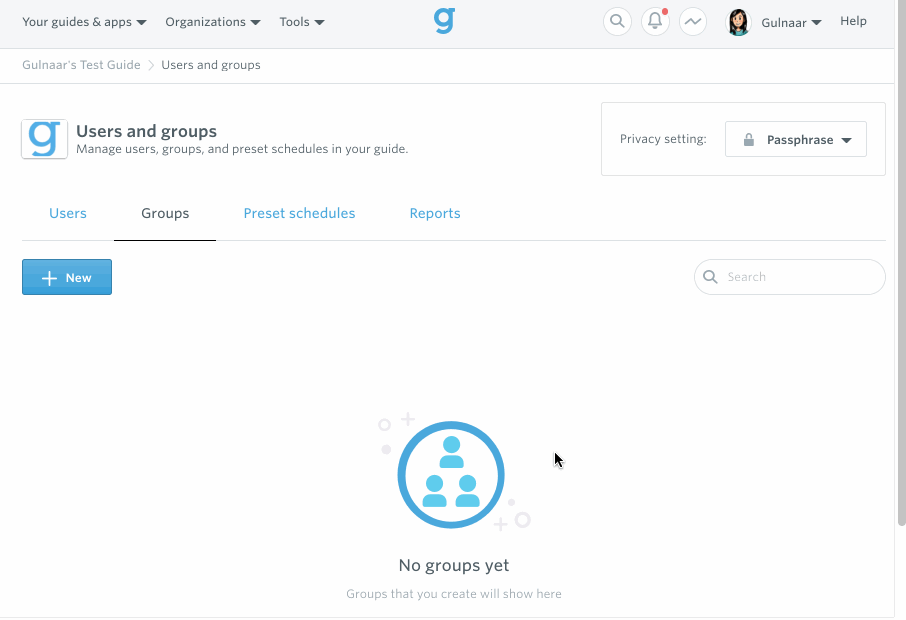 Give your group a name.
Then start typing in the name of the user(s) you would like to add to this group. Click to select each user.
Then click Create.
Click on the name of the group to quickly review the status (Created/Invited/Logged in) of each group member. You can also remove a user from a group, or delete a group altogether via the Groups tab.
You can view and manage groups from the Users tab as well. Click on the group affiliation menu next to a user's name to add, view, and/or remove group membership.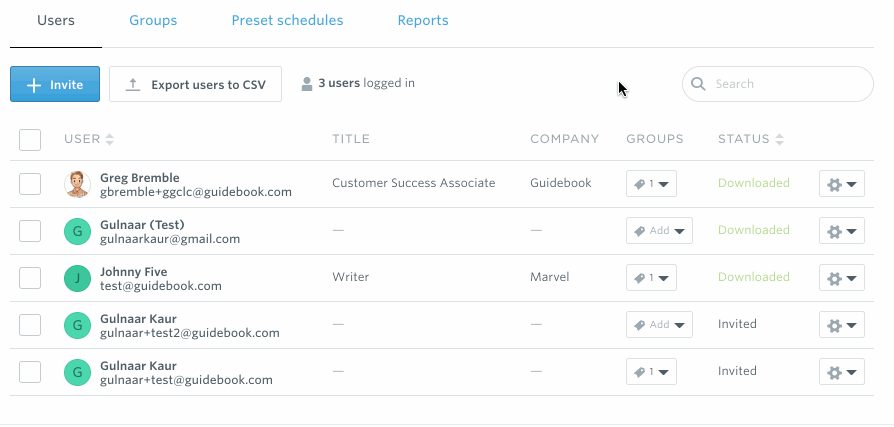 Preset Schedules
You can read more about preset schedules here.
Attendance Records
You can read more about attendance reports here.
Reports
You can read more about engagement reports here.