If you're working with a large organization to build your guide—or if you'll have a lot of information that needs to be added—you may want more than one person to be able to build a guide. It's never a good idea to share login credentials, but you can invite others to assist with the Add team members feature.
Add or Manage Team Members
On the Builder website locate the guide you want to work on. Navigate to the guide dashboard and click on the Add button near the top right corner of the screen.

In the window that appears, type the email address(es) of the colleague(s) you would like to invite. Don't forget to set the access level with the drop down to the right:
Guide Admins can add or edit content, publish the guide, publish updates to the guide, compose or send notifications, and manage the team member list.
Guide Editors can add or edit guide content.
Attendance Managers can verify users attendance for any session in the guide. This level does not automatically grant access to the guide in the Builder site or add them as an Editor/Admin of the guide. You can do this with a separate invite or the Gear icon drop down for any team member.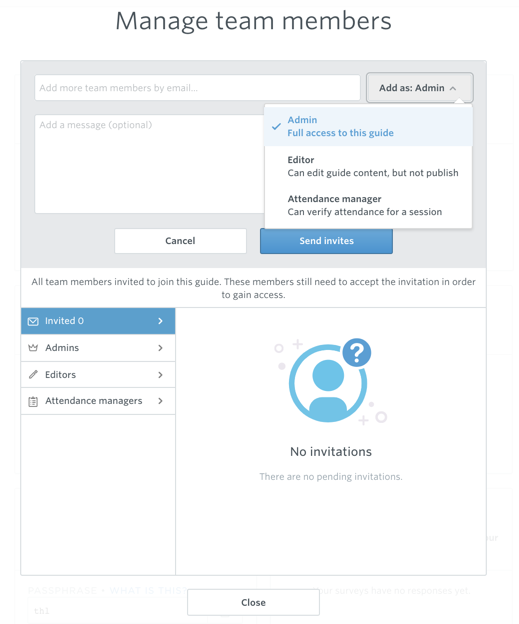 In this window, Guide Admins can review existing team members status. If any Editors need to be promoted to Admin, or any Admins need to be demoted to Editor, just click on the silhouette icon to the right of the person's name to make that change. Admins can also revoke access by clicking on the gear icon and selecting Remove.
Both Admins and Editors can make any changes to a guide in Builder, but only Guide Admins are able to copy the content of that guide into another guide. There is no limit to the number of Team Members you can have on your guide, but plan and communicate with team members well to avoid confusion.
Accepting Team Member Invitations

If you've been invited to join a guide, look for an email in your inbox. To accept the invitation, you can either click the link contained in the email or—if you're already logged in to the Builder website—you can accept the invitation after clicking on the bell icon near the upper right corner of the page.