Have a limited amount of space for a session? Want to require users to register for a session and view who signed up? Our Attendance feature and Audience Management tools allow you to manage registration and waitlists to maximize session attendance.
Attendance Options: Space Limitations and Waitlists
There are three types of attendances options:
Anyone can add to my schedule: This option does not restrict the number of users that add the session to their My Schedule.
Nobody can add: This option prevents the schedule from being added to users My Schedule.
Registration Required: This setting should be used when you only have a select number of seats or wish to verify who is in attendance.
If you set a session to Require Registration, you have three additional choices:
Registration Start (Optional): You can control the date/time when users will be able to add sessions to their My Schedule.
Limit Capacity (Optional): Enter a numeric value here to prevent users from registering for a session after a certain number have registered.
Waitlist (Optional): After setting a space limitation, you can choose to enable a Waitlist. If someone drops out of a session, the first person on the waitlist will automatically be added to the session. The waitlisted end-user will receive a notification in the app, alerting them they have successfully been registered for that session.
This feature is only available on a Premium plan.
If you choose to set space limitations or use registration required for sessions, your users will be required to log in to an account before they can add sessions to their My Schedule.
Users that are assigned sessions using the Preset Schedule feature will not take up the spaces set using the limited capacity functionality.
For sessions that require registration, you can also hide linked content as well as engagement features until a user registers for the session.
How to Set Attendance
When importing your Schedule template spreadsheet, use the Attendance columns (H-L) to allow adding to My Schedule, require registration, set your registration time, limit capacity, and/or allow a waitlist if you would like.

When editing a Schedule session manually, visit the Attendance tab within the Schedule feature. Here, you can select a single session to edit or use the checkbox feature to edit multiple sessions at once.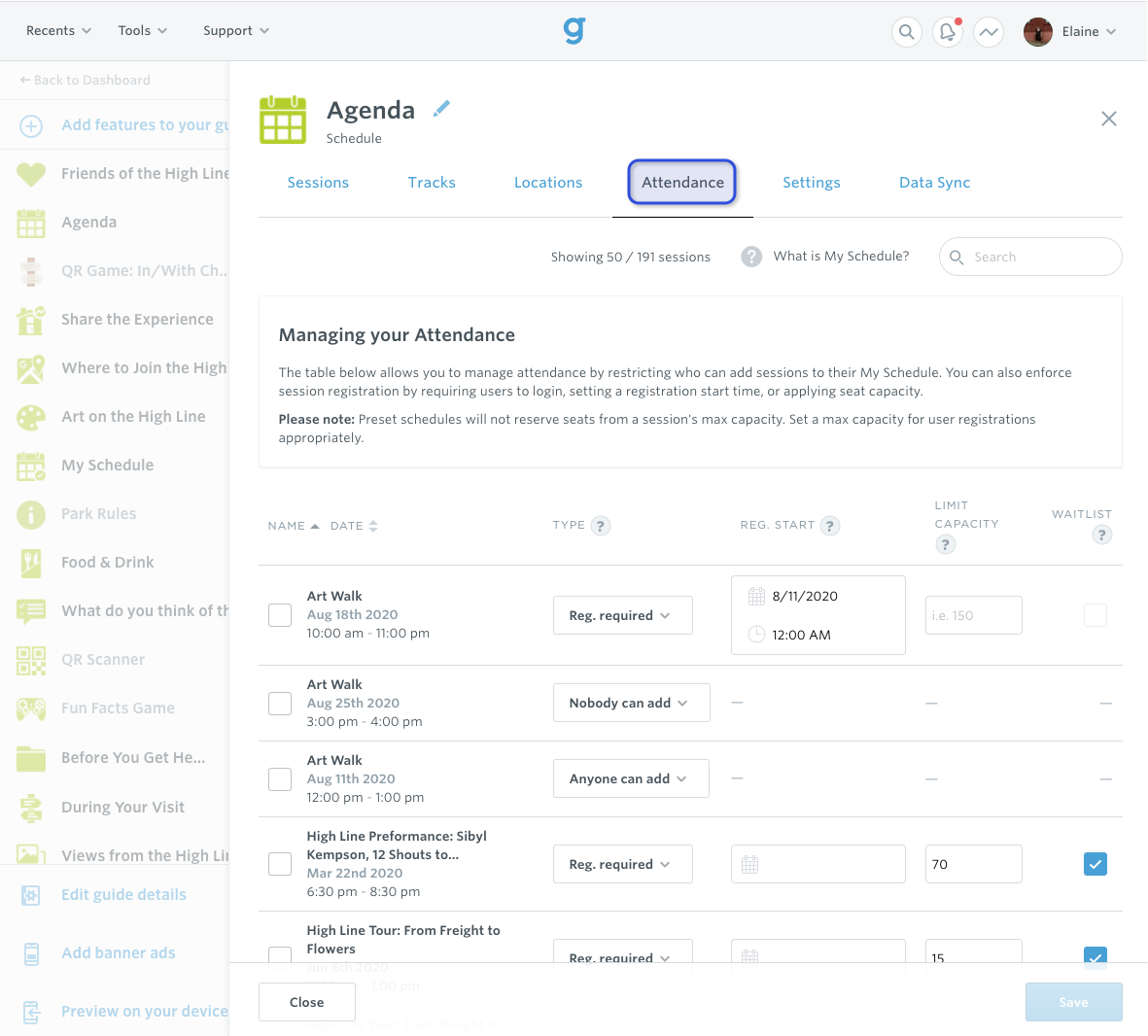 How to View Registrations
You can read more about viewing registrations and managing attendance in Builder in our Audience Management support article.
If you would like to see how attendance limits show for end users, you can find out more in our My Schedule article for mobile or on our Guidebook Web for End Users article.
Session Content Visibility
As of September 2020, you are able to gate some content of sessions that require registration. Any links, videos, or engagement features like a live poll or session discussion, will be hidden from view until a user registers for the session.
To set this up, navigate to your schedule feature and click Settings. Scroll down and toggle the "Session content visibility" toggle "off" and click Save. Now, all content besides the description of the session will be hidden from view until the user registers.
Note that this toggle applies to all sessions that require registration in your guide; it is not session specific.