With the Mailchimp integration, you can pull user email addresses from Guidebook Builder into Mailchimp mailing lists. You'll need a Mailchimp account to get started.
Setting up the Mailchimp Integration
In Builder, click the Integrations card from your guide dashboard: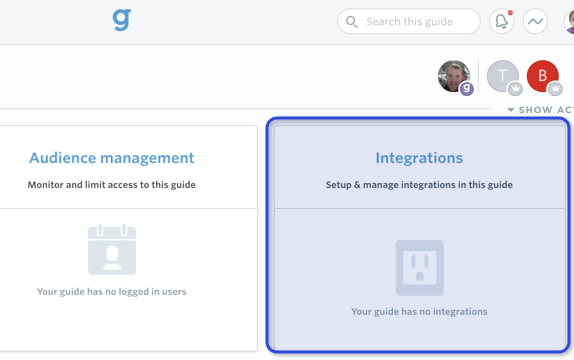 Navigate to the Metrics export tab and click the blue Set up button to the right of the Mailchimp row.

Log in to your Mailchimp account: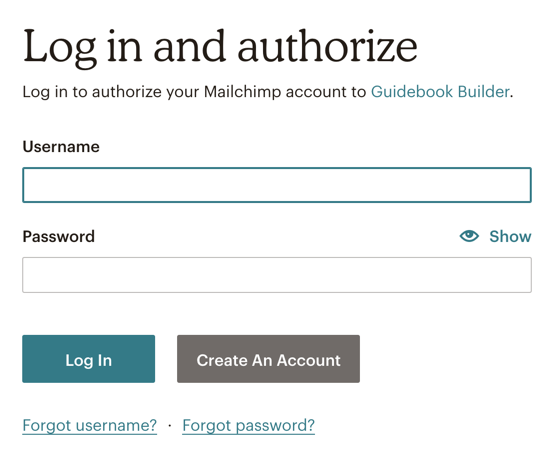 Click Allow. This will take you back into Builder, where you can select a mailing list as an export and sync destination. Click Save.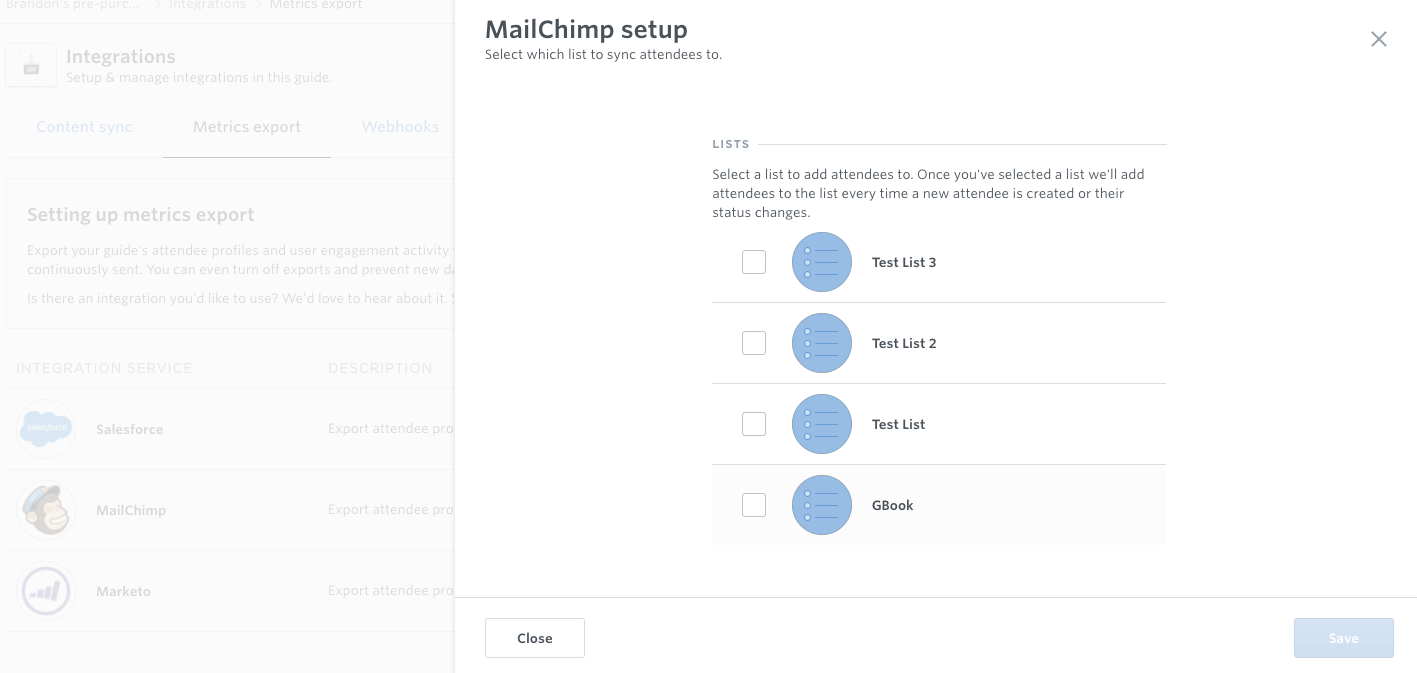 The Status will then change to Setting Up:

Followed by Active when the initial connection process is complete. This usually takes several minutes, so we recommend continuing to work on other elements of your guide, and navigating back to the Integrations dashboard several minutes after setting up the Mailchimp integration.

Once the Integration is set up, you can then begin importing your users into Builder, who will then populate into your selected Mailchimp list. These users will show up under the "Audience" section of your Mailchimp page.
Managing the Mailchimp Integration
Make sure you import your attendee list after you set up the integration, as only attendees added or changed after the integration will be synced with Mailchimp. If you've already added users, sending or re-sending invitations will prompt the user to sync to Mailchimp.
When a users' status changes within Guidebook, it will be updated accordingly in Mailchimp within ten minutes. In your Mailchimp account, if you click on a user to see details, their status within the guide will be indicated (Created, Invited, Logged in, Revoked).
In order to edit, disable or disconnect the Mailchimp integration, click on the status button dropdown. Please note that disabling the integration is only a temporary suspension of functionality until enabled again, whereas disconnecting the service will erase the integration and you will need to start over if you want the integration again.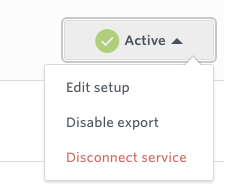 Why is Mailchimp Integration Useful?
If you're already using Mailchimp and Guidebook, this integration is an easy way to sync your guide users directly into your Mailchimp account.
Using the Mailchimp integration can assist in pre and post-event emails. If you are planning to send pre-event emails, the integration will also allow you to categorize and target user emails depending on if the user status is Created, Invited, or Logged in.
For any post-event email campaigns you plan to run, already having the users from your guide in Mailchimp will save time.
FAQs
How much does it cost?
The Mailchimp integration is available for all Metered and Premium level guides at no additional cost.
How long will the "Setting up" status last?
The "Setting up" status should last about 5–20 minutes. If it lasts longer, please send an email to integrations@guidebook.com.