How does the Salesforce Integration work?
Quickly and easily! In this case, you can now export user metrics from a guide into Salesforce. To get started, you'll need a Salesforce account. Next, you should navigate to the Integrations portal in Builder and click the Metrics Export tab to kick the process off:

You'll then click the blue Set Up button:

Enter the required information: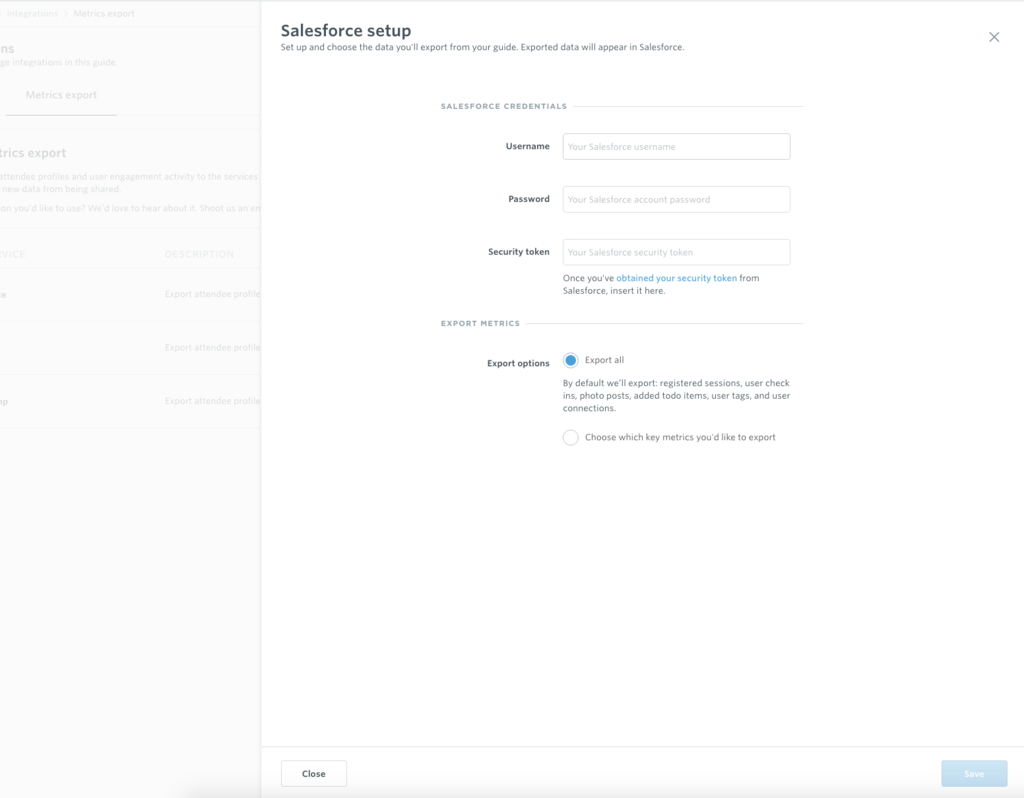 The status will change to Setting Up:

Why is the Salesforce Integration useful?
Quite simply, it automates the process of uploading attendee data to Salesforce. Using each attendee's email address, the integration will:
Try to find the earliest created Salesforce Contact
If that doesn't exist, find the earliest created Salesforce Lead
If that doesn't exist, create a Salesforce Lead
Attendee metrics that export to Salesforce:
User registers for a session
User creates a to-do item
User tags a schedule item in a post
User checks-in to a guide
User posts a photo
User connects with another attendee
FAQs
How much does it cost?
This Salesforce Integration is available for all Premium level guides—at no additional cost.
How long will the "Setting Up" status last?
The Setting Up status will change to either Active or Export Error depending on the first activity after turning on the Integration.

For example, if you activate the Salesforce export on a guide, but that guide has no users (and therefore no metrics activity) it will stay in the Setting Up state until someone uses the guide and the first activity is exported to Salesforce.