Do you use Salesforce and want to pull attendee data from your guide into Salesforce? With the Salesforce integration, you can export user metrics into Salesforce. Be sure to setup the Salesforce integration before users begin to take actions in the guide, as the integration will only sync activities that happen after the integration is setup.
Setting up the Salesforce Integration
To begin, click the Integrations card from your guide dashboard: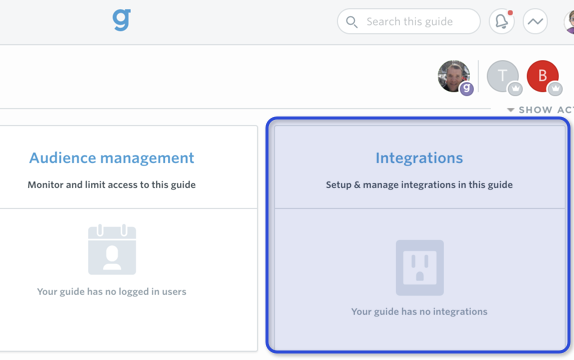 Navigate to the Metrics export tab and click the blue Set up button to the right of the Salesforce row.
Fill out your Salesforce credentials, including your security token, and choose what metrics to export. You can export all available metrics, or choose specific metrics you'd like to export.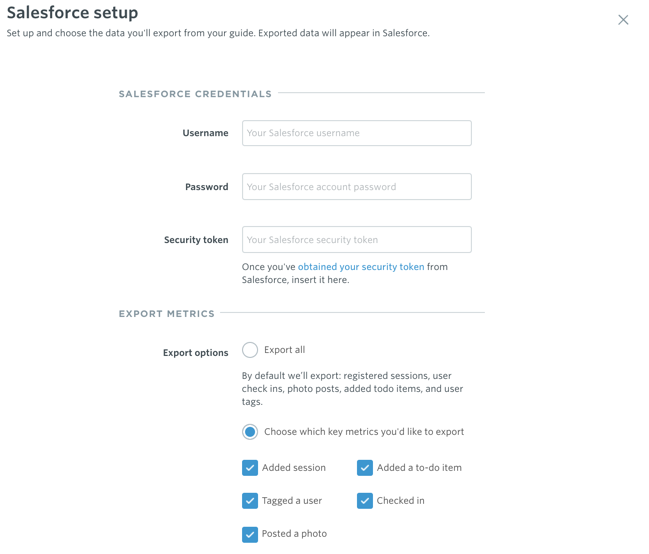 By default, the lead source will be your guide name. If you'd like to set a custom lead source you can. Click Save in the lower-right corner.

The status will change to "Setting up," and will remain that way until the first activity occurs.

How the Integration Works
Using each attendee's email address, the integration will try to find the earliest created Salesforce Contact. If that doesn't exist, the integration will try to find the earliest created Salesforce Lead, and if that doesn't exist, a Salesforce Lead will be created.
Once the integration has been setup, the following attendee metrics will export to Salesforce if they've been selected, and you have the specific features enabled in your guide:
User registers for a session
User creates a to-do item
User tags a schedule item in a post
User checks-in to a guide
User posts a photo
User connects with another attendee
FAQs
How much does it cost?
This Salesforce integration is available for all Metered and Premium level guides—at no additional cost.
How long will the "Setting up" status last?
The "Setting up" status will change to either "Active" or "Export error" depending on the first activity after turning on the integration.

For example, if you activate the Salesforce export on a guide, but that guide has no users (and therefore no metrics activity) it will stay in the "Setting up" state until someone uses the guide and the first activity is exported to Salesforce.
If the status changes to "Export error" send an email to integrations@guidebook.com.