With any guide, you create you want to ensure that it is as helpful as possible to your end-users. Enhancing your users' experience with interesting features in a personalized way will boost the success of your guide. Creating a more intuitive guide will lead to happier users spending more time engaging with your content.
You may have covered the basics of setting up your guide, but what are the features that bring your guide from good to game-changing? Below we'll go over key features we'd recommend using in the majority of guides, why they're so handy, and how to use them.
Interact and Networking
The best feature to start with is Interact. The interact feed is the social hub of your guide that updates in real-time based on what is happening at your event. We'd recommend making this your guide home as it is one of the most exciting places to be within your guide if used effectively.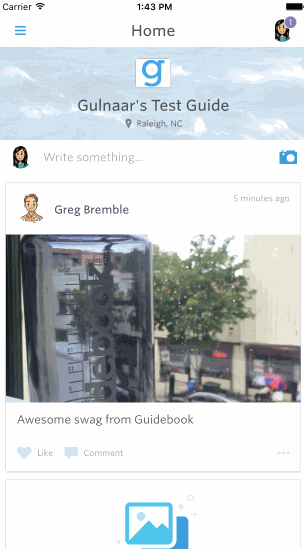 Within interact you can post status updates, upload photos, and view popular sessions to attend, making it the perfect place to spark a conversation and share updates with your attendees.
Your sponsors will love this too. Sponsored posts allow them to directly tap into your audience with a special offer or to highlight their presence at your event. This adds real measurable value to your event sponsorship.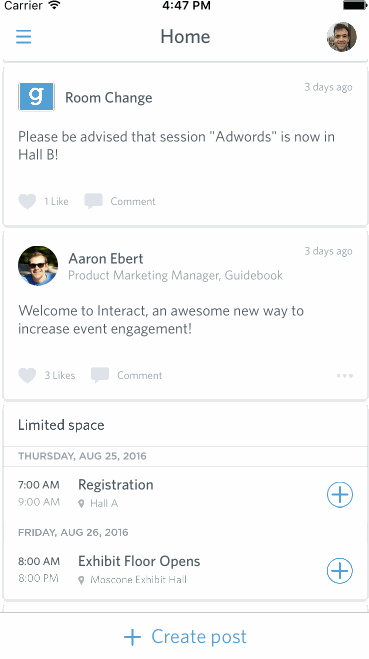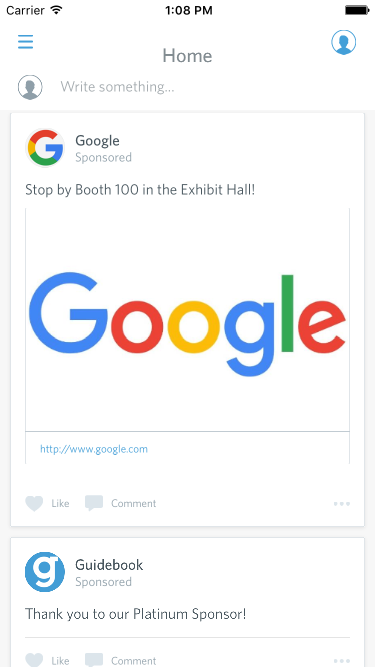 Read more about this feature in our support article: Interact: How It Looks in the App
Your guide is also a great way to encourage attendees to network. By asking your members to check-in to your guide, they are able to make their profile visible to other users. They can then go one step further and connect, thus showing their contact details and allowing them to message each other within your guide. It's a great way to meet new contacts, arrange meet-ups at the event and follow up afterwards.
The guide will remain on users devices until they choose to delete it, and the messaging feature can be used days, weeks or even months after the event finishes. All of this adds immense value to your event's networking experience.
Read more about this feature in our support article: Check-In and Connect (The Attendees Feature)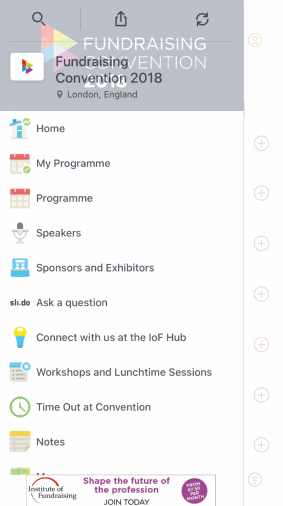 Schedule Tracks
Most guides will have a schedule allowing you to show what sessions are happening at your event along with, the time, location, and information for each.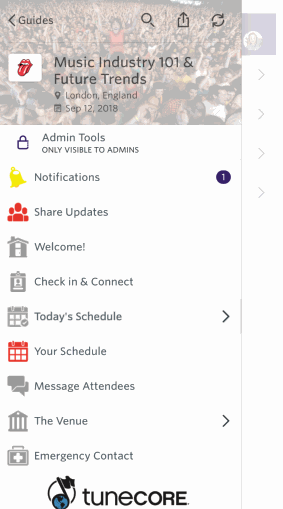 If your schedule is pretty complex you can use schedule tracks to segment your sessions, making it easier to view multiple sessions within set categories. Users of your guide can filter through sessions by a particular schedule track, allowing them to only see the information that's relevant to them.
Read more about this feature in our support article: Schedule Tracks: Filtered Views of Your Schedule
One way to make this even more effective is to pin your schedule tracks to your menu bar within the guide. This can mimic having multiple schedules (each guide can only have one main schedule) or draw attention to certain sessions - for example, your keynote speakers, as it only displays the sessions within that track. This makes viewing relevant schedule content much quicker for your end-users.
Read more about this feature in our support article: Pro Tip: Pin Schedule Tracks to the Menu for Easy Access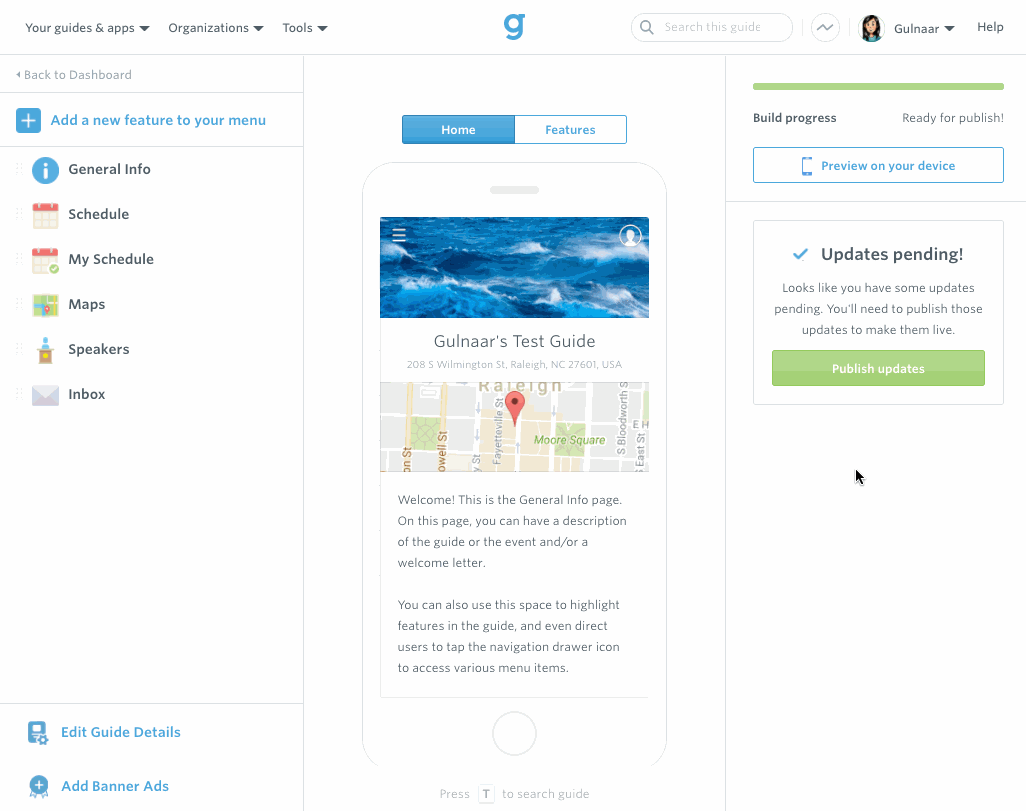 Push Notifications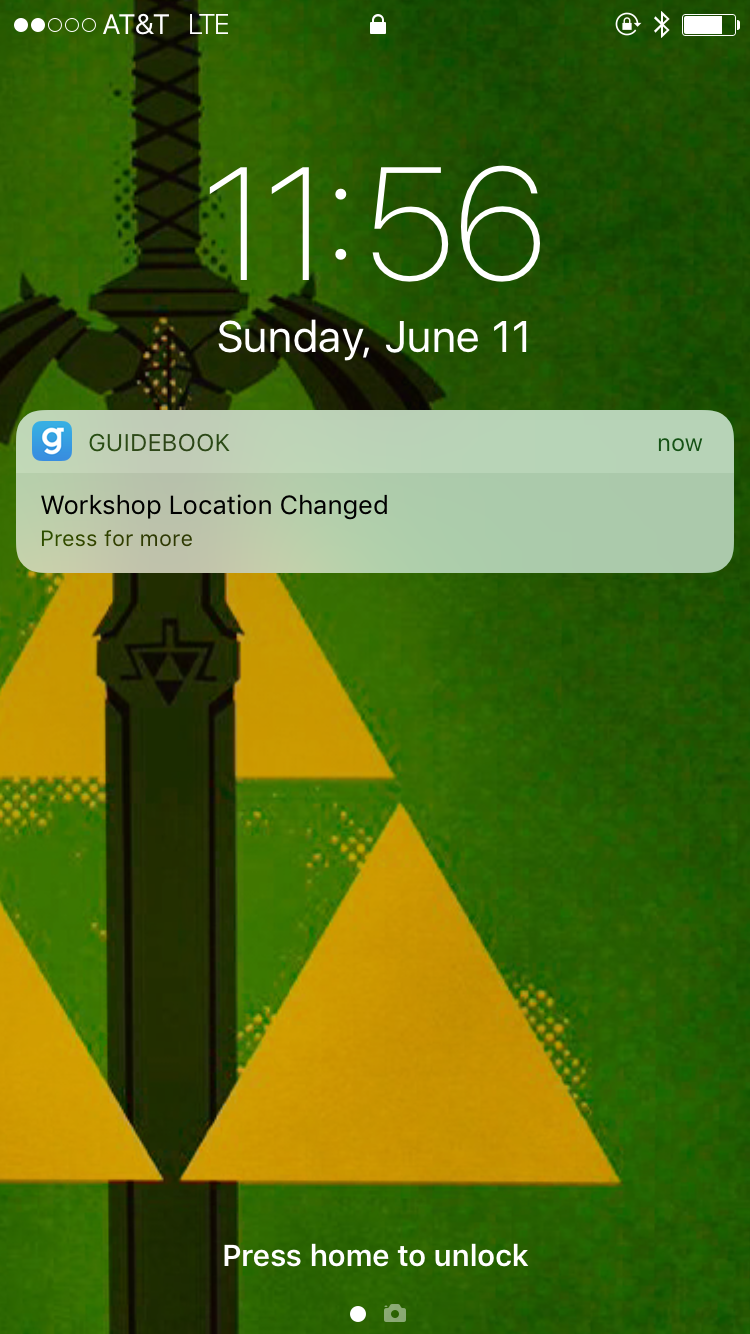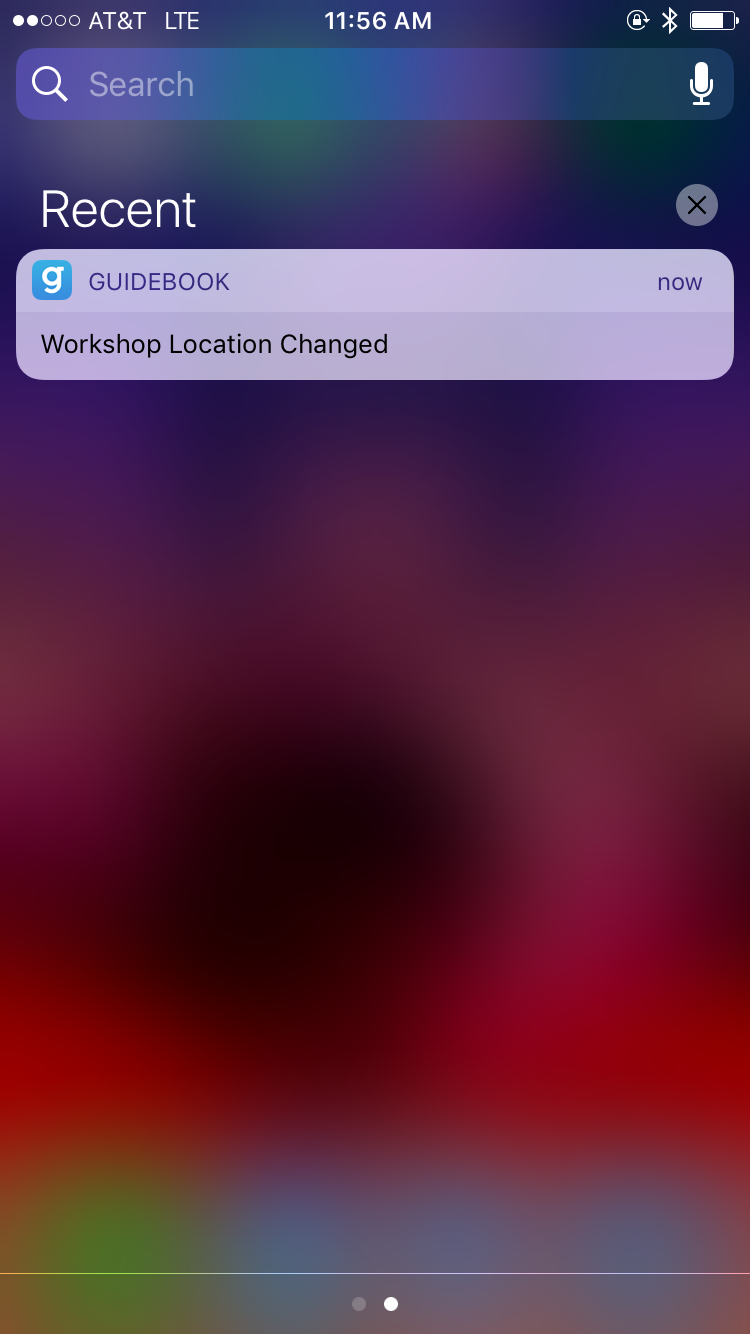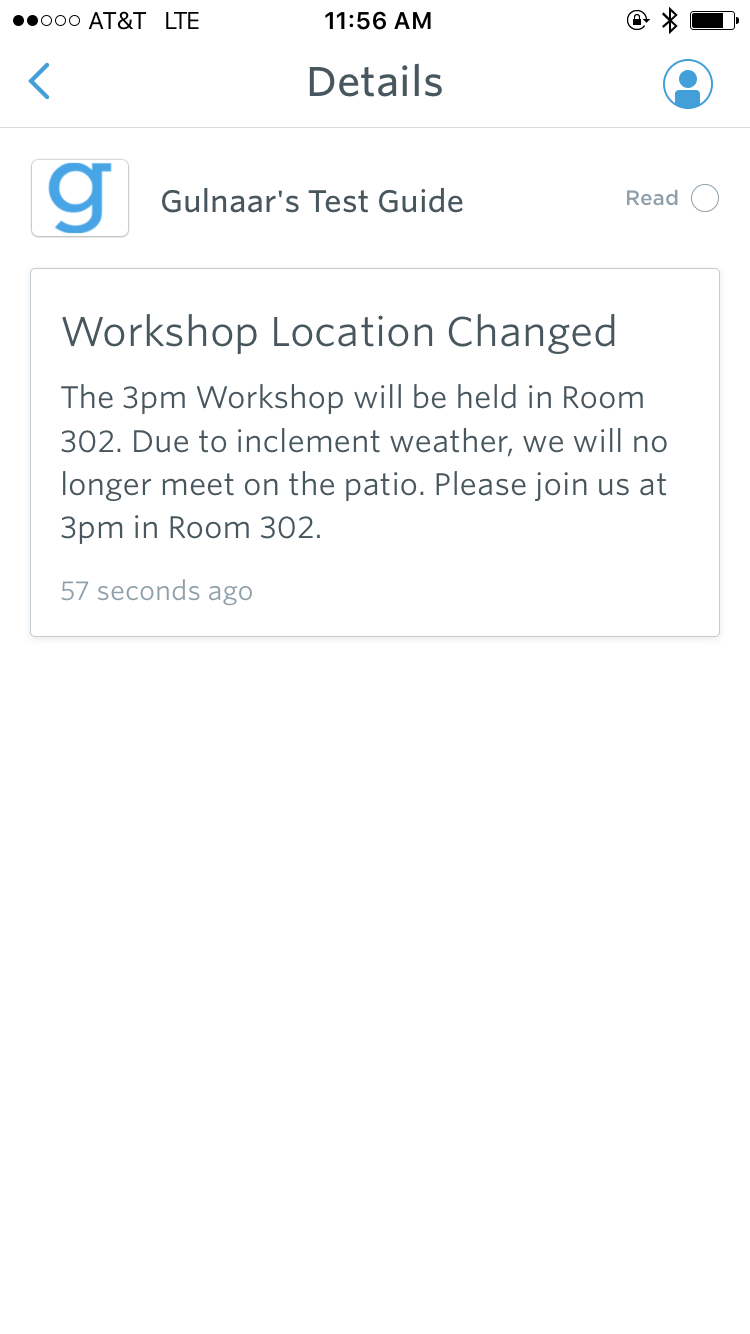 Push notifications are a great way to communicate directly with your users. This can drive them back to your guide and increase their engagement with your content. You can use this feature to share important updates or to point users to specific features in your guide at a specific time, such as taking an end of day survey or highlighting a special offer from one of your event's sponsors. Your users control whether or not they allow notifications so make sure to encourage your users to allow notifications from the Guidebook app.
Read more about this feature in our support article: Send Notifications to Your Users
You can send notifications to custom groups of users so they receive targeted & relevant messages, which can increase the likelihood of them interacting with your notifications. An irrelevant message could put your users off and can result in a lack of engagement with future messaging. It is worth targeting your notifications as much as possible and thinking about the best time of day to send them so they have the highest impact.
Read more about this feature in our support article: Group Notifications: Send your Push Notifications to Specific Users
Interactive Maps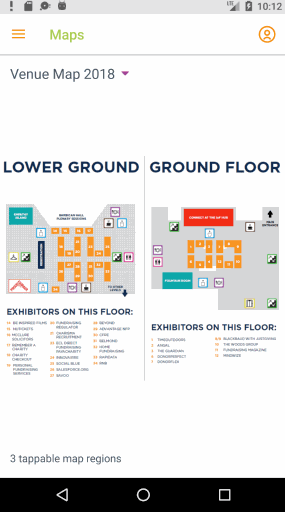 By making your map interactive it allows your users to view a session or listed item and find it directly on the map. If your event is particularly large in size this becomes a super handy feature to help navigate your event. The interactive map doesn't require an internet connection either so you can navigate the map in any scenario, whether you're connected to the internet or not.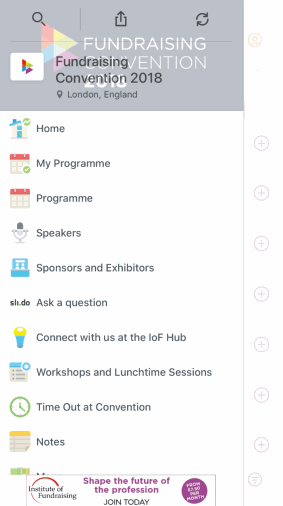 This is a feature your sponsors will love, particularly if they are one of many booths set up at your event. It may bring them more visibility because you can directly link their booth location to information about their company in a custom list. This helps your attendees learn more about the sponsor and helps them find the company if they would like to talk to them in real life.
It's great for checking exactly where a session is located that a user may want to attend. It saves the headache of navigating a map with lots of locations, and simply fast tracks the user to the right place.
Read more about this feature in our support article: Interactive Maps - Location Linking
Surveys and Live Polls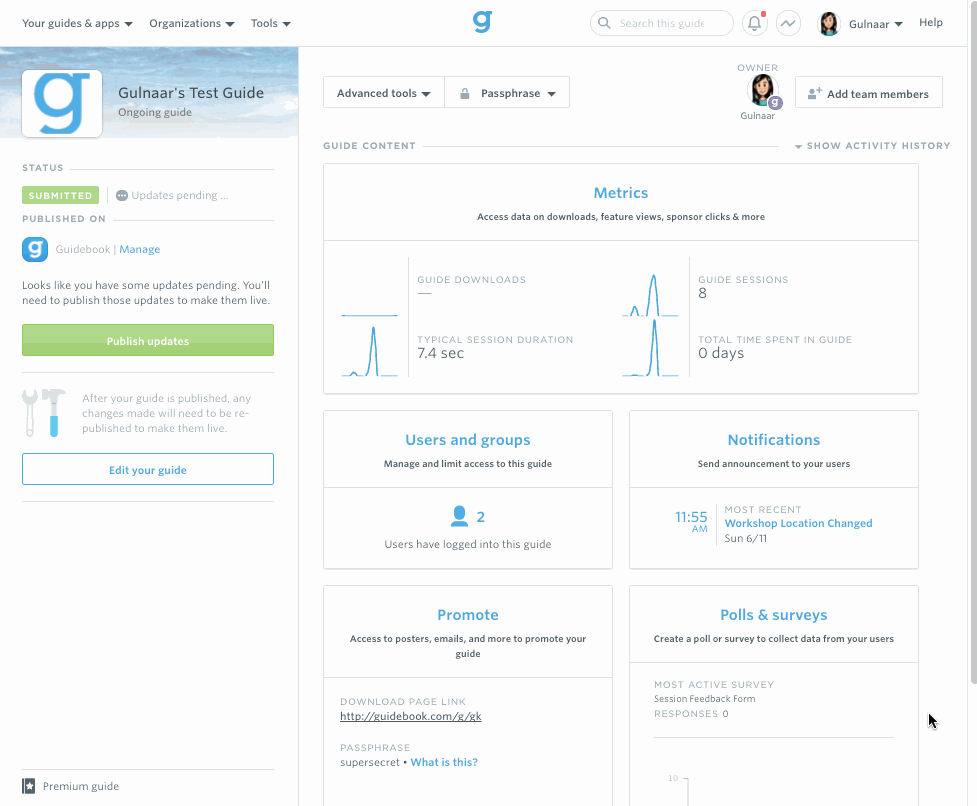 Adding surveys to your guide allows you to gather feedback from your attendees about the event, whether that be to rate the effectiveness of specific sessions, understand their views of the organisation of the event, or on the usability and effectiveness of your guide. You can set up push notifications to highlight your surveys at the correct times, ensuring a higher adoption rate. Feedback surveys, alongside our detailed metrics panel, are a great way to analyse your mobile guide, the event overall, and provide more of what your users are looking for at your next event.
Read more about this feature in our support article: Survey Tools: Create Evaluation Forms to Gather Feedback
To go one step further, why not engage with your audience in real-time whilst the panel is in session? Create a live poll and link it to a particular session to shape the conversation of the room.
Read more about this feature in our support article: Live Polling: Ask The Audience.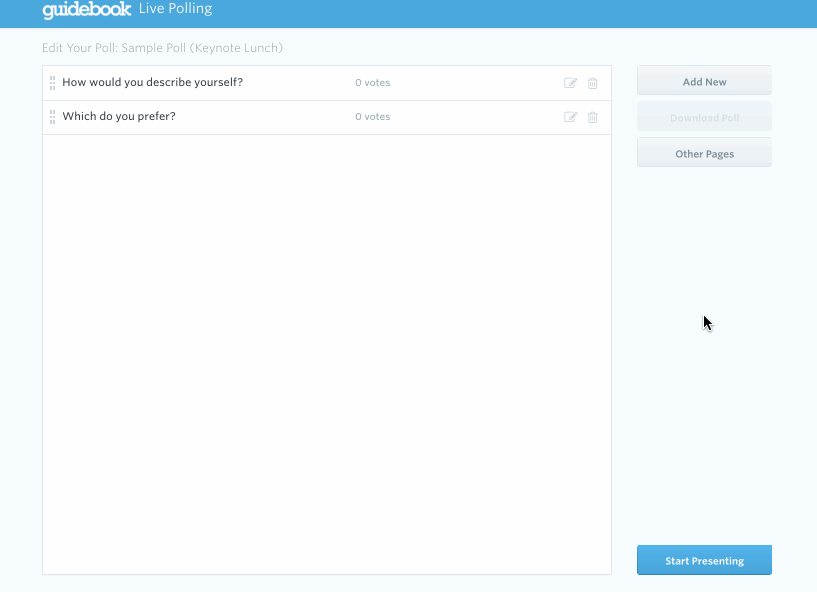 Making a guide that your attendees will love using will encourage them to return to it and will enhance your event's experience. Your guide can make the difference between running a well organised, engaging, fun event that your attendees will talk and engage with months after or just another event that they forget about in a weeks time.
With these pro features, your guide will have longevity, your attendees can interact with each other, and follow up with their new connections long after, as well as access any PDFs or slides you may wish to share from your sessions to aid their learning.
You can keep the conversation going, post photos after the event, and engage with your users to ask for more feedback on ideas for your next event. How many events can you say you've effectively done that with?
Guidebook makes it possible for you to create a memorable live event experience through the use of your engaging guide before, during and after your event. Turn your event from just good to a memorable experience.