When you initially log into Guidebook Builder at builder.guidebook.com you'll be taken to your Builder homepage. You can navigate back to this page anytime by clicking the Guidebook "g" logo in the top-middle of the Builder page.
You can switch between your personal account and organizations you belong to on the left side.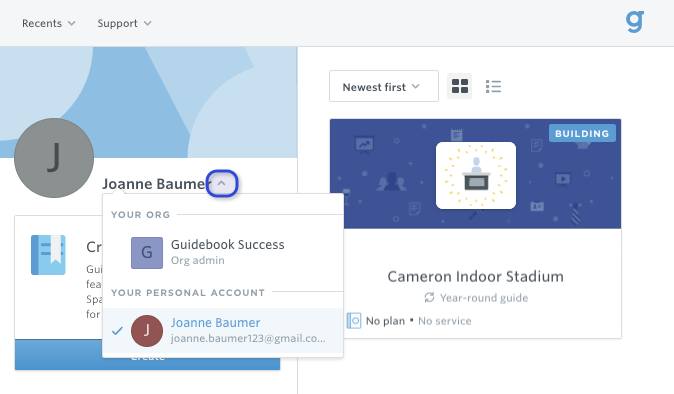 If you are part of an organization that has already paid for guides, be sure to navigate to your org, and then view guides either from the Org guides tab or the Build new guides tab.
Guide Management on the Builder Homepage
When you start building multiple guides, it can be tricky to organize your dashboard. This is especially true for organizations and org admins that are producing guides on a weekly or monthly basis. To help you stay organized and effective, you can make use of guide tagging and filtering on your Builder dashboard.
You can choose to view guides in grid view or list view by toggling between the two icons: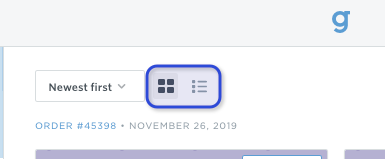 Adding Tags to your Guide
From your dashboard, hover over the guide you want to tag and click the Add tag in the upper left.
Add keywords (tags) that you'd like to use to find this guide later on. Use commas to separate them. Tags must be at least three characters long.
Click Save.

Filtering Using Tags
1. Click on the search bar in the upper-right corner of your dashboard that says "Search by name or tag".
2. Type in the tag you would like to search for and click enter.
Sort and Search
You can sort guides by newest, oldest, event date, publish date, the guides that are active or inactive, and the guide name from the dropdown on the left. As well, you can search using tags or guide names in the search bar in the upper-right.

Personal Account Guides
Likely, you will only use your personal account if you are building a metered guide. In this case, you will not have any provisioned guides on your account, and to begin a new guide you will click Create.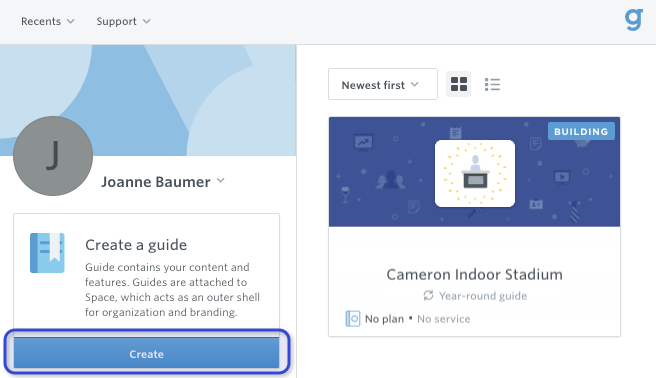 Any guides you've already created will be accessible on the main part of your Builder homepage. You can activate guides on the metered plan which will allow you to publish the guide.
Organization Guides
If you are part of an organization in Builder, and that organization has pre-purchased guides, navigate to the org from the dropdown on the left. You'll see guides that have been started, or are already live in the Org guides section. If you need to start a new guide, click on the Build new guides button.