Most content in a guide is housed inside various Custom Lists. Usually, you tap on a Custom List and tap once more to see a page of detailed information about a list item. For example, you might tap on the Local Restaurants list and then tap on Chuck's to see the details page about that specific restaurant. But what if you only have one item in your list?
To learn how to remove that extra tap and direct the user to the details page immediately, you can watch the video or follow the instructions below.
Before Getting Started
You will need a Custom List with one or more item in it before you can create a one-tap menu item. We'll go into more detail on custom lists on our dedicated custom list support article.
How to Pin a List Item to the Menu
Click on the gear icon to the right of a list item.
Then click Pin to Menu.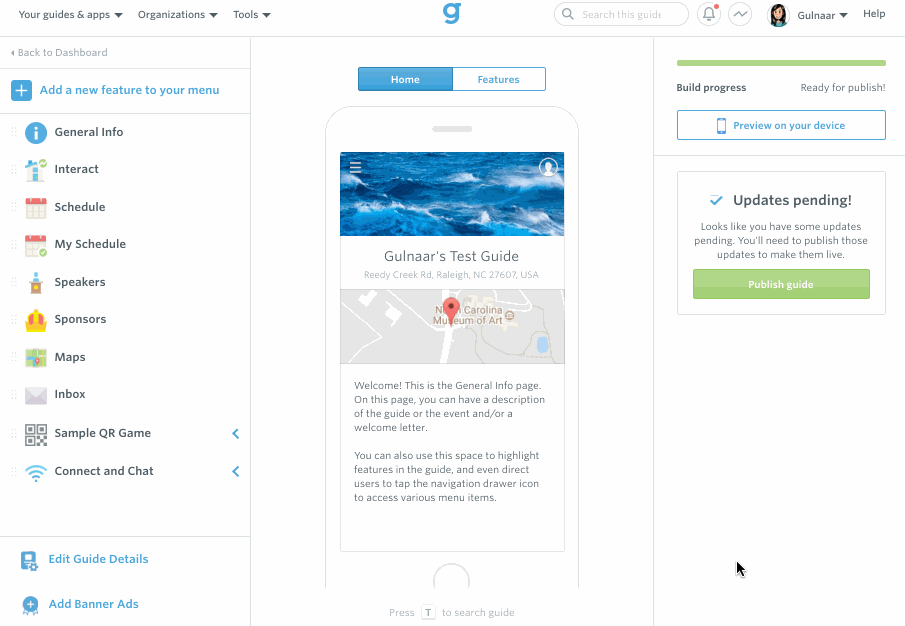 You'll notice any changes you make to the content from the menu or from inside the list will reflect in both places. It's the same item, but people can just access it from two places. Because it's not always great to duplicate information in multiple places, we recommend disabling the list that hosts your pinned item—it will still remain available on your guide menu.
Example Uses
Sponsor Highlight
You may want to give a special Sponsor some additional recognition. Showcase a Sponsor by pinning their listing to the main menu.
In this example, you will want to keep the main Sponsor list visible to your users.
Resource Page
Use a one-tap menu item to provide various links, documents, or other materials to your users.
In this example, you will want to create a Custom List and then disable it so only the pinned list item is visible.
Welcome Message
If you use the Interact module as your home screen, you might want to include a Welcome Message in a one-tap menu item.
If you still use the General Info module, perhaps General Info could house instructions, WiFi access details, etc. The Welcome Message might be a letter from your institution's leadership, for example.
In this example, you will want to create a Custom List and then disable it so only the pinned list item is visible.
Important Policies
Use this feature to house your Code of Conduct, Privacy Policy, or any other important terms & conditions your users need to know.
If you have numerous policies to include, you may want to use a Custom List named Policies and Regulations, but if the information can be viewed on one page without too much scrolling, the one-tap menu item is for you.
Notes
Hide the Custom List
In some instances, you will create a Custom List purely to house your various one-tap menu item shortcuts. You may not want this Custom List to be visible to your users. Fortunately, you can hide it.
Click on the Custom List and go to the Settings tab. Then click the Enable button to disable it, or hide it from view.
The one-tap menu items will still work normally, so users can quickly access a page of content from the main menu. However, the source list holding all of your shortcuts will not be visible.
Do not delete the Custom List that holds your one-tap menu item. Both the source list and the pinned items will be removed.
Keep Your Guide Lean and Clean
Be sure not to overuse the one-tap menu item pinning feature. Most of your content should live inside a Custom List and/or a folder. You will not want too many miscellaneous, disorganized menu items cluttering up your guide, as users will have a hard time finding the information they need.