A Schedule Track is a filtered view of your schedule. A Track contains a subset of your sessions, according to the track names or tags you assign.
For example, you might have sessions tagged by audience (First Year Students; International Students). You might set up your tracks by topic (Sales; Marketing; Executive). You could also create a Schedule Track that houses sessions for a specific timeframe (June 12–16; June 19–23). You can assign more than one track designation to a session, so a session might be tagged June 12-16 and International Students.
Here is a video walking through all three ways to set up your schedule tracks. For additional details, please visit the written sections below.
Manually Add Tracks
In Builder, navigate to the guide-building screen. Then click on the Schedule menu item in your guide.
Click on the New session button. This will open the manual session creator. Add information about your session here.
In the Track field, type in the name of the Track you'd like to assign. Click Create new track [track name].

You will have the option to set a color for your track here. The track description is for your internal notes only. Schedule Track titles may be no longer than 40 characters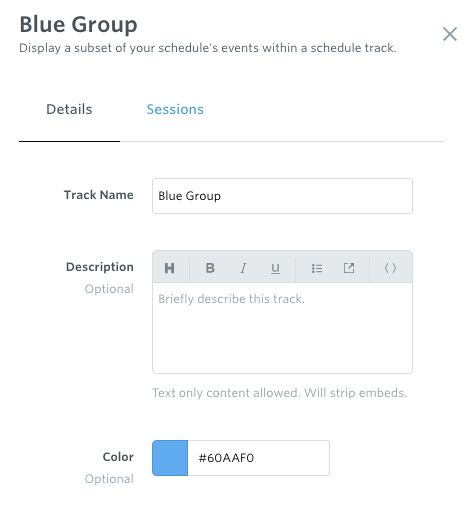 You can assign more than one track designation to a session. When you have successfully added your session information and track designation, click Save.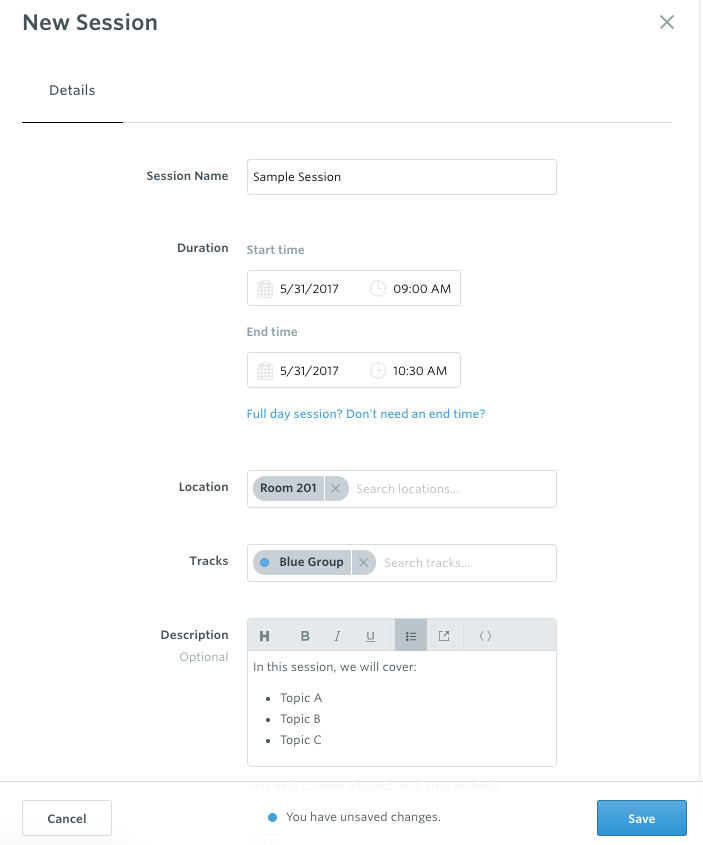 Continue to repeat this process to manually add your sessions with their track designations.
Use Template Import to Add Tracks
In the schedule template spreadsheet, there is a Schedule Track column where you can input your schedule track name.
If you assign more than one track to a session, separate the track names with a semicolon (;).
Please click here for details on importing a schedule template spreadsheet.
Add Tracks to Existing Sessions
You might add your schedule sessions into your guide before deciding to set up tracks, or you might not know what your track names will be.
In Builder, navigate to the guide-building screen. Then click on the Schedule menu item in your guide. Add your schedule sessions. (Click here for help with adding sessions.)
Then, in the Schedule menu item, click on the Tracks tab. Click New Track to create your schedule tracks here - give each a name and a color.
The track description is for your internal notes only. Schedule Track titles may be no longer than 40 characters
Once you have created a track, click on it and then open the Sessions tab. Click on the Search for session... box to type in the name of sessions and select them. This will assign the sessions to the track.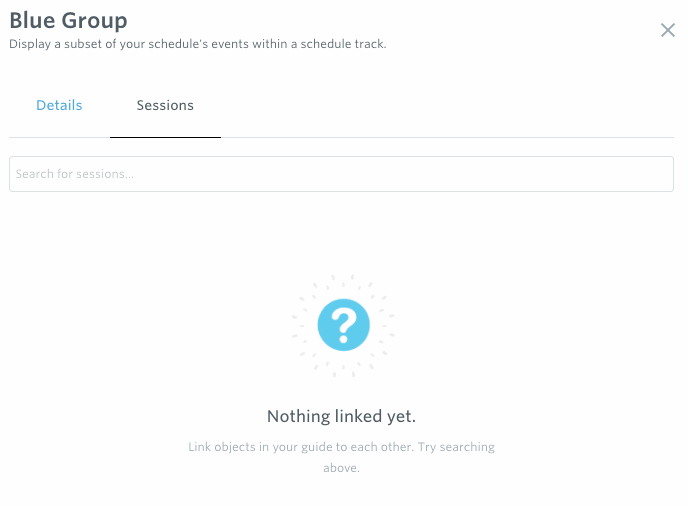 Pinning Schedule Tracks to the Menu
The Schedule Track feature is a fantastic way to organize and segment your schedule to help your users quickly find the sessions they need. In addition to easy navigation, pinning tracks makes it look like there are multiple, distinct schedules in your guide.
The video covers pinning tracks to the menu as well as creating a folder to house your tracks.
Before you can pin tracks to your menu, please make sure you have your schedule sessions set up in your guide. Then make sure you have created some Schedule Tracks.
Open the guide you're creating on the Builder website.
Click on the Schedule module (you may have re-named this).
Next click on the Tracks tab.
To the right of the track name, click on the settings dropdown (with a gear icon) and select Pin to Menu.
You'll notice your track(s) will now appear in the menu. Feel free to click and drag your menu items to set the order you prefer. You may also click on the track pinned to the menu, navigate to the Settings tab, and change the icon.
Use Tracks and Pinning to Hide Certain Sessions
We know that you sometimes don't want everyone to see every single session in your Schedule all at once. With this Pro Tip, you can hide the master Schedule from view and choose to show specific Schedule Tracks to your Users.
Watch this video and/or follow the written instructions below.
Before getting started add sessions to your Schedule with your Schedule Tracks set up.
For every session, you do want to make visible in the guide, assign it to a Schedule Track. We recommend creating a Schedule At-A-Glance or Agenda Overview track to house the general sessions that you want to have visible.
Then everything else will be assigned to other tracks, like Breakout Session A or Marketing and so forth. Remember: one session can be listed on multiple tracks.
In this example, we don't want every single workshop to be visible.
1. Hide the Schedule Module
In Guidebook Builder, open the guide you're working on. Click on the Schedule module from the guide-building screen.
Click on the Settings tab.
Find the Enable setting and click to turn this off.
Your Schedule module has now been disabled so it is hidden from view in the app.
2. Pin Schedule Tracks to the Menu
In the Schedule module, click on the Tracks tab.
To the right of each track, you will see a gear icon. For the tracks you want to make visible on the menu, click this gear icon, and then click Pin to menu.
This will send the track to the menu with its own icon. Feel free to change the icon.
You can also click and drag to reorder your menu items. Folders also help keep the menu clutter-free.
What It Looks Like
Before Hiding Sessions
Users will open your guide, access the schedule, and see everything in one place. This might be a little confusing and overwhelming if you have numerous concurrent sessions.
After Hiding Sessions
The pinned track for your Agenda Overview will be cleaner and easier to navigate. (Note: notice the linked concurrent sessions? Head over to our linking page for all the details of working with linking).
Sometimes folks use Preset Schedules and disable the main Schedule too if each User has a specific assigned schedule.
Because this solution is a workaround to our default functionality, it is possible that some end-users may inadvertently view your full, unfiltered schedule when following the very specific steps below:
End-user taps into the My Schedule feature in the app.
End-user toggles from My Schedule to Schedule (or taps Add one now on iOS)
This feature is intentional so that users can access the full schedule set from when creating their personalized schedules. Despite this one caveat, this workaround functions very effectively and can really help to enhance the guide browsing experience.