When a guide is published, it is available for users to download. You can promote it to your users so they can find and access your content. 
Before a guide is published, however, it needs to be approved by the owner of the app that you are publishing to. You may wish to contact the org admin ahead of time to let them know you require an approval. For guides published to the Guidebook app, keep in mind that it may take up to two days for a guide to be approved, so make sure you plan ahead before clicking "publish".
If you are an Organization Administrator and you would like to learn how to approve your Organization's guides, please click here.
---
How to Publish a Guide
As you build your guide and add great content for your users, Builder will provide you with reminders to fill out empty menu items until your Build Progress bar is full. 
The Build Progress bar lives in the top-right corner of the guide-building screen. When you are ready to publish, you will see a big green button.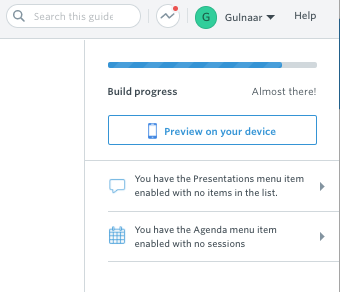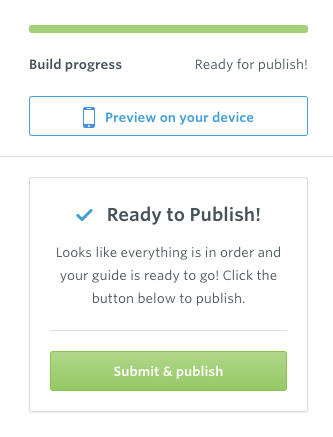 When you click "Submit & Publish", you will see a confirmation page asking you to verify your guide basic details are correct before proceeding.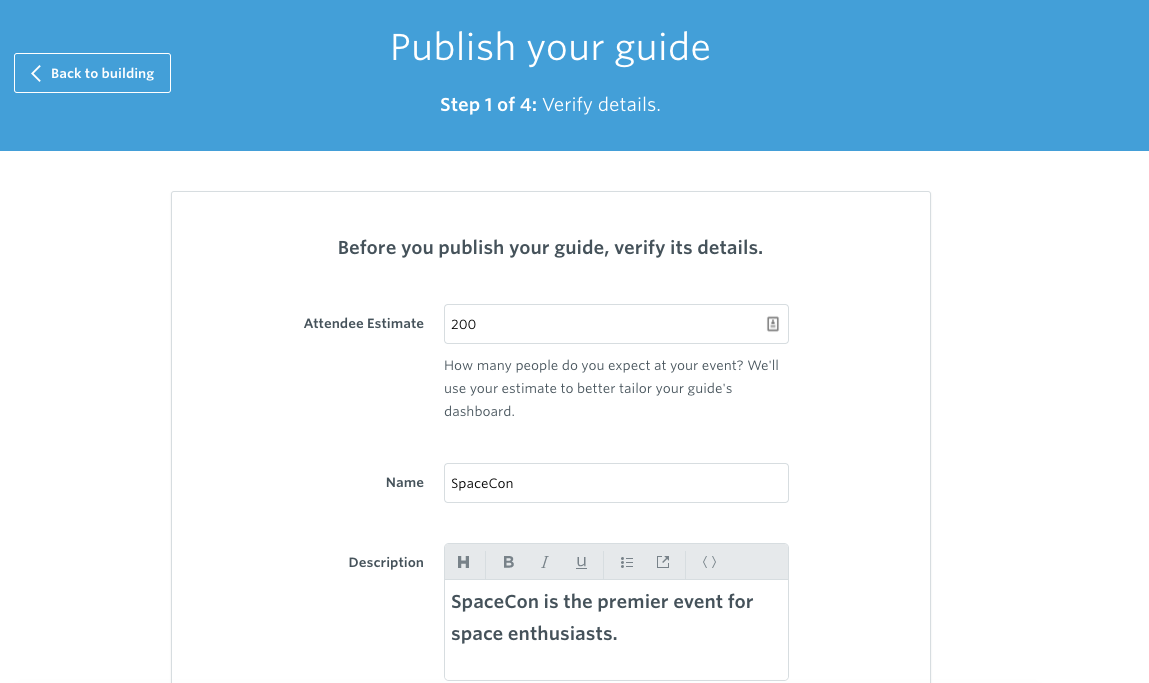 Once you publish your guide, your guide name and duration will get locked in! You can continue to edit all other content.
You will then be asked to select which apps you would like to publish your guide to. Doing this creates an attachment request that the owner of the app must respond to. You can select multiple apps, but remember that each request needs to be approved separately.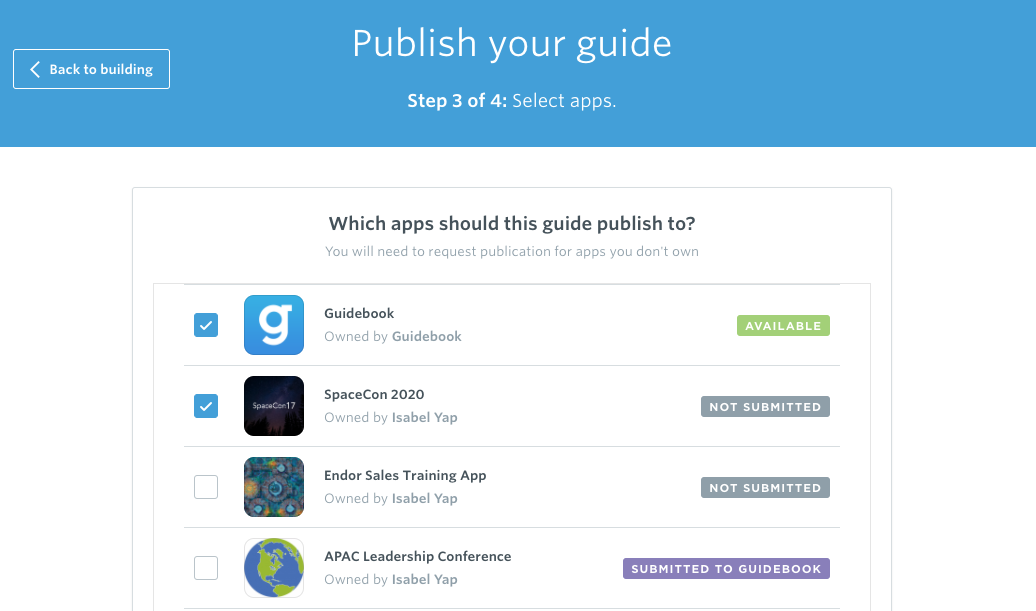 You can select the Guidebook app, and apps you personally own, and apps owned by the organization you're a member/admin of. If you would like to create a new app and publish there, please reach out to sales@guidebook.com.
---
Submitted
Once your guide is submitted, you can continue to make changes to it and update it while waiting for the attachment request to be approved. You should expect to receive a message from Guidebook Support and/or your Organization Administrator about the status of your guide attachment request - either approved or rejected. 
Approved: You're ready to promote your guide to your users!


Rejected: You will receive an email with brief details explaining why your guide has been rejected. You can edit your guide and resubmit it for approval as many times as needed until it's ready to be shared with your end-users.   
---
It's Approved! Now What? 
It's time to tell people all about your guide!
Visit the Promote section of your guide and make use of our promotional best practices document for ideas on giving out download instructions and making sure folks know about the guide you have built for them. 
If you need to make changes to your guide content, you can continue to do so any time!
Just edit the guide in Builder like normal. You will see a button appear that says "Publish Updates" - click this button to send those changes out to users' devices. Unless you attach the guide to a different app, you do not need to go through any additional approval process when making changes.
If you have a question about your guide's status, please review this article here.
---
Other questions? Contact Support!