Table of Contents
---
1. What is a Custom List?
A custom list is a fundamental building block of your guide. It's the best way to house content for your users. Each item in a list has a description page, where you can include a header image, paragraphs of text, and links to other items in your guide or links to external website & resources. 
You can use a custom list to display speakers/presenters, exhibitors, sponsors, and perhaps papers/abstracts at your event. For campus resources, you could include a list for health-related resources, a list of academic resources, and so on. Don't forget to provide hotel, transportation, parking or other logistical information for your event attendees! 
Custom lists can also be linked to locations - either a location on a map (perhaps the exhibitor's booth or an advisors' office) or a Google map location, like the address of a nearby restaurant.
Because custom lists are so versatile, you can rename them and choose a corresponding custom icon. You can choose from our icon library in Builder, or you can upload your own! Click here for more information on custom icons. 
---
To add list items, you will first need to add a custom list module to your guide. From the guide-building screen, click "add a new feature" in the top-left corner, find Custom List in the menu that appears, and click "add".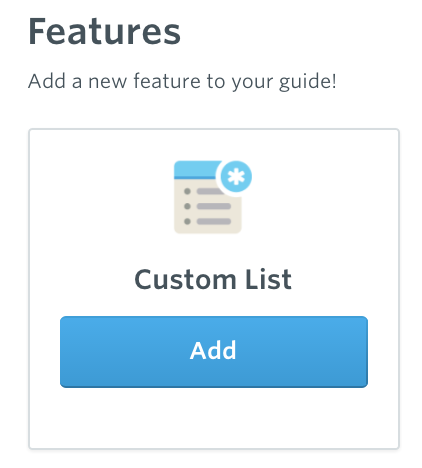 If you started with a template, you might already have a custom list or two in your guide! 
Once you've created a custom list, click on it to open it. If you want to change the name or icon of this list, click on the Settings tab.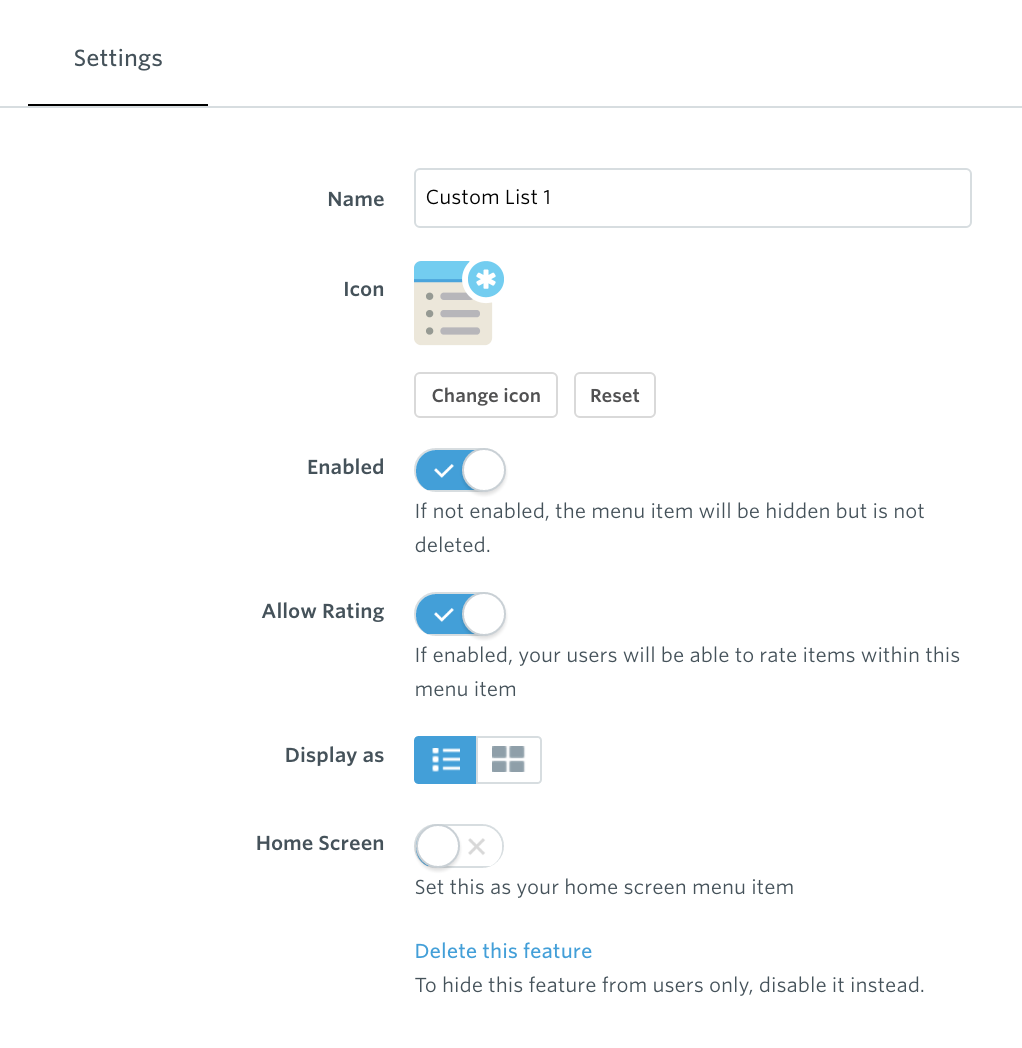 You may notice, in the Settings tab, that you can choose List View or Grid View for your list. If you are going to add thumbnail images to your list items (speaker headshots, sponsor logos, or any other image), you might want to consider using Grid View. 
List View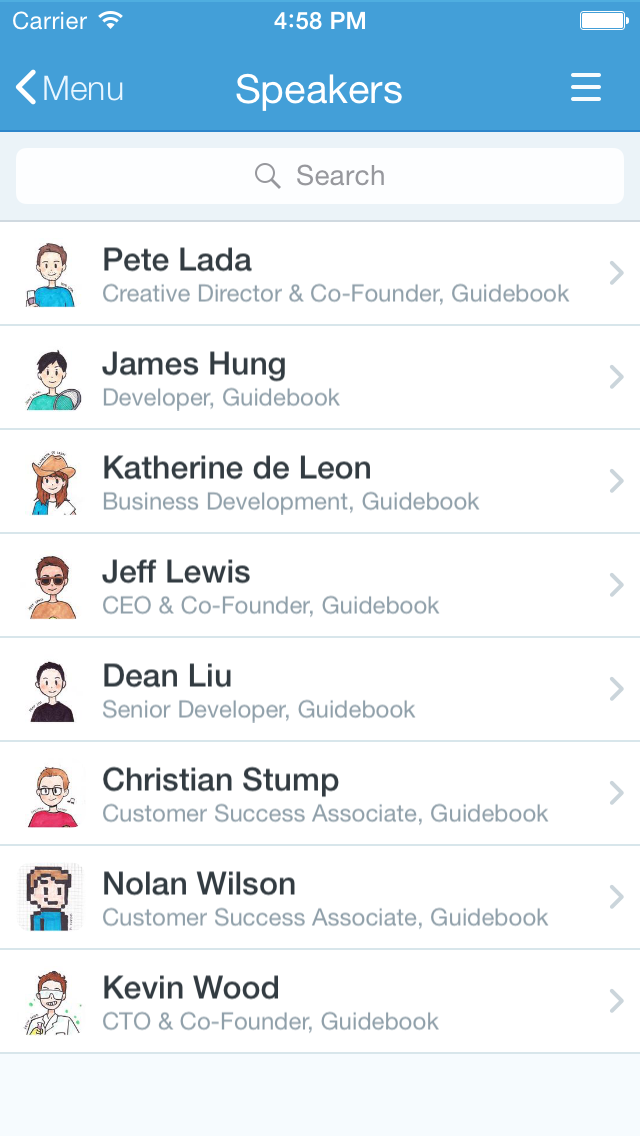 Grid View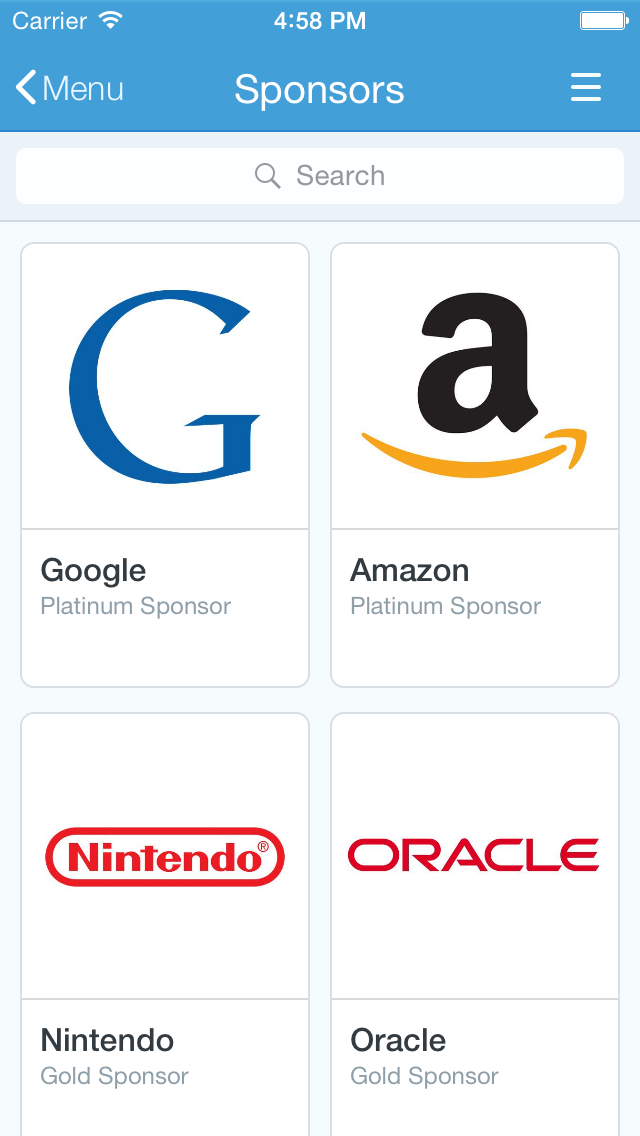 When you're ready to add content to your custom list, click on the "Items" tab. There are two ways you can add list items:
Manually Add an Item: You can add list items one by one.
Import Items From File: Use a Custom List Template spreadsheet to upload multiple items at once. 



---
To add a list item manually, click on the list to open it and then click on the blue "New" button. The "New Custom List Item" window will appear.
Name (REQUIRED): Enter the name of your list item. This could be the name of a speaker, the name of a paper/abstract, a restaurant, a Frequently Asked Question, etc. 


Label/Subtitle (optional): Here you can choose to provide brief, secondary information about your list item. This could be the speaker's title or company name, the sponsorship level, the type of cuisine for a restaurant, or you can leave it blank. 


Location (optional): If your list item is tied to a location, add one here! This might be an exhibitor's booth number, a building on campus, or the address of a restaurant, for example. To learn all about locations, check out this support article.


Description (optional):  The description field allows you add any information that doesn't fit in the above fields. This could be paragraphs of text, such as a speaker biography or sponsor company description. You could also use this space to provide contact information, like mailing address, phone number, or email address for an individual or office. You can use the HTML editor (click the <> icon) or the formatting buttons to display your information how you would like. 


Image (optional): This will appear as a header banner across the top of the screen for your list item. If you choose to include this, you might provide a speaker photo, a sponsor logo, or perhaps a picture of a building. The header image dimensions are 640px wide, 240 px tall; please upload a .jpg or .png file.


Thumbnail (optional): If you choose to add a thumbnail image, this will appear to the left of the item name when viewing the entire list. Thumbnails might be speaker photos or logos, for example. The thumbnail image dimensions are 240px by 240px; please upload a .jpg or .png file. 
Please Note: You will not be able to add links or surveys to an item until after it is saved. Therefore, once you hit save, close and re-open your list item for the options to add in Links or a feedback survey.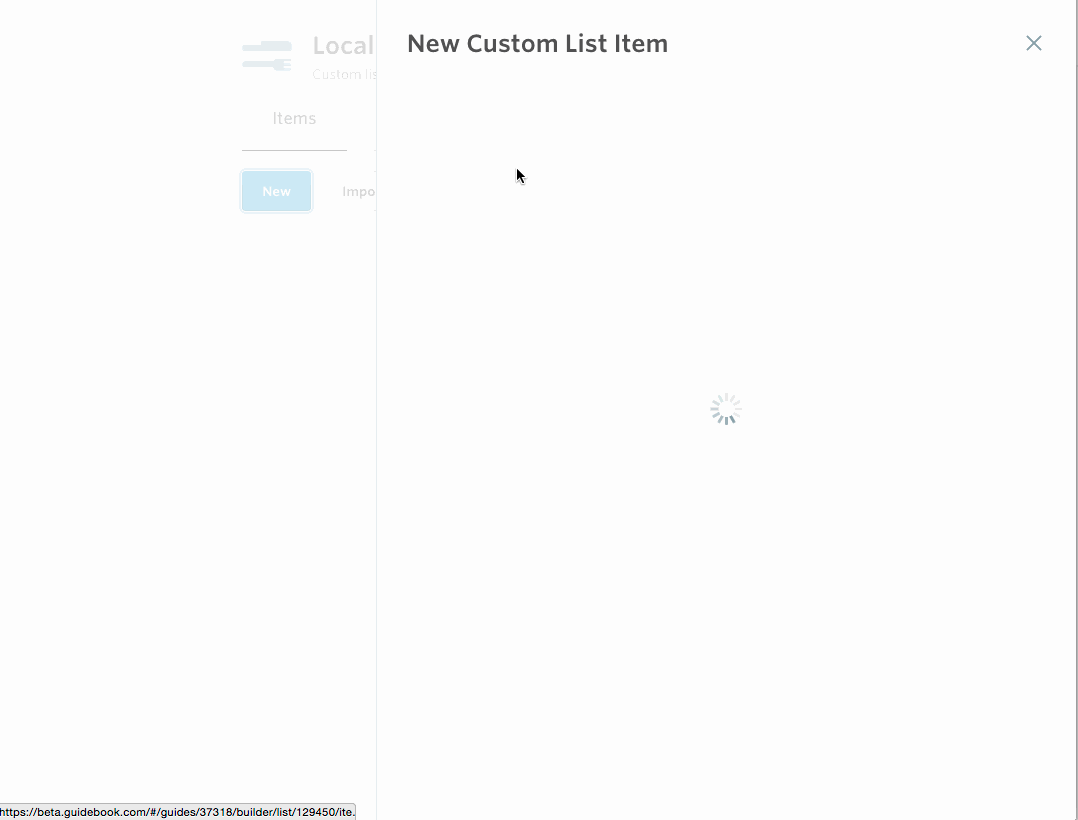 Add the Same List Item to Many Lists 
You might have an Exhibitor who is also a Sponsor, or perhaps you have a restaurant that offers both Seafood and Vegetarian options. Instead of creating the same list item multiple times on multiple lists, you can create it once (add the Exhibitor to the Exhibitor list), and then have Builer populate another list with that existing item (Builder links the Exhibitor list item into your Sponsor list for you). 
For more details on this feature, please click here. 
---
Instead of manually adding list items one-by-one, you can add/edit multiple list items at once using the Custom List Template spreadsheet importer. 
First, download the Custom List Template spreadsheet as either XLS or CSV. These documents are linked at the bottom of this article, and they are in available in Builder when you click on "Import from file" in a custom list. 

You can use Apache OpenOffice and LibreOffice to open the template files. This software is free to download! You can also use Microsoft Excel, but Excel does not offer any special advantages over OpenOffice and LibreOffice where Guidebook is concerned. In fact, in terms of encoding, Excel may actually have disadvantages, as it cannot encode in UTF-8 (the preferred text format Guidebook uses). For best results, we therefore recommend using OpenOffice or LibreOffice to open and edit our spreadsheet templates.
Adding Custom List Data to the Template Spreadsheet
Once you have downloaded a custom list template and you have gathered your list data, it's time to input your data into the spreadsheet. 
Please make sure you do NOT change the column names in Row 1 of the template. Any changes to the column headers will result in errors as Builder will not know how to read and allocate the data appropriately.

Add your session data to the spreadsheet, and be sure to save your work!
Please Note: The "Image" and "Thumbnail" columns allow you to import multiple photos into your list as well! For detailed step-by-step instructions on photo importing, please see this article here! 
Uploading a Custom List Template into Builder
In your guide, click on the custom list you'd like to edit.
Click on the "Import from file" button.
To the left, under "Import list items", click on the "Start import" button.
Browse your computer to find your saved XLS or CSV spreadsheet. Import this document.
If you want to import photos along with your custom list template, please see this article here for further instructions!
Important: Replace Duplicate Entries: If you leave this option disabled, all of the information in your template will be added as new data to the guide. If you choose to enable this option, Builder will look for any existing list items with the same name and overwrite them with the information in your template. 
After uploading your template, you will receive an email that says "Success" or "Whoops!" (Make sure to check your Spam folder if you don't receive this email!) If you see a "Whoops!" message, please make note of the error message details provided and check out our handy troubleshooting article here. 
Note: In general, we recommend using a fresh list template the very first time you add list items to this a give list. Then, when you're updating a list, we recommend Exporting Data to make updates.  By including Item IDs in your upload, our import system will always intelligently update your data without the fear of unnecessary duplication or any potential loss of data by overwriting existing list items in that list. 
---
3. PRO TIPS
Combine your data to fit our fields (and use HTML tags):  Since you must preserve Guidebook's default headers, it may appear that our templates are lacking in the diversity of data we accept.  This is not the case -- use the Description field as a 'catch-all' for any extraneous information.  If you have a lot of data you want to put in a template, you may want to use concatenation to help. Concatenation is a function that combines cells together in order to make one complete cell, without having to manually type it all in. Find a helpful, Guidebook written and tailored, walkthrough of concatenation and HTML tags here. This is useful for when you have to combine a speaker's name, email, company, mailing address, etc. in the "Description" field of a template.  The article linked above also details how you can use HTML tags in your spreadsheet to liven up your description fields.


Export data and edit to quickly update your list information: More information about this here.


Upload thumbnails to your list items: This makes your guide look polished, and it gives some extra visibility to speakers and sponsors by showing their picture/logo in the list. Those image dimensions again are 240px by 240px; use .jpg or .png image filetypes. 
---
4. FAQ
When I try to open my CSV file, a window pops up asking me to select punctuation such as "tab," "semicolon," or "comma." What should I click?
Deselect all options except for "comma," and press OK.
When I convert my Excel file into a CSV file and open it again, there are strange marks in the text (i.e. white question marks on black diamonds).
This is probably a side effect of using non-standard characters in your text fields. Many characters that appear when typing in Microsoft Word/Excel, such as the n-dash or curly quotation marks, are proprietary and non-standard; when transported into a CSV file or a UTF-8 encoded file, they fail to render properly. We recommend uploading this file in .xls format to avoid this encoding issue or by editing using either of these free spreadsheet editors: Libre Office or Apache Open Office.
What are the most common Custom List use cases?
Directory of speakers, along with their titles and companies
Directory of teachers or professors, along with their fields of study
List of sponsors, sorted by sponsorship level
Nearby restaurants or things to do
Glossary of terminology exclusive to the event
List of frequently asked questions (FAQs) and their answers
Services and directories commonly sought out by attendees
List of attendees along with descriptions
List of abstracts and/or other handouts
List of award winners or scholarship recipients
Local attractions and other points of interest
List of exhibitors
Self-guided tours for your campus, museum, etc.