One of the most impactful aspects of mobile deployment is successfully onboarding users. The easier it is for users to download and access content, even with strict privacy levels like invite-only, the higher the chances are of getting the app into everyone's hands.
To this end, login links enable users to more securely onboard to invite-only guides, on mobile and on Guidebook Web, in fewer steps without needing to enter a temporary password. This is made possible by using the security of a user's email inbox for authentication rather than a temporary password written in plain text. This eliminates common issues like incorrectly entering the temporary password, forgetting an existing password, having to complete the password reset procedure, users writing down their passwords, etc.
Using Login Links
A login link is currently available in three scenarios:
If a user is accessing an invite-only Guidebook Web page, the user will enter the email address to which they received an invitation. They will find a new email with a Continue button that logs them in to the GuidebookWeb page.
Upon opening the app, the user will be prompted to enter the email address to which they received the invitation. This will initiate an authentication email and prompt them to check their inbox.
They will find a new email with a button that leads them back into the app and automatically logs them into their account. For an existing user, that's the final step.
If prompted to select an app with which to open the link, make sure to select Guidebook or the branded app you are accessing, not a browser.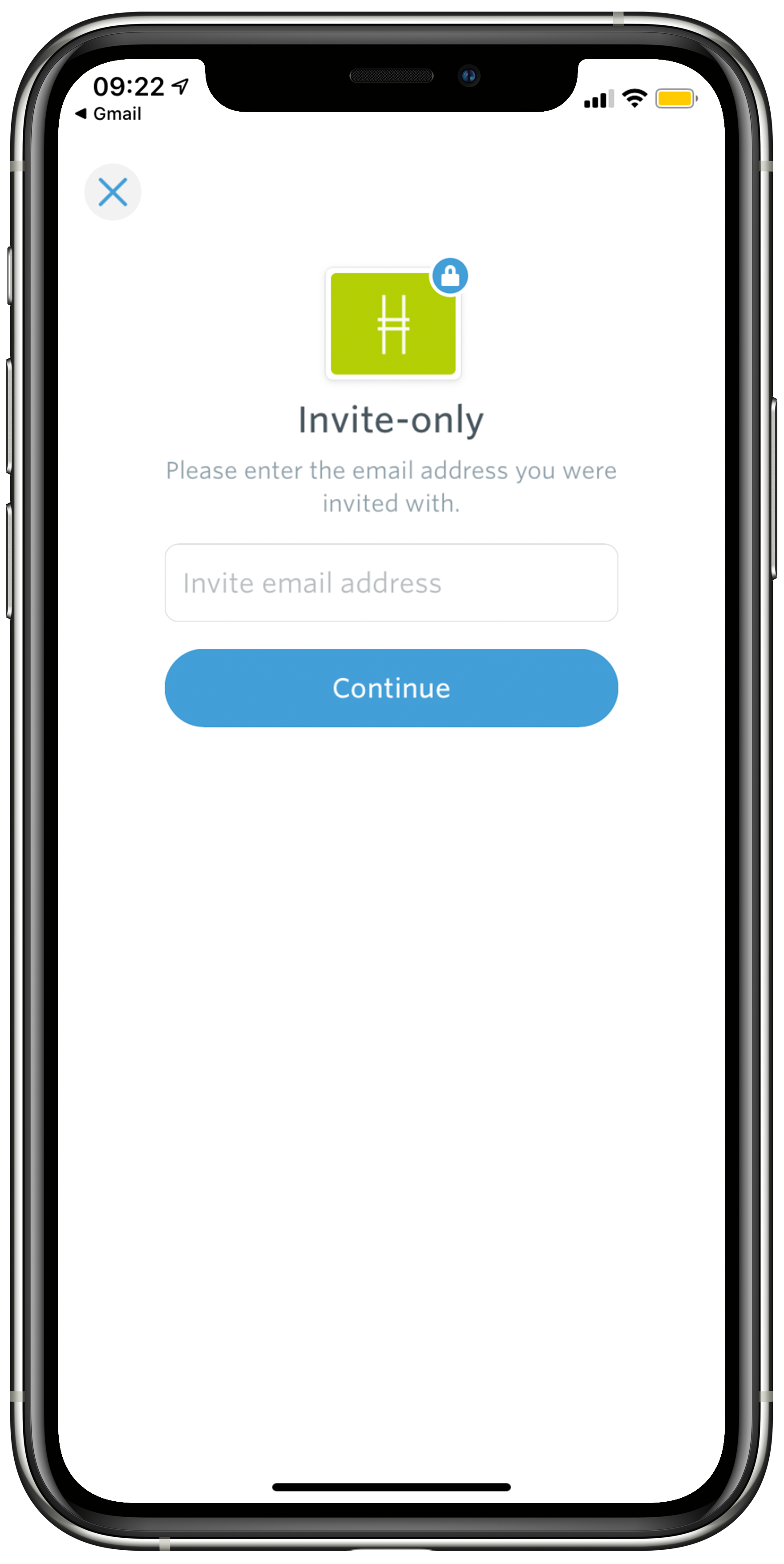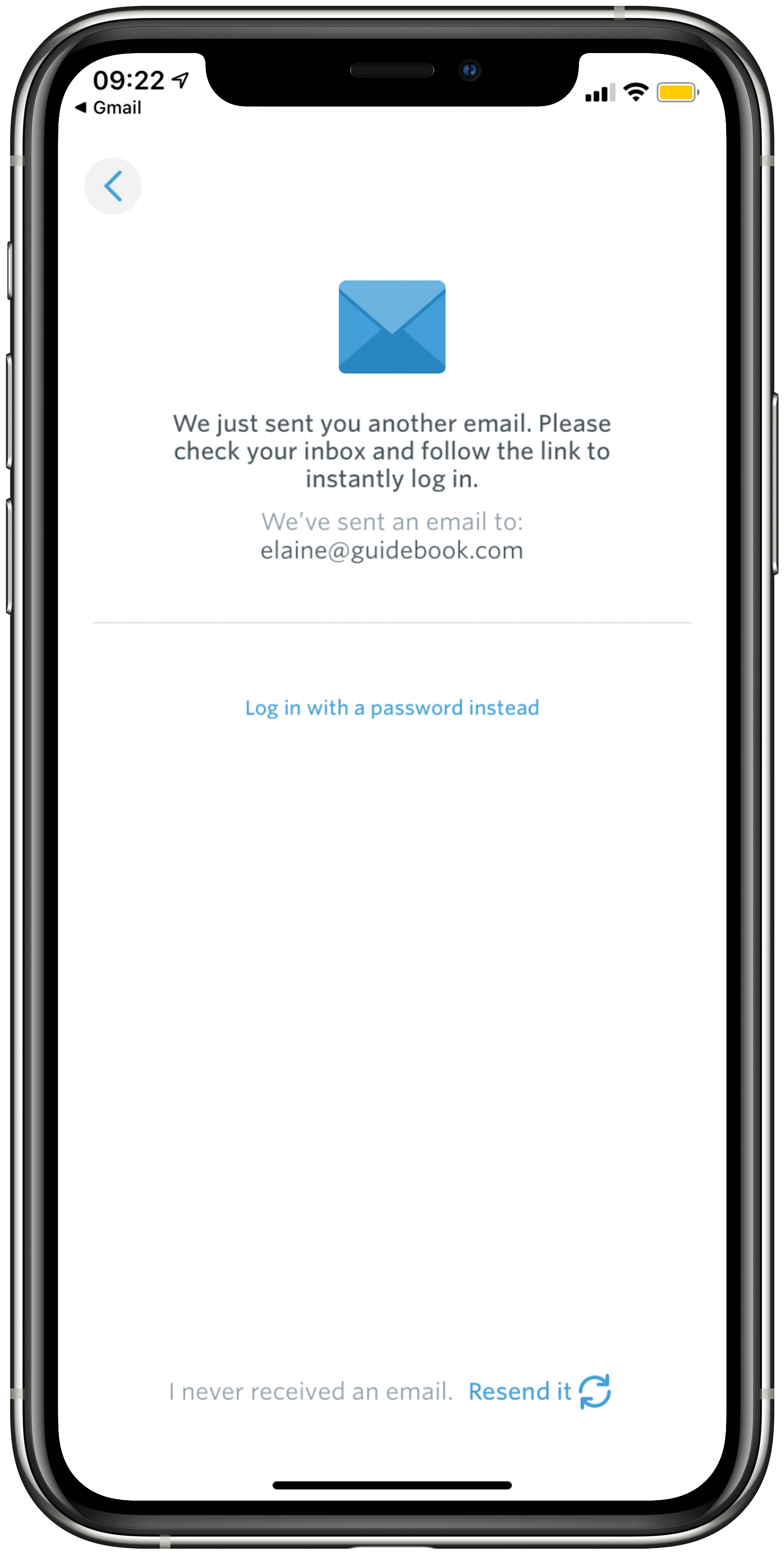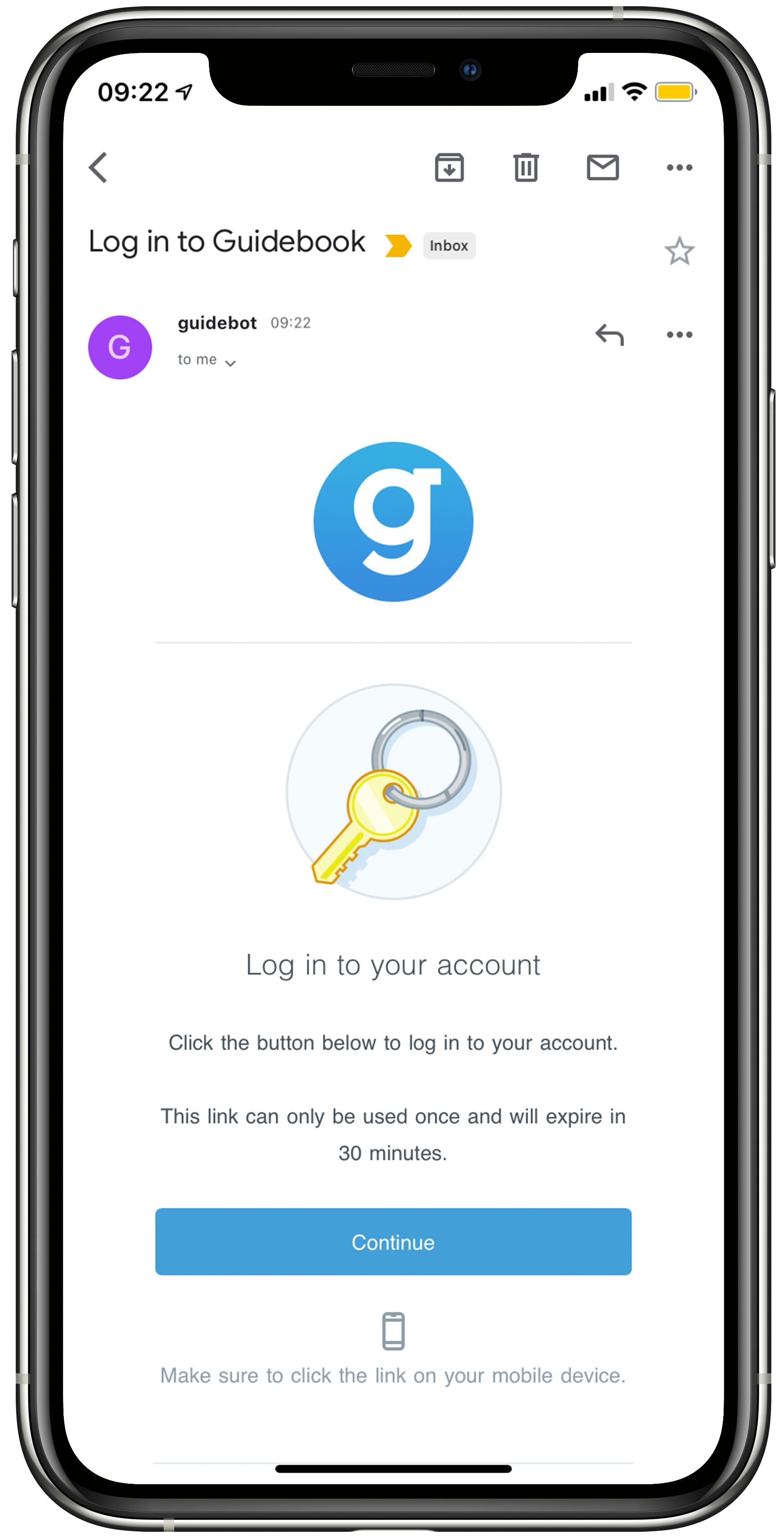 If they are a first-time Guidebook user, they will see two more further screens to complete their account setup.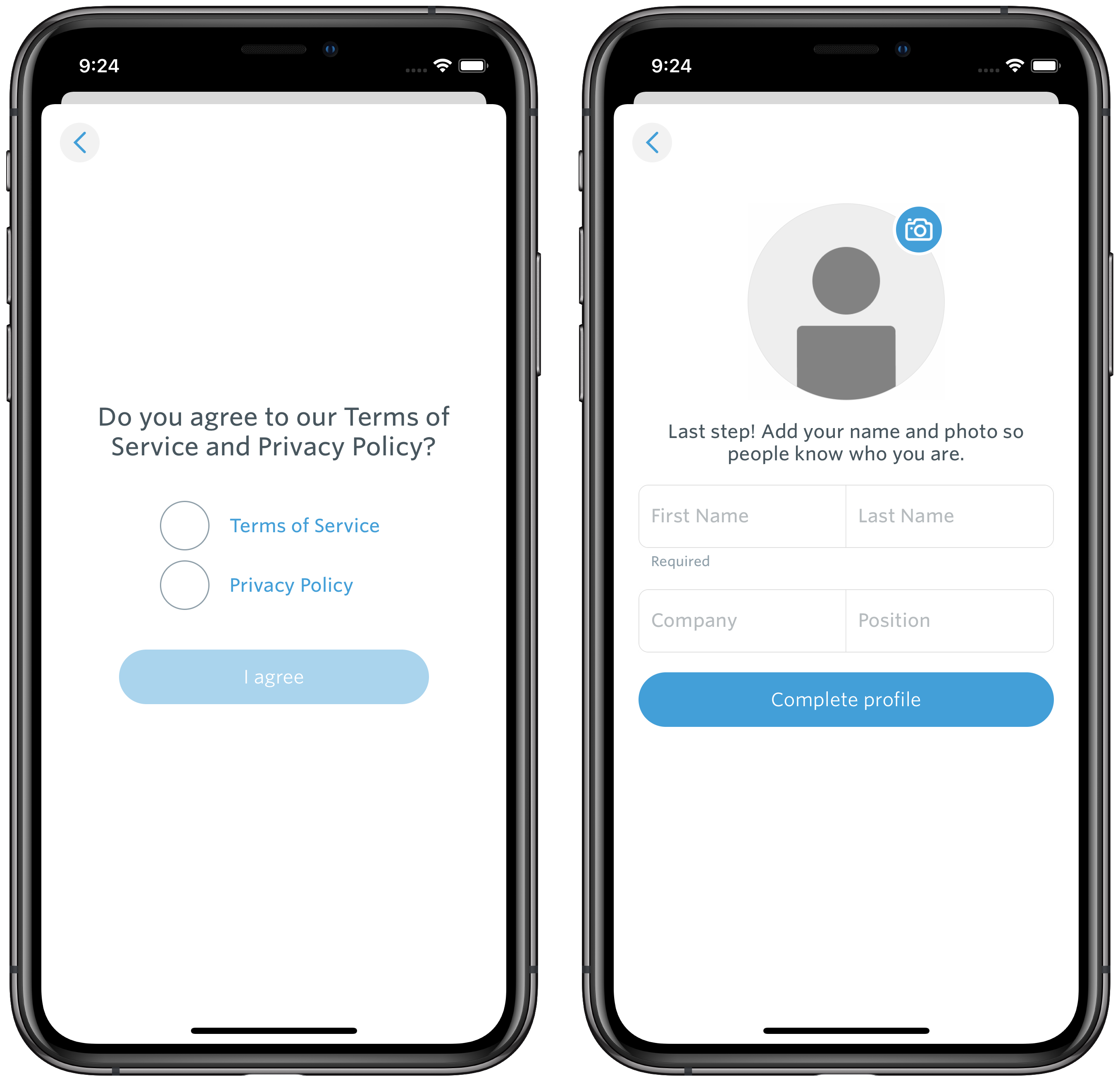 For now, login links will be available for invite-only privacy guides and Guidebook Web pages. In order to use login links on your branded app, it must have been resubmitted to stores after March 28th, 2020.
FAQs
How are login links more secure than temporary passwords?
Login links eliminate many of the hurdles of onboarding—many of which can cause security vulnerabilities. With login links, users no longer need to be provided with a temporary password in plain text, worry about accurately entering passwords on their device, or remember a complex account password they have set for the account.
Login links delegate authentication to a user's email account. The current state of email account security and anti-phishing protection for major email providers is much safer than a simple password written in plain text. In order to ensure additional security, a login link is valid for only 30 minutes after request and can only be used once.
What if a user opens the login link on their computer?
A login link requested from a mobile device to download the guide on Guidebook or a branded app will only work from a mobile device. If a user opens it on a computer, they will see a message instructing them to tap on it from their mobile device instead.
For invite-only Guidebook Web pages, when a user clicks Continue on the login link email, they will be brought back to the Guidebook Web page and automatically be logged in.
When tapping on a login link from my mobile device I'm asked where I should open the link. Which is the correct option?
Make sure to choose to open the link in the Guidebook app or the branded app you are accessing. If a browser, such as Google Chrome, is selected, you'll see a message indicating that the login link must be opened from a mobile device. See the Troubleshooting section below for more information.
On my Android device, I selected to "Always Open" the login link using my mobile browser. How do I correct this setting?
Open your device's Settings menu, select the Apps folder, and then select Guidebook. Expand the Advanced options and then tap on Open by default. Under Opening links, choose the option to Open in this app for supported links.
Why is the login link saying it's expired?
Login links expire after 30 minutes. Simply return to the app and request another email to complete the process.
What if a user enters a different email than the one to which they received the invitation email?
The user would see an error that says "The email address you entered does not match any on our list". With invite-only privacy, only approved email addresses will have access to the guide. The list of users can be managed within Audience Management on the "Users" tab of your guide.
Is it still possible to log in with a password?
Yes, users can enter their existing password or their temporary password by tapping the Log in with a password instead button after entering their email address.
Troubleshooting
If you are unable to find the Login link email, please check your spam filter to check that it has not been filtered from your Inbox. The email is sent from the address guidebot@guidebook.com.
If you can not log in after trying the troubleshooting below, please reach out to support@guidebook.com, our support team will be happy to help.
Troubleshooting for Android Users
If the link is opened in a mobile browser rather than Guidebook
Android users will be prompted to select which app to open when the login link is tapped from their email. It is important that the link is opened using the Guidebook app or the branded app.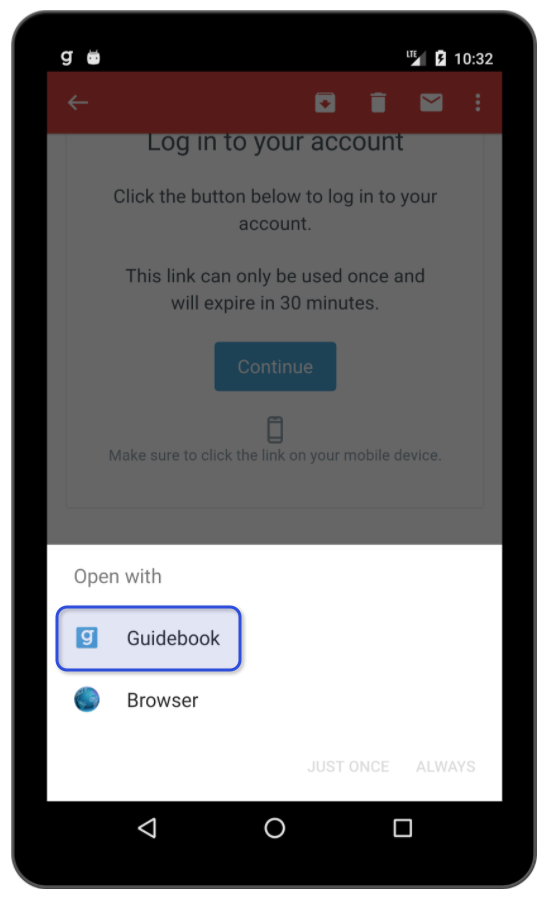 If a mobile browser rather than Guidebook is selected, the following error will be displayed: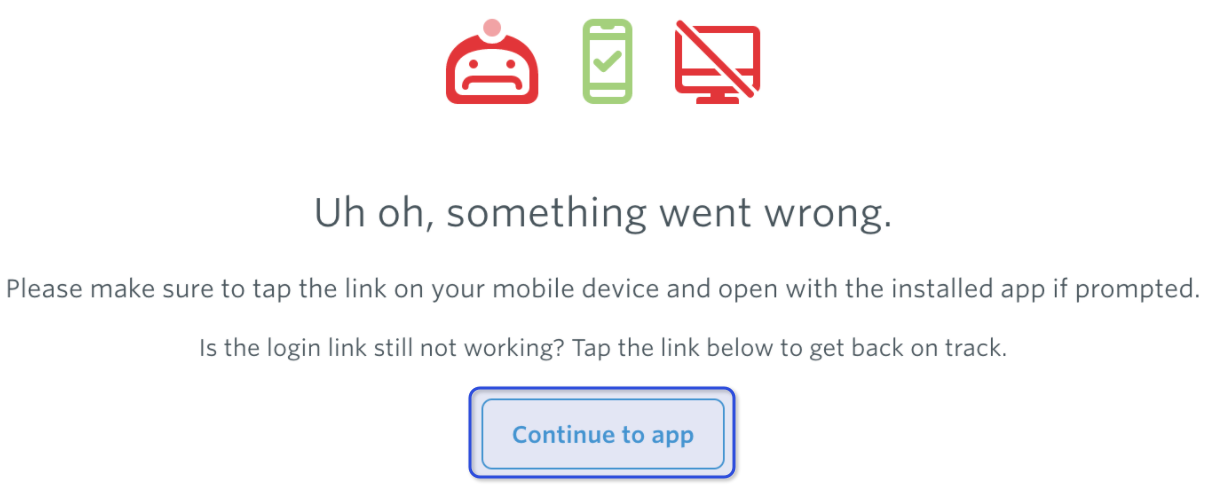 Select the Continue to app if available. If this is not showing, the user can go back to the Guidebook app and select the option to send a new login link. A similar error will show if a user is not on a mobile device, as login links can only be used for the system in which they were requested.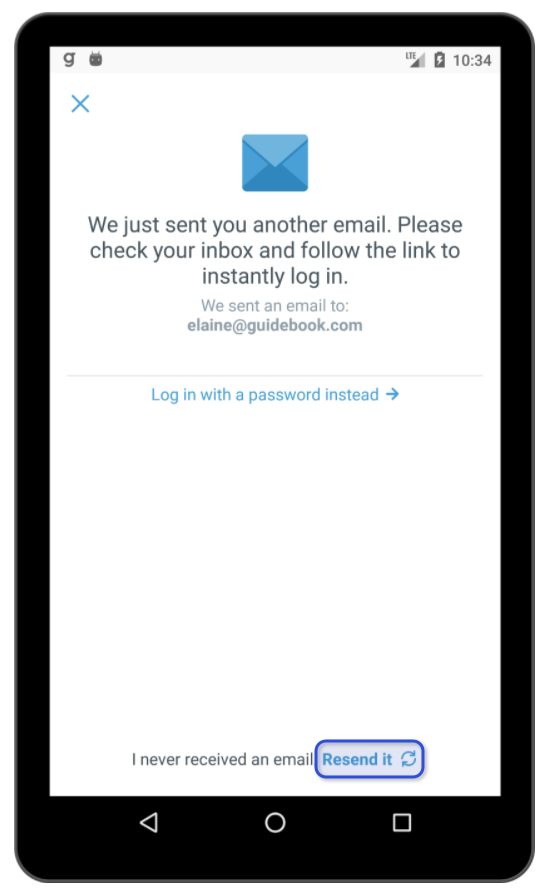 Make sure to open the new link using Guidebook.
If the mobile browser is set to "Always Open" login links
If a user selects to "Always Open" the login link with their mobile browser, they will need to adjust that setting on their device.
To do this, open the device's "Settings" menu, select the Apps folder, and then open Guidebook. Expand the "Advanced options" and then tap on Open by default. Under "Opening Links", choose the option to Open in this app for supported links.
Once this change is made, the user can request a new login link from the Guidebook app and tap on it to log in.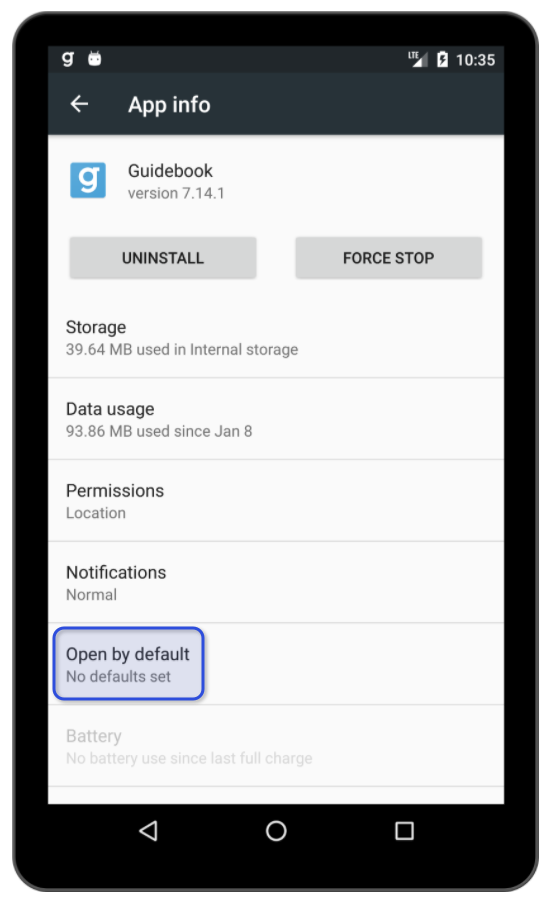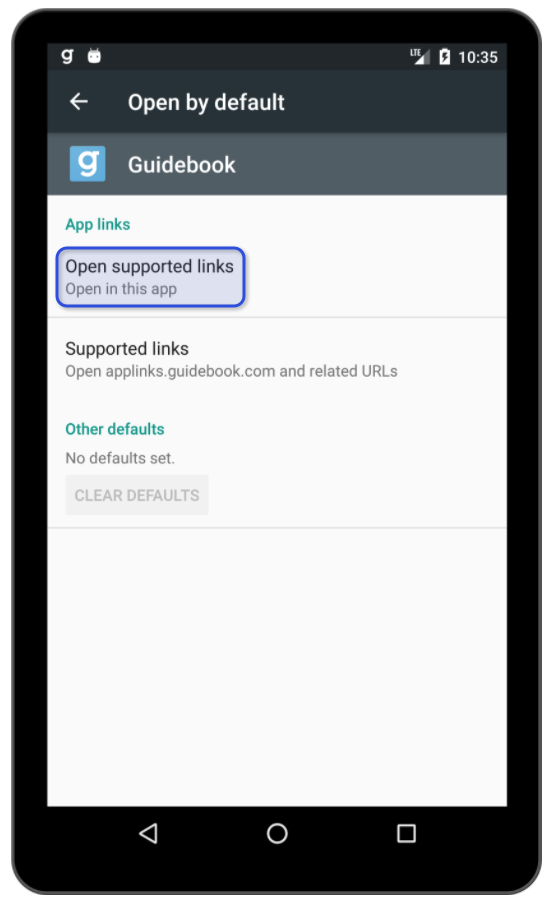 Opening from the Gmail application
If the user is using the Gmail application, they may still experience problems getting the app to open via a login link due to the Gmail app settings.
To check that Gmail settings are not preventing the Continue to app option to show, open the Gmail app and tap on the hamburger icon. Select Settings then General Settings. Uncheck the option towards the bottom that states "Open web links in Gmail". Once this is deselected, force close the app and try the process again.
Troubleshooting for iOS Users
If the link opened in Safari rather than Guidebook
If a user accidentally long taps on the link in their invitation email and selects to open Safari instead of Guidebook, they will need to repeat the same steps but select Guidebook.
Long tap on the invitation email link and choose Open in Guidebook
When the Guidebook app opens, tap the Resend It button to request a new login link.
Open the new email and tap the login link to log in to Guidebook