Creating a mobile guide is only worthwhile if people use it. Promoting your guide is just as important as making the guide. With this in mind, we thought we'd share a few quick and easy ways to help you promote your guide.
Note: The promotional tools may update as the guide is attached. For Branded or Space clients we recommend ensuring your guide is published and attached to your space before generating these materials. Please reach out to your account manager or the support team if you have any questions.
We also recommend reading our Promotion whitepaper for industry-approved best practices for increasing your adoption rate.
You can find many valuable out-of-the-box materials in the Promote section (see gif below):
Email Users
For guides on the Guidebook platform, you can go to the "Promote" section from your home screen to access the email template. You can alter the template to add specificity or your own branding images. It's a good idea to send out an email 1-2 weeks prior to the guide's public launch so that users can be prepared.
Customize your Cover Page
Cover Pages are an interactive and customizable download page for your attendees to get an idea of what is available in the app. Every guide has a Cover Page automatically generated, all you need to do is customize it. Here is a document explaining how to setup your Cover Page: Welcome to Cover Pages.
Posters
Posters are a great way to spread the word as well. Organizers use them to great effect onsite, since many users may not download a guide (let alone, plan ahead) until they reach the venue. Posters also serve as a great reminder that there is a guide available and that downloading the guide is very easy - especially using the landing page URL. Guidebook provides an out-of-the-box poster you can use.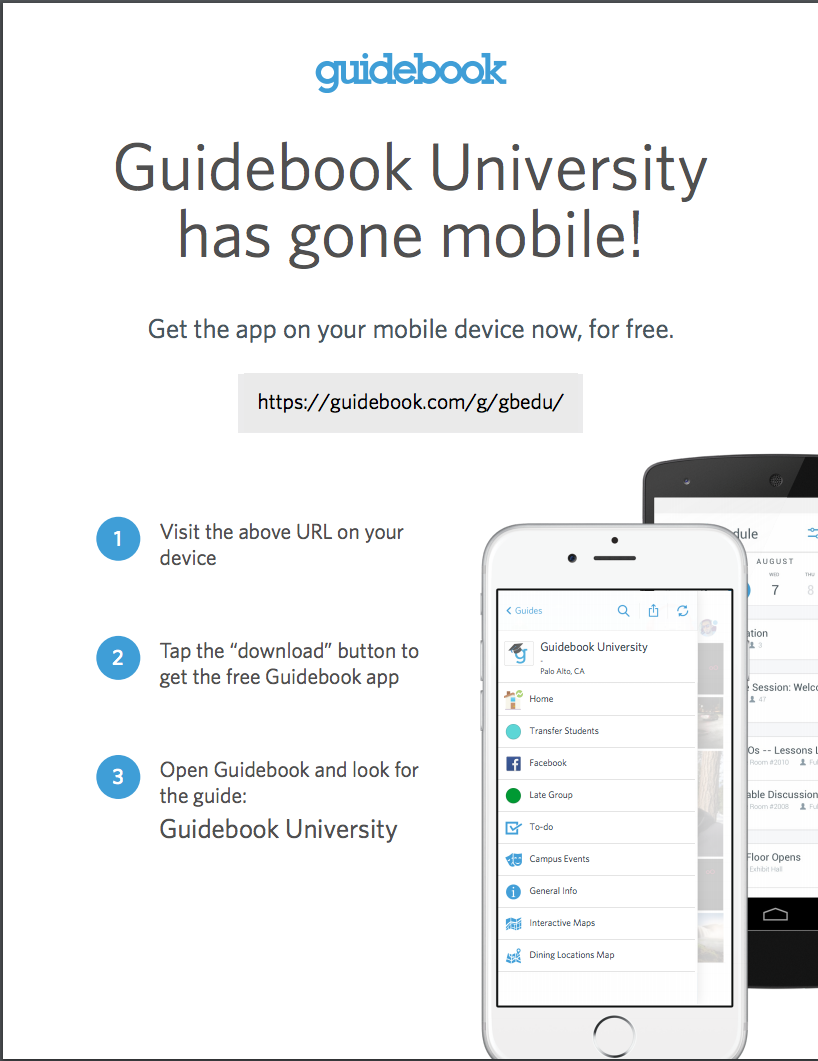 Use your Website
This is the perfect place to let people know about your mobile guide. Find some best tips below:
Put Guidebook's badge on your website, or put your guide's specific website badge on your site (found in the "Website Badge" tab of the Promote section in Builder)
Put your guide's Cover Page on your website (i.e. http://guidebook.com/cover-page/demo2/) You can easily access this by going to the Promote section in the "Web" tab in Builder. Click here for more help finding your Cover Page.
Create a blog post about your Guidebook
Create a video review of your guide (post it to YouTube and tweet it to @guidebook).
Twitter
Guidebook provides a "Share on Twitter" option from the Social Media tab in the promote section. This is a great tool to generate buzz for your event.
Moreover, you can tweet about the guide from your company Twitter account, or your personal account. Use the hash tag for your event, company, university campus, etc (typically #[event name]) anywhere in your Tweet to help people find it, and to create Trending Topics. You can:
Tweet about the launch of your guide
Tweet about your guide's coolest features
Ask us (@guidebook) to Tweet your hash tag and guide link
Offer prizes to attendees for Tweeting about your guide
Example Tweets
"Our Event has gone mobile! Download Guidebook and search for OurEvent to get on board! #OurEvent #coolFreeStuff"
"Loving the slick Twitter module in OurEvent guide. What's your favorite Guidebook feature? #OurEvent"
"@guidebook Loving the 'My Schedule' module in the OurEvent guide. SO excited to launch. #OurEvent"
"Free OurEvent t-shirt to the first 5 people who Tweet about the OurEvent Guide! We'll announce the winners at 6 PM tonight! #OurEventGuidebook"
Facebook
Guidebook also includes a "Share on Facebook" option from the Social Media tab in the promote section. You can use this tool to quickly post to Facebook.
You can also post a status or review about your guide on Facebook.
Example of a Facebook status:
"Hey OurEvent attendees, check OurEvent on Guidebook. The Guidebook app is really cool – it lets you interact with the conference by planning your schedule, seeing the Twitter action for #OurEvent, and so much more! Let us know what you think in the comments!"
YouTube
Make a video review of your Guidebook experience or just tell your attendees how useful Guidebook is and how they can get it. For more information about making a video and an example, click here.
Other Ideas
Have a registration desk or info booth? Use your booths or kiosks to spread the word about Guidebook, which is FREE for all attendees to download and use. This is super effective at getting the word about your guide. Guidebook can also send an onsite rep to help. Reach out to your account executive if you are interested in on-site support.
During a welcome speech, or in presentations, mention that your guide is on Guidebook, and encourage users to create a personal schedule using Guidebook's "My Schedule" feature.
Encourage speakers or exhibitors to mention or interact with the guide on stage, at their booth, or otherwise.
Put a link to your guide or our QR Code on the back of attendee badges.
Put inserts into your program book encouraging users to download your guide.
Put Guidebook in your program book. Just make sure to distinguish it from an advertisement.
These are just a few ways that you can promote your guide, and hopefully you now feel inspired to maximize the effect of your next one.
Want to read more about creative uses, best practices, and real client experience? See how Baylor got the word out about their app and learn more about when people are more likely to download your guide. The Advancing Improvement in Education conference also did a stellar job of getting great download rates with their promotion strategy.