Creating a mobile guide is only worthwhile if people use it. Promoting your guide is just as important as making the guide. With this in mind, we thought we'd share a few quick and easy ways to help you promote your guide.
The promotional tools may update as the guide is attached. For Branded or Space clients we recommend ensuring your guide is published and attached to your space before generating these materials. Please reach out to your account manager or the support team if you have any questions.
We recommend finalizing your guide's privacy setting prior to promoting it.
We also recommend reading our promotion white paper for industry-approved best practices for increasing your adoption rate.
This article will talk through all of the functionality available in the Promote section of your guide which you can find on the Guide Dashboard.
Invite Users via Email
We provide two options for inviting users to download your guide via email. If your guide is using an invite-only privacy setting, you will need to add users to the User's List in the Audience Management section and send emails from Builder.
Invite Tab
This will allow you to invite a user to download your guide via email. You can read more about this process and see examples of the email in our support article about inviting users to your guide in our Invite Your Users article.
Email Tab
You can download and alter the template to add specificity or your own branding images. It's a good idea to send out an email 1–2 weeks prior to the guide's public launch so that users can be prepared. You will need to send emails via the Invite Tab or via Audience Management: Send Personal Invitations if your guide is using the Invite-Only privacy setting to ensure users are on the whitelist.
Guidebook Web
Guidebook Web pages are an interactive and customizable download page for your attendees to get an idea of what is available in the app. They are also a great way to access your quality content on a desktop or laptop, rather than mobile. Every guide has a Guidebook Web page automatically generated, all you need to do is customize it. If you'd like to learn more, please refer to our Guidebook Web article.
Posters
Posters are a great way to spread the word as well. Organizers use them to great effect onsite, since many users may not download a guide (let alone, plan ahead) until they reach the venue. Posters also serve as a great reminder that there is a guide available and that downloading the guide is very easy - especially using the landing page URL. Guidebook provides an out-of-the-box poster you can use.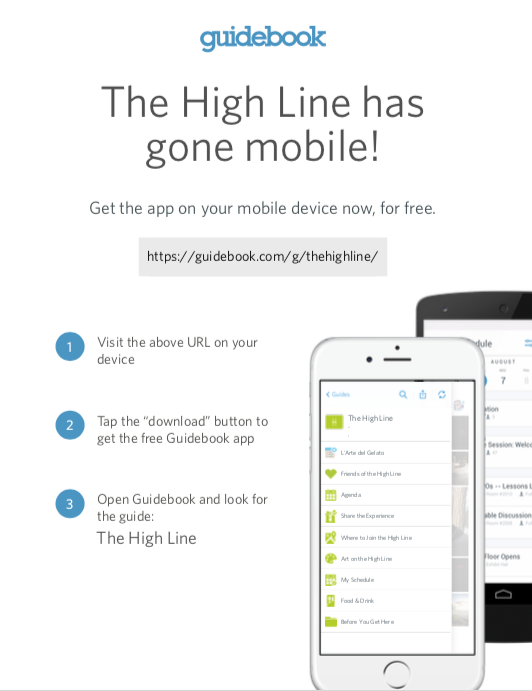 Social Media
Twitter
Guidebook provides a Share on Twitter option from the Social Media tab in the promote section. This is a great tool to generate buzz for your event.
Moreover, you can tweet about the guide from your company Twitter account, or your personal account. Use the hashtag for your event, company, university campus, etc (typically #[event name]) anywhere in your Tweet to help people find it, and to create Trending Topics. You can:
Tweet about the launch of your guide
Tweet about your guide's coolest features
Ask us (@guidebook) to Tweet your hashtag and guide link
Offer prizes to attendees for Tweeting about your guide
Example Tweets
Our Event has gone mobile! Download Guidebook and search for OurEvent to get on board. #OurEvent #coolFreeStuff
Loving the slick Twitter module in OurEvent guide. What's your favorite Guidebook feature? #OurEvent
@guidebook Loving the 'My Schedule' module in the OurEvent guide. SO excited to launch. #OurEvent
Free OurEvent t-shirt to the first 5 people who Tweet about the OurEvent Guide! We'll announce the winners at 6 PM tonight! #OurEventGuidebook
Facebook
Guidebook also includes a Share on Facebook option from the Social Media tab in the promote section. You can use this tool to quickly post to Facebook.
You can also post a status or review of your guide on Facebook.
Example of a Facebook status:
Hey OurEvent attendees, check OurEvent on Guidebook. The Guidebook app is really cool – it lets you interact with the conference by planning your schedule, seeing the Twitter action for #OurEvent, and so much more! Let us know what you think in the comments!
YouTube
Make a video review of your Guidebook experience or just tell your attendees how useful Guidebook is and how they can get it. For more information about making a video and an example, click here.
QR Code
You can find the QR code specific to the guide in the Promote section. Visit the Promote section and then go to the Logos & QR tab in Builder. Click the PNG button to download the QR code. Share this with end-users in emails and on flyers/posters on-site.
Please keep in mind that invite-only guides will still require users to log in to access the content.
The guide specific QR codes provided are intended only for use within the Guidebook (or a Branded app) and will not function normally with a third party QR scanner app. Please make sure your users download Guidebook and use the in-app QR scanner to get to your guide.
If you would like to provide a QR code that only downloads the Guidebook app, you can find this below.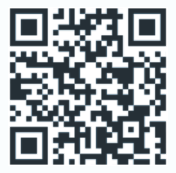 When you scan this with any QR scanner app on your mobile device, you will arrive at a webpage pointing you to the Guidebook app in your devices' app store.
In this section, we also provide the Guidebook logo for you to use when creating your own promotional materials such as posters or website content.
Other Ideas
Have a registration desk or info booth? Use your booths or kiosks to spread the word about Guidebook, which is FREE for all attendees to download and use. This is super effective at getting the word about your guide. Guidebook can also send an onsite rep to help. Reach out to your account executive if you are interested in on-site support.
During a welcome speech, or in presentations, mention that your guide is on Guidebook, and encourage users to create a personal schedule using Guidebook's My Schedule feature.
Encourage speakers or exhibitors to mention or interact with the guide on stage, at their booth, or otherwise.
Put a link to your guide or our QR Code on the back of attendee badges.
Put inserts into your program book encouraging users to download your guide.
Put Guidebook in your program book. Just make sure to distinguish it from an advertisement.
These are just a few ways that you can promote your guide, and hopefully, you now feel inspired to maximize the effect of your next one.