There are a variety of ways you can include sponsor information in your guide. This article provides several ideas to increase sponsor visibility for different sponsorship levels. It's up to you to decide what works best for your use-case.
This feature is only available on a Premium plan.
Banner Ads
Banner ads are a great way to include sponsors in your guide, as well as an option to have sponsors pay for visibility.
Banner ads appear at the bottom of the navigation menu on your mobile guide. Your users will see a sponsor banner every time they tap the menu icon to explore the content in your guide.
Banner ads appear at the bottom of the navigation menu on your Guidebook Web page. If users have their browser in full screen, they will always see the rotating sponsor banners as they navigate through your Guidebook Web page.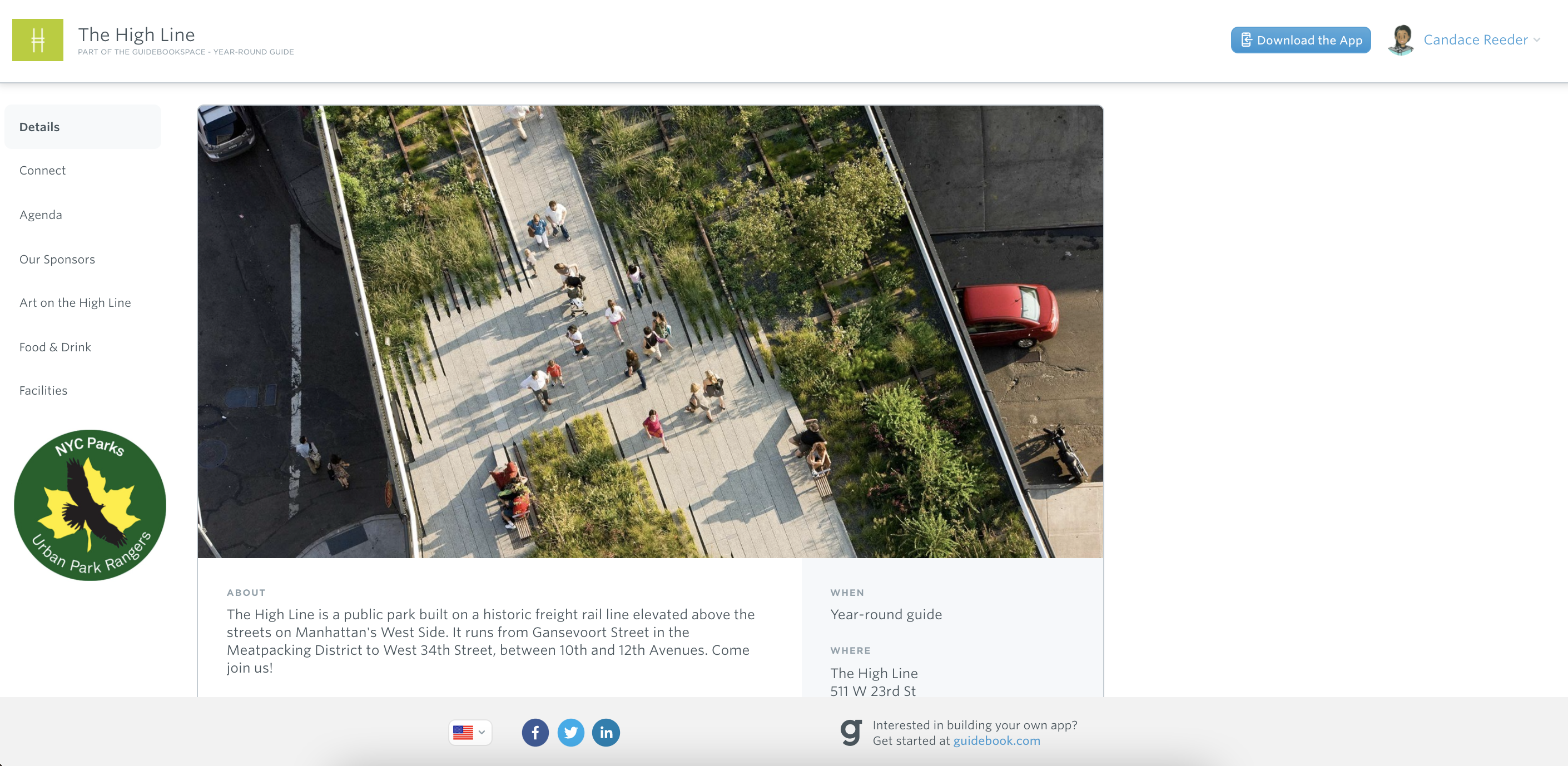 How to Add a Banner Ad
From the guide editor screen, click the Add banner ads button in the bottom-left. Then click the blue New banner ad button.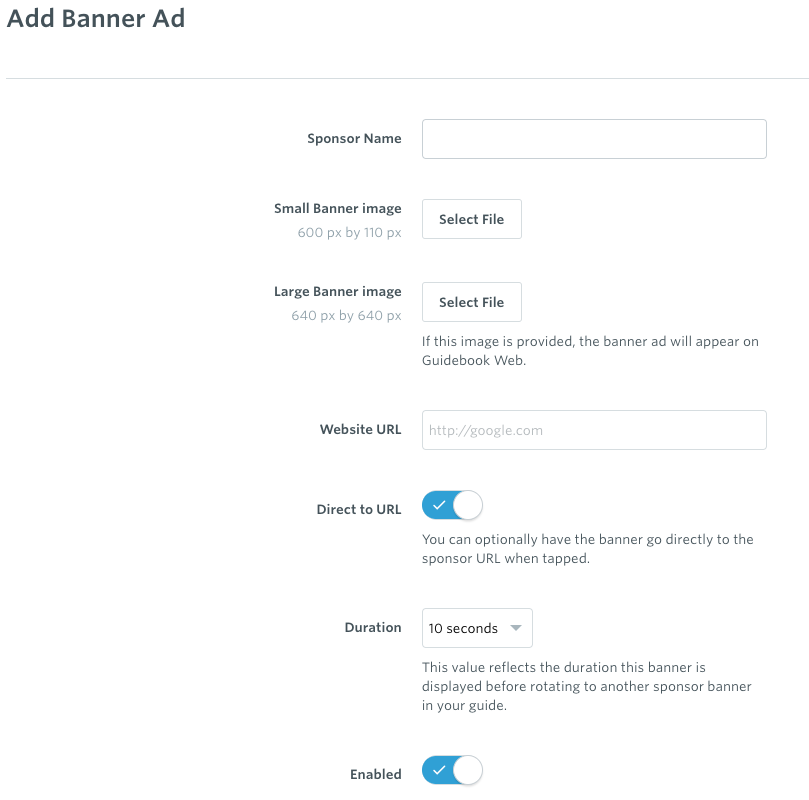 Sponsor Name: Type the name of the sponsor here.
Small Banner Image: This is for banner ads on Mobile. Your banner image should be a 600 pixels wide, 110 pixels tall, .PNG file. Click Select File to upload your image from your computer.
Large Banner Image: This is for banner ads on Guidebook Web. Your banner image should be a 640 pixels wide, 640 pixels tall, .PNG file. Click Select File to upload your image from your computer.
Website URL: Type the web address for your sponsor here.
Enabled: If enabled, your banner ad will appear in the guide. If disabled, it will not appear.
Direct to URL: If this toggle is enabled, users will tap your banner and go straight to the website provided. The Direct to URL toggle being enabled is recommended. If this toggle is disabled, users will tap your banner and see the Description text you enter.
Description: Add paragraphs of text about your sponsor here. The web address URL will appear below the Description text.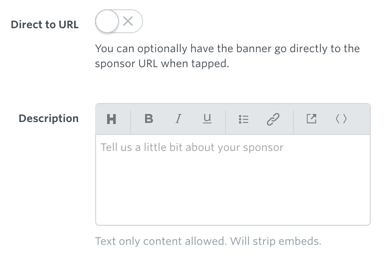 Duration (required): Choose between 5, 10, 20, or 30 seconds for each sponsor banner to be displayed before it rotates.
The first banner ad that is displayed will be chosen randomly, and then the remaining ads are cycled through sequentially.
Learn more about how the University of Alabama in Huntsville's sponsorship deals and use of Banner Ads really paid off.
Sponsor One-Tap
If you'd like to call out a specific sponsor, you can use a one-tap menu item. This is a useful feature if you have a single guide sponsor, or one Platinum sponsor, for example.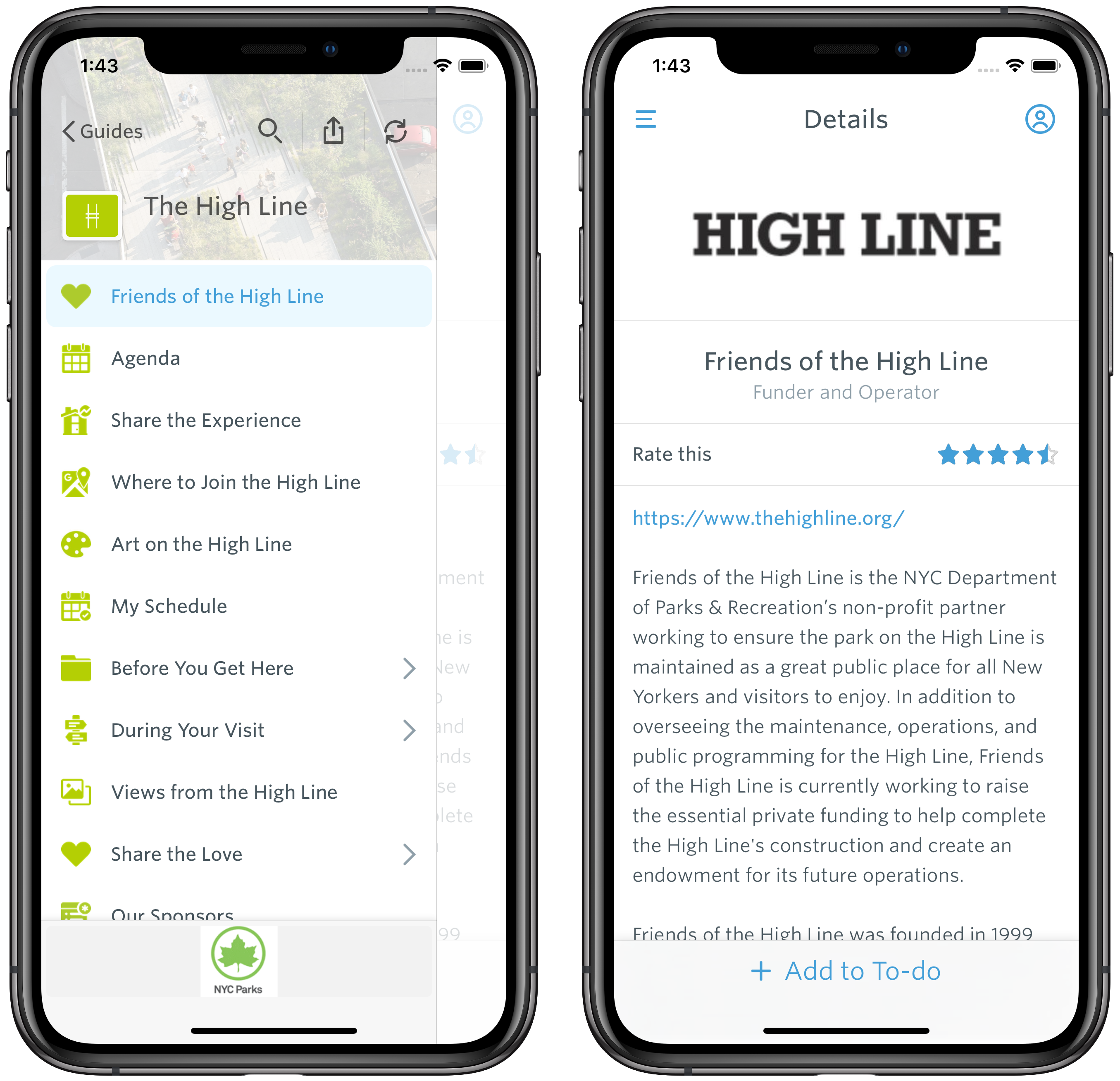 Sponsor List and Organizing the List
Adding a list of Sponsors is a must-have to bring attention to your sponsors. You'll do this by creating a custom list. If you have different sponsor tiers, you can add this information as a label and order your sponsors by tier, by dragging and dropping them into place or using Quick Reorder.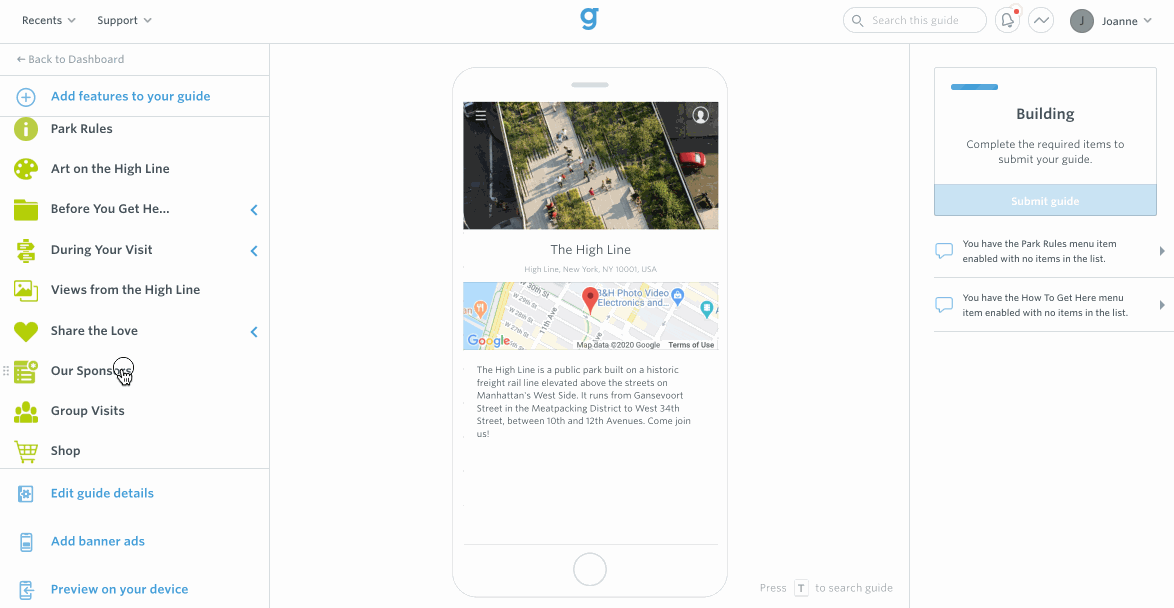 Interact Sponsor Posts
Selling or creating Sponsor Posts in Interact is a fantastic way to get more visibility for your sponsors. You can also use these cards for anything you're looking to promote.
This feature is available on Premium or Metered plans.
Sponsor List Contact
To collect leads and promote direct contact between your users and your Sponsors, you can add an email address of a sponsor contact into the "Contact Email" field in the sponsor's custom list item. From mobile or Guidebook Web, users can send this contact an email address to talk further! This is a great way to get sponsors to the next level, or you could include this feature at all package levels.
Sponsor Appointment Scheduling
If your sponsors have specific booth appointments or meeting times, you can add a Calendly or Hubspot Meeting Scheduler URL to their Custom List item. Only from Guidebook Web, attendees can register for a spot directly to the sponsor's calendar. Similar to the Custom List contact feature described above, you can offer this as a high level feature!
Event Sessions
You can add sponsor information to session titles, descriptions or include a header image of the sponsor if they are sponsoring or speaking at a particular session. A header image will need to be 640px wide by 240px tall, .PNG format. We also recommend linking the session and sponsors custom list item in your guide.
Twitter Hashtags
Pre-adding a sponsor's Twitter handle or hashtag will encourage your users to engage on Twitter with that sponsor and show your users a list of tweets with the sponsor's handle or hashtag.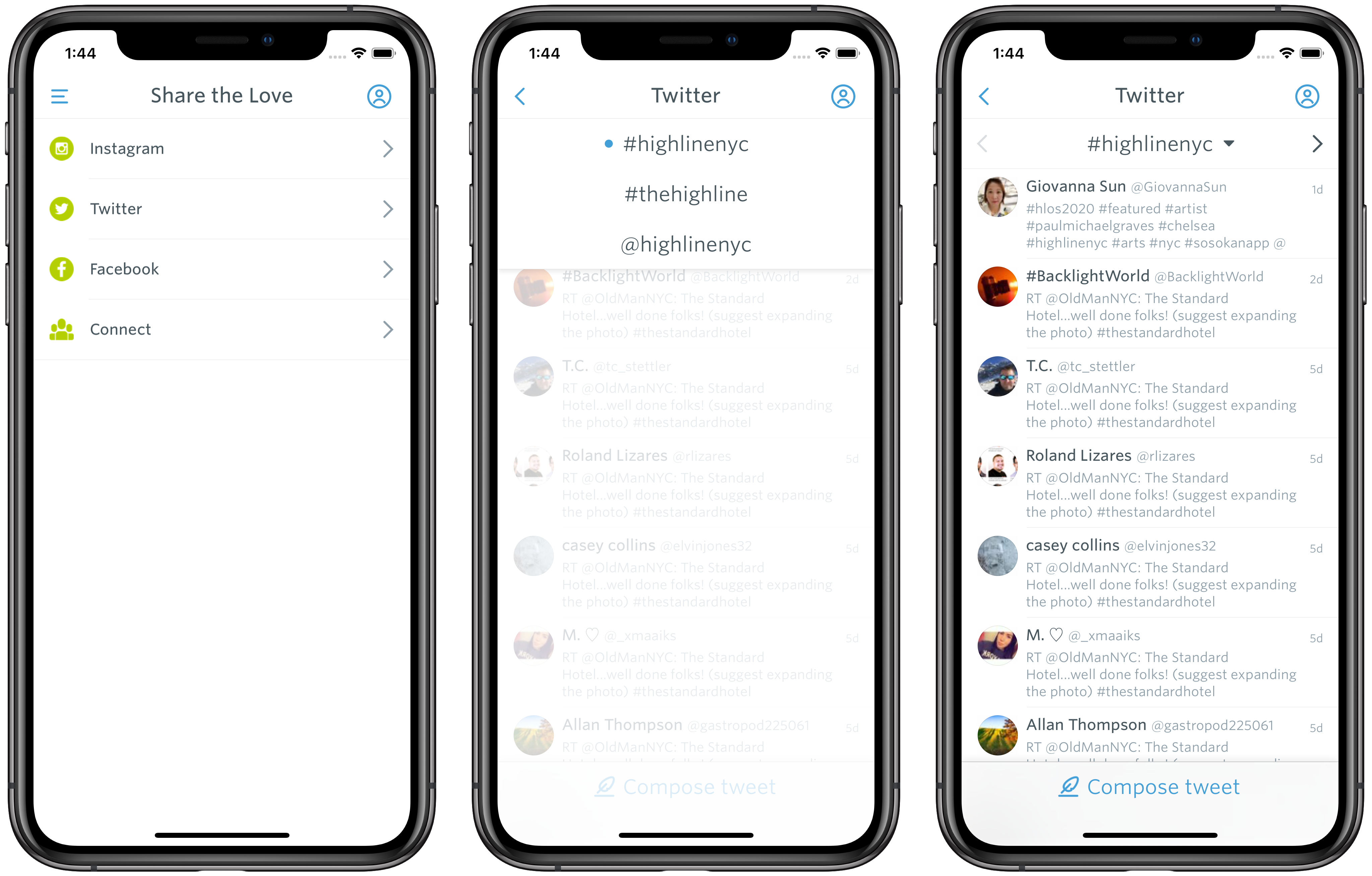 Sponsored Forms
If a session is being sponsored, offer that sponsor a form to gather real insights about what attendees think. You can link this to the sponsors custom list it or to a session they are hosting. They can gain valuable insight about potential clients and what those clients look for when using a particular service. This data is exportable, so you can share an Excel document of the form results with the sponsor.
QR Codes
Utilizing our QR Pages feature, you can print out a scannable QR code for each of your sponsors which will let users navigate directly to a sponsor's page within your guide. This can be a great extra addition if you already have a sponsors custom list created.
These QR codes can help bring more traffic to a sponsor's page, where you can set up a contact button, meeting schedule button, or link out to the sponsor's website.
Scavenger Hunts
Using a QR Scavenger Hunt is an engaging way to encourage your users to talk to various sponsors. You can create a QR code for each booth (depending on the size of your event) to encourage attendees to visit each of the sponsors who wish to be involved.
Splash Screen
If you have a branded app, adding a sponsor's logo, or a few, to your splash screen is a nice option. Each time your users load the app, they'll see your splash screen.
This feature is available on Branded plans.
Sponsorship Metrics
There are metrics that you can share with your sponsors including sponsor impressions, sponsor taps, and card interactions. You can use engagement reports to provide sponsors with details of how frequently and who engaged with their information in your guide. Make sure to add the To-Do list and My Schedule features to your guide to be able to gather this information.
Additional Sponsorship Information