Whether you are planning an event guide or creating a long-term resource, we understand how important it is for your users to engage with you, your content, and fellow users. After you promote your guide, key engagement features will keep your users coming back for more.
We have also launched a new tool to help you measure user engagement, called Audience Insights, which you can read more about here.
Interact: a social feed for your users
The Interact wall provides a dynamic feed of upcoming schedule sessions, announcements, and comments & photos from fellow users. It is a powerful tool to augment networking and to extend dialogue beyond the physical walls of a room. You can find out more about this feature here.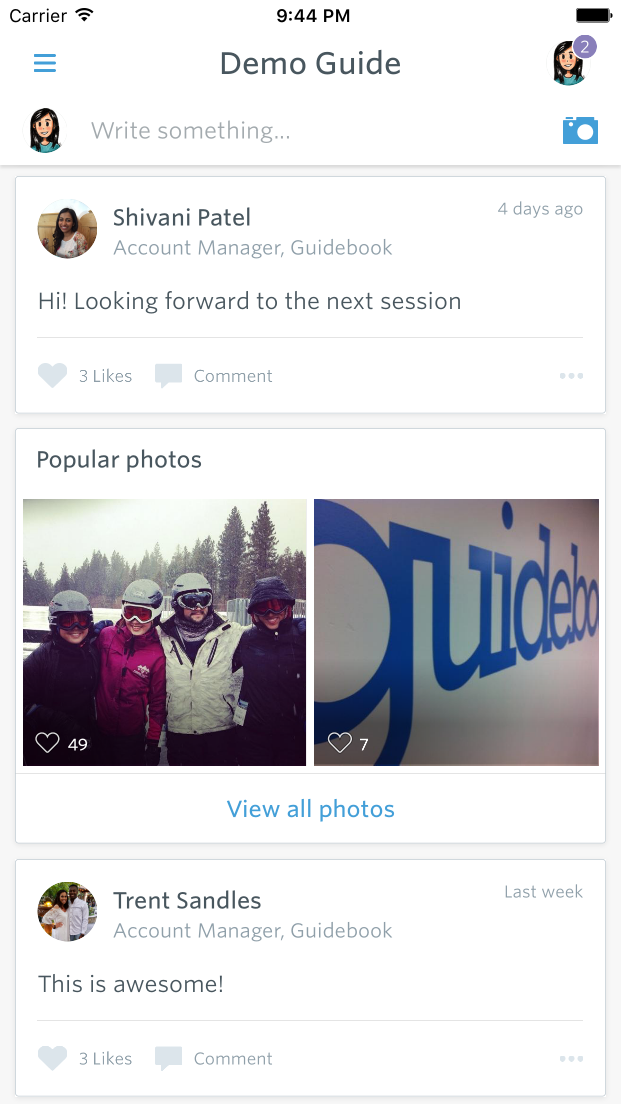 Check-in, Connect, and Chat
With the Check-in/Connect and Chat feature, users who log in and check-in as a participant can then connect and chat with each other if they would like to. Chatting in the app is helpful so users can communicate without having to share phone numbers, email addresses, or other personal information unless they choose to do so.
Guidebook ID
Guidebook ID is a QR code in a guide that is specific to each user. Users are able to connect with each other, after logging in, by scanning each others individual QR codes.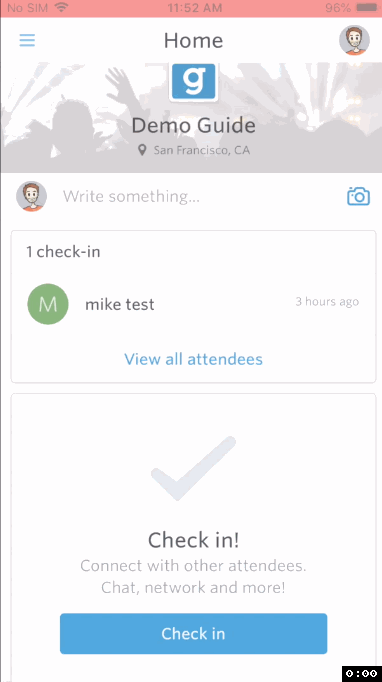 Scanning another person's Guidebook ID will send the person a connection request. To accept the connection request you can either scan the other person's Guidebook ID or navigate to your notification center to view and accept or decline the request.
...And More
Here are a few more ideas to drive user engagement. We are always happy to help brainstorm a good promotional strategy and engagement tactics with you. Don't hesitate to reach out to us at support@guidebook.com, or contact your Account Manager.
Photo Album
If you have the Interact module enabled, be sure to also enable the Photo Album. Your users will be able to share, view, and like photos here as well.
If you would like to add photos to your guide ahead of time, you can add images via Builder. This will encourage your users to add more photos themselves. You could even have a competition for the photo with the most likes.
Live Polls
With Live Polls, a session presenter can ask the audience a question and gather results in real-time. These results can be displayed on a screen if you'd like. This gives your session presenter information to help structure their presentation; it encourages audience participation; and it creates opportunities for interesting dialogue among users, encouraged by the Interact & Messaging tools readily available in the palms of their hands. For more information on setting up a Live Poll or to see how it works, click here.
QR Code Scavenger Hunt
If you want to get your users really moving, the QR Code Scavenger Hunt is a fun option. When we create a QR game for you, you will receive a set of QR codes. Print these out and distribute them around your venue where you want your users to explore.
Users scan each code to unveil part of a word or phrase of your choosing. When users have found & scanned all of the codes to reveal the hidden word or phrase, you can instruct them to show their completed game to someone in a specific place, or you can have the users fill out a survey to record their completion. Oftentimes, users who complete the scavenger hunt are entered into a prize drawing.
To set up a QR game, please contact us with the necessary information, and we'll set up the game for you. You can find out more here.
Social Media
We recognize you may already have a social media presence and rely on services like Twitter, Facebook, YouTube, and other platforms to engage your users. Feel free to link your guide to your existing social media tools as well. Click here to learn how to incorporate social media into your guide.