Preset Schedules
This feature allows a guide admin to pre-assign attendees' schedules. After downloading the app and signing in, attendees will be able to see these preset schedules via the My Schedule module.
Preset schedule functionality is available on the Premium Plan and Branded Plan tiers.  To set up Preset Schedules, follow the steps below:
Navigate to your guide's Dashboard (shown below), and click into Users and Groups.
*More information on Users and Groups can be found here.
Enter the Preset Schedules tab.
Name the schedule, select sessions and enter the Users or Group to which you'll be sending the preset schedule invites. Once the schedule is setup is complete, hit Save.
Next, click Publish This Schedule or Publish All Schedules when you're ready.
How many preset schedules can you make?
You can add in up to 100 email addresses for one schedule. There's no limit to the number of schedules you can make.


If a user is prompted to log in with a certain email and wants to use another one, what is the process?
They cannot use a different email address except the one you've indicated for them. If they want to use another one, they will have to directly tell the organizer/guide admin. The person can then quickly switch it out for the attendees' preferred email.   


Are updates to preset schedules pushed immediately?
You will have to click the "Publish This Schedule" button in order to push out that particular preset schedule.
On the user end, they will need to have an internet connection. It can take a few seconds up to a few minutes in order for changes to appear in that user's My Schedule.


What happens to the user's old schedule if you update it?
If you update someone's schedule, it will be cleared out completely and only the specific schedule you set for them will be added in. Anything they added in themselves, or anything you had previously added in for them, will be completely removed. (If they add in other things themselves after, those will stay.)

Can a user still view other schedule items that are not on the preset schedule built for them?
Currently yes, you can view other schedule items. They cannot be hidden.


Can a user still add other schedule items that are not on the preset schedule built for them?
Whether or not you can add them to "My Schedule" can be determined for each individual session via a toggle in the "Attendance" tab of the Agenda.
 
Can a user delete the schedule items that were preset for them?
No, a user will not be able to remove sessions added using a preset schedule. If you need to make updates for a users Preset schedule it should be done from the builder site. (Remember, updating preset schedules will clear out a users My Schedule of any sessions not assigned with a preset schedule).
 
How long does it take to build this out?
Selecting sessions to add is a matter of quickly ticking a box. You can filter sessions by date/track/location, and quickly check all those you have filtered - but if you're making a different schedule for each attendee, that will of course take time.


Can you upload an excel file with preset schedules so you don't have to add each one manually/is there a template for that?
Yes! You can upload a Preset Schedule template to generate preset schedules.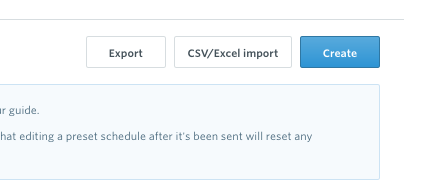 1. Click on CSV/Excel Import in the upper-right corner of the screen. Download a spreadsheet template. 
2. Fill out the template according to the following headers (note: you cannot change the spreadsheet format, or else the import will fail):
Schedule Name: What you would like the schedule to be called. This does not appear anywhere in your app - it simply lets you manage them on the backend.
Emails: these are all the emails or accounts you want attached to that preset schedule. Separate these out using commas.
Session IDs: these are the IDs of sessions you have imported into Builder. Learn how to export data to obtain those IDs. 
3. Return to the Preset Schedule page, select your file, and upload it. You have the option to automatically publish these preset schedules when you are done uploading.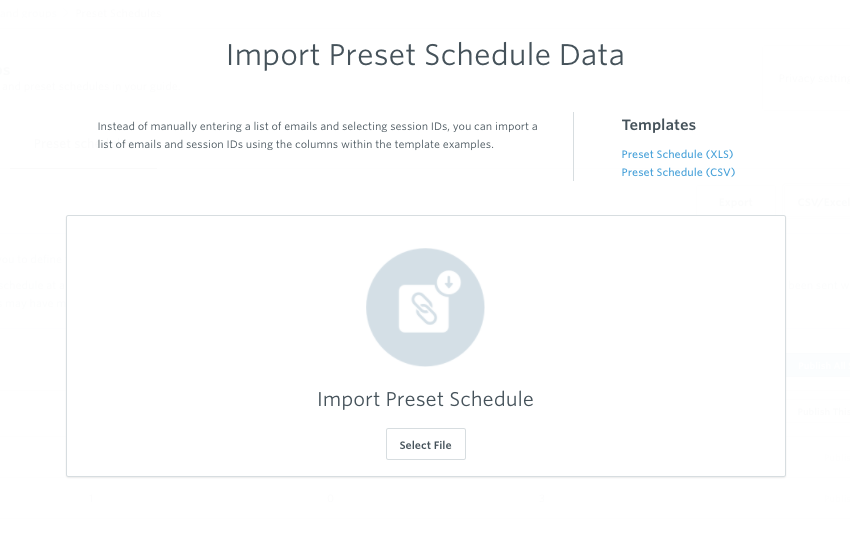 4. Once the schedule has been successfully uploaded, you can go into each item and edit as per usual. Use caution on already-published schedules so as to avoid confusion with your attendees.
Should you encounter any trouble with the upload, please feel free to get in touch with us at support@guidebook.com.
 
If you delete a session that's added to a preset schedule, will it be removed from that user's schedule?
Yes. You will need to publish the updates to the agenda, and it will automatically reflect on their preset schedule.

If you update a session (like start time, etc.), will that change auto propagate to that user's my schedule?
Yes. You will need to publish the updates to the agenda, and it will automatically reflect on their preset schedule. 
If your user can't see their Preset Schedule or aren't receiving updates to it, try the following steps:
1. Ensure that the user has an internet connection. Updates can take anywhere from a few seconds to a few minutes to go through, depending on the internet strength. On average, changes should appear 20-30 seconds after you hit "Publish This Schedule."
2. Make sure they're logged in to the appropriate Guidebook account. If they are, have them try logging in and then logging out.
3. Check for the latest guide updates.
4. Have the user try navigating to a different guide icon, and then back to their My Schedule.
5. Have the user try adding an item to their My Schedule (from the main schedule) and see if this loads in the latest updates.
6. If your user is on the mobile web version, have them try clearing the cache on their browser and then reloading the page.
If that still doesn't work, please don't hesitate to get in touch with support so that we can assist!