Have a limited amount of space for a session? Want to know who's attending your keynote presentation? Our Manage Attendance feature allows you to set attendance limits, manage attendees, and use waitlists to maximize session attendance.
In order to use the manage attendance feature, you'll need to have your schedule information uploaded to the Builder and be on our Premium/Branded guide plan.
I. Getting to the Attendance Overlay
Begin by going to the Schedule module in the Builder. From there, tap into the Attendance tab (shown below):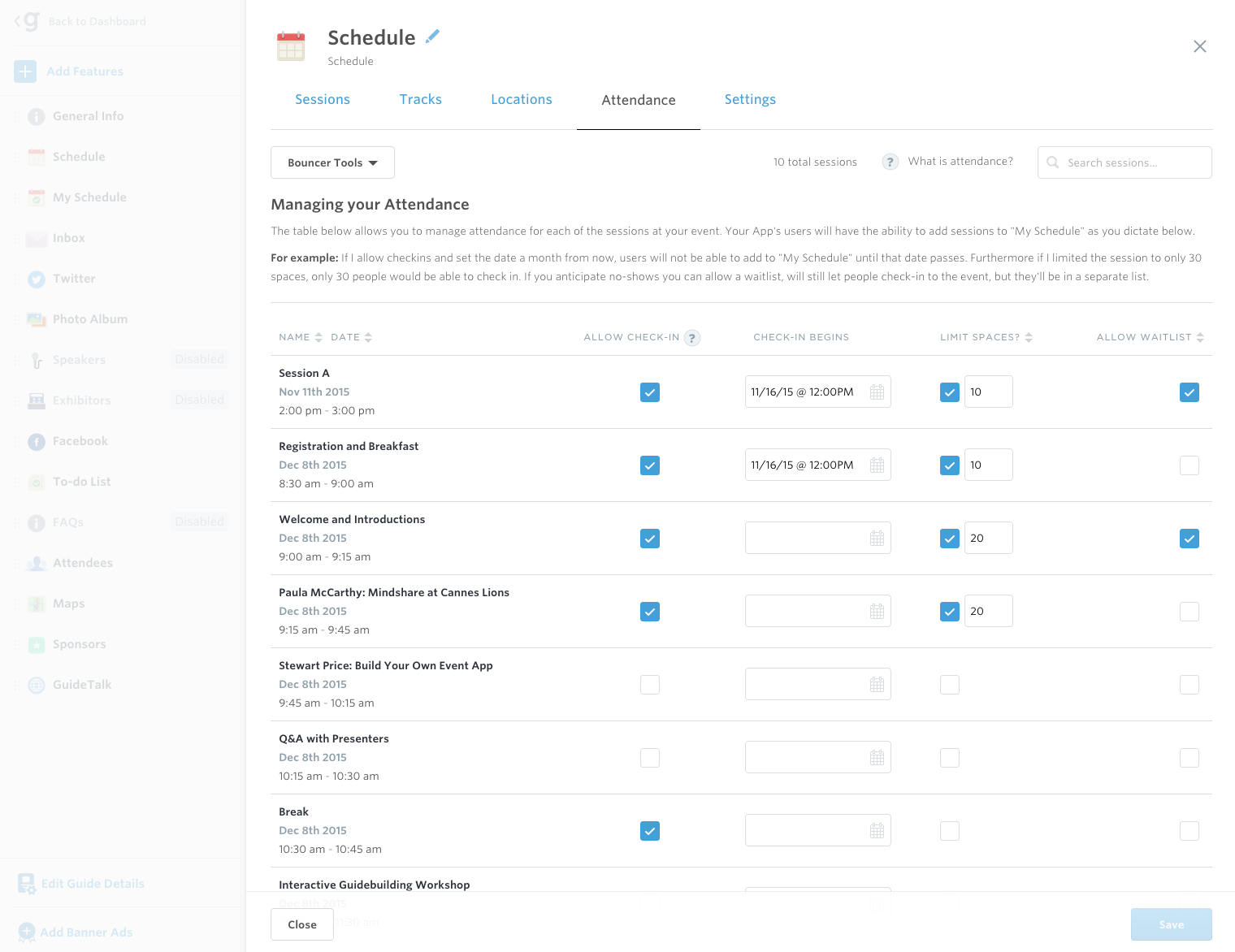 II. Setting Caps and Waitlists
From here, you now have full control over managing the attendance of your sessions by using a combination of checkboxes and textboxes. There are now 4 key ways that you can manage a session's attendance.
1. Do you want users to be able to check-in for this session? This means they will be able to add the session to their 'My Schedule'. If yes - tick the box to 'Allow Check-in', if no - then do not check this box.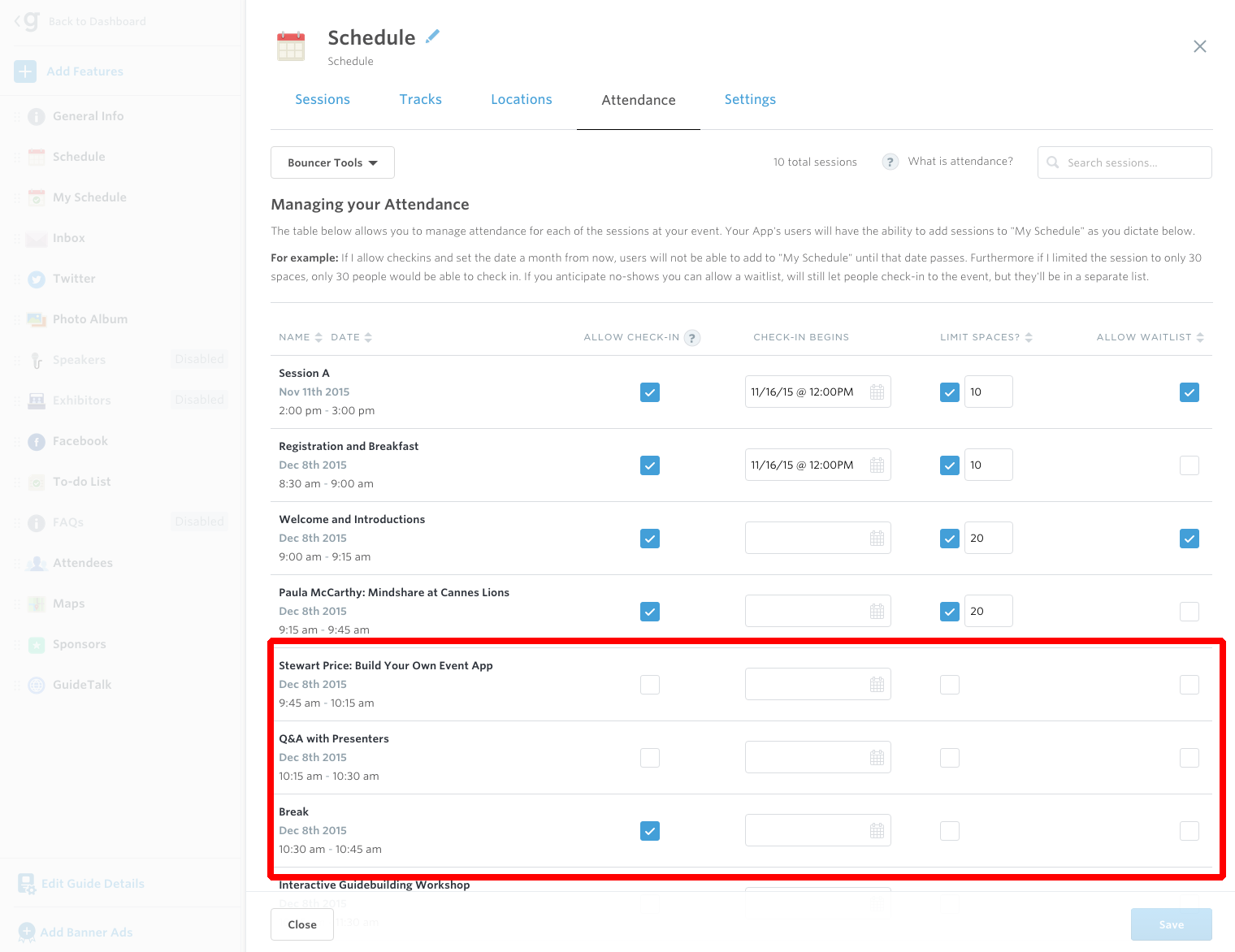 2. If you want to allow users to check-in to the session, do you want to limit the number of people that can? If your room is only big enough to hold X amount of people, or you just want to restrict the number of attendees allowed in a certain session, then you will want to 'Limit Spaces'. To do this you need to check the 'Allow Check-in' box, and then check the 'Limit Spaces' box - before finally typing how many spaces are allowed in that session in the text box.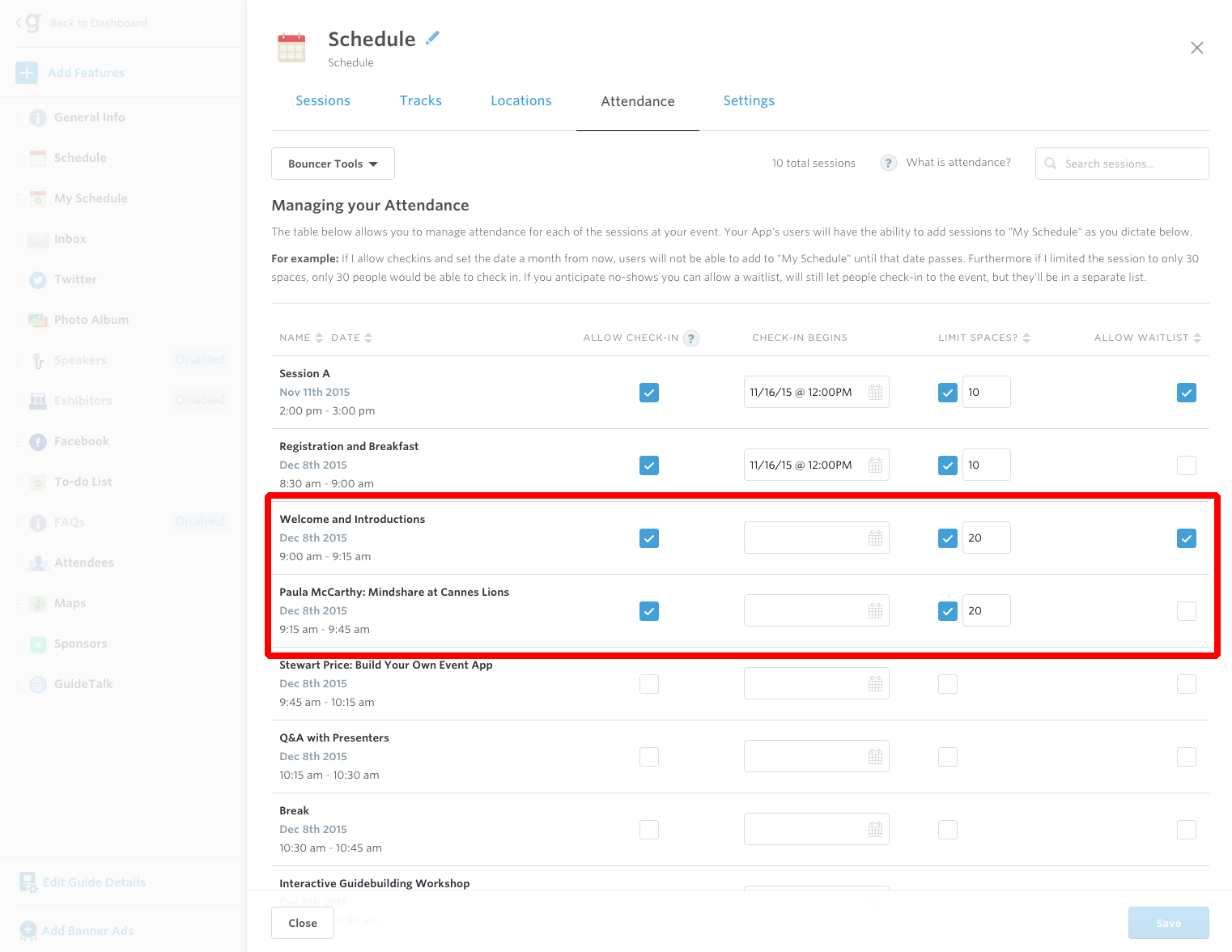 3. If you want to "Allow Check-in' and 'Limit Spaces', do you want users to do this right away? Or do you want to set a date/time for when they can begin to add sessions to their 'My Schedule'. NOTE: Although Attendance Tracking isn't a registration management system, this option does allow you to create a time slot for when each session will 'open' for check-in, meaning that all app users will have an equal chance to check-in to that session.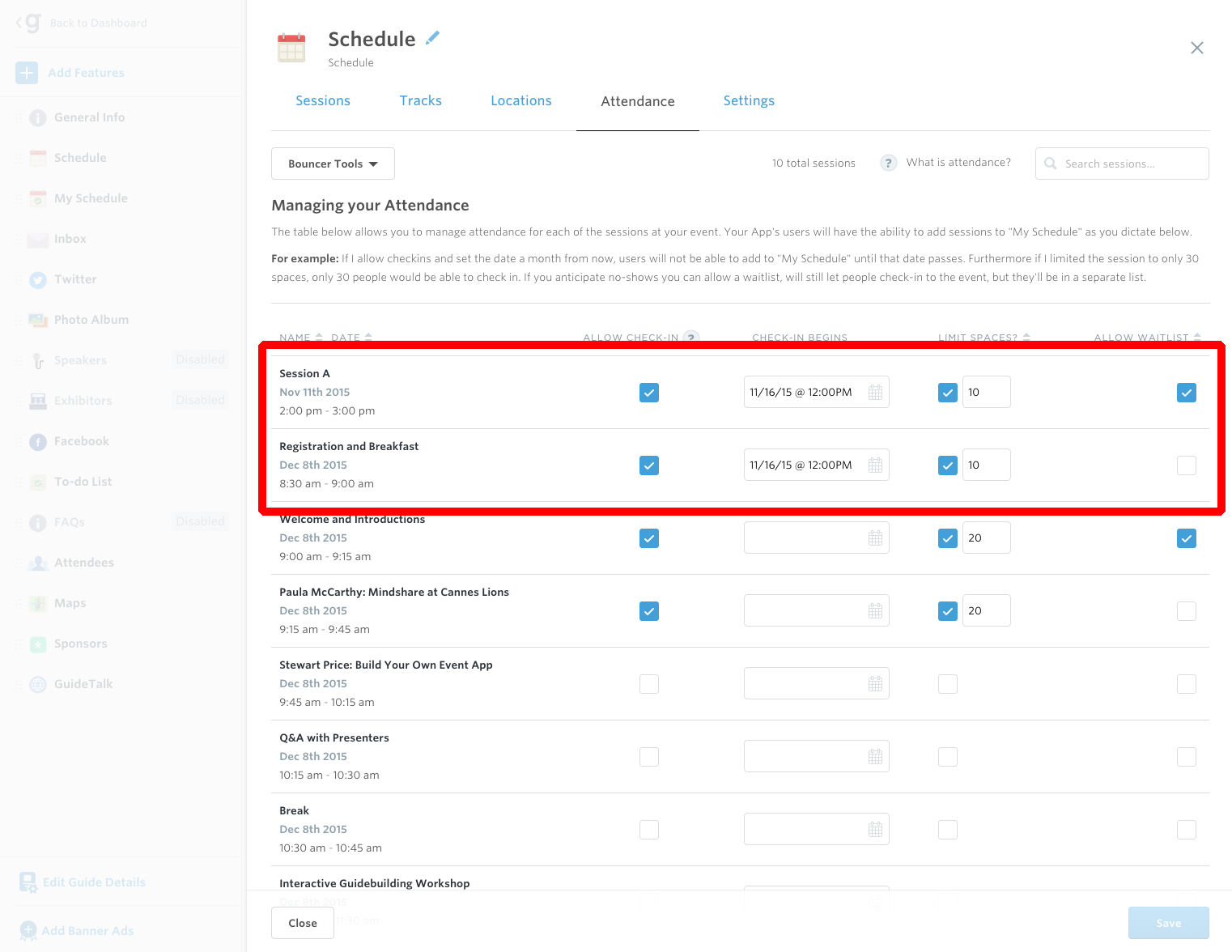 4. Do you want to provide a waitlist for those that miss out on checking-in to a session once all the spaces have been taken? This will mean that after all the limited spaces have been taken, the app user can join the waitlist and be added to the session on a first-come-first-served basis if somebody decides to drop out of the session. If you would like to add this option simply check the box in the 'Allow Waitlist' column.

Of course you can combine some of these features together, and this is what gives Guidebook users more control than ever over managing the attendance of their sessions.
III. Managing App Users that 'Check-In'
Once you've setup your attendance limits and waitlists, you'll be able to track how many spaces have been used and who has signed up.
To do so, from the Attendance tab of your guides schedule click on the "Bouncer Tools" button - this will give you 2 options.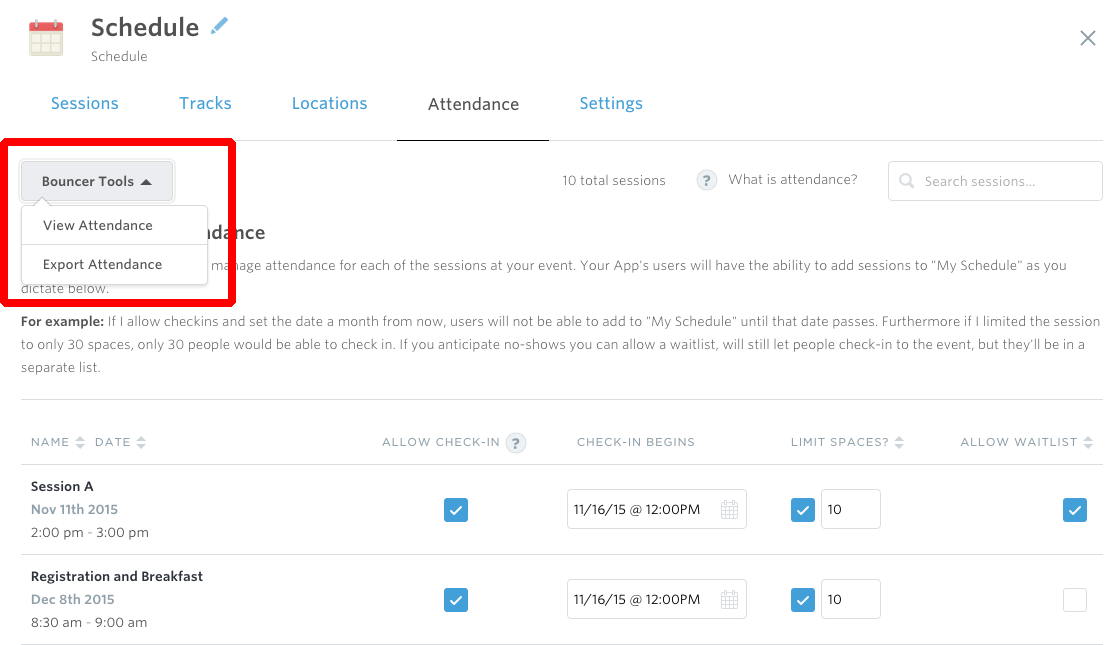 'View Attendance' allows you to see all sessions with caps and click into any individual one to see the users that have registered to be on the Guest List, as well as any people on the Waitlist. To check-in a user you can hit the '+' button next to their name - to help you manage who has arrived. 

'Export Attendance' will send you an email with a spreadsheet attached that details the names and email addresses of all users that have signed up for sessions.
IV. Setting Attendance Caps from a Session Overlay
You can also manage attendance caps from a sessions' overlay. From the Attendance tab in the individual session, you can edit all of the above.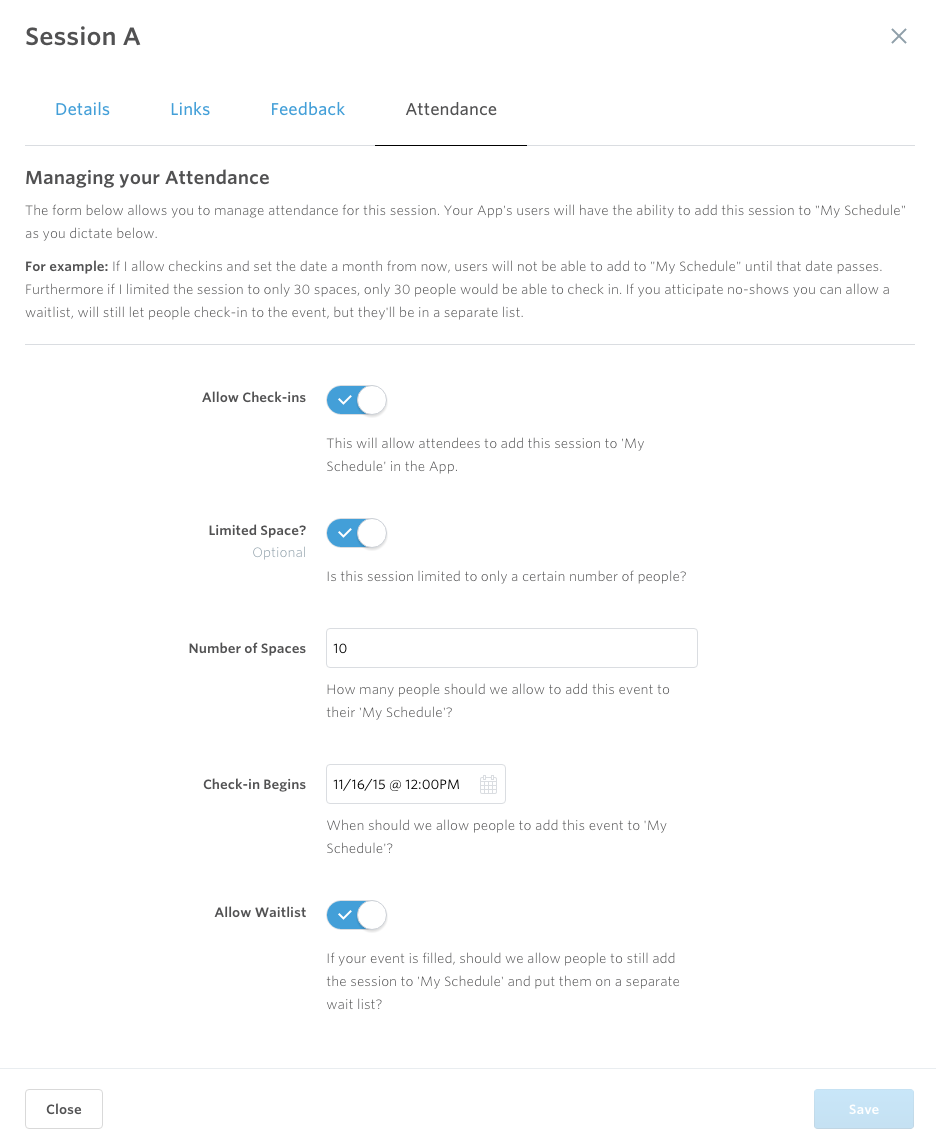 That covers the basics of our attendance management features, if you have any additional questions or requests please reach out to our support team: support@guidebook.com