Have a limited amount of space for a session? Want to require users to register for a session? Our Attendance feature allows you to manage registration and waitlists to maximize session attendance. 
Note: If you choose to set space limitations or use registration required for sessions, your users will be required to log in to an account before they can add sessions to their My Schedule.
In this article, we will cover:
Space limitations are available on the Metered and Premium Flat Rate plan levels. 
Set Up Space Limitations and Waitlists
First, let's find the Attendance tab in Builder. Open the guide you're working on, then click on the Schedule module. Inside the Schedule module, click on the Attendance tab.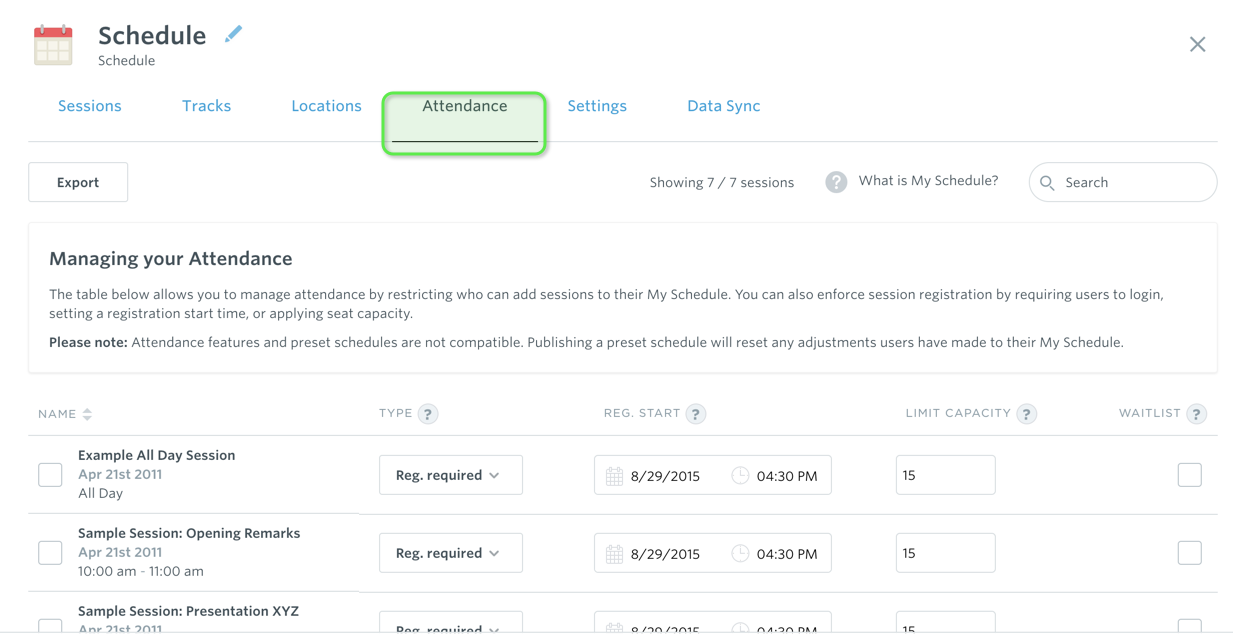 There are quite a few options available to you in the Attendance management tab.
Anyone can add to my schedule:  This option does not restrict the number of users that add the session to their My Schedule.


Nobody can add:

This option prevents the schedule from being added to users My Schedule.





Registration  Required:  This setting should be used when you only have a select number of seats or wish to verify who is in attendance. Once this option is selected, you have a few additional choices:

Registration Start (Optional): You can control the date/time when Users will be able to add sessions to their My Schedule.


Limit Capacity (Optional): Enter a numeric value here to prevent users from registering for a session after a certain number have registered.

Waitlist (Optional): After setting a space limitation, you can choose to enable a Waitlist. If someone drops out of a session, the first person on the waitlist will automatically be added into the session. The waitlisted end-user will receive a notification in the app, alerting them they have successfully been registered for that session.
The two ways to set up Attendance
When importing your Schedule template spreadsheet, use the Attendance columns (H-L) to allow adding to My Schedule, require registration, set your registration time, limit capacity, and/or allow a waitlist if you would like. 

When editing a Schedule session manually, visit the "Attendance" tab within the schedule feature. Here, you can select a single session to edit or use the checkbox feature to edit multiple sessions at once.
Export and Manage Attendance Records
Access the Attendance Management tools from the Attendance tab in your Schedule.
Export Attendance Records:  Use the Export button to send a spreadsheet detailing the Attendance Records of each user that was verified in attendance for your sessions.
Export Session Adds: To see a report of users that registered for a session and not necessarily those who have been verified a Session/List items report is a great option.  Because of recent GDPR regulations, this report is only able to show data for users that have opted into sharing their details. Please click here for more information about GDPR. 
Viewing Attendance Records:  From the Sessions or Attendance tab of the Schedule feature, click into any session and then ensure you are on the Attendance tab. Here, you can manually add Attendance Records by email. Note: Users need to have accessed the guide while signed in to be added as an Attendance Record. From this tab, you can also view the list of verified users. The gear icon can be used to delete an Attendance Record. 
Additionally, Team members with Administrator or Editor roles can view counters showing the number of Verified, Registered, and Waitlisted users. 
Verified: Users who have been scanned or added as an Attendance record. 
Registered: For a session that has a capacity limit added, the number of users that have registered for the session. 
Schedule Adds: For a session that has not limited the capacity, the number of times the session has been added to users My Schedules. 
Waitlist: When a waitlist is enabled, the number of users who registered for a session but were not added to an available seat.