Have a limited amount of space for a session? Want to know who's attending your keynote presentation? Our Attendance feature allows you to manage registration and waitlists to maximize session attendance. 
Note: If you choose to set space limitations and enabled registration for sessions, your users will be required to log in to an account before they can add sessions to their My Schedule.
In this article, we will cover:
This is a Premium Plan feature. 
---
How to Set Up Space Limitations and Waitlists
First, let's find the Attendance tab in Builder! Open the guide you're working on, then click on the Schedule module. Inside the Schedule module, click on the Attendance tab.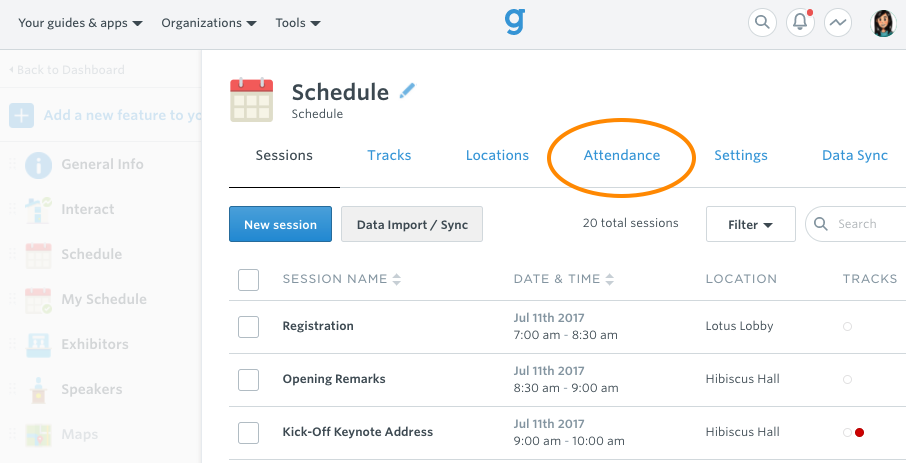 There are quite a few options available to you in the Attendance management tab.
Allow Check-In: This is enabled by default. This options lets your Users add sessions to their My Schedule module. 


Check-In Begins: You can control the date/time when Users will be able to add sessions to their My Schedule. Click this box to set the date/time. 


Limit Spaces: This is the key component to managing session attendance. If you want to specifically track who signs up for which sessions and manage your registered Users, click this box to limit spaces. When this is enabled, a box will appear prompting you to set a number of spaces available in the session.

Allow Waitlist: After setting a space limitation, you can choose to enable a Waitlist. The Waitlist will show the name/email address of Users who have expressed interest in the session. 

If someone drops out of a session, the first person on the waitlist will automatically be added into the session! The waitlisted end-user will receive a notification in the app, alerting them they have successfully been registered for that session. 
Note: There are two more ways to set up Attendance!
When importing your Schedule template spreadsheet, use the Attendance columns to allow check-in, set your check-in time, set the space limitation number, and/or enable a waitlist if you would like. 

When editing a Schedule session manually, visit the "Attendance" tab for that specific session.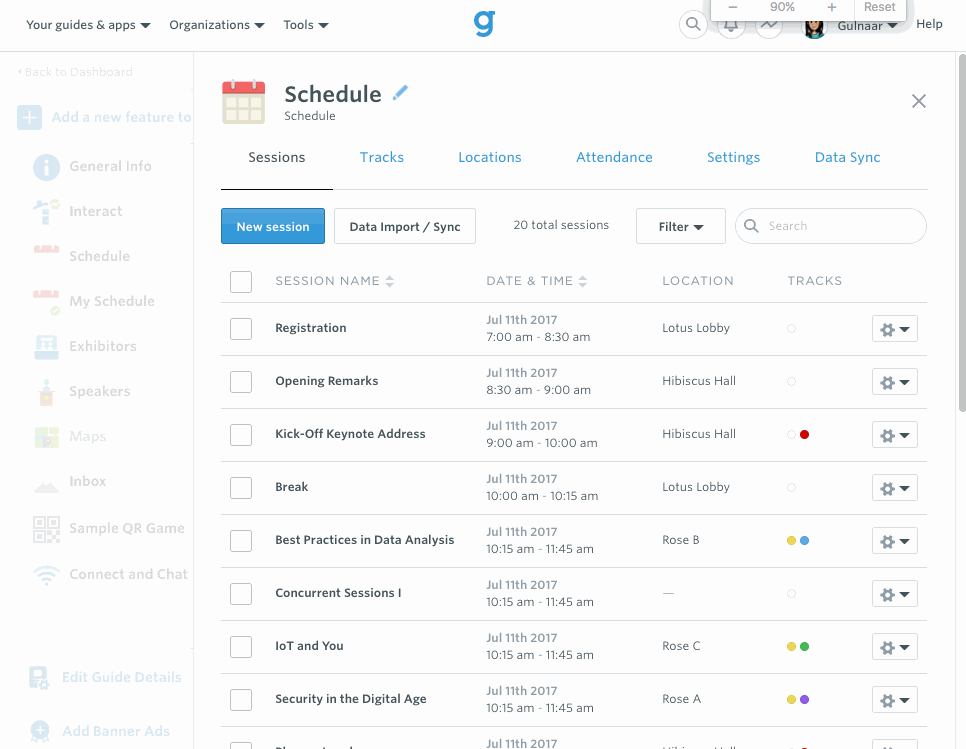 ---
How to View and Manage Registered Users
Access the Attendance Management tools from the Attendance tab in your Schedule.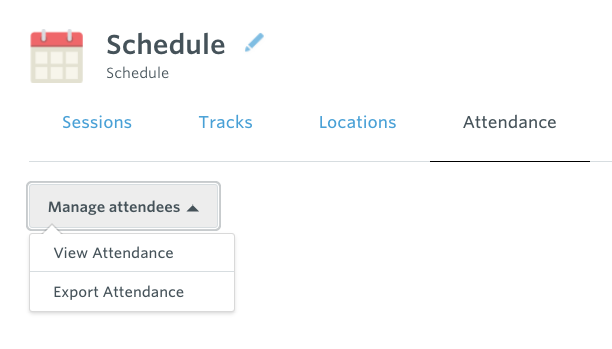 After you have set up your space limitations on your sessions and Users have started signing up for sessions, you can track attendance! 


View Attendance
Click "View Attendance" to see all of the sessions with space limitations. Click into a session to view the Guest List, which shows your registered Users. If you have a Waitlist enabled, you can see who is on the Waitlist here.
For each sessions' Guest List, you have the power to remove Users. 
If you have a "bouncer" at the door of the session with this page pulled up on a laptop or tablet, you can check in registered Users who have arrived!
Export Attendance
Builder will send you an email with a spreadsheet detailing the names and email addresses of each registered User for your sessions. 
---
Questions? Contact us at Support@guidebook.com!