Upon logging into the Builder website, you'll encounter the Your Guides dashboard. In this view, you'll see all guides of which you are a collaborator. For your convenience, each guide has been marked with a Status to indicate the guide's progress in its quest to become published.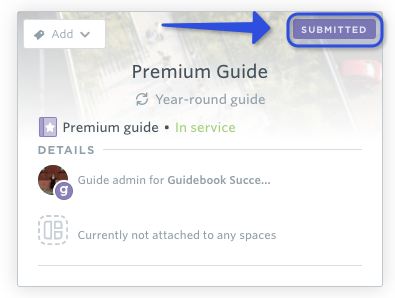 A guide can exist in one of the following states:
Building
This status signifies an unpublished guide. You are still working on uploading your information, and the information is not live and accessible yet.
Submitted
This status signifies that your guide has been submitted for publishing to an app or Space, but it is not yet accessible. If you're publishing to the Guidebook app, our team still needs to review the guide. If you're publishing to your own branded Mobile App or Space, there may be a few additional steps to go live.
Your guide can be published on any number of apps that you have access to. You can select which apps to publish on anytime from your guide dashboard.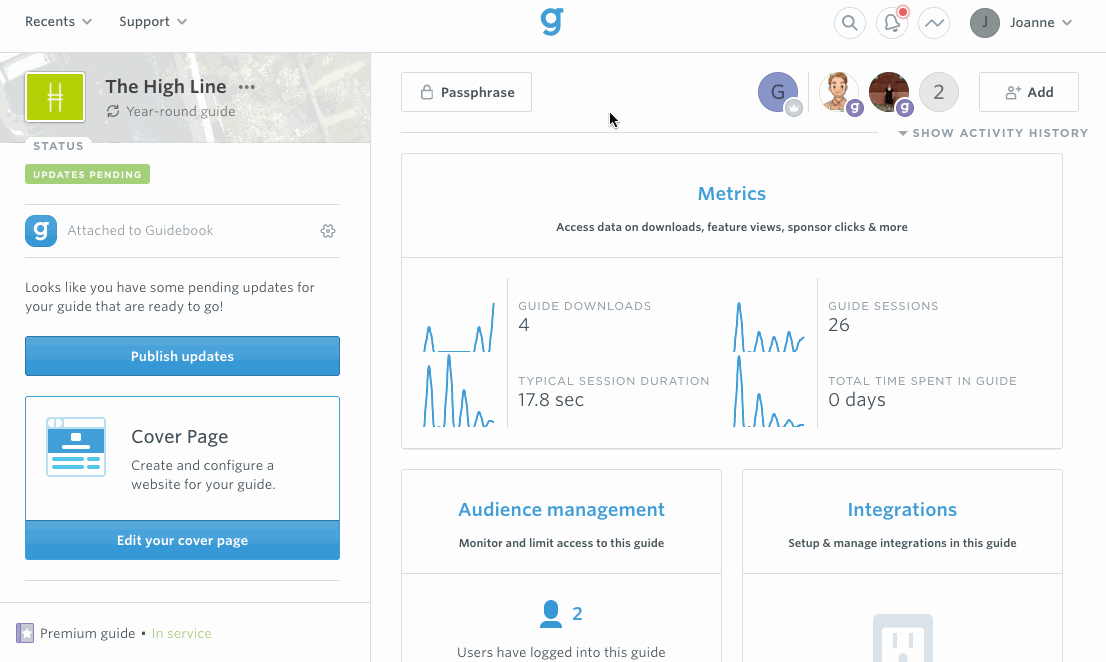 When you first request your guide to be published to an app, the owner of the app must approve the request. Once your attachment request is approved, it won't need to be re-approved unless the guide is manually detached.
If you are publishing your guide to the Guidebook app please allow for two business days as our team reviews many guides to keep the Guidebook platform safe, welcoming, and clean to our users. Our team typically approves guides on the same day they enter our approval queue. If you require a faster turnaround, please email us to request an expedited review.
If you are a member of an organization submitting a guide to be attached to a branded app or space, an admin of your org will need to approve your request.
Published
Your guide has been approved and is now available to download via the space or app it has been attached to.
If you have a single-guide app, you will need to submit your app to stores to make your guide available.
Updates Pending
Even when your guide is submitted, you can continue to make changes to it. This status suggests you have made changes to your guide that are not yet pushed out to your users. Publish the guide once more to sync your changes to the app. You may see Updates Pending throughout the process of creating and managing a guide.
Archived
Two weeks after your guide's end date, your guide will become archived. You will still retain access to all metrics and data within your guide, but you will be unable to publish any new updates to your guide. Your users can continue to access your guide even after it has been archived. New guide downloads are possible during the Archived state.
Metered guides do not archive.
Lapsed
Each guide is associated with an order. At the end of your guide's subscription, it will move to a lapsed state. After this occurs, people won't be able to download (or re-download) the guide, but guide admins retain access to its information on the Builder website.
Metered Guides are automatically set up with a thirteen-month term. If you'd like to wrap things up sooner, you may terminate your guide's service.

Users who've already downloaded the guide to their device may continue to access it. Downloaded content is stored locally on a users' device, and will remain there until they choose to remove it.
Delisted
An outstanding balance has been unpaid and the guide has been removed from service.