The Attendees Feature increases engagement during events by allowing attendees to connect with each other. This feature requires a User Account to function -- we'll briefly cover User Accounts, but you'll find more comprehensive resources in this article. 
Note: The Attendees Feature is supported only on our iOS and Android (including Amazon and Blackberry) platforms; the feature does not appear on Guidebook Web.
---
Contents
---
How Can I Add the Attendees Feature to My Guide?
The Attendee module can be added to your guide in Builder. Select Add Features from the left side Drawer Menu, then choose Attendees. It will appear in your Drawer Menu where you can rename and arrange it accordingly. That's it - everything else is done from the app.
---
End-Users must create a User Account in order to take advantage of the Attendees Feature.  Users may sign up for an account using an email address or an existing social media account.  Users can use their same account across all of their guides; User Accounts also offer many perks!  For more information on User Accounts, check out our support article.  Note: If you have a Guidebook Builder account, you also have a User Account with the same email and password credentials.
You can use the same account across all your guides. Logging in lets you sync your My Schedule and To Do List across different devices, including the Guidebook Web version.
An account also allows you to Check In to a guide. Once you have checked in, you'll be visible to other users, and can start forming connections and Private Messaging those users (if your event organizer has added this feature into the guide). You can check out of a guide at any time.  The gif below shows the check-in workflow for iOS (though the functionality is very similar on Android).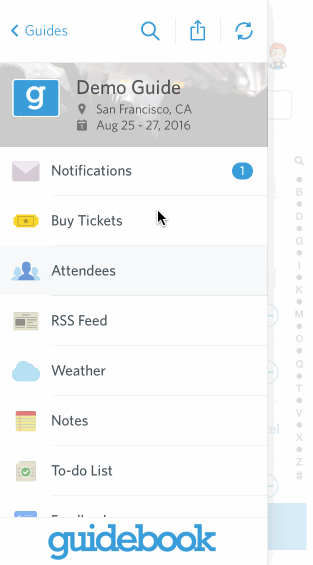 ---
What can I do with my connections?
Once a person has accepted your invitation to connect, you will be able to view their profile and contact details. You will also have the option to send them a private message (if the guide creator added in the feature).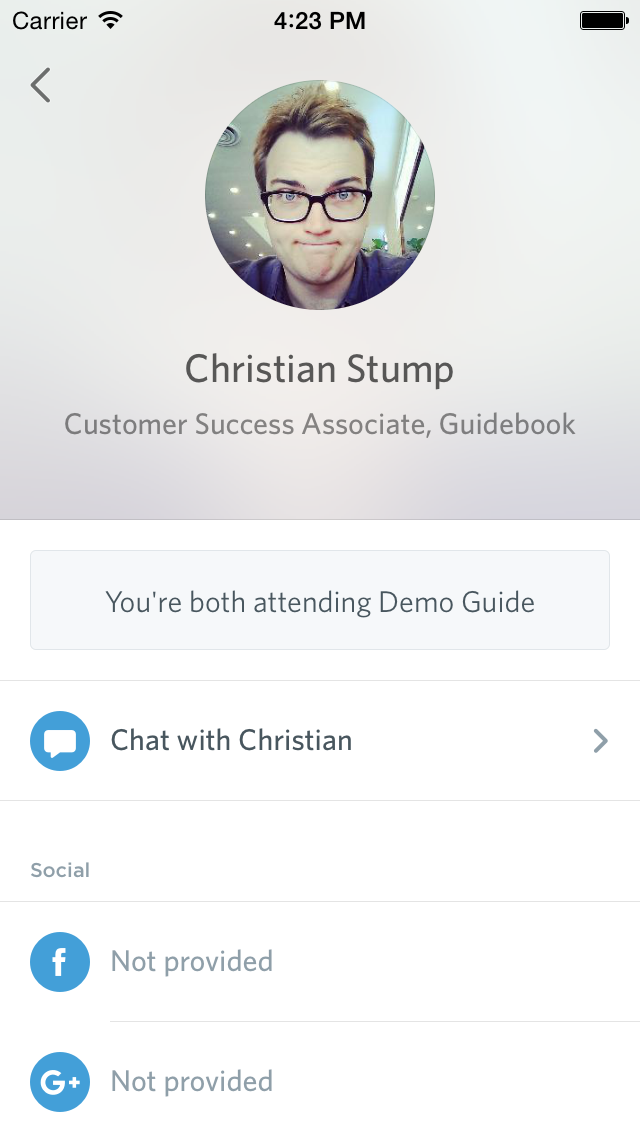 ---
Can I upload my Attendees list?
The Attendees Module functions on the app side. In Builder, the Attendees module can only be disabled or enabled. You cannot directly add attendees to it yourself - attendees need to check themselves in.
If you would like to add in the names and details of people attending, use a custom list.
---
Networking is an integral part of life, and adding the Attendees feature to your guide can greatly boost your guide's success. Want to learn more? We talked to experts to get their thoughts on the Psychology of Event Check-Ins and Boosting Event Engagement.