One of the most important aspects of building a guide is testing it on your own device. With our guide preview feature, you can download a snapshot of your guide to review the layout or design of your guide and guide content. This will help you fine-tune things so that you can make sure that your end-users have the best possible experience when it comes time to use the guide.
There are a few very important things to keep in mind about Preview mode.
If you are using a private guide that is passphrase-protected, the Preview code is not the same as your published guide's passphrase.
Please do not share your Preview code with anyone outside of your guide building and testing team. If any end-users try to download a preview of your guide, they will not have access to much of your content or features.
The Preview version of your guide is a static snapshot of your guide, and does not update in real-time. In order to see any changes that have been made to your guide since a guide preview was generated, you'll need to delete the existing preview from your device and follow the steps to generate a new guide preview.
Guide previews are limited in functionality. Any part of the guide which requires a network connection, such as Interact, Photo Album, social media, or other similar features will not work in Preview mode. When you publish your guide, these features will function properly.
Generating a Preview
In the guide-building screen, look for a Preview on your device button at the bottom-left corner.
Click this Preview on your device button, and Builder will generate your Preview code.
When it's ready, Builder will give you the guide's Preview code as well as the Preview QR code. Remember: this is just for testing. Please do not share these with any end-users.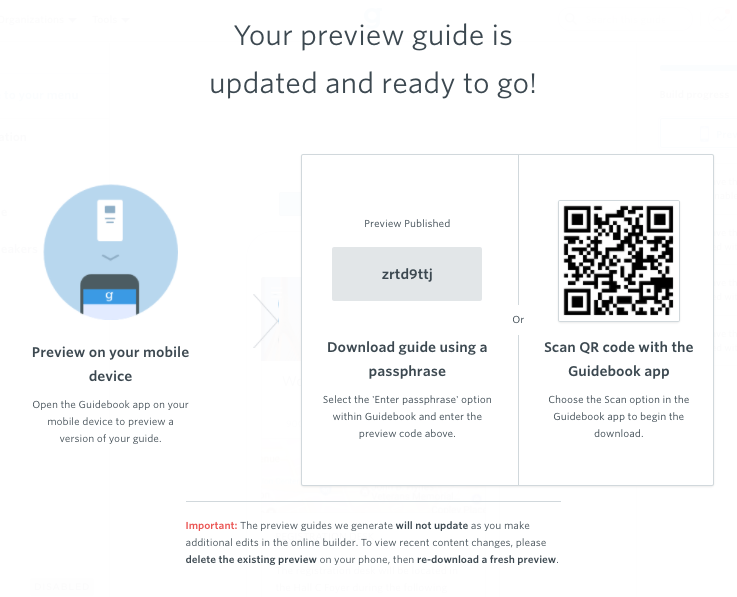 Viewing a Preview
To view a preview on your phone:
Open the Guidebook app on your device
Navigate to the Find Guides tab
Tap Enter passphrase
Put in the Preview code
Tap to download and open the Preview version of your guide
Only one Preview can be downloaded per minute.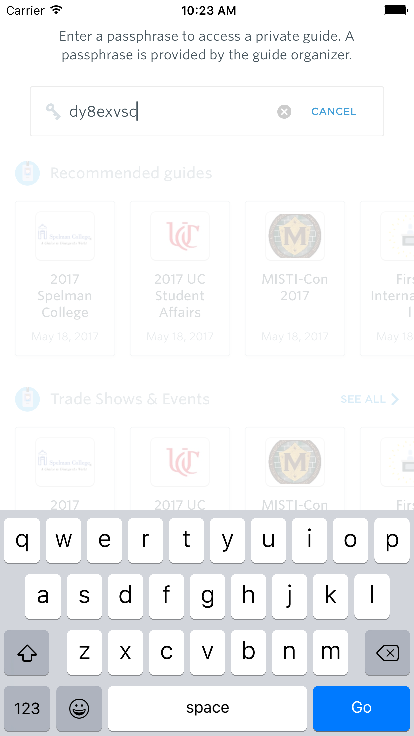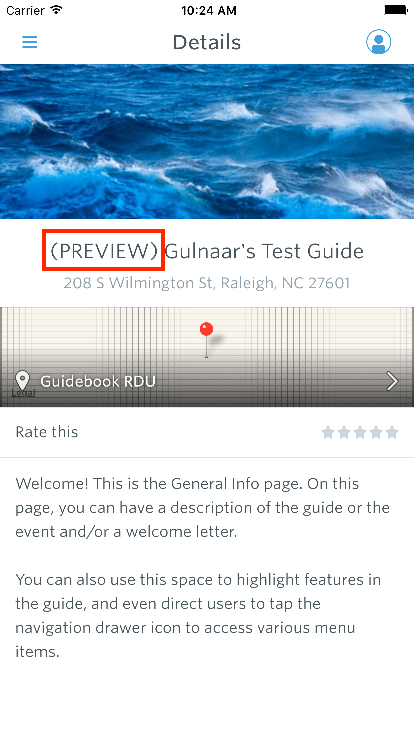 Please note that previews do not update automatically with the changes you make on Guidebook Builder. If you make any changes on Guidebook Builder and would like to view them, you must first delete your old Preview and download a new one. You can delete a Preview by backing out to your list of guides, and then tapping and holding on the Preview.