At Guidebook, we know the importance of solid schedules in mobile guides. To best empower the guide creator, Guidebook offers several methods of schedule upload. While you can easily create a schedule manually or through a spreadsheet import, some organizations may already manage an existing schedule. If you manage a Google calendar or you can export your schedule into iCal format, you may easily be able to sync your schedule with our system in Builder. This article will dive into the steps to setup your schedule from an iCal.
Considerations
Please ensure you are including a unique Schedule Track for each iCal sync. This will prevent your existing Schedule from being overwritten with the data from the iCal sync.
After setting up the sync, please wait several minutes for your sync data to appear in Builder. If it does not appear, please confirm that the start time has passed and that your iCal URL is public and all event details are visible.

Syncs will run every two hours during the dates specified.
Sync will pull the event title, date, duration, description, and locations.
Data syncs will not automatically publish updates; you will still need to publish updates to push your data changes live to the guide.
New syncs will overwrite old syncs (to avoid importing multiple sessions over and over again). For this reason, we recommend making changes to existing sessions from within your iCal feed rather than within Builder.
You may add new sessions to Builder manually, please ensure they are on a different track than the iCal sync.
You may set up more than one iCal sync.
To disable a sync, simply set the end time to be in the past.
Setting Up The Sync
Within Builder, navigate to the Schedule section of the guide.
Click on the Data Sync tab from the top right of the schedule overlay.
Click Create New iCal Sync from the top left of the page.
Fill in the appropriate information, and click the Save button.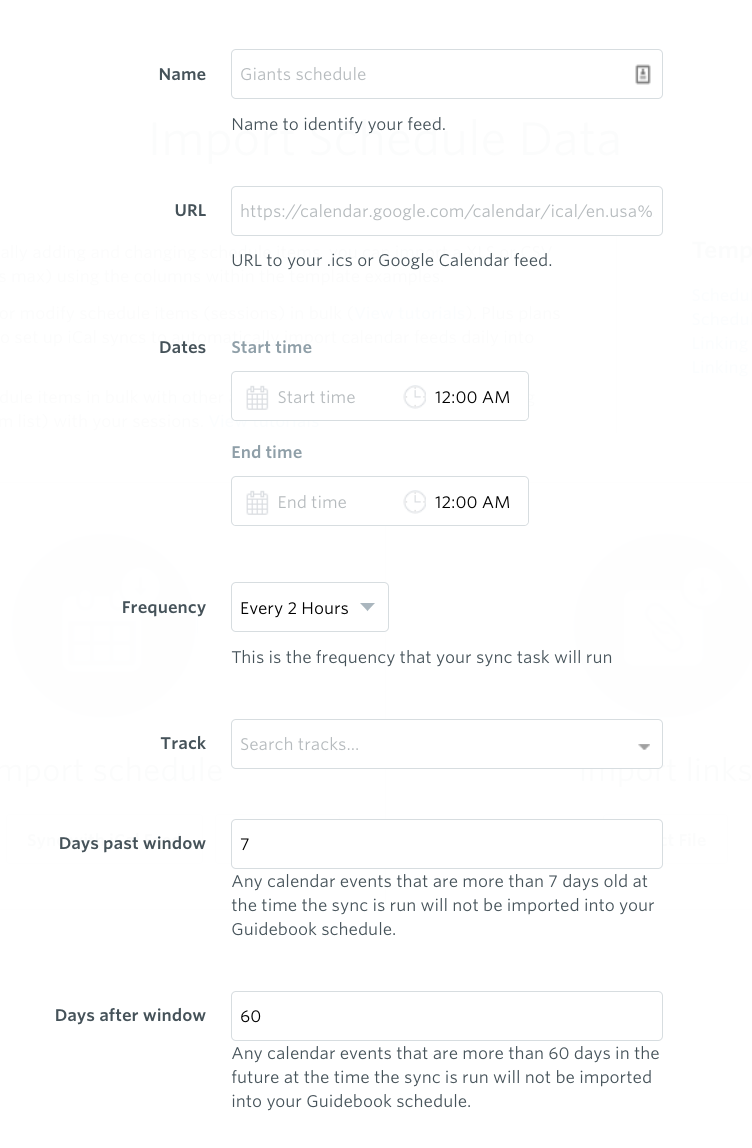 Name: Choose a name for your feed (this will not display to end-users).
URL: Link to your iCal feed. If you do not know how to access your iCal feed, try contacting your organization's IT team as Guidebook will not be familiar with your organization's particular setup.
Dates: Enter a start and end time. Your sync will update every two hours between the dates you enter. After the end time passes, your data will no longer sync.
Track: Always include a unique Track in this field. By assigning a unique Track, you will prevent overwriting any existing Schedule data.
Days past window: Some iCal feeds may contain thousands of events. Use the days past window to choose the recency of data to import. In the screenshot above, only events up to 7 days prior to the sync will be imported.
Days after window: Just as the days past window, set the days after window number to choose how far into the future you'd like your calendar to import. In the screenshot above, events more than 60 days beyond the sync will not be included in the sync.