Organization Basics
Having an organization in Builder allows you to purchase multiple guides at one time, pay by purchase order, and manage who within your organization has access to which guides. You can reach out to our sales team if you have not yet purchased any guides, or if you have any questions.
We recognize that your company, group, or institution may have team members across departments or offices; we want to make it easy to manage all of your guides in one place.
Organization Roles
Members of an organization are either organization administrators (org admins) or organization members (org members). Org admins can:
Select provisioned guides to begin working on them
Invite members to collaborate on those guides
Grant access to org members who have requested access to a provisioned guide
Approve guides ready to publish
Invite other users to be members (or admins) of the org
Edit the organization profile
Manage and view the organization's billing details and purchase history
View metrics for the organization's guides collectively
Edit an organization's branded App or Space by accessing the branding dashboard
Org members can only work on guides that an org admin has invited them to collaborate on or given them permission to begin working on. They cannot start new guides for the organization. They must request permission to begin working on the guide from an org admin.
You can share this resource with any members of your organization to walk them through this process.
Accessing and Building Org Guides
When you log in to Guidebook Builder, you will arrive at the home screen. To access the guides owned by your organization, select your org via the drop-down menu on the left of the Builder homepage.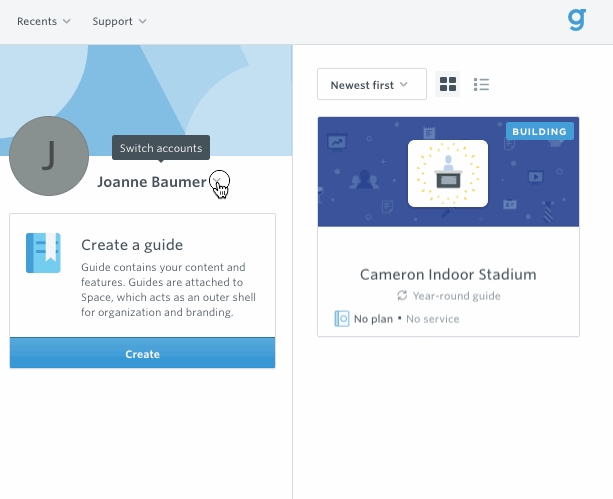 This will bring you to the organization's homepage, rather than your personal homepage, where you'll be able to view the guides people in the organization are currently working on or have worked on in the past.
If you would like to learn more about managing your guides on the Builder homepage, you can read more in our article Builder Homepage Tools and Navigation.
As an admin of an organization, from your Builder homepage, you are able to view all guides that your organization has purchased and already started to build via the Org guides tab.
You will be able to see all of the provisioned guides that are not yet in use in your organization in the Build new guides tab. Once a guide has been started, it will move from Build new guides to Org guides.
To edit a guide, view the guide in Builder, or start a new guide, click on the guide card or list item.

Starting a New Guide
When you want to start building a new guide, simply select a guide from the Build new guides tab. Make sure that you select a guide that will be active for the time period when your event is taking place.
If you can not see a guide that will be active during the time period you need your guide to be live within, reach out to your account manager. As well, your organization may have purchased a mix of Plus, Premium, and Tours Guides; make sure to start the correct type of guide. You can click See more to find the specific guide you'd like to use.
Once you have found the pre-purchased guide you want to begin building, you will have the option to "Start without a template" or to "Copy features from another guide".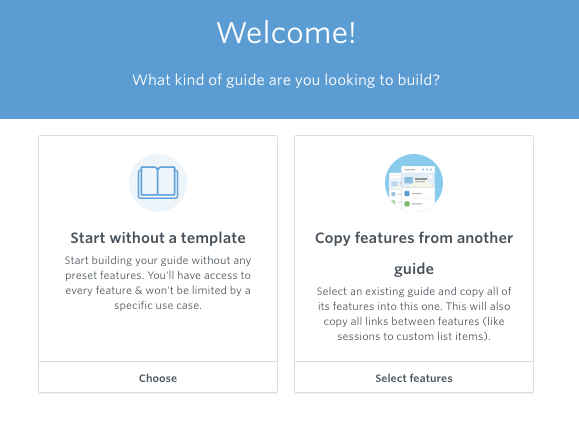 If you would like to start from scratch, click Start without a template. You will arrive at the guide-building screen.
If you would like to copy content from another guide into this one, click Copy features from another guide. Select your source guide, which has the content you want to copy over. Builder will let you know when your content has successfully copied over and you can then continue working on your guide.
App and Space Management
Apps and Spaces are only owned by orgs and can only be managed by org admins. On the org dashboard, simply go to the Org spaces tab on the left and you'll be able to manage your organization's Spaces and Apps from there. There is information about the branding dashboard for your Space or App in this support article.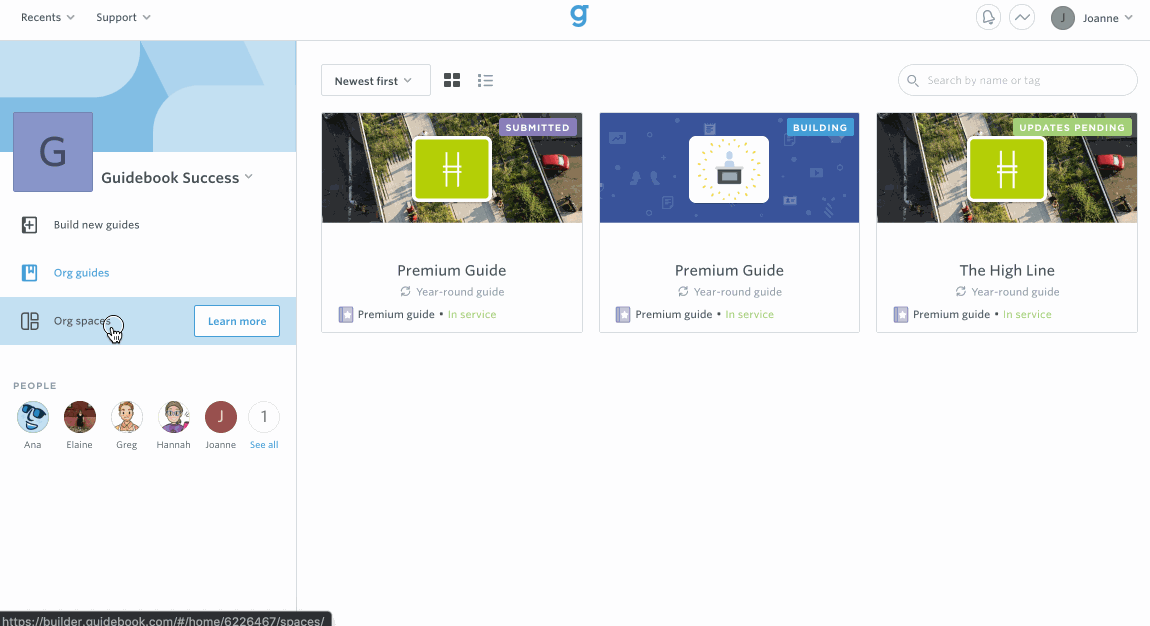 Guide Access for Org Members
Only org administrators can start building a provisioned guide from Builder home. Your org members have the ability to request access to guides from you, or you can invite them as collaborators to an existing guide. The request will include a proposed name for the guide and a brief explanation.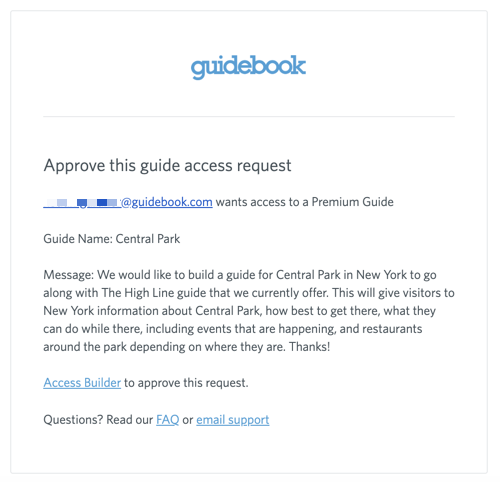 When a member requests guide access, you will be notified via email, as well as in the Builder Notifications page.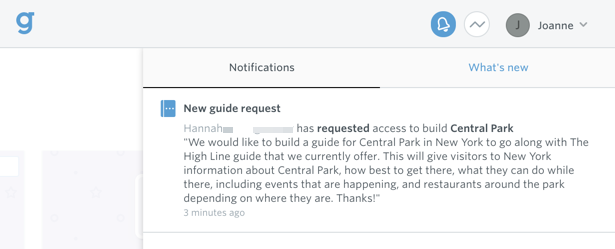 Click the link in the email or the message in the Notifications center to deny or grant access to the guide from the Pending tab of your org dashboard.

If you entered the Pending tab and don't see an access request anymore, that means another admin has already handled the request.
If you deny the request, you will be asked to provide a brief explanation to the requestor.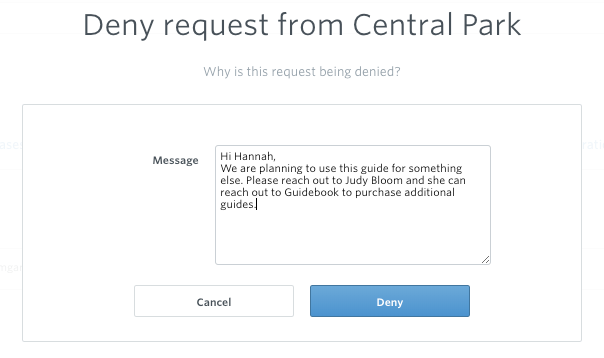 Once you have taken action, the member will be informed via email.
Org Dashboard
From the org dashboard, org admins can manage pending requests, the roles of members in the org, view purchases and invoices, manage org details, and view metrics.
Finding your Org Dashboard
From your Builder homepage, you can access your Org dashboard by hovering above the org name in the top-left, and clicking: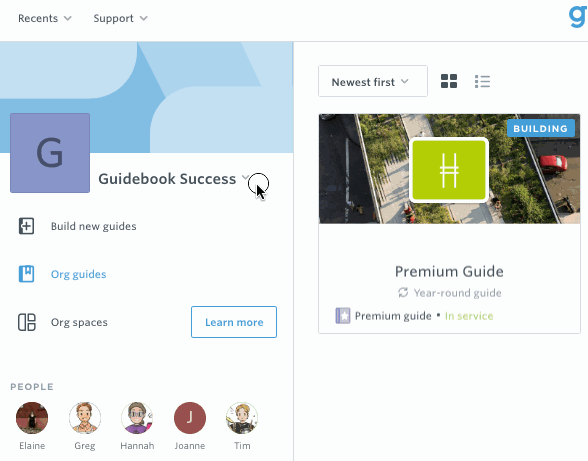 You can also access your Org dashboard by clicking on your name in the upper-right and selecting Manage your org.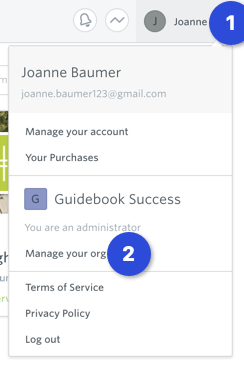 Access your org management tools by clicking on the tabs, detailed below.
Pending
In the Pending tab, there are three categories of items you may need to handle as an org admin.

New guide requests are guides that an org member is requesting use of. These steps are detailed above. You can choose to grant the request or deny the request.
Pending guides are guides that need to be attached or rejected to your branded app or space. You can choose to attach or reject the guide and we've detailed the steps below.
Pending invites are org admins or members who have been invited to the org but haven't yet accepted their invitation. You can choose to uninvite the team member or resend the invite.
Pending Guides
When a guide in the organization is ready to be published to your org's app, an organization administrator must approve it. These guides will be under the Pending guides category. Guides submitted to the Guidebook app are approved by Guidebook support staff members.
Org admins should keep an eye out for key approval criteria detailed in this rubric to determine whether a guide should be approved or rejected. Click on the guide's name to review it and to the right of the guide's name, look for a Reject button and an Attach button.
To approve a guide, click Attach. Then click Approve to confirm the guide approval.
To reject a guide, click Reject. Please provide your rationale for rejecting the guide and click the blue Reject button. The guide administrator(s) will receive an email with the message you provide here.
Once a guide is approved, your team is ready to promote the guide to your users.
Members
Select the Members tab to manage users' roles in your organization and invite users to your organization.
To remove any users, click the gear icon to the right of a member or admin, and choose Remove.

To invite a new user, click on the blue Invite Members button. Provide an email address and specify the user's role in your organization - either an Admin or a Member. Click Add More to send more invitations at once and click Send Invites when you're ready to send invitations.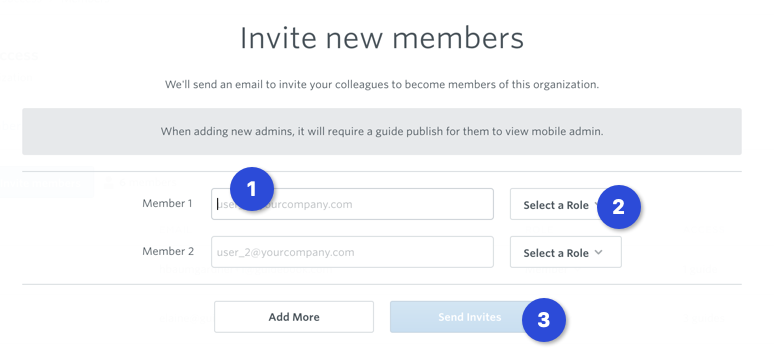 The invited users will receive an email and they will see an invitation notification in Builder when they log in if they previously had a Guidebook account. They may choose to accept or decline the invitation.
You can also export your member list as a spreadsheet if you would like using Export member list button.

Org admins will be added as guide collaborators to all guides created within the organization after they have been added as an org admin. When guide collaborators are invited to work on guides within the organization, they will be added as org members automatically.
Purchases
To edit your payment information, input the relevant information into the on-screen text fields. For more information on traversing the Billing page, check out our Manage Plan support article.
Invoices & receipts
Click on Invoices & receipts to view your previous orders, the date the order was created, the amount it is for, and the payment type. You can also download your invoices in PDF form here by clicking the Retrieve PDFs button.
Details
Edit your organization's name, headline, cover image and icon used in Guidebook Builder.
Metrics
View download numbers and a host of other metrics for the guides attached to the organization. The Metrics: Understanding Organization Behavior support article provides details on each data component you see in the metrics dashboard.
If no guides have been published or downloaded by users, no data will be populated here. Please also be sure to check the date range to pull data in the desired timeframe.
Metered Usage
If your organization uses metered guides, the usage per month per guide will be available here.
Integrations
The integrations tab shows you a list of guides on your org account that have various integrations set up.
FAQs for Org Admins
As an org admin, I'd like to obtain an additional guide for my account. How do I do that?
To obtain a new guide for your organization, contact your account manager. Organizations are provisioned a set number of guides, so if you need additional guides, your account manager will be your best resource.
A user on my team is having trouble accessing the provisioned guides for my organization.
In order for an org member to access a provisioned guide, they need to request access from you, the org admin. If they request access, you'll be notified via email and can grant them access. As well, make sure the user is a member or admin of the organization and that your organization has provisioned guides available.
How do I make a member of my org an admin?
Navigate to your org dashboard by clicking on your name in the upper-right, clicking Manage your org, and clicking the Members tab. Under the Role column, you can change org members to org admins.

How do I invite an org Member to collaborate on the guide?
Go to the guide dashboard and click on Add in the upper-right. Enter the org member's email and send them an invite. They will receive an email invitation which will allow them to edit the guide.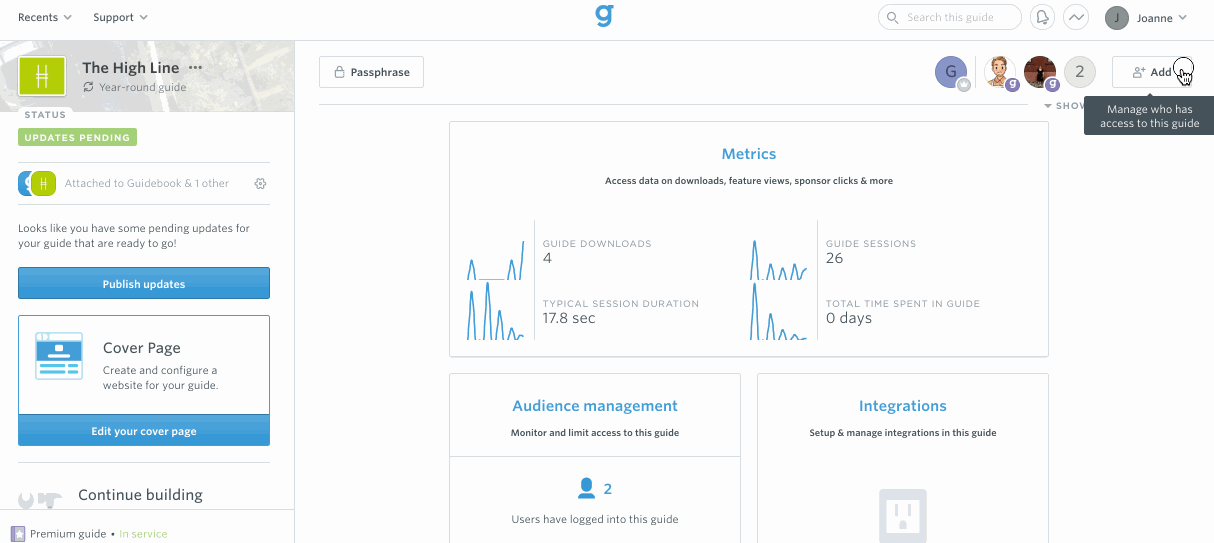 How do I know which of my new guides to start?
If all of your new guides have the same start and end dates, simply select whichever one you'd like. If they have different end dates, make sure to select the one that expires first, as long as the event falls within that range.
Can I prevent specific org members from requesting access?
This is not currently possible. If you don't want a specific user to request access to guides, you should remove them from your org via the members tab in the org dashboard.
Can I limit access approval to specific org admins?
This is not currently possible. If you don't want a specific admin to manage access requests, you should remove them from your org or downgrade them from admin to member via the members pane in the org dashboard.
I don't see any of the guides we paid for when I try to build a new guide.
Please contact your Account Manager. If you don't know who your Account Manager is, reach out to support at support@guidebook.com.
I started working on the wrong guide. What do I do?
If you were supposed to be building content on a pre-purchased guide but you accidentally started working on some other guide (perhaps a guide on your individual account), don't worry!
If you have not published your guide yet, use the copy content to move your content from the incorrect guide into one of your pre-purchased guides. You can continue adding content to your pre-purchased guide moving forward.
If you have published the incorrect guide, please contact your Account Manager as soon as possible to have this resolved. If you don't know who your Account Manager is, send us a note at support@guidebook.com.