Welcome to the new and improved Builder Homepage!
We've updated the layout of the Builder Homepage to allow for a more streamlined experience while managing your content.
The Basics
Under the new homepage, your permission level within your Organization (Org) will determine your ability to create and manage guides and apps.
Let's examine these permission levels:
As an Org Admin, you can:

Select provisioned guides to begin working on them.
Invite Members to collaborate on those guides.
Invite other users to be Members (or Admins) of the Org

As an Org Member, you can:

Work on guides that an Org Admin has invited you to collaborate on. Please Note: Org Members cannot create new guides for their Organization.  They must request permission to access the guide from their Org Admin.

As a Standard User, you can:


Create guides for your own personal use. 
Organization Admins
Just like the mitochondria is the powerhouse of the cell; the Org Admin is the powerhouse of the Org. An admin can "start" provisioned guides and begin working on them.
A note to admins: Your Org Members will not see these provisioned guides until you "start" them and invite the Org Member into the guide. Be sure to "start" the guide and invite your the Org members (as collaborators) so they can access the guide.
The Org Admin is also able to manage the other users in the Org and update their status (for more information on org management, click here).
To access the guides owned by your Organization, view to the drop-down menu on the left and select your Org. This will bring you to the Organization's homepage, where you'll be able to view the guides provisioned to your Org — from here you can start the provisioned guide(s). Org members (and other Admins) will then be able to see the guides on the Org home screen.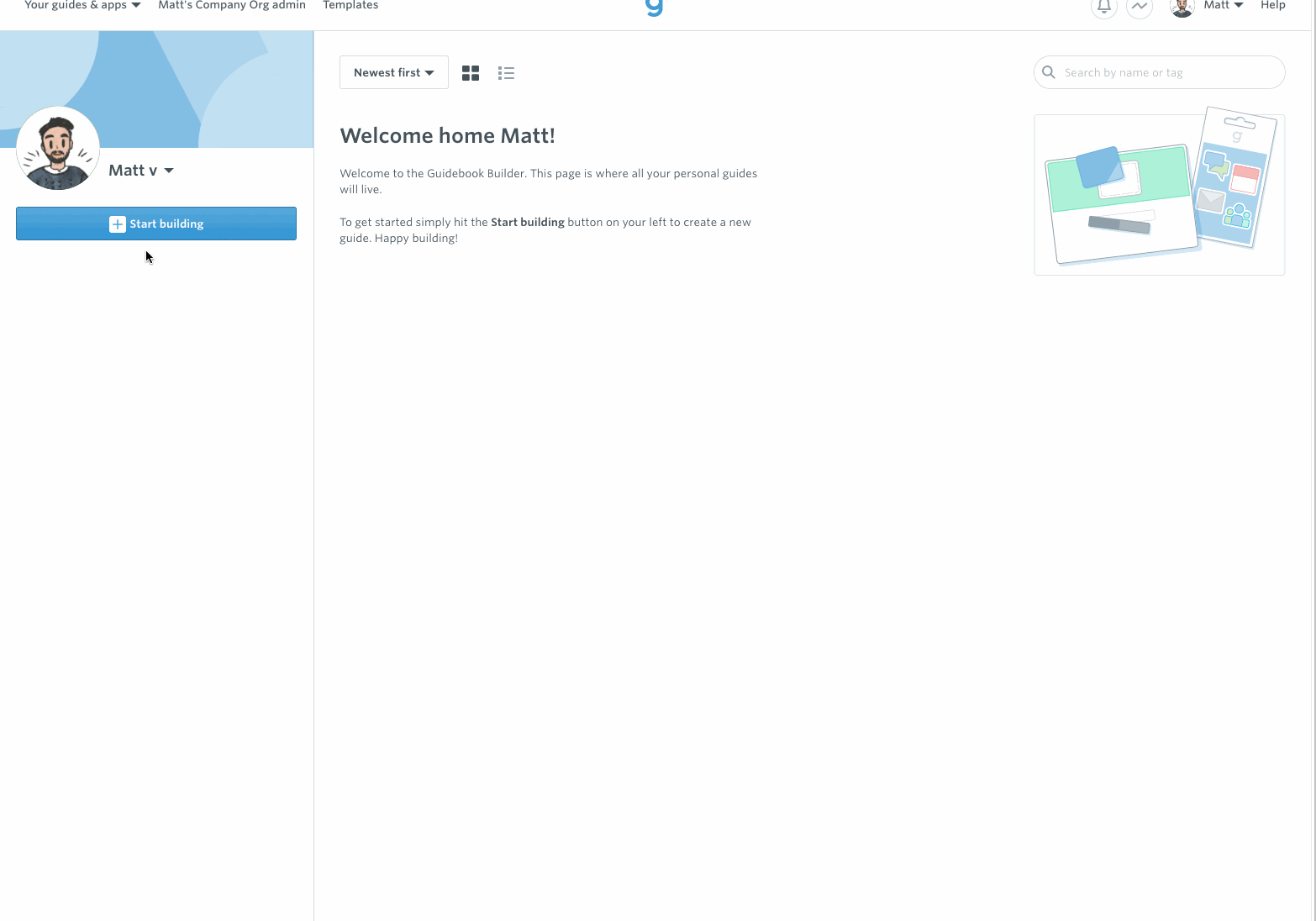 FAQs for Org Admins:
Q: As an Org Admin, I'd like to obtain additional guide for my account. How do I do that?
A: To obtain a new guide for your organization, contact your account manager! Because Guidebook has moved to a system where organizations are provisioned a set number of guides, you can only work with the guides provisioned to your organization.
 If you have any questions about the guides or apps in your account or if feel you are not seeing the correct information, contact your account manager or email us at support@guidebook.com. We'll be happy to help!
Q: I want to make a new guide without obtaining a new guide through my Organization. How do I do that?
A: To create a standard guide, simply switch to your personal account and create a guide. That guide will be owned by your personal account. Please note that you can only create standard guides from your personal account, not for your Org. 
Q: A user on my team is having trouble accessing the provisioned guides for my Organization.
A: There are two possible scenarios here:
The Admin has not yet "started" the provisioned guide(s) in question.
The user in question may not have been invited to the Organization yet.
Solution: Have an Admin take a look! They can "start" the provisioned guide and invite the user to collaborate on it.
Q: How do I make a member of my Org an Admin?
A: To do this, go to your org dashboard > members > and you can update an Org member's status there.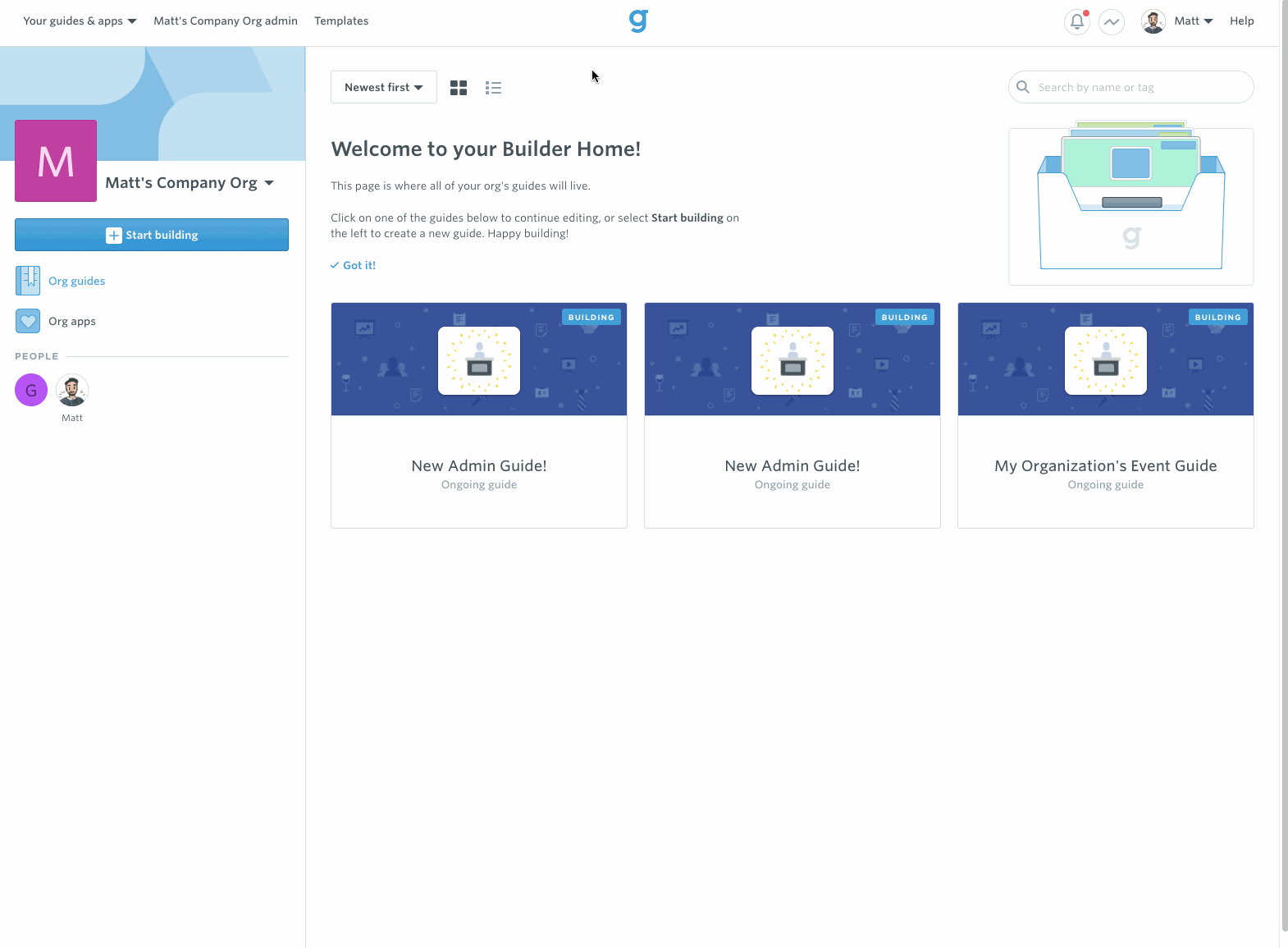 Q: How do I invite an Org Member to collaborate on the guide?
A: Go to the guide dashboard and click on "invite team members" in the upper left. Enter the Org Member's email and send them an invite! They will receive an email invitation which will allow them to edit the guide.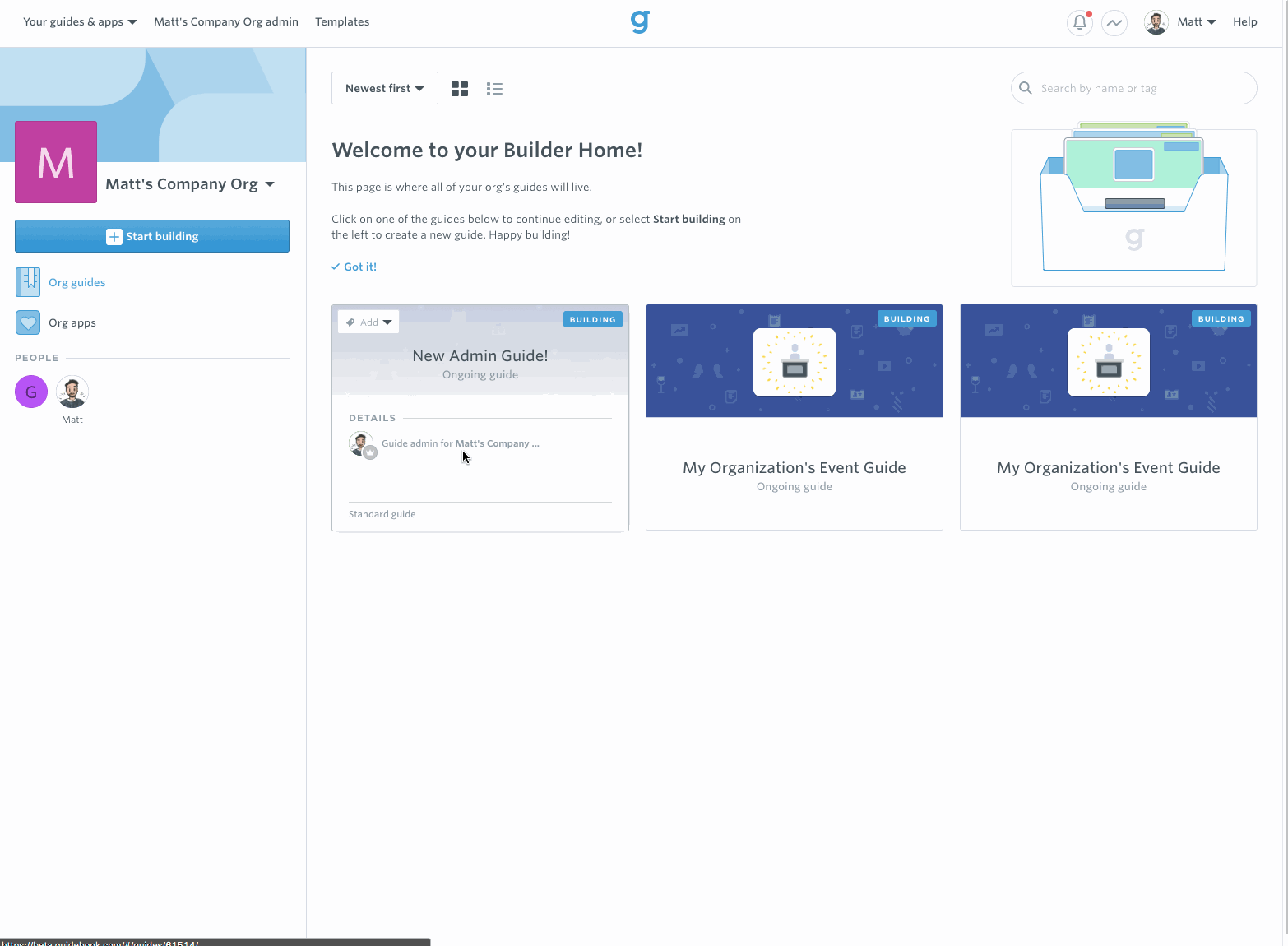 Q: How do I know which of my provisioned guides to start?
A: If all 3 of your provisioned guides have the same start and end dates, simply select whichever one you'd like.
If they have different end dates, make sure to select the one that expires first, as long as the event falls within that range.
If you're unsure about which guide to select, contact your account manager or email us at support@guidebook.com.
Organization Members
Org members will not be able to see provisioned, unstarted guides in the org dashboard. Once a guide is started by an org admin, and the member is invited as a collaborator, the guide will be visible to the member and they will be able to work on it.

Please Note: Org Admins need to both start the guide and invite the member in as a collaborator for an org member to see the guide in the org homepage.
This is what an Org Admin will see: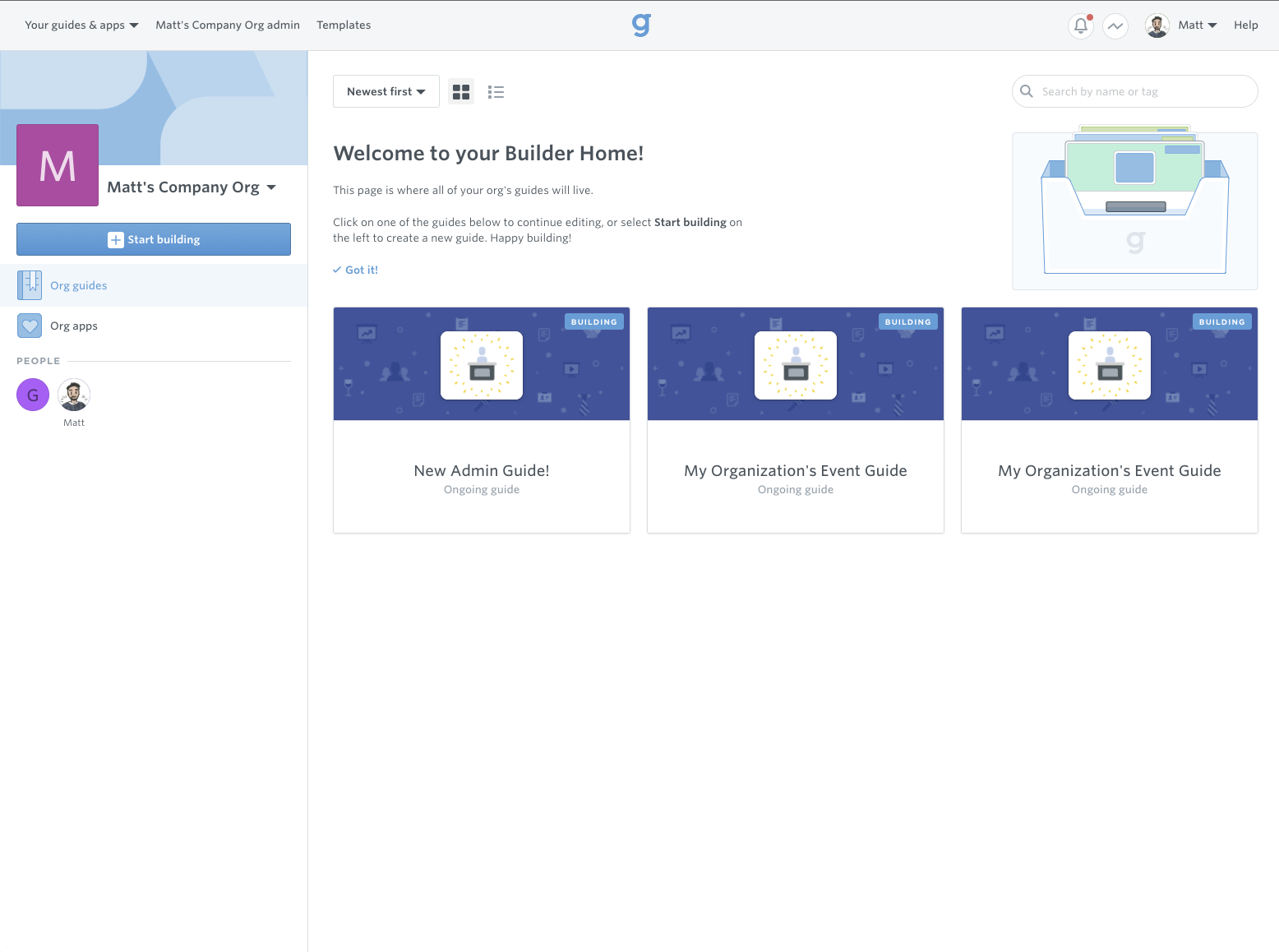 And this is what a member will see **when none of the guides have started by the Org Admin or the Org Member has not been invited to collaborate on any guides.**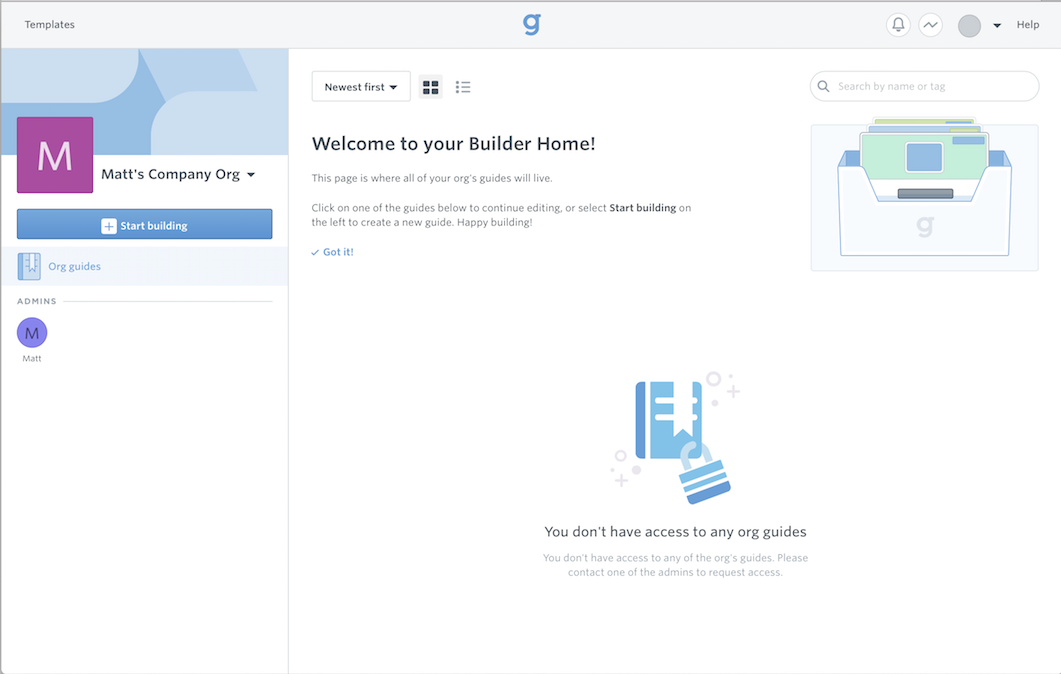 Once a guide is started by an org admin and the member has been invited to collaborate, it will be visible to the org member.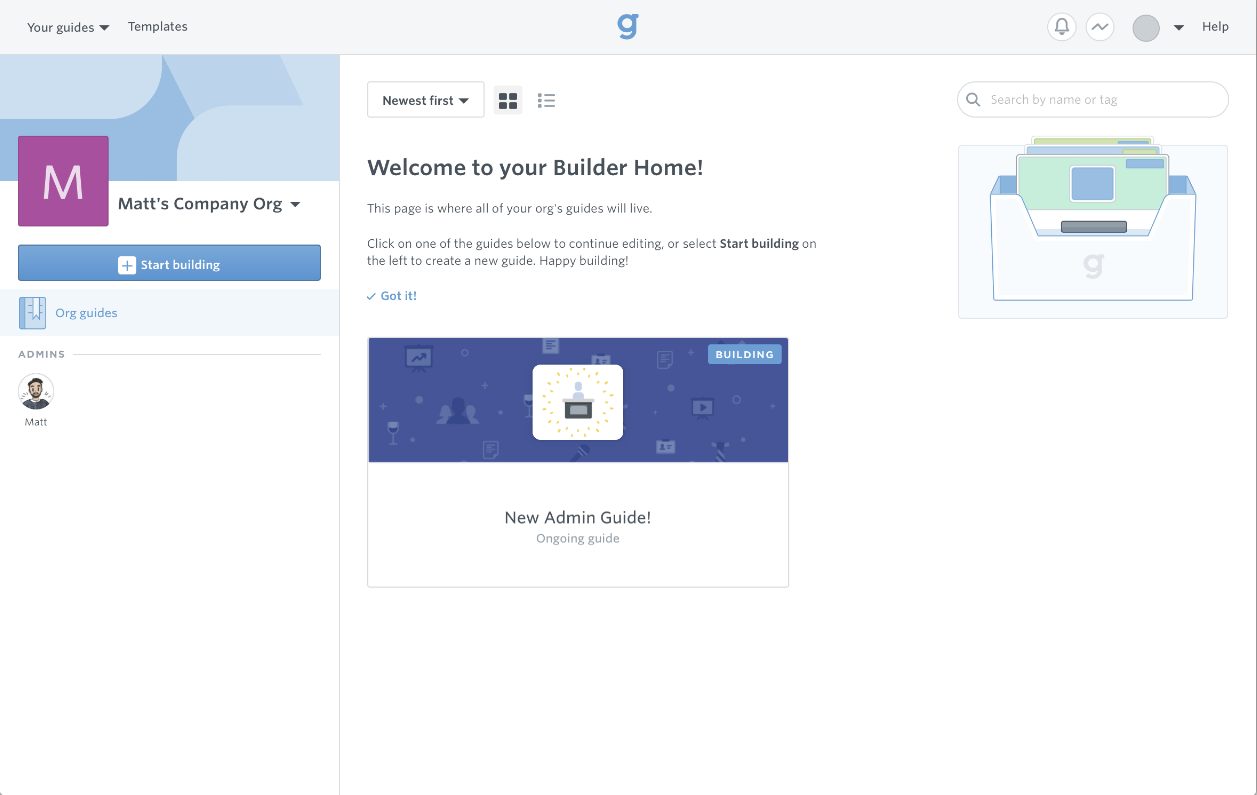 FAQs for Org Members:
Q: I was asked to work on a guide, but when I log in I don't see the guide I'm supposed to work on.
A: The admin of your account needs to "start" the guide for it to appear on your org homepage, or invite you to collaborate on it (if it's already been started).
Q: I've created a guide on my personal account, how do I move it to my org's guide.
A: To transfer information from one guide to another, use the copy content tool. You won't be able to "move" the guide itself.
Q: I need to become an org admin, how do I do that?
A: Contact an admin on your org and they can update your status by going to the org dashboard, members, and changing your status on the drop down menu.
Standard Users
Standard users who are not members of an Org can create guides by following the existing workflow.
To create a new guide, go to the blue "Start Building" button on the left side of the screen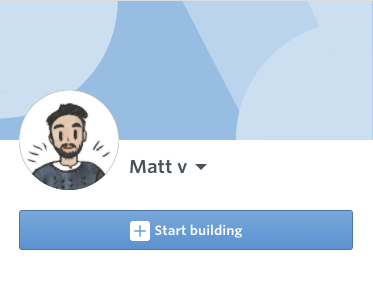 After clicking the start button, select "Guide" rather than app. Standard users are only able to publish guides to the guidebook app (they cannot create apps).  Click here for more information on the meaning of guide vs. an app!
At this point, simply follow the normal procedure for a new guide outlined here! You'll just need to enter the information and get building!

App Management
Apps are only owned by Orgs and can only be managed by org admins. On the org dashboard, simply go to apps on the left and you'll be able to manage your organization's apps there.
---
If you have questions about the new builder homepage (or anything else Guidebook-related), send an email to support@guidebook.com