If you used the Metered Guide plan for your event, you may be wondering if it's possible to prevent further user downloads and charges from being incurred. In this article, we will walk you through the steps of terminating your Metered Guide so you don't receive any surprise charges from downloads that took place after the event was over.
Terminating Service
From your Guide Dashboard, click on the more options ellipsis button (⋯) to the right of the guide title, then select Terminate Service (as shown below).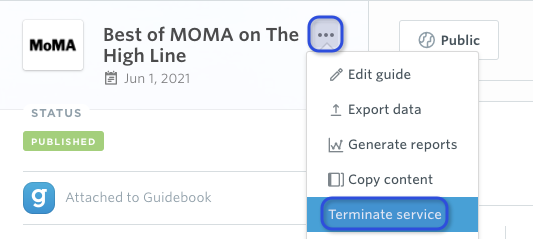 Guide Status
Once you have terminated service on your Metered Guide, the guide's status will then be shown as Lapsed as can be seen in the image below. Once a guide is in the Lapsed status, it is no longer accessible by new users.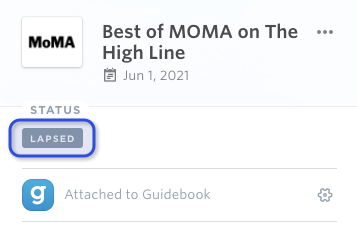 Guide termination will show in the Activity History of your guide.
Terminating service is irreversible and will prevent publishing any updates to the guide as well as prevent any new downloads.
Upon termination, the web version of the guide will no longer be accessible.
The final bill will be issued at the beginning of the following month. The credit card on file cannot be changed until the final bill is paid and there are no outstanding balances.
An archived version of the guide will still be visible in Builder for you to view metrics, export data (including form responses), and use as a source for copying to a new guide.