As of April 2020, we have launched some improvements for Cover Pages, which will now allow users to log in to an account and add sessions to their My Schedule. Additionally, guide builders can now include up to a total of six Custom Lists on Cover Pages.
Guidebook Cover Pages are a best-in-class web offering designed to complement and drive downloads to your mobile guide. They provide a rich interactive experience while accurately displaying your guide's published data.
If your event is going virtual, we highly recommend considering configuring your cover page to provide users with the ability to access your content from multiple kinds of devices.
You can see an example of a Cover Page here: https://guidebook.com/g/thehighline/.
What's On A Cover Page?
Cover Pages are highly customizable and can display relevant information of your choosing. All Cover Pages will contain the guide's General Information section, which includes your custom guide branding, the guide description, location, dates and text.
You can further customize your General Information section by adding in Cover Page-exclusive information (these details will only appear on the Cover Page) and a custom call-to-action button to direct your audience to your website.
Showing the guide location on your cover page as a map is optional.
If your event will be virtual, you can disable the location on your cover page and use the call-to-action button to add a link to a virtual conferencing tool so that users can join quickly and easily.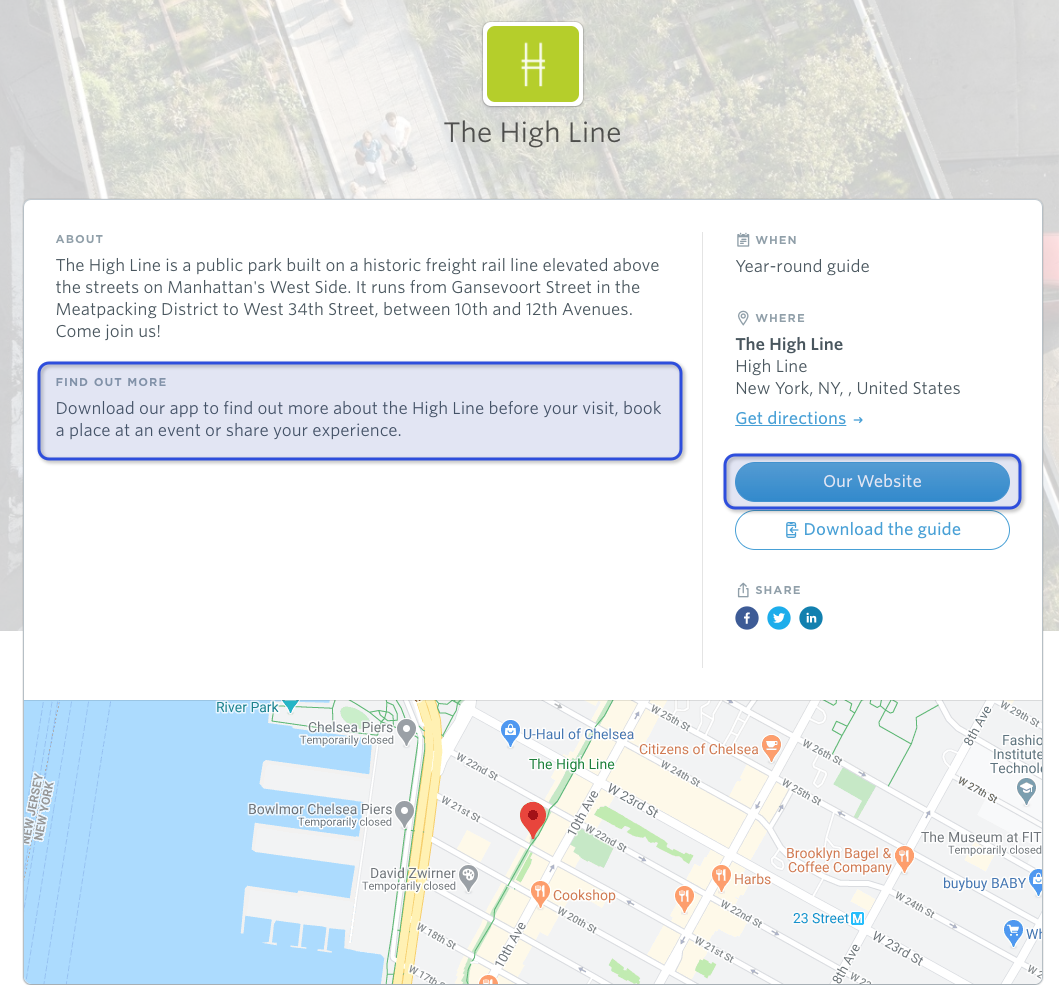 Aside from the General Information, you can choose to include your Schedule. A specific Schedule Track can be highlighted, or you can display all sessions. From the Schedule section of the Cover Page, users will be able to toggle between all sessions and My Schedule.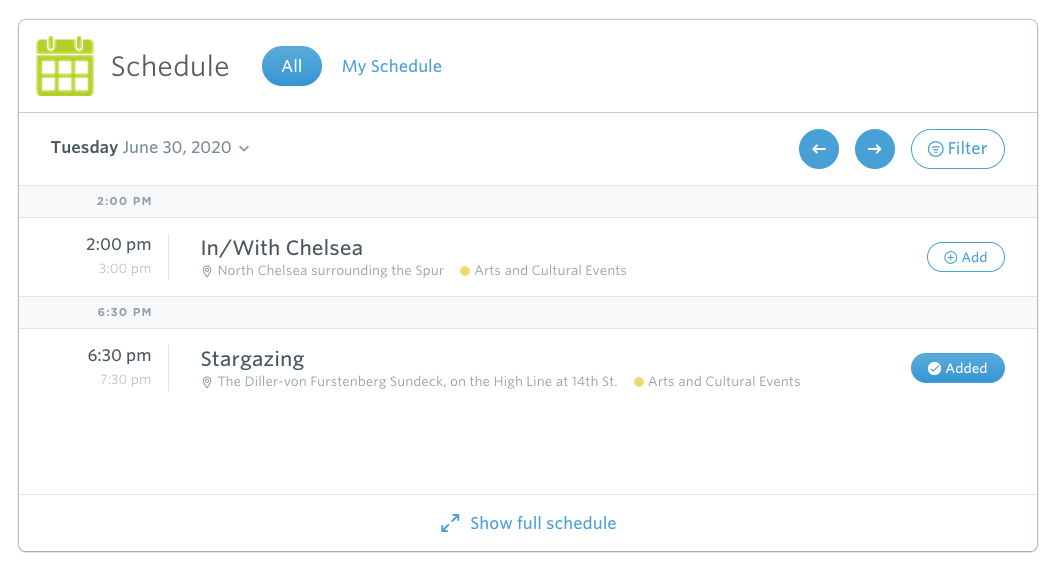 Up to six Custom Lists can also be incorporated into your Cover Page. We recommend adding images to the custom list items you will show on your cover page to make your page more visual.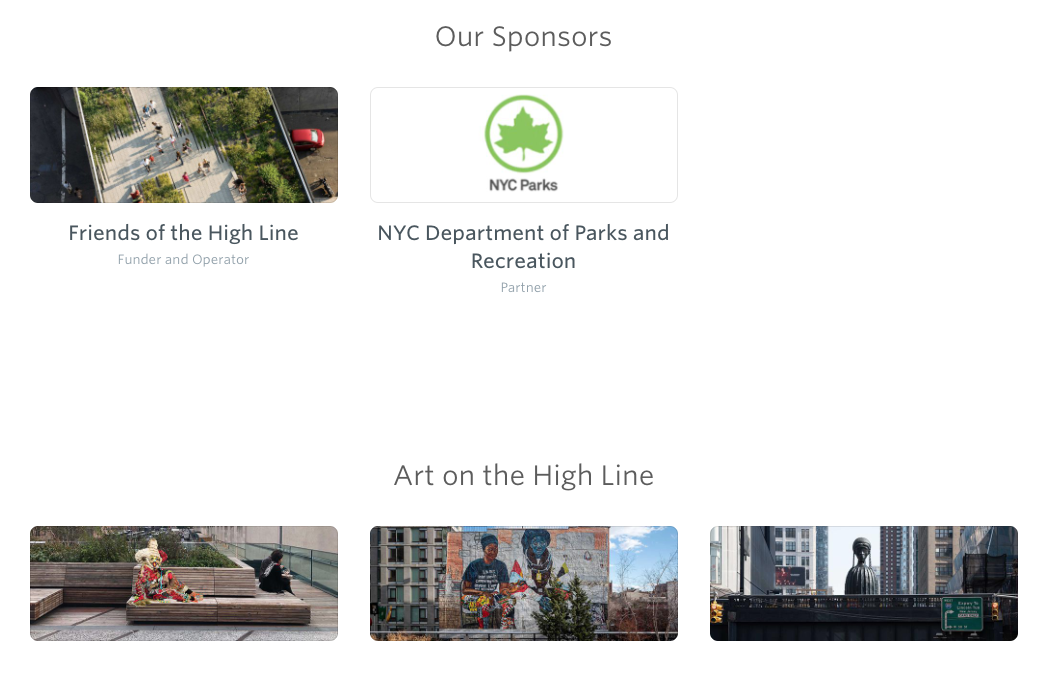 Lastly, at the bottom of every Cover Page, you will have a download section that makes it very easy for your attendees to download the mobile version of your guide. This links your users to the app on the Apple and Google Play store and they can enter their phone number to text a URL to download.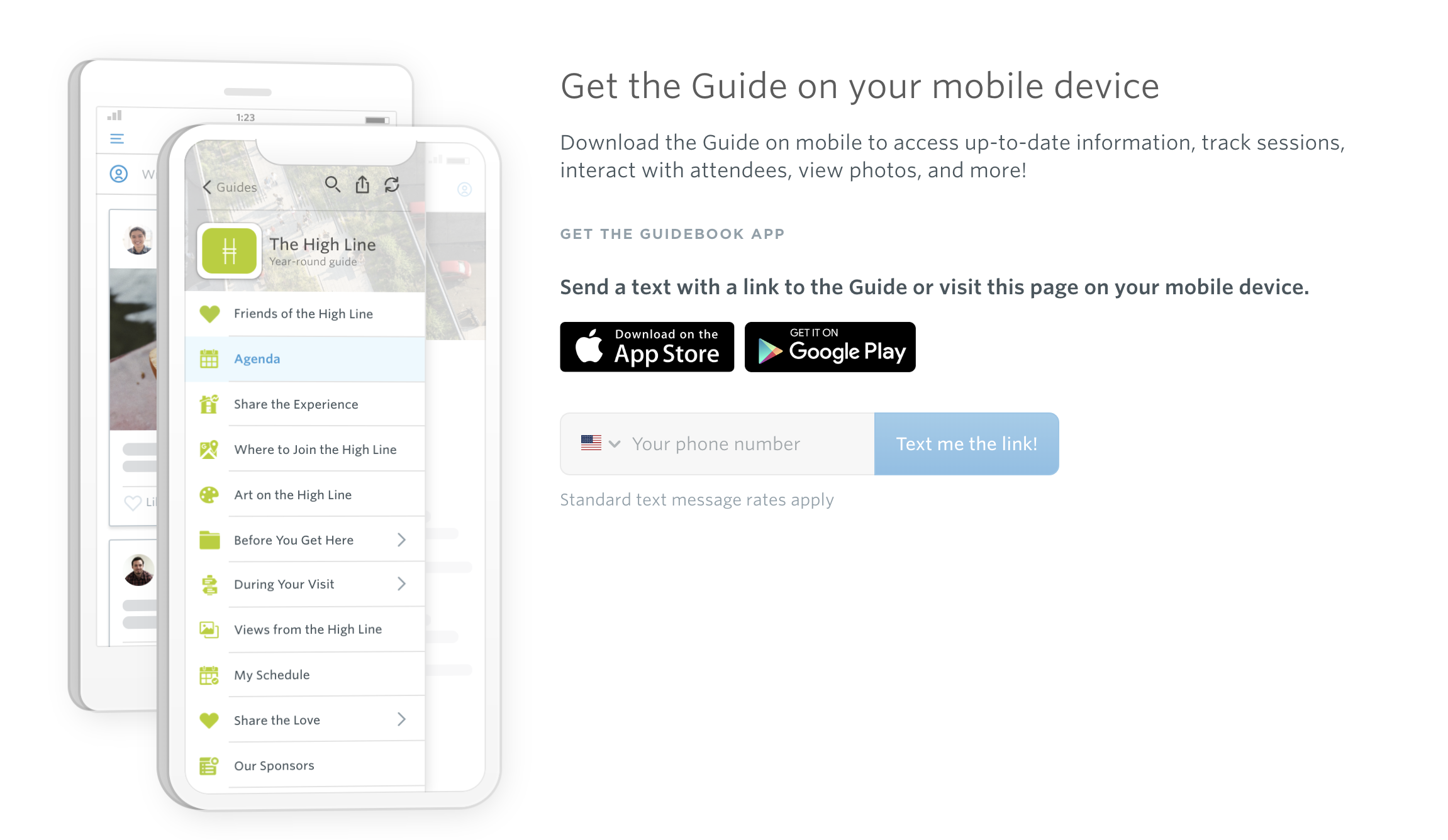 You can see an example of a Cover Page here: https://guidebook.com/g/thehighline/.
Configuring your Cover Page
To get started, navigate to the Promote section of your guide dashboard. Under the web tab, you will see the option to Configure your cover page, this will pull up the configuration screen.
In the middle of the configuration screen, a demo cover page will show. This allows you to see how a Cover Page will appear on different devices. Change the device selected at the top of the Configuration page to switch between desktop, tablet and mobile views. This section does not update to show your content.

Click on the General Information menu item, to add Additional Information that will only show on your cover page. This information shows below the text within the General Information section of your guide.
You can set a custom call-to-action that links to a website of your choice by adding a Button label and URL. You can also choose to show the map detailing the location set for your guide.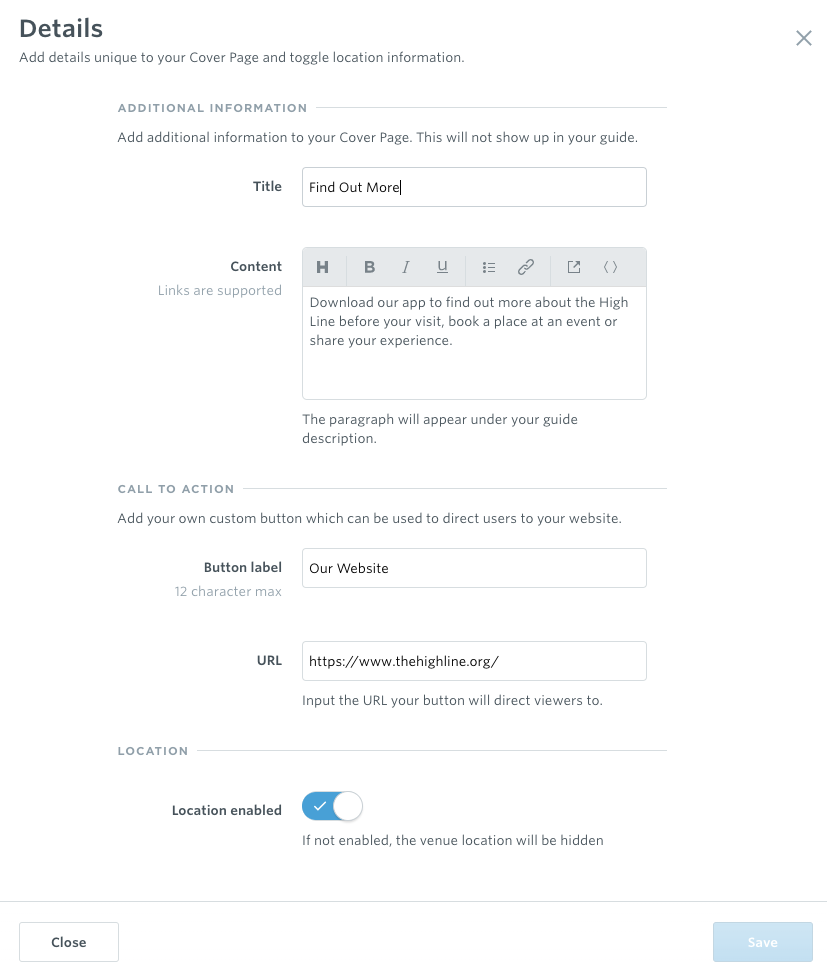 To add your Schedule content to the Cover Page, click the Schedule option on the menu. You can enable or disable this from view via the Enabled toggle.
Here you have the opportunity to highlight specific schedule track(s). If no track(s) are selected but this feature is enabled, the whole schedule will be accessible.
After making changes, be sure to click Save.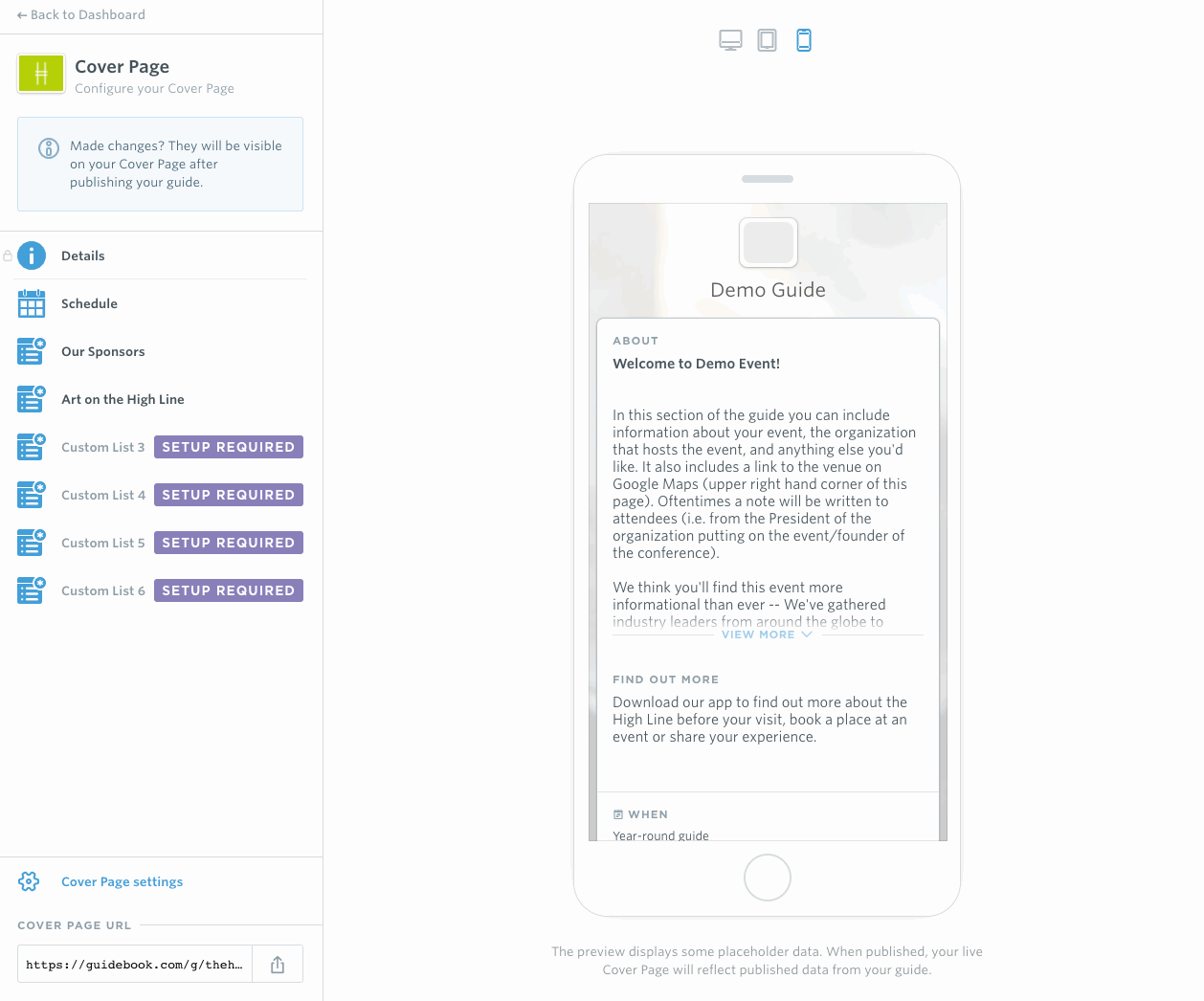 Add up to six Custom Lists to highlight other content in your guide such as speakers, exhibitors or anything you like. Begin by clicking on a Custom List with the status Setup Required.

Then choose the Custom List you want to display. There are a few different styles you can use for your Custom Lists, pick the one that fits your data the best. You can choose to have the description show over the image.
You can enable or disable the list from view via the Enabled toggle. After making changes, be sure to click Save.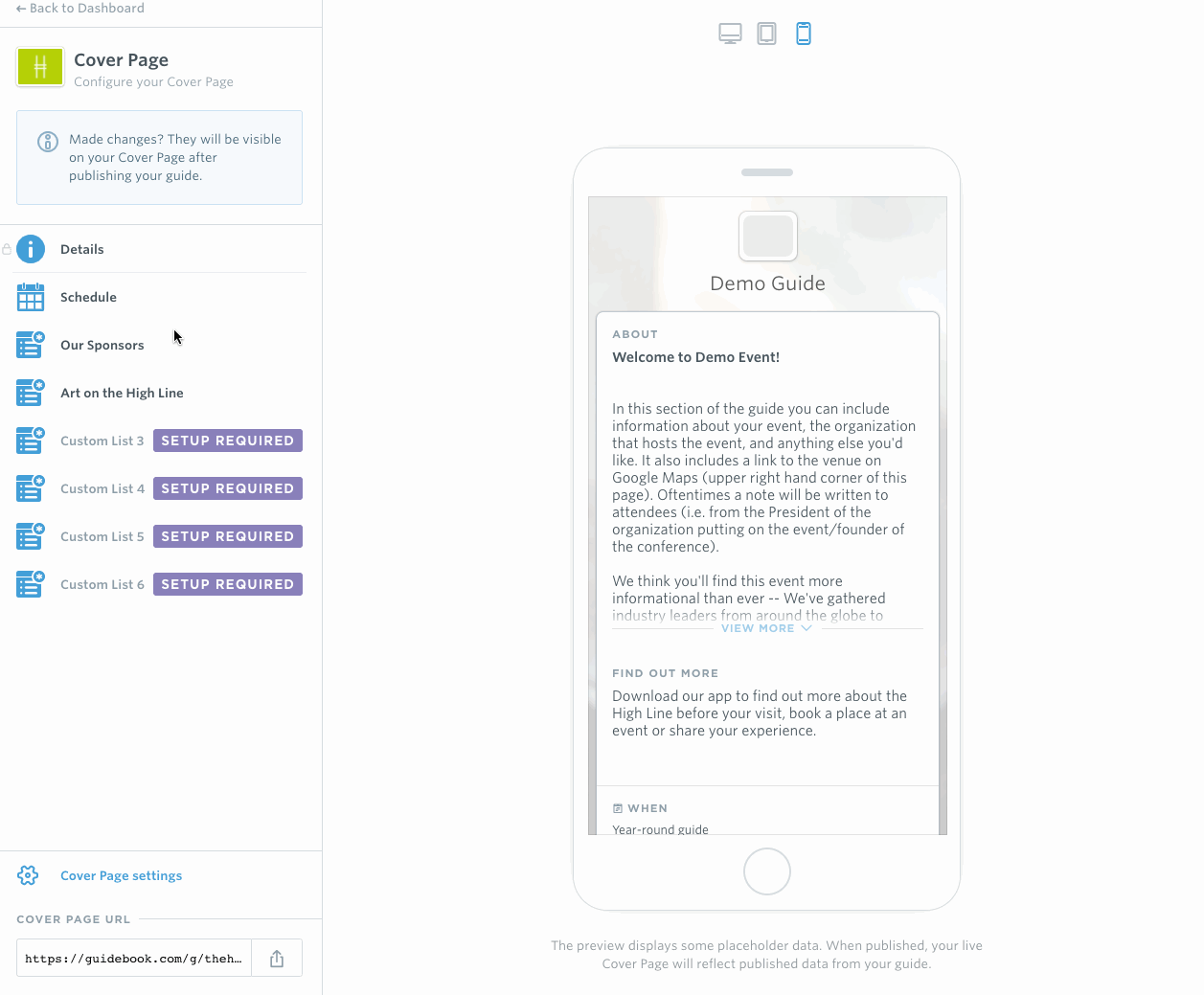 At the bottom of the page, in the Cover Page settings, you can disable your cover page or select a theme for your cover page (if your guide is attached to multiple spaces).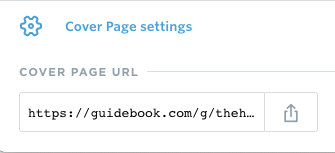 How Do I Get a Cover Page For My Guide?
A Cover Page will be generated automatically for every guide.
If your guide is published, you can access the Cover Page configuration page by clicking the Cover Page tile in your Guide Dashboard.
If your guide is not published, the Cover Page configuration page can be found in the Promote section of the dashboard under the Web tab, the Cover Page is on the right.
To view your completed Cover Page, copy and paste the URL at the bottom left of the configuration page into your browser.
You must publish your guide for any changes you make to your Cover Page to go live.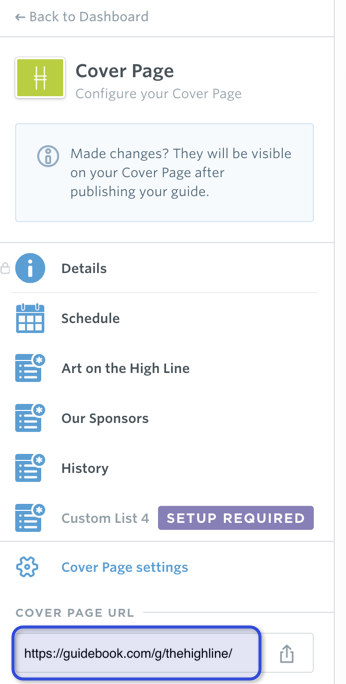 End-User Experience
We want to help your users access your guide quickly and easily while making your promotion a breeze. This means higher adoption and better user engagement.
Downloading the Guide
When a user opens your Cover Page on their mobile device's web browser, they will see a link to download the app in the app store. After the user downloads the app in the app store, it will open directly to your guide.
If your user already has the Guidebook app installed on their device, they can simply open in-app. They will be taken directly to your guide.
If your guide is private, your users will still need to enter the passphrase or sign in with a Guidebook account before gaining access to your content in-app.
This process works on the Guidebook app and on Branded apps.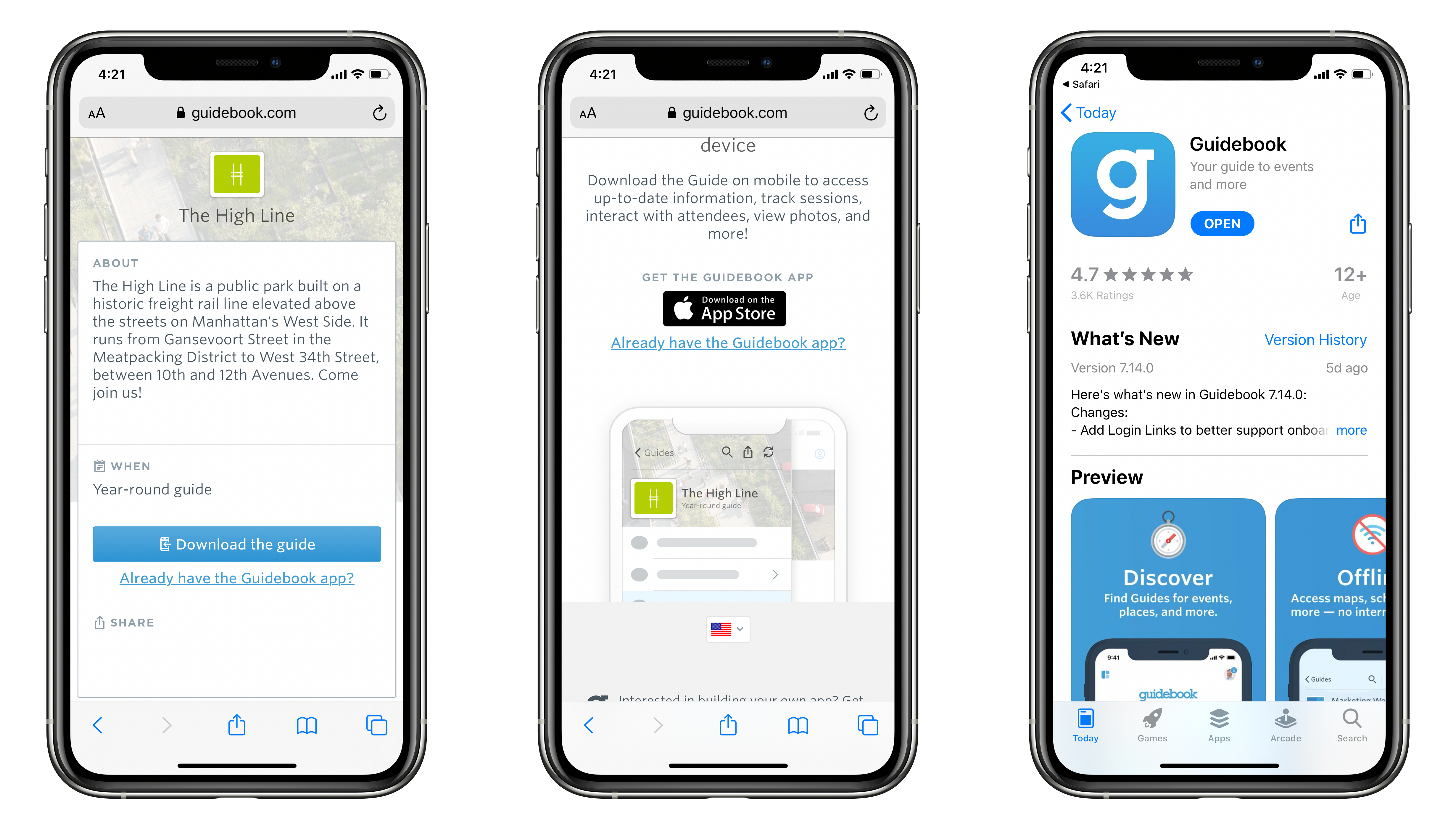 Engaging with Content
If you have enabled the Schedule feature on your Cover Page, users can view sessions and create their own personal schedule via the Cover Page if your guide has the My Schedule added.
While viewing the schedule, they can click on the Add button on right. If they are already logged in, it will add the session to their schedule.
Users can also expand the entire schedule using the Show full schedule button, to more easily view the sessions in your schedule. Additionally, the schedule view can be filtered at the top right of the Schedule view, if your schedule sessions are assigned to Schedule Tracks.
If users have created a personal schedule, they can see the sessions they are registered for (including those that have been assigned to them using Preset Schedules) via the My Schedule tab.
This option will only be available if sessions in your guide can be added to the My Schedule feature. If you have enabled certain Schedule Tracks on your cover page, users will only see sessions in their personal schedule that are assigned to those schedule tracks.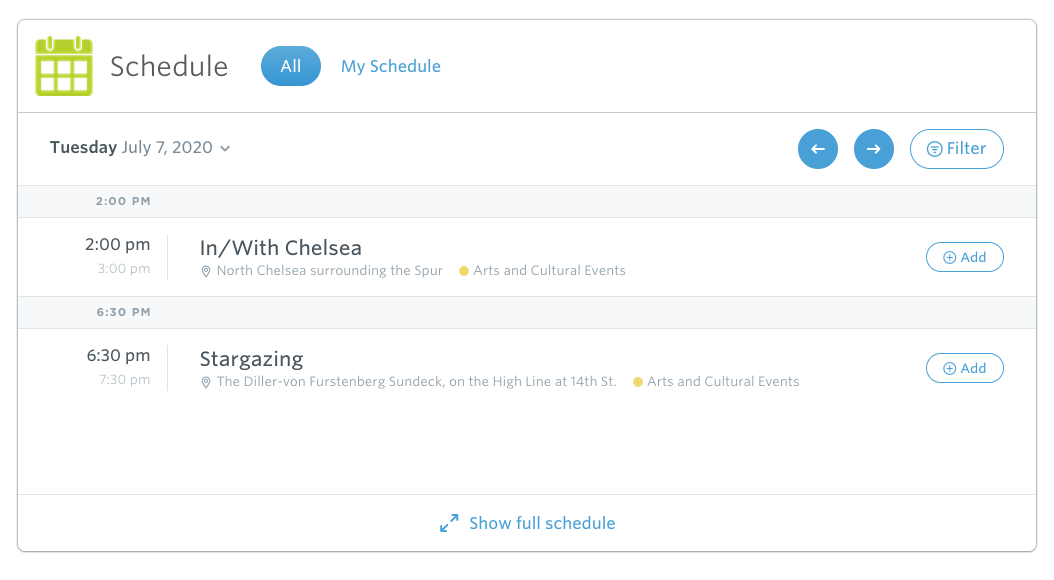 If users are not currently logged in when they attempt to add a session to their schedule, it will prompt them to log in or sign up if they don't already have an account created. The prompt also includes the ability to enter a phone number to send a text with the link to download the guide.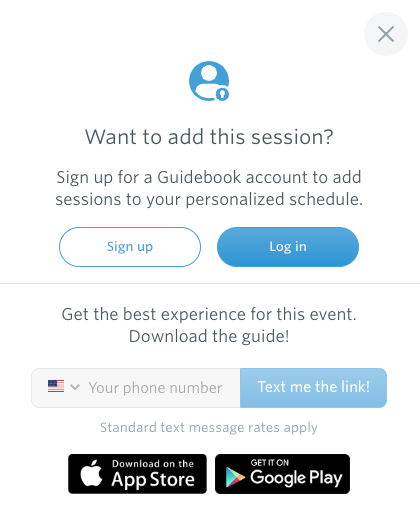 If the session has a Limited Capacity, user's will need to download the guide in order to register.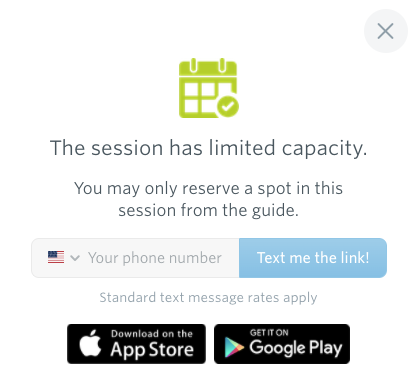 When users select a session or a custom list item, all of the content will be visible, including links to any websites or PDFs.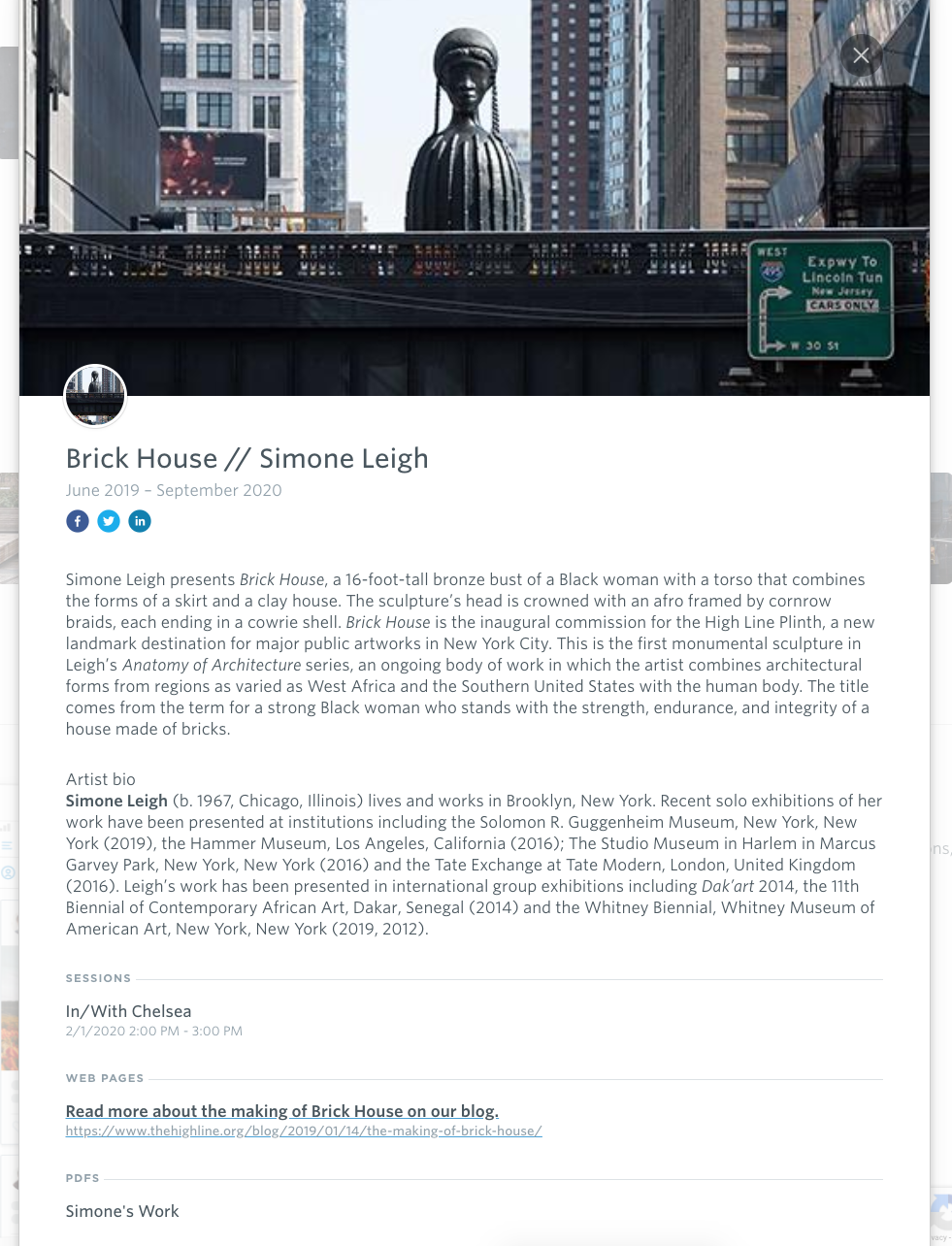 Guidebook surveys are not accessible via Cover Pages at this time.
If a user would like to log out of the cover page, they can do so using the Logout button at the bottom left of the page.
Cover pages will translate automatically based on the language of the user's device. You can see what languages are available at the bottom of a cover page via the flag icon.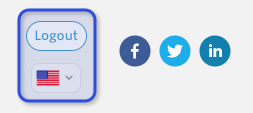 FAQs
Why should I use a Cover Page?
App adoption is central to the success of your guide and your event. Cover Pages give you the power and tools to maximize app downloads, showcase online content, and generate buzz for your guide.
What if I don't want to have a Cover Page?
If you would like to disable your Cover Page and only offer your guide data on mobile devices, you can do so through the Cover Page settings located at the bottom left of the Cover Page Configuration page. You can toggle the Cover Page to be disabled from here, just make sure to save the change.
Your Cover Page URL will provide users with a link to your guide and the ability to text themselves a link, when disabled.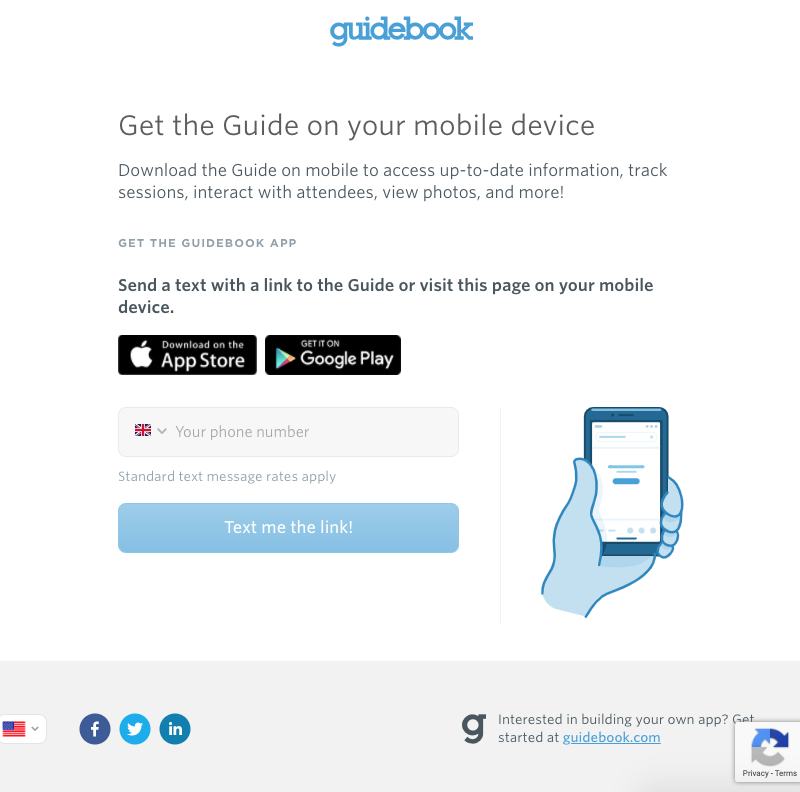 How can my attendees find my Cover Page?
When you invite a user to download your guide, they will receive an email with a link to the Cover Page. They'll be able to see the content you chose to feature and will have multiple opportunities to download the mobile version of your guide.
Does the Cover Page copy over if I use the Copy Content tool?
Yes. If you rely on the Copy Content tool to save time with your guide-building you will only have to create your Cover Page once. The Cover Page layout will transfer to another guide when you Copy Content.
I disable my guide's Schedule module and pin separate tracks to the menu. What if I want to display more than one track?
At this time, Cover Pages can either display your full Schedule module (if you don't select a specific track) or a single track. In this case, you could create a track specifically for your Cover Page which may include the key events that you want to highlight to attendees.