We designed Metered Guides as a flexible plan for small audiences. When you activate your guide on the Metered plan, we'll charge your credit card each month based on how many people download your guide.
You can find more information on the differences between our Premium (Full-Service) and Metered (Self-Service) options on our pricing page.
Metered Guide features
Using the Metered plan, you can build a guide with our basic features.
Add the Schedule menu item to include your sessions or events.
Create a Custom List for FAQs, sponsors, speakers, and more.
Include websites using the Web View menu item.
If you have questions as you build your Metered guide, you can browse our help center and email our support team: support@guidebook.com.
Features that require an upgrade
If you want to use any of the following features, you must upgrade to our Premium guide plan.
To upgrade, you may either:
Pricing and billing
We will charge you based on the number of unique downloads your guide receives. The first five downloads are free. The price for each additional download depends on your region. We'll use your credit card billing address to determine your region.
| | | |
| --- | --- | --- |
| Region | Price | Currency |
| Americas | $6 per device | USD |
| EMEA | £5 per device | GBP |
| APAC | $6 per device | USD |
We won't charge you for guide usage immediately. At the end of every month, we'll calculate the number of new, unique downloads that occurred in the previous month. Once we've charged you for a particular device, it's covered for the remainder of your guide's service term.
You'll be charged based on the number of unique devices that download your guide. Using a phone and a tablet to download your guide will result in two device-access charges.
You can view your guide's billable usage through the Usage details section, in the lower-left corner of your guide dashboard. The chart will update daily.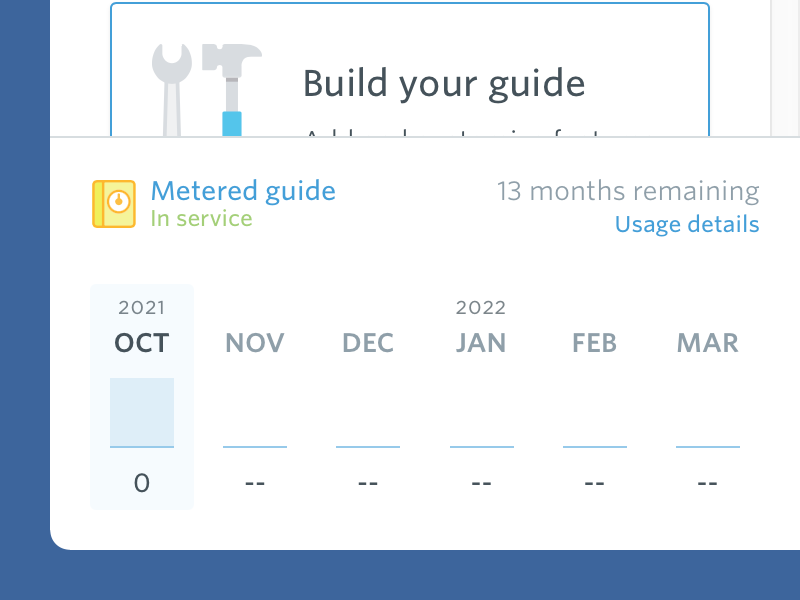 You can prevent additional device-access charges by terminating your guide's service.