Introduction
Whether you're tasked with creating a killer mobile experience for a campus, museum, festival, fair, or event (or, anything really), you can drive great value and engagement to your users by creating a Tours guide.
With the Tours guide, you can take your users on a predetermined trip through your campus or venue, replete with informative audio and stunning photos at each stop. You can have multiple Tours in one guide. This is a great way to give your users options (a longer tour vs. a shorter one, for example) or to showcase even more locations around your campus or venue.
This support article will give you a 'tour ' of how to set up the Tour portion of a Tours guide and how to use the feature like a pro. Don't forget that Tours guide also comes along with all of Guidebook's other battle-proven and valuable features.
The tours feature cannot be added to an existing guide; you must purchase a Tours guide in order to take advantage of this functionality. Please reach out to your Account Manager or to sales@guidebook.com for more information.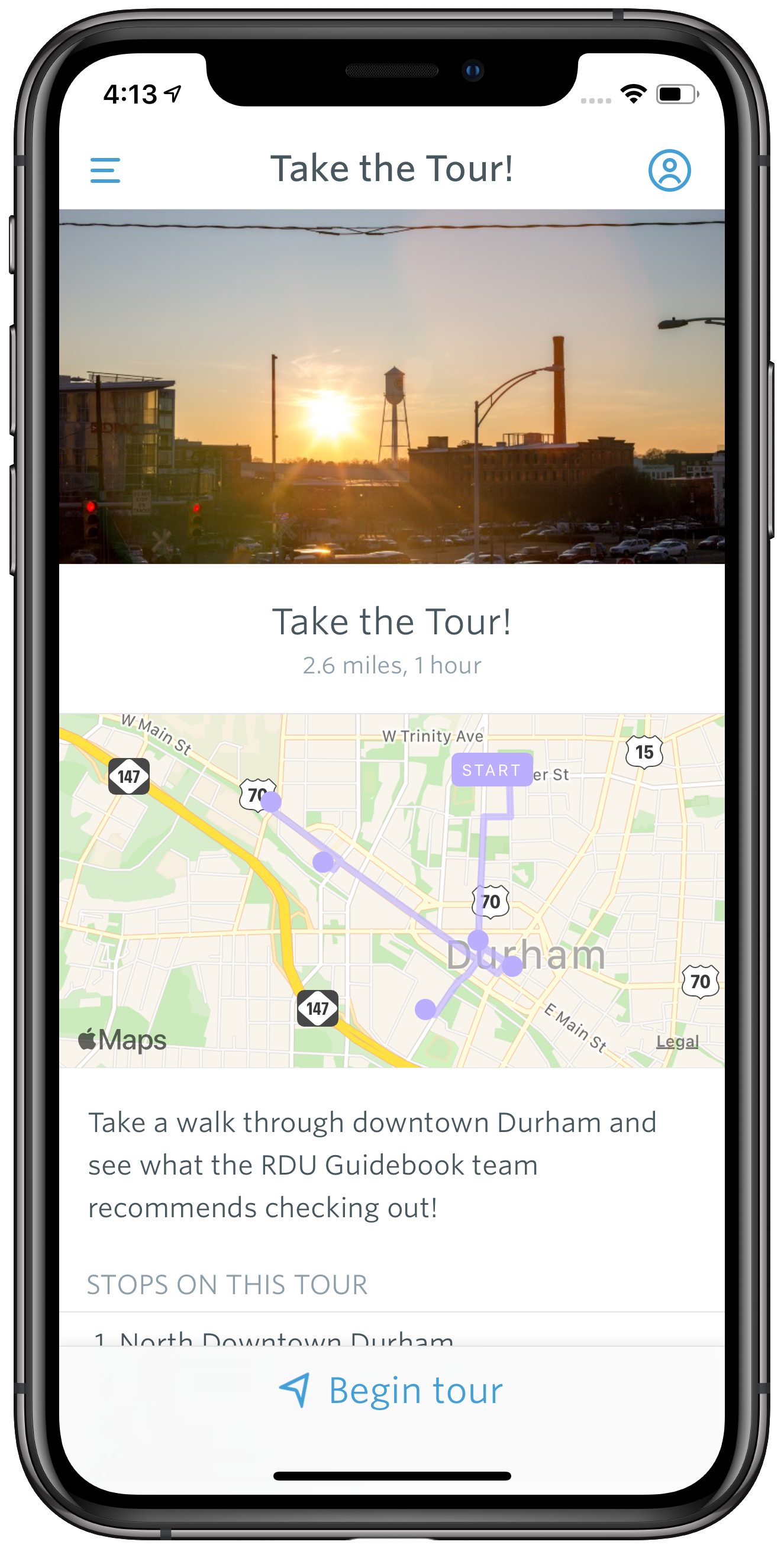 Setting Up Your Tour
Once you've purchased a Tours guide, you'll have access to the Audio Tour feature within. While the Tours feature is amazing, don't forget to add other fantastic features to your guide. For more info, check out our getting started on a guide in Builder article.
Adding the Feature: The Audio Tours feature should exist in your guide by default. If you remove the feature by accident, no worries. Click on Add Features from the left-hand sidebar of your guide in Builder to add the feature.
Editing Tour Basics and Settings: Tap into the Audio Tour icon from the left-hand sidebar of your guide in Builder. In the resulting overlay, choose the Basics tab. Here, you can enter a name for the tour, a description, a concluding message, and a cover image. If you tap on the Settings tab, you may change the default icon or disable the icon.
Assigning and Editing Stops: Click into the Audio Tour icon from the left-hand sidebar of your guide in Builder. You'll need to add a physical address for the first location, and a short tutorial overlay will play (also shown below, for convenience).
To add new stops, click Add new Stop from the top right of the page. Click on the map to drop a pin on the stop. Below the map, your stop will appear. Tap on the name of the stop below the map (or, click on the pin itself) to edit the stop name, image, and upload/record audio. Refer to our content guidelines section, below, for best practices for your images and audio. The images should be 750 px wide × 750 px tall, and the audio must be 20 MB or smaller. You may also delete a stop from this overlay. Be sure to save.
You can repeat this process to add new stops. Should you wish to add an earlier stop, click Add new Stop, and then add the stop on an existing portion of your walking path. Builder will automatically number the path on the map between your two pins. Be sure to double-check the names of your stops, as Builder names them according to the order they were added (not their order on the walking path).
Setting Up Paths Between Stops: By default, our system will draw a logical path between your stops that adheres to the streets on the map. You can disable auto-pathing, and our system will instead draw a straight line between locations. Click on the blue line between paths to add a dot to the route. You may then click and drag the dot to alter the walking path between stops.
Guidelines for Success
Audio Guidelines:
Audio clips work best when kept between one and three minutes long.
Showcase your tour guide's experience and humor, just like a traditional tour.
Don't use phrases like "off to our left is Harris Hall" or "straight ahead is Harris Hall". Your users may be facing a different direction than you would expect. Instead, use language like "across the street is Harris Hall," "next to the fountain is Harris Hall."
Give your users good directions on where to stand and how to walk between stops:

Positioning example: "As you enter VKC Hall, keep walking until you're standing on the university seal. Then, face the staircase."
Directions example: "We're now going to walk through the rest of the lobby, exit the rear doors, and turn left to continue to McCarthy Quad"
Picture Guidelines:
You may provide up to 10 pictures per stop: 1 main image, and then up to 9 additional images.
The main picture will be cropped to a square. Alternate pictures can be any aspect ratio.
The main picture should highlight the stop and minimize the number of people in the frame. If there are people in the picture, make sure they're not looking at the camera.
The main picture should give students confidence that they are standing in the right place.

Example: If your tour leads users to the side entrance of a building, the picture should show the side entrance, not the front entrance or the interior.

Alternate pictures should be used to show parts of the building they may not be able to access, like a lab or classroom. They can also be used to show buildings at different times of year (for example, the quad during the Spring concert)
You can provide a short text description for each of the alternate pictures to provide more context

Example: "Students taking Chemistry labs at SGM experiment with endothermic reactions."
Examples of Good Pictures