Organizations allow you to group multiple guides under one billing umbrella. We recognize that your company, group, or institution may have team members across departments or offices; we want to make it easy to manage all of your guides in one place.
Users in an Organization are either Organization Administrators (Org Admins) or Organization Members (Org Members).
Org Admins are able to edit the Organization profile, manage and view the Organization's billing details, manage the Organization's roster, create/edit guides, approve guides ready to publish, and view metrics for the Organization's guides collectively. They are also able to edit an Organization's Branded App by accessing the App Dashboard.
Org Members, on the other hand, may only create and edit guides.

Please note that when guide collaborators are invited to work on guides within the Organization, they will be added as Org Members automatically.
As an Organization Admin, you have a special set of tools and resources available to you in Builder.
View your Organization's Guides
When you log in to the Guidebook Builder, you will arrive at the home screen. You will see all of the guides you have access to, as a guide admin or a guide editor. (What are guide admins/editors?)
This view includes both your personal guides as well as your Organization's guides. We want to filter this view to show us ONLY your Organization's guides.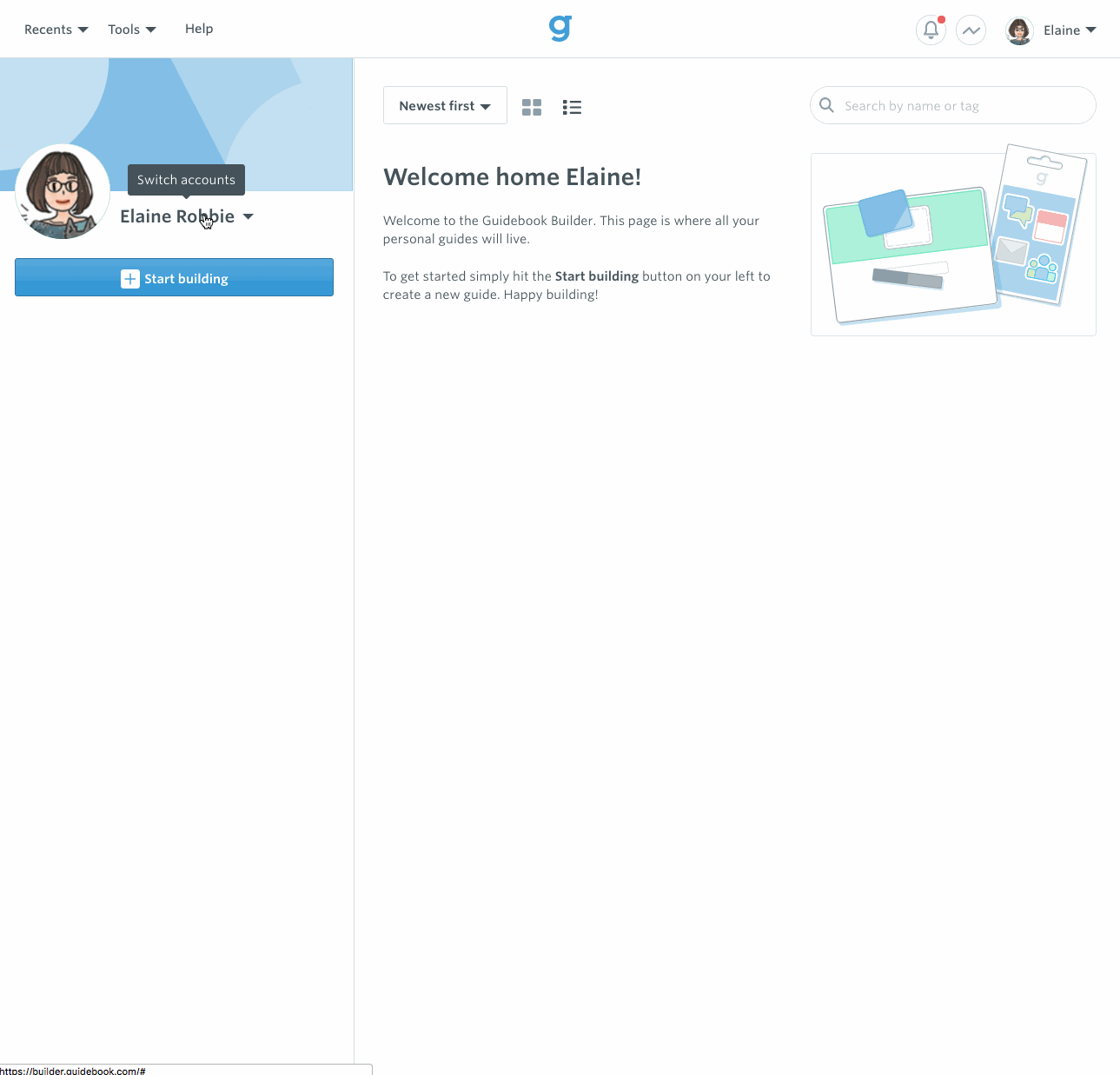 To do so, click on Your Name on the button near the top-left corner of the screen. Then select your Organization's name. Your view will change to only show guides owned by the Organization.
If there are quite a few guides or you just prefer a list view, you can toggle your view using the

icons.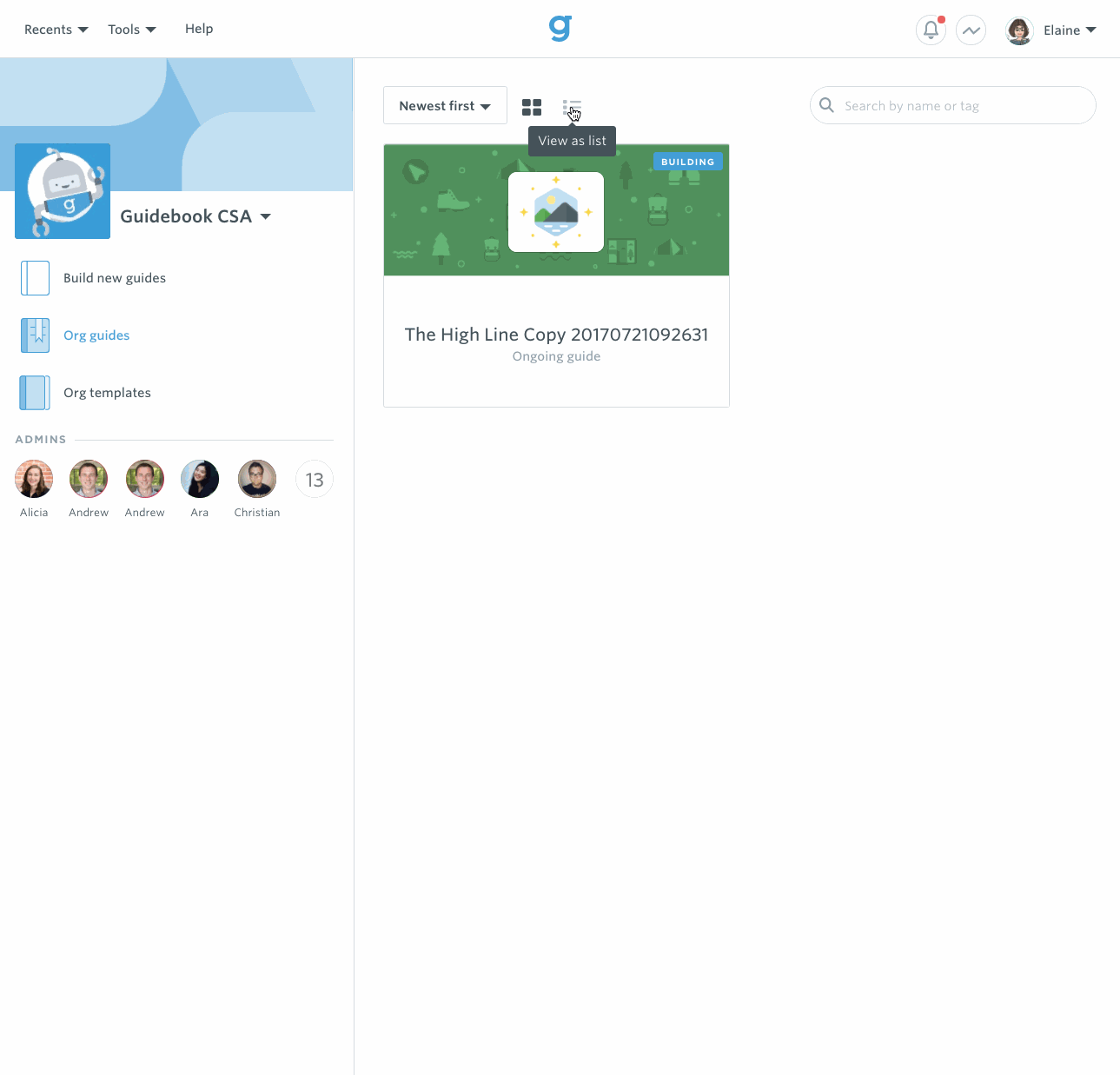 Then, to edit an existing guide, just click on the title. If you'd like to build a new guide, you can click the Build new guides button to get started with guide-building.
If you are a member of an organisation, and you want to start building using one of your pre-purchased guides you will need to request access to one of your pre-purchased guides from your organisation Admins. You can read more about this process here.
Review Guides Pending Approval
When a guide in the Organization is ready to be published to your org's app, an Organization Administrator must approve it. Guides submitted to the Guidebook app are approved by Guidebook Support staff members.
Org Admins should keep an eye out for key approval criteria detailed in this rubric to determine whether a guide should be approved or rejected.
To approve a guide, click on the Org name in the top-left, OR click on your name and select Manage your org.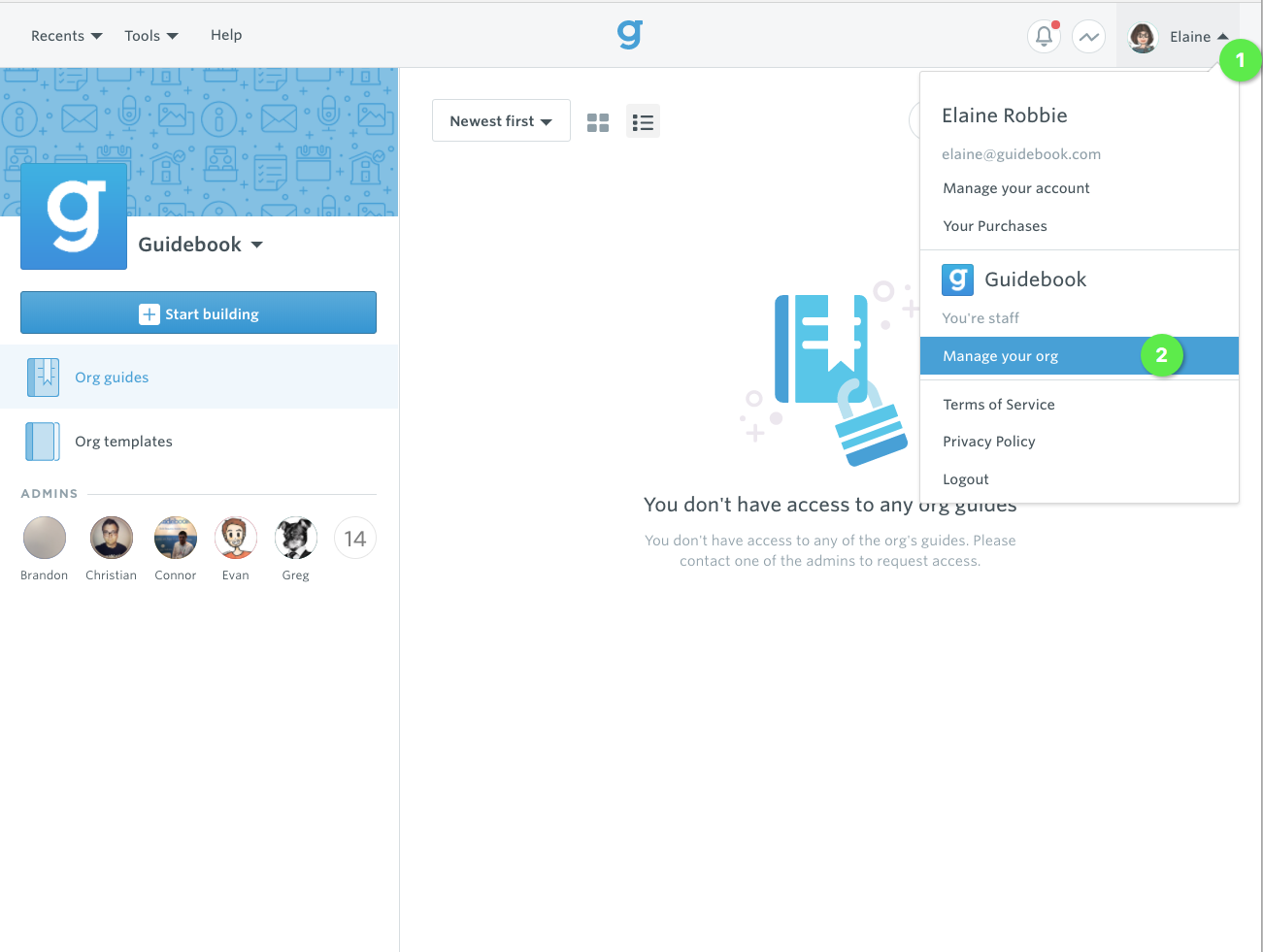 The first tab is the Pending queue for your Organization. Click on the guide's name to review it using our rubric. To the right of the guide's name, look for a Reject button and an Approve guide button.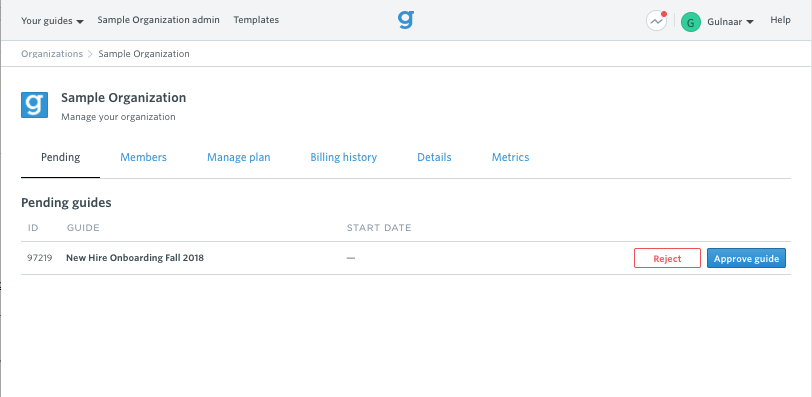 To approve a guide, click Approve. Then click to confirm the guide approval.
To reject a guide, click Reject. Please provide your rationale for rejecting the guide. The guide administrator(s) will receive an email with the message you provide here.
Do NOT hit enter on your keyboard until you are ready to send this message.
Once a guide is approved, your team is ready to promote the guide to your users.
Other Organization Management Tools
Access your org management tools by clicking on the tabs, detailed below.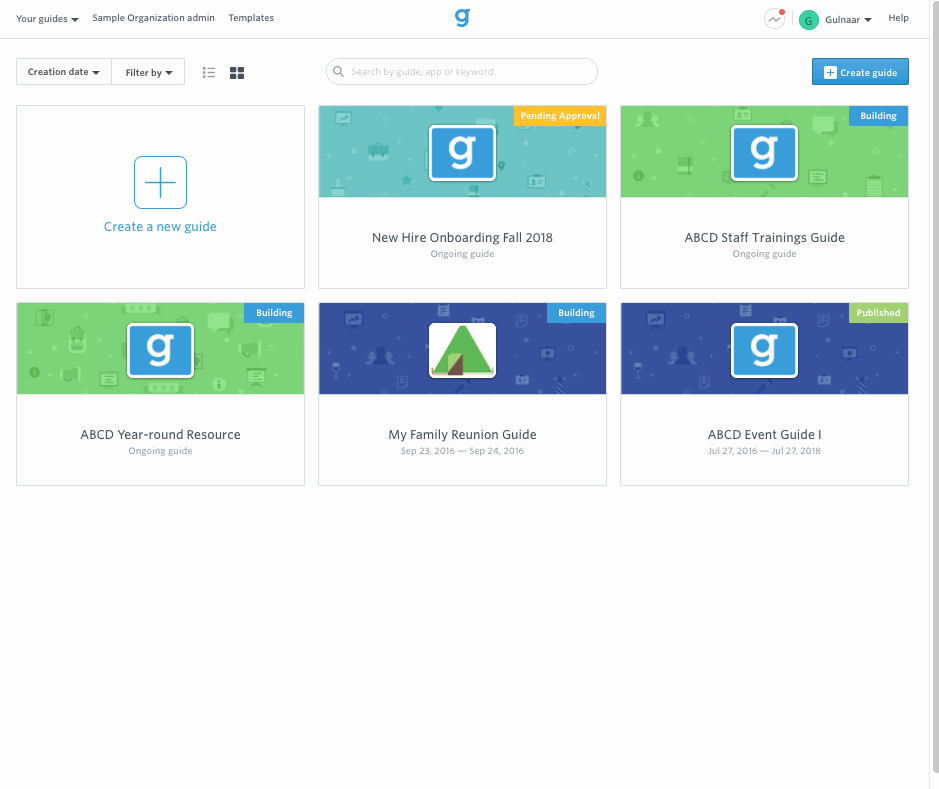 Members
Select Members to manage users's roles in your Organization and invite users to your Organization.
To remove any users, click the gear icon to the right of a member or admin, and choose Remove.
To invite a new user, click on the blue Invite Members button. Provide an email address and specify the user's role in your Organization - either an Admin or an Editor. Click Add More to send more invitations at once. Be sure to click Send Invite. The invited users will receive an email and/or they will also see an invitation notification in Builder when they log in. They may choose to accept or decline the invitation.
You can also export your member list as a spreadsheet if you would like.
Org Admins will be added as guide collaborators to all guides created within the organization after they have been added as an Org Admin.
Manage Plan
To edit your payment information, input the relevant information into the on-screen text fields. For more information on traversing the Billing page, check out our Manage Plan support article.
Billing History
Click on Billing History to view a manifest of invoices from your organization.
Details
Edit your Organization's name, cover image and icon - this is a great place to put your shiny branding.
Metrics
View download numbers and a host of other metrics for the guides attached to the Organization. The Metrics: Understanding User Behavior support article provides details on each data component you see in the Metrics dashboard.
If no guides have been published or downloaded by users, no data will be populated here. Please also be sure to check the date range to pull data in the desired timeframe.