Map Types
Include maps in your guide to help users quickly find their way around campus, the convention center, an exhibit hall, or any other locations you would like to include. In addition to static map images, you can provide street addresses for turn-by-turn navigation or a birds-eye view of points of interest nearby.
Google Maps: Users will be able to access turn-by-turn navigation to your guide's central location and other locations of your choosing, such as local restaurants or nearby parking. Learn more about adding Google Maps locations on this page.
Static Maps: Upload a JPEG or PNG map image within your guide. These maps typically include a campus map, internal floor plans, and/or a booth layout for an exhibit hall or poster session.
Interactive Maps: With this feature, you can create links between content and locations.
Static Maps
In the Maps module, you can upload JPEG or PNG image files that are larger than 1000 × 1000 pixels but smaller than 2000 × 2000 pixels.
These image files typically include campus maps, internal floor plans, and/or booth layouts for an exhibit hall or poster session. You can include as many images as you would like.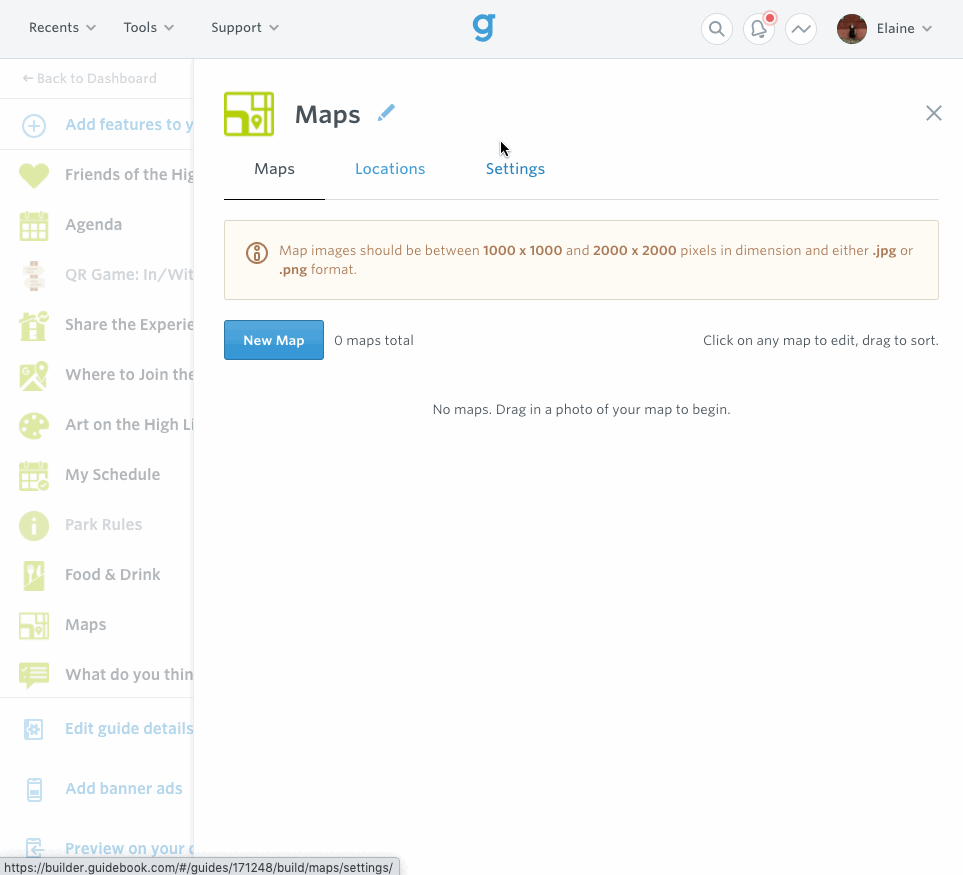 Click on New Map to add a map to your guide or drag and drop it into Builder. You can also reorder your maps by dragging and dropping them to a different location.
Move your cursor over a Map to see additional options. Click the x to delete.
Click on the Map itself to view it enlarged. Click the pencil icon to change the name of the map and click Save. When the map is enlarged, you can update the map image by selecting Change Map image.
If your map image files are too large, your users may experience a noticeable decrease in speed when accessing your guide.
Interactive Maps
With Interactive Maps, you can link a schedule session or list item to a map image in your guide.
This means users can tap on the room assignment for a session, and Guidebook will take the user to the corresponding area on the floor plan.
This feature is only available on a Premium plan.
Before getting started, make sure you have uploaded the static map image(s) into your Maps module in Builder and uploaded your schedule and/or list information, ideally with the locations assigned.
Making Your Maps Interactive
Click on the Maps module in your guide and then click on the map image you want to edit. You can navigate around the map image by clicking and dragging or zooming in/out.
Click the Add a new Region button in the bottom-left corner of the screen, or press the a key on your keyboard. Your mouse cursor will change into crosshairs.
Click and drag to create a rectangular region on the map image corresponding to a room or area you would like to label.
After drawing the region, you can now click on it to label it. A drop-down menu will appear with various locations from your schedule/custom lists in the guide.
You can also type into this box and create a new location label that you can add to sessions or custom list items later.
Be sure to click Update to save.
When you finish creating and labelling regions, click Close to exit the map editor window.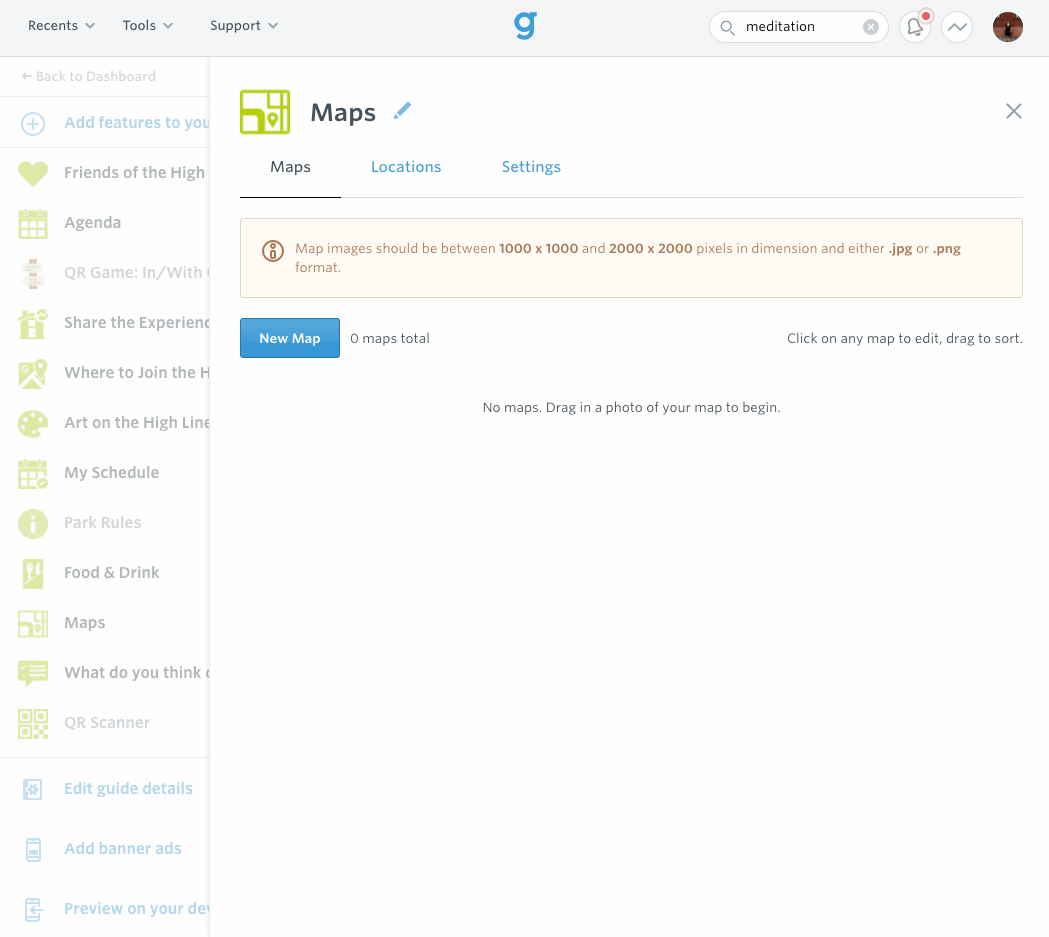 Editing Your Regions
You can click on an existing region to change the label. Just choose a new label from the drop-down menu or delete the current label to type in a new one.
If you need to resize or move an existing region on your map image, just click the Edit Regions button in the bottom-left, or press the e key on your keyboard.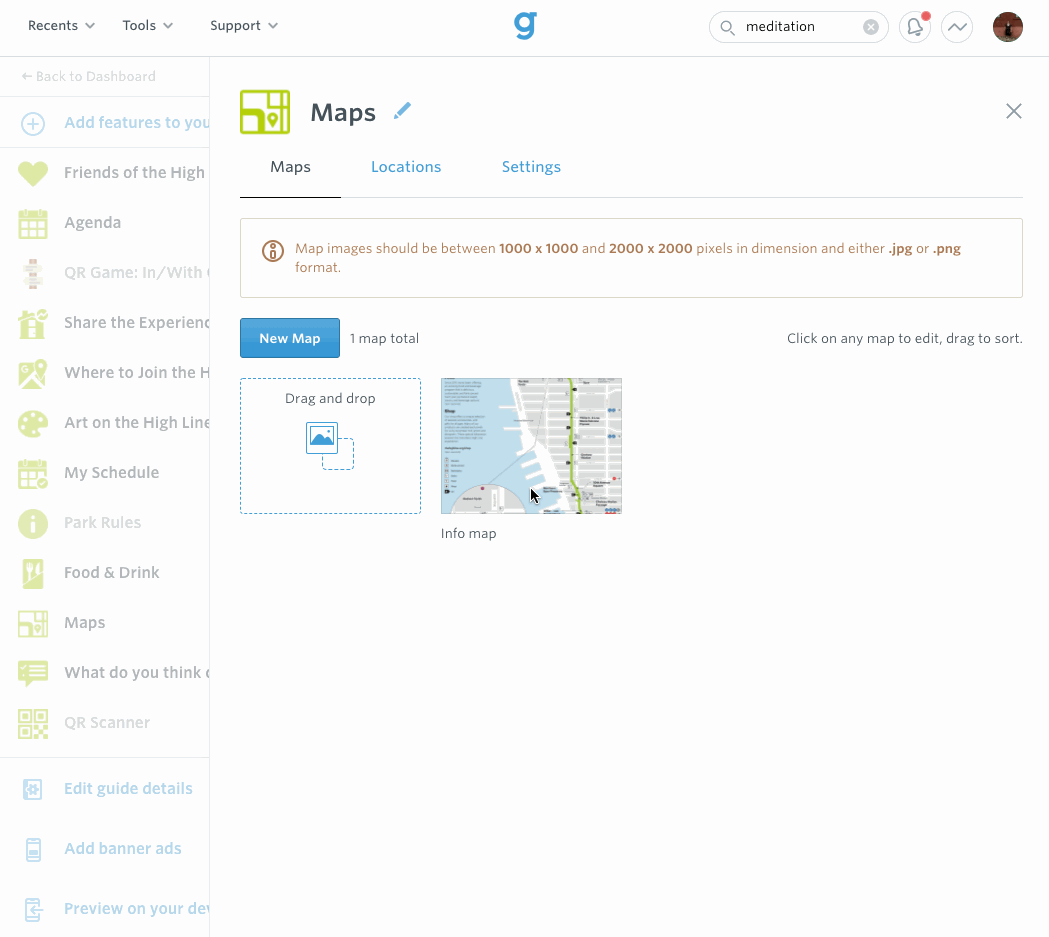 To resize an existing region, click on one of the small white boxes in the corners and drag to resize.
To move an existing region, click on the white circle in the middle of the region and drag to move it.
Don't forget to press e or click stop editing regions to save your changes.
Click close to exist the map editor window.
We recommend inputting your schedule/lists with locations assigned before working on your maps, however, you can create and label regions on the map before assigning those locations to a schedule or list if you would like. Ensure all location labels are correctly spelt so that everything that should be mapped to that location appears when it is selected.
Interactive Maps in-app
When you have made your maps interactive, the image of your map will appear on any sessions and custom list items that have that are happening at that location.
Users can tap on the map within the session or custom list item to be taken to the Map feature. If there are multiple maps within the maps feature, users can switch between them via the drop-down or the arrows to the left and right of the map name.