Banner ads are an excellent way for your sponsors to gain visibility in your guide.
This feature is available on Premium or Metered plans.
How to Add a Banner Ad
In the Guidebook Builder, open the guide you are working on. From the guide-building screen, look in the bottom-left corner for the button to access Banner Ads.

Click this button then click the blue New banner ad button.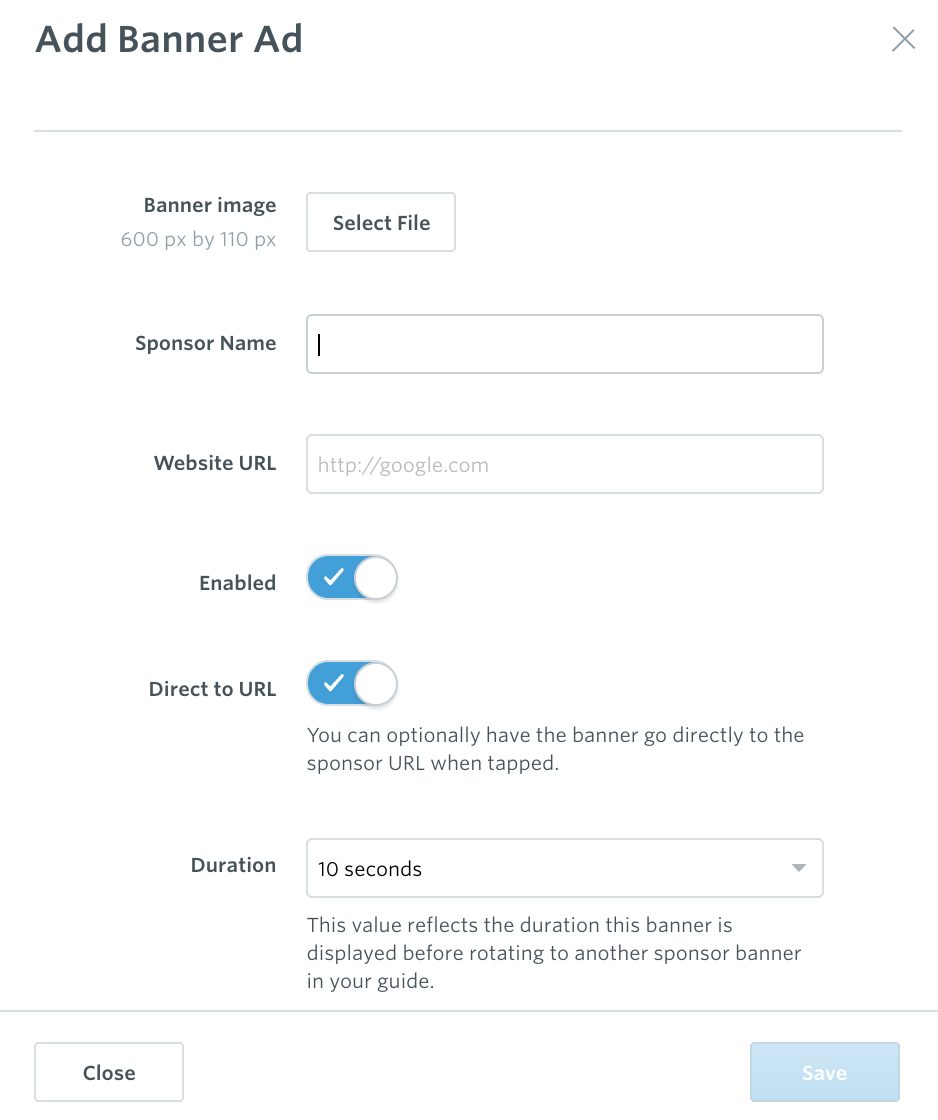 Banner Image: Your banner image should be a 600 pixels wide, 110 pixels tall, .PNG file. Click Select File to upload your image from your computer.
Sponsor Name: Type the name of the sponsor here.
Website URL: Type the web address for your sponsor here.
Enabled: If enabled, your banner ad will appear in the guide. If disabled, it will not appear.
Direct to URL: If this toggle is enabled, users will tap your banner and go straight to the website provided. If this toggle is disabled, users will tap your banner and see the Description text you enter.

Description: Add paragraphs of text about your sponsor here. The web address URL will appear below the Description text.


Duration (required): Choose between 5, 10, 20, or 30 seconds for each sponsor banner to be displayed before it rotates.
The first banner ad that is displayed will be chosen randomly, and then the remaining ads are cycled through sequentially.
Don't forget - Your Metrics also capture valuable information on how many times Banners were presented and tapped.
Where Banner Ads Appear
Banner ads appear at the bottom of the navigation menu. Your users will see a sponsor banner every time they tap the menu icon to explore the content in your guide.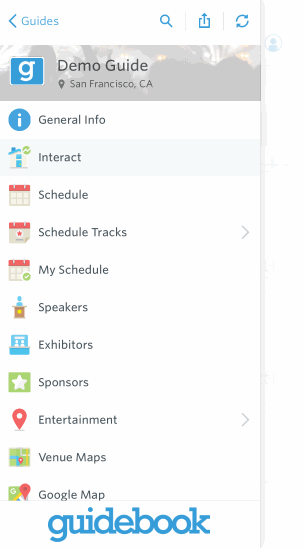 In this example, there are two banner ads - one for Guidebook and one for Google.