Banner ads are an excellent way for sponsors to gain visibility in your guide! These banners will be located at the bottom of the drawer on your device so it will be unobtrusive to users.
When a user opens the guide, the order in which the banners appear will be randomized. For this reason you cannot put banners in a specific order in the Guidebook Builder, but you can give more emphasis to specific banners (see Step 6 below).  Banner Ads are a premium and branded plan offering only.
Adding a Banner Ad
Log into the Guidebook Builder and select the guide you are working on
Click on "Build Guide" from the dashboard

At the bottom of the features sidebar on the left-hand side of the screen click on Add Banner Ads





then select "Add your first banner ad" 




On the "Add Banner Ad" overlay, select a PNG image file type for your banner. The ideal image size is 600 width x110 length pixels, but you will be able to adjust and crop your image within our resizer!




Next, fill in the name of the banner and add the URL to which the banner will direct. You can also add in a brief description:




Finally, select a duration for the banner. This is where you can give additional emphasis to the more prominent sponsors in your guide! This number dictates how long the banner will appear on a user's phone until the next banner comes up




Hit save and you're done!
You'll also notice a few toggles in the middle of the overlay: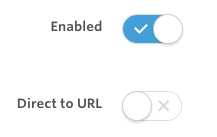 The first, "Enabled", lets you activate/deactivate the banner ad. The second one determines whether the banner ad shows the description after users select it or if the banner ad goes straight to the designated URL.
Note: You will be able to see all of your banner ads from the Banner Ads overlay. You can tell which ones are enabled, and edit/delete from here by clicking on the gear! 

For great ideas on how to get sponsors for an event, check out our (PDF) guide here.
If you're having problems uploading banner ads, first confirm that your URL begins with http:// or https:// and does not contain an extra space before the 'http'.  Finally, confirm that your image to be uploaded is less than 2 MB.  Users may encounter some small issues in Internet Explorer; try Chrome if possible.  For continued issues, please reach out to support@guidebook.com explain your issue and your browser.
Want to read more about creative uses, best practices, and real client experience?