The My Schedule feature helps create a fantastic personal experience for your users. App users can customize their own schedules by adding sessions from the main schedule to the My Schedule module.
You can also use the Preset Schedule feature to assign users a specific My Schedule ahead of time. 
In this article, we will cover:
---
How to Include the My Schedule in a Guide
In Builder, open the guide you are working on. Then click "Add a new feature" in the top-left corner. Scroll to find and add the My Schedule module.
When you click on this My Schedule module in Builder, you will not be able to add/edit content here. This tool is for end-users to build their own schedules.
However, you can pre-populate sessions by assigning Preset Schedules to specific Users. Click here to learn more.
---
After you have downloaded a guide, you can explore the schedule. You will see plus sign symbols next to session titles when viewing a schedule overview. Tap on the plus sign (+) to add a session to your My Schedule.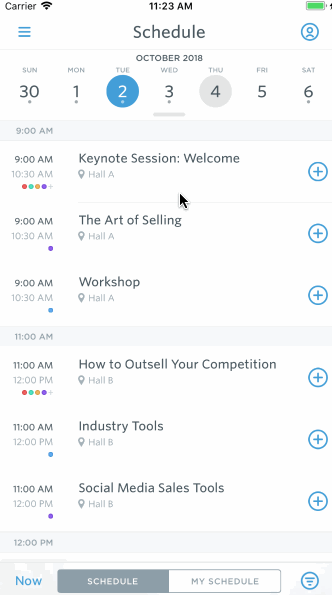 If you tap on a schedule session name to learn more about it, you will have the option to "Add to My Schedule" at the bottom of the screen. Tap this button to add the session to your My Schedule.
Note: If the guide-builder has set space limitations and enabled registration for sessions, you will be required to log in to your account before you can add sessions to your My Schedule.
Create Your Own Schedule Items
Tap on "My Schedule" in the app. Then tap on the plus sign (+) near the top-right corner. 
Add your personal session details, and click save!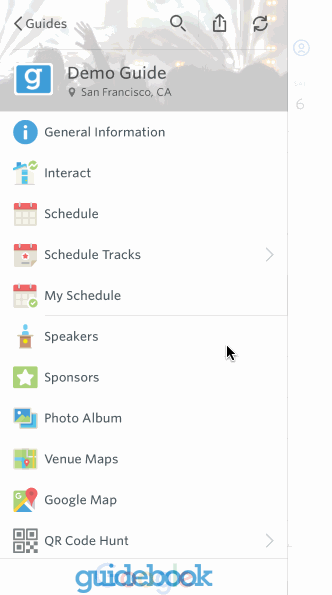 Please note: Personal schedules created with the My Schedule feature cannot be shared with other users.
---
Want to read more about creative uses, best practices, and real client experience?
See how Strathcona County uses the My Schedule feature as part of their municipal solution and hear from our in-house data scientist, Patrick McNally about how end users engage with the My Schedule feature in his super-scientific (but super-easy to understand) study. He says that users building their own schedules is "one of the surest signs an attendee is engaging meaningfully with the material in a guide."