Use the Notes menu item to, well, take notes in the Guidebook app!
In this article, we will cover:
---
How to Add the Notes Menu Item to Your Guide
Guide-Builders: If you don't see the "Notes" menu item in your guide, just click "Add a New Feature".
Scroll to find "Notes", and then click to add the menu item to your guide. That's it! 
---
How to Use the Notes Menu Item
You can access Notes from the Notes menu item in a guide. You can also tap "Create note" or the note symbol 

from any schedule session or list item!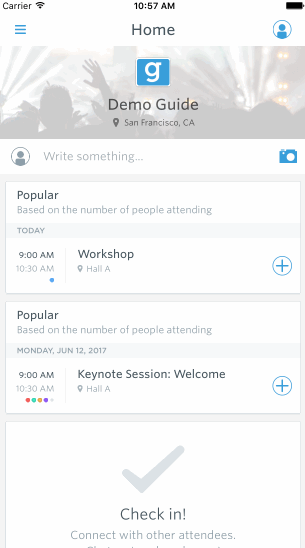 All notes are stored locally on your device. Tap on a note to edit, delete, or export/share it. 
The export/share button looks like  on Apple devices.
The export/share button looks like  on Android devices.
You can also export/share all of your notes from the Notes menu item screen.  
Please note: To be able to export/share your notes, sharing must be enabled in your guide under Guide Details > Privacy.
---
Learn more about boosting networking at your event by using the Notes modules and other Guidebook features from Sarah Michel at Velvet Chainsaw Consulting, a 15-year events industry veteran.