If you have a Premium or Branded subscription, you can add a QR code scavenger hunt to your guide! Include the game to increase exhibitor booth attendance, encourage travel around a college campus, or to bring a little fun to an event.
What is this?
The scavenger hunt is a search for QR codes that anyone using your guide in the Guidebook app, or your own Branded app, can play.
How does it work?
You send us a phrase broken up into different segments. For example:
Phrase: This is a really cool feature!
Broken down: This/ is a/ rea/lly/ coo/l fe/ature!
We generate you QR codes based on those segments. In the example above, there are 7 segments, so you'll receive 7 QR codes that when scanned will spell out the phrase (sort of like a game of Hangman).
We set up a QR Code Game Folder within your guide, and put a QR Scanner and Game Progress page inside. This progress page shows users how much of the phrase they've filled in.
We send you .png files of your QR codes and one reset code which will clear out a user's game progress. This reset is useful for testing, but make sure you don't accidentally leave the reset code out where your users might scan it!
You print out the codes and place them around the space you want attendees to visit. When an attendee finds a code and scans it, the phrase will begin to fill in. After attendees fill in the whole phrase, they can win a prize of your choice or simply be pleased with filling in the phrase!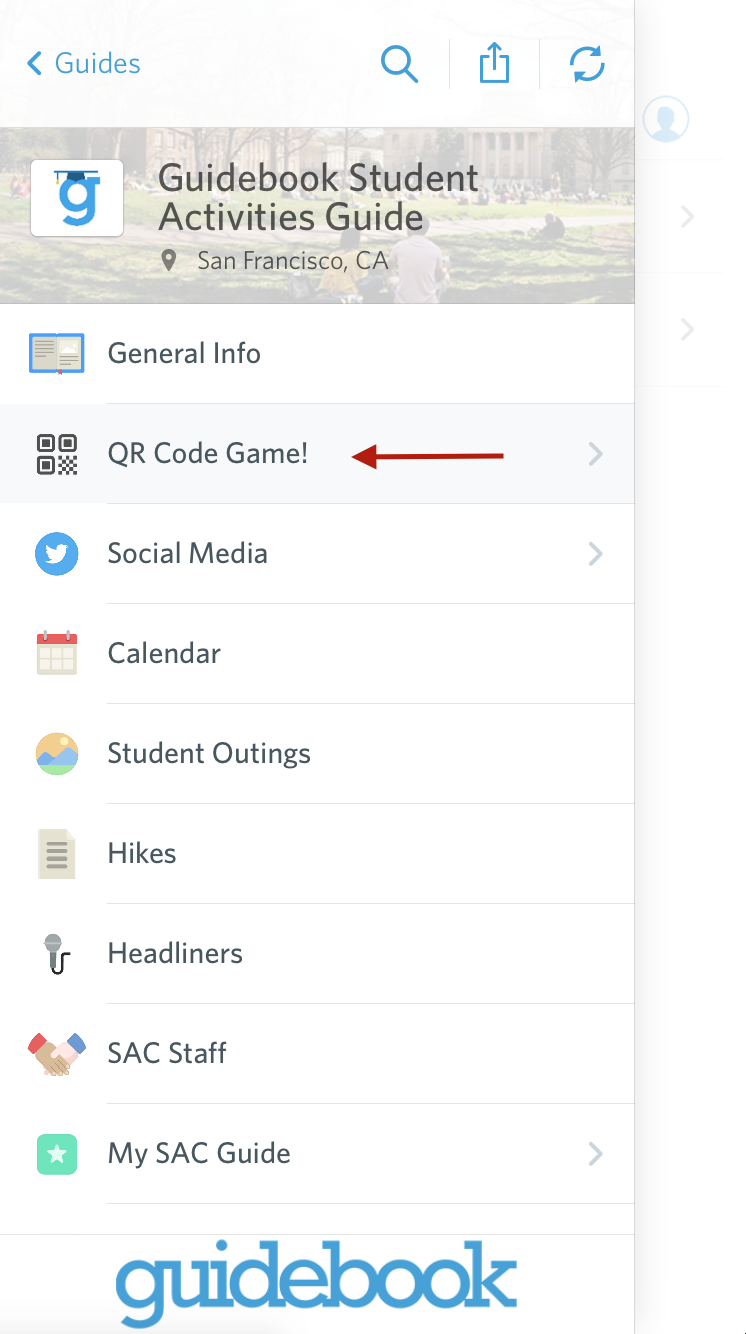 Note: We ask for 2 weeks to turn this feature around for you, so please be sure to request this feature well in advance of your event.
Once we create the QR codes, we will add all of the necessary components to your guide and email you the QR codes. Feel free to test them, as we will include a "reset" code, which you can scan to empty your progress.
We can also include a link to an external webpage or form where users can submit their information (typically an email address to be added into a drawing). This link will be displayed after a user has completed the game phrase. If you would like to add this, we will need the link to the form and what you would like the hyperlink text to display.
What does Guidebook need to create a QR game:
The phrase: "This is a test phrase"
The phrase broken up: "Thi/s is/ a te/st ph/rase" (this would generate five codes)
The instruction text you would like to include for your users: "Scan the codes throughout the conference hall, and so forth"
The manner in which the game should end:
The game should end by simply displaying the completed phrase.
The game should end with a survey.
If the game ends with a survey, we'll also need to know:
What should the completion text be? This will be a link that appears after the game has been completed. Tapping it takes you to the survey.
What questions should be asked in the survey? (usually just name and/or email)
Note: due to technical limitations, the phrase cannot include the apostrophe character ( ' ).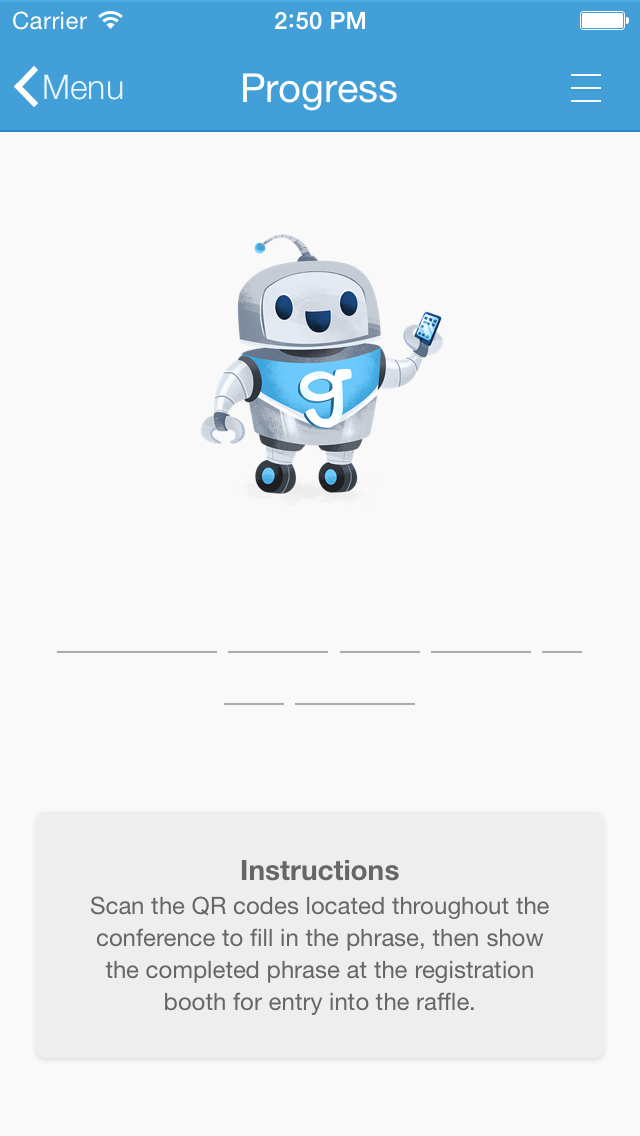 Simply email this information to your designated Guidebuilding Expert (or to builders@guidebook.com if you are on a DIY plan).
If you have a premium or branded plan, and you are interested in adding the QR hunt to your guide, send us a message at builders@guidebook.com. If you are looking to upgrade your plan to access this feature, please contact our sales team at sales@guidebook.com.
Remember: this feature does has a 2 week turnaround time. Please be sure to plan accordingly!