The To Do List feature helps users create and organize their own personalized experience using your guide.
Any content in a custom list in your guide can be added to the To Do List feature. Users can also add their own various to-do items that will only be visible to them. 
In this article, we will cover:
---
How to Include the To-Do Module in a Guide
In Builder, open the guide you are working on. Then click "Add a new a feature" in the top-left corner. Scroll to find and add the To-Do List module.
When you click on this To-Do List module in Builder, you will not be able to add/edit content here. This tool is for end-users only. 
Note: You cannot pre-populate the To-Do List module in a guide. You can, however, create a custom list and encourage your users to populate their To-Do from that suggested list of action items.
---
After you have downloaded a guide, you can explore the various customs lists in the guide. You will see plus sign symbols next to each custom list item. Tap on the plus sign (+) to add a list item to your To-Do List.
If you tap on a custom list item name to learn more about it, you will have the option to "Add to To-Do List" at the bottom of the screen. Tap this button to add the item to your To-Do List.
You can visit the To-Do List to clear completed items and to edit any existing to-do's, if you need to rename them or add notes.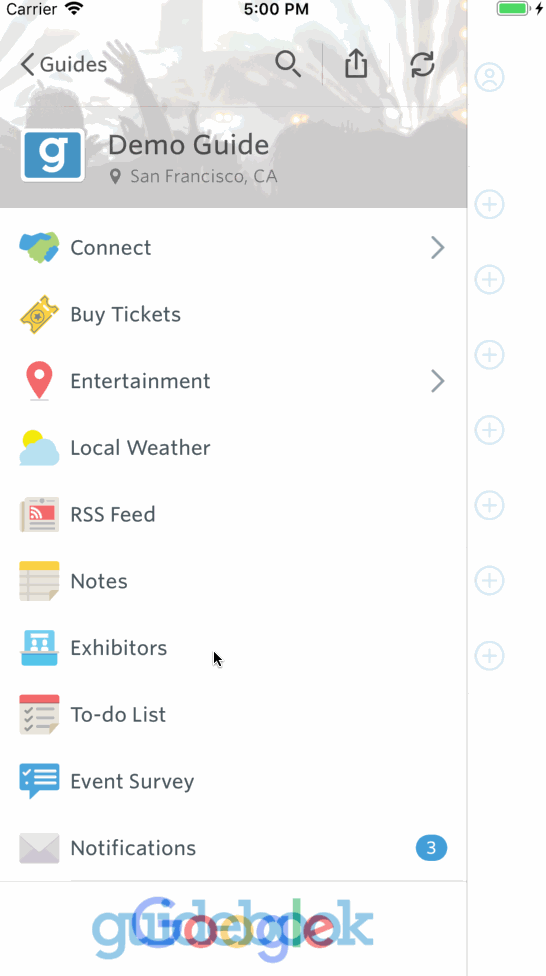 Create Your Own To-Do Items
Tap on "To-Do List" in the app. Then tap on the "Add New" button at the bottom of the screen.
Type in your to-do item, and click save!