To add the Interact feature to your guide, click "Add a new feature" in the top-left corner of the guide-building screen. Then scroll to find and add "Interact".
In this article, we will cover:
---
Click on the Interact menu item to access admin tools.
You will see four tabs - Comments, Blocked Users, Sponsors, and Settings. 
Comments
This tab allows you to edit all user posts in the current feed. You can remove any individual post, delete all of a particular user's posts, or block the user: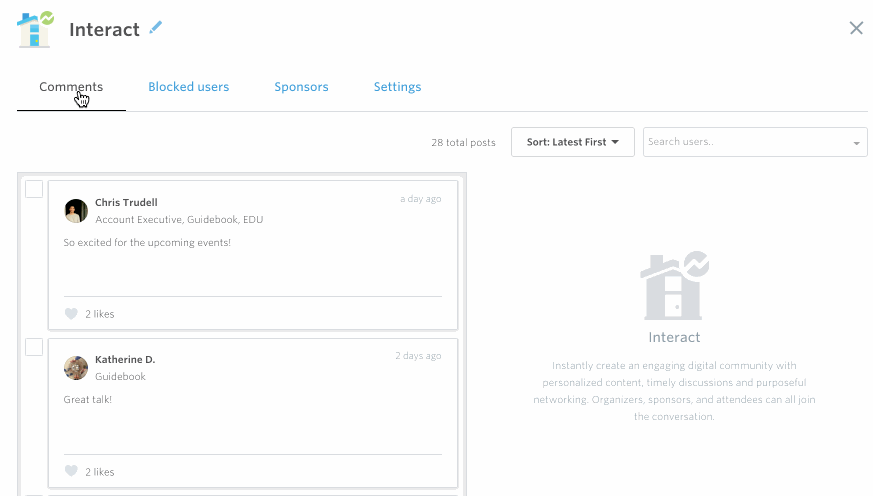 You can also click in the checkbox to select multiple posts, then delete those: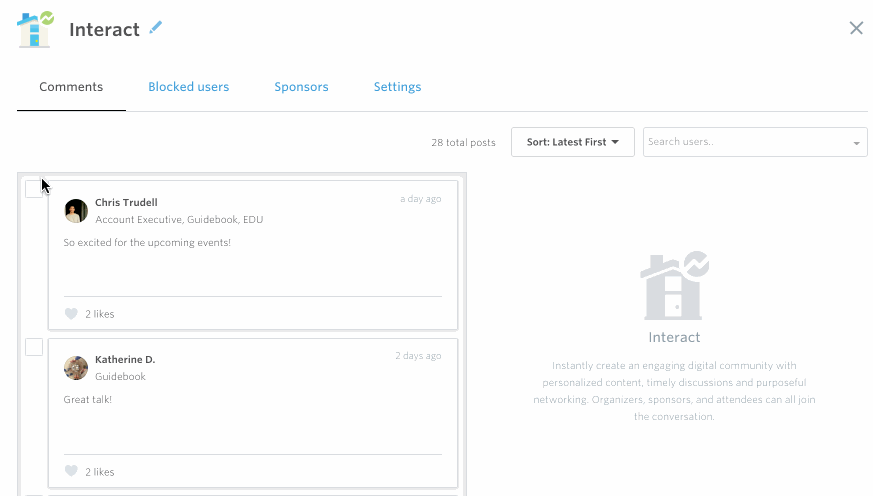 You can monitor the number of times a post has been reported, and you can click on Show to view sub-comments as well:
Blocked Users
The Blocked Users Tab will show you which users have been blocked from posting, and will show the date and time they were blocked. Simply click the Unblock button  to allow them to post again.

Sponsors
In this tab, you can add new Sponsor Cards and edit/delete existing Sponsor Cards.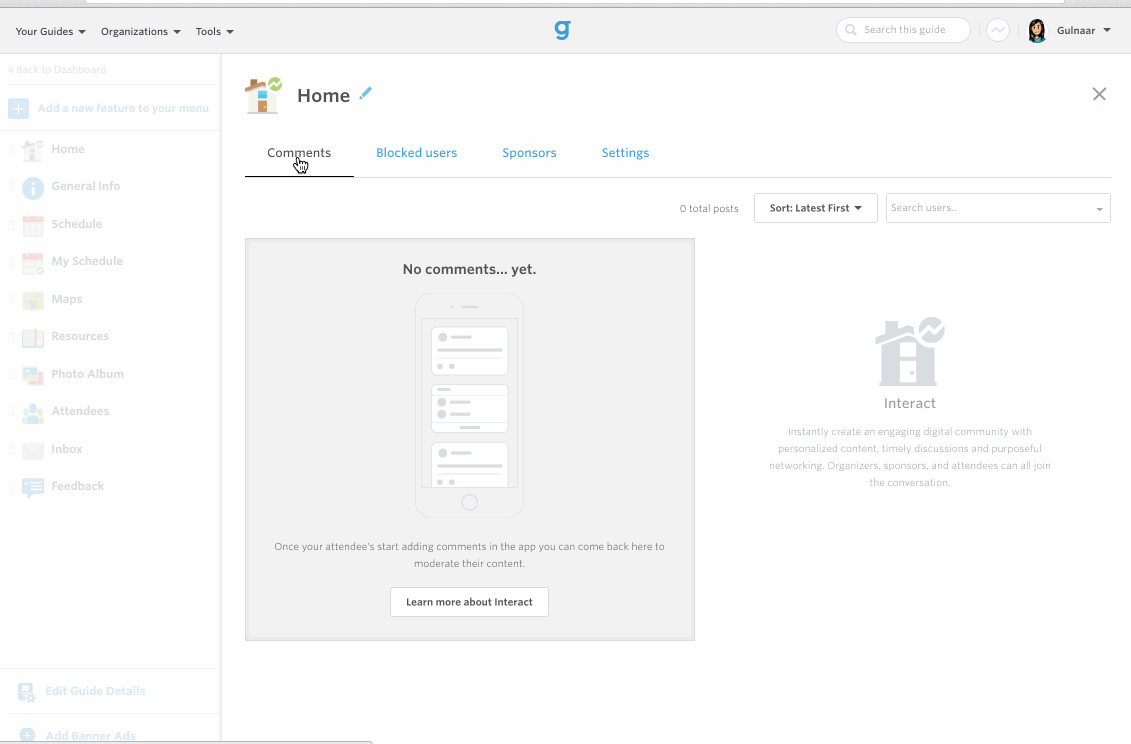 Each Sponsor Card will require the sponsor name and avatar (small logo), as well as description text. The sponsor name can be no longer than 255 characters (including spaces), and the description text can be no longer than 255 characters (including spaces). 
You can choose to add a larger, card image and a URL to the sponsor's website, if you'd like.
Image Dimensions:
Sponsor Avatar: 180px wide, 180px tall .jpg or .png

Card Image: 650px, 450px tall .jpg or .png
Also, you can schedule the Sponsor Card to appear at a certain time! For example, you might want a specific Sponsor Card to appear right before a specific schedule session or when users first arrive on-site for your event.
Settings
Set this menu item as your home screen so it's the first thing your users see!
If you would like to disable user posts so the content is view-only even if you're logged in, feel free to disable user posts in the Settings tab here.
---
The cards in Interact are tied to various features in the guide. In order for your users to see specific content in Interact, you will need to enable specific features.
Notifications
Notifications you send (Push notifications or straight to inbox) will also appear in the Interact feed. Be sure you have the Inbox module enabled to make use of this feature!
User Posts
In the Settings tab, enable user posts so your users can log in and make comments, like one another's posts, and engage in dialogue.
Schedule Sessions
Make sure you have a "My Schedule" module in your guide so popular upcoming sessions will appear in Interact.
Photos
Add a Photo Album and allow user uploads so folks can add pictures to your guide.
Recent Check-Ins
Make sure you have the "Attendees" module enabled in your guide so users can check in and see who else has checked in.