Overview 
The Space Dashboard makes it easy to update your space, whether you have a branded space within the Guidebook app or your own app in the app stores. We'll walk through the difference between a branded space and a branded app, and move through the steps to create a space and app. Let's take a spin! You can scroll through, or click below to see specific sections.
Having your own app in the app stores is a fantastic branding opportunity and a great way for users to find your platform and your guides with ease. Spaces are a layer between your app and your guides, and allow us to continue to serve our clients best while meeting the iOS App Store's evolving requirements.
The Space Dashboard allows you to create, edit and submit your app to the app stores — entirely on your own (please note that it takes 5–7 days to appear in the app stores after you submit your app). Use the interface to fill in key details for your app (name, app store description, etc.), customize its design and color scheme, and manage the content tied to it. All the information specifically relevant to branded apps is located in the App Management card on your dashboard. Elements that are relevant to branded spaces in addition to apps, such as Theme, Details, and Guide Management, are the other cards on your Space Dashboard!
A branded space in the Guidebook app is a great way to have a space with your colors and theme, but not have to worry about app updates and the time it takes to submit them. You can think of a 'Space' as your own Branded real estate within the Guidebook app. Until now, your attendees have always been graced by Guidebook's signature branding as they've navigated through your guides: Our Guidebook logos, that cozy shade of blue on the navigation bar, etc.
Upload your own logo, choose your own colors, and completely personalize your attendees' experience to fit your brand. In many ways, the Spaces feature set allows you to transform the Guidebook Branded App into your Branded App. Changes to spaces also update in real time, just be sure to click "Submit!"
---
Let's stroll through each phase of the space/app building process. You can watch the video below, or read on for a text walkthrough!
---
To get started, click on the space or app in your Builder Home dashboard (you may need to switch accounts near the top right depending on what space/app you are building). You will be taken to the Space Dashboard which is the central hub for all things space or app related. This will also be the place to visit when you are ready to submit your app to the stores!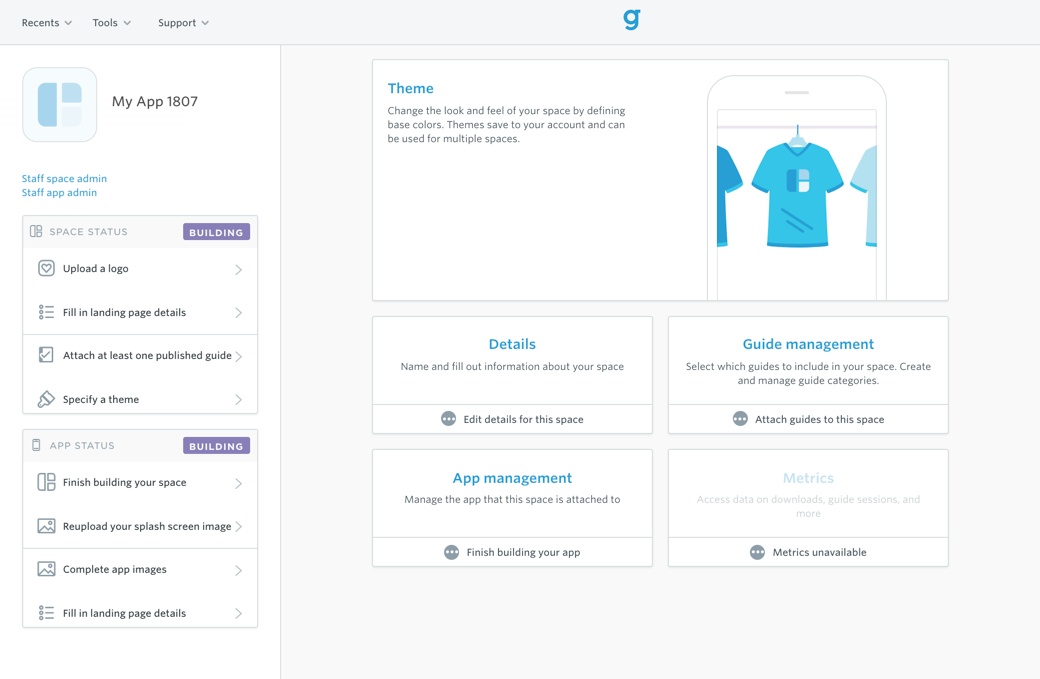 On the left column of the Space Dashboard, you will see a list of items that still need to be taken care of before you can publish the space/app. You can click into each of these and fill out the required information, or you can click into each of the boxes on the right. We'll go through each of the boxes beginning with "Theme."
If you've purchased a branded space, you will have the Theme card, the Details card, the Guide Management card, and the Metrics card. The only addition if you've purchased a branded app is that you will have an App Management card.
---
Time for the fun part - setting up your color scheme! Let's take a closer look. 
There are 6 basic colors in each app theme

You can adjust these to your liking

Create as many custom themes as you would like

Choose the one you want to use!
Choose from some of our default themes, or create your own.
You can customize an existing theme by clicking the 'pen' icon on the top right of the color scheme.
Editing and creating a theme is easy: plug in your brand's designs using hex codes, or use the color picker to experiment. The preview on the right will change in real time, depending on the color you are selecting. Use the left and right arrows to the side of the preview to view which elements are affected.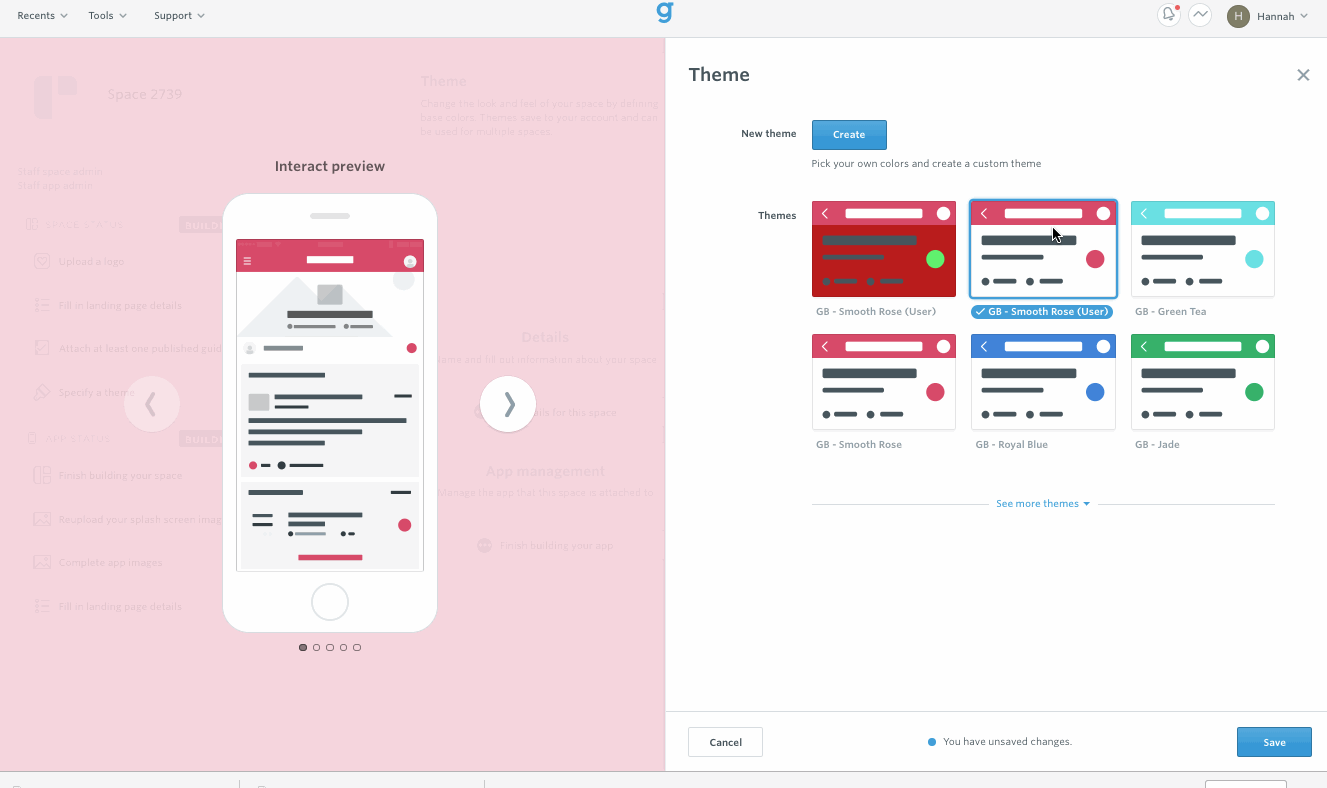 ---
The Details box includes the Space name, the Space home logo, the Landing page short name, and the Landing page name. Each of these items includes subtext to give a bit more detail about what goes in each section, for example, character max and the dimensions of an image. Make sure you save!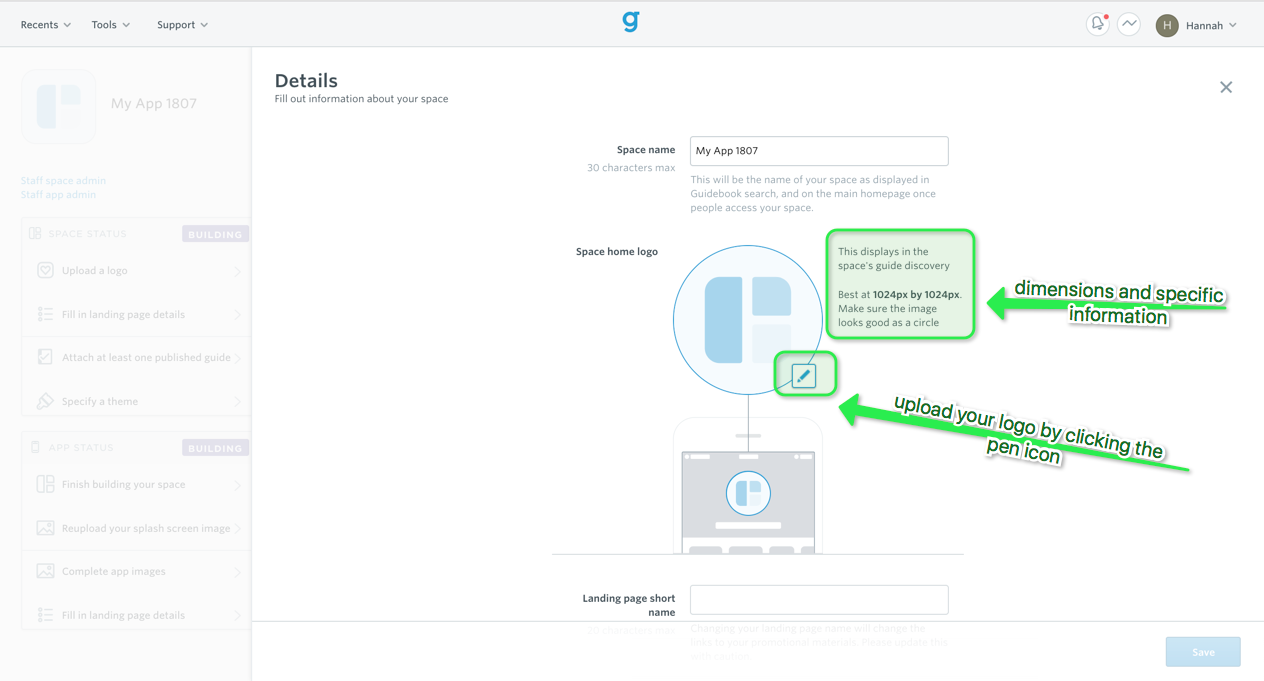 ---
In this section, you can manage which guides are attached to your space/app. You will see a list of your published guides followed by your not published guides (these will only appear on the app once they are published). You can check the guides you want to attach with the checkboxes. You can attach as many guides to a multi-guide app as you'd like and you are able to attach and detach whenever you need to!
In a Multi-Guide app you can also feature one of your public guides! This makes the guide easy to access for your users right when they open your app. To feature a public guide, click the radio button in the featured column.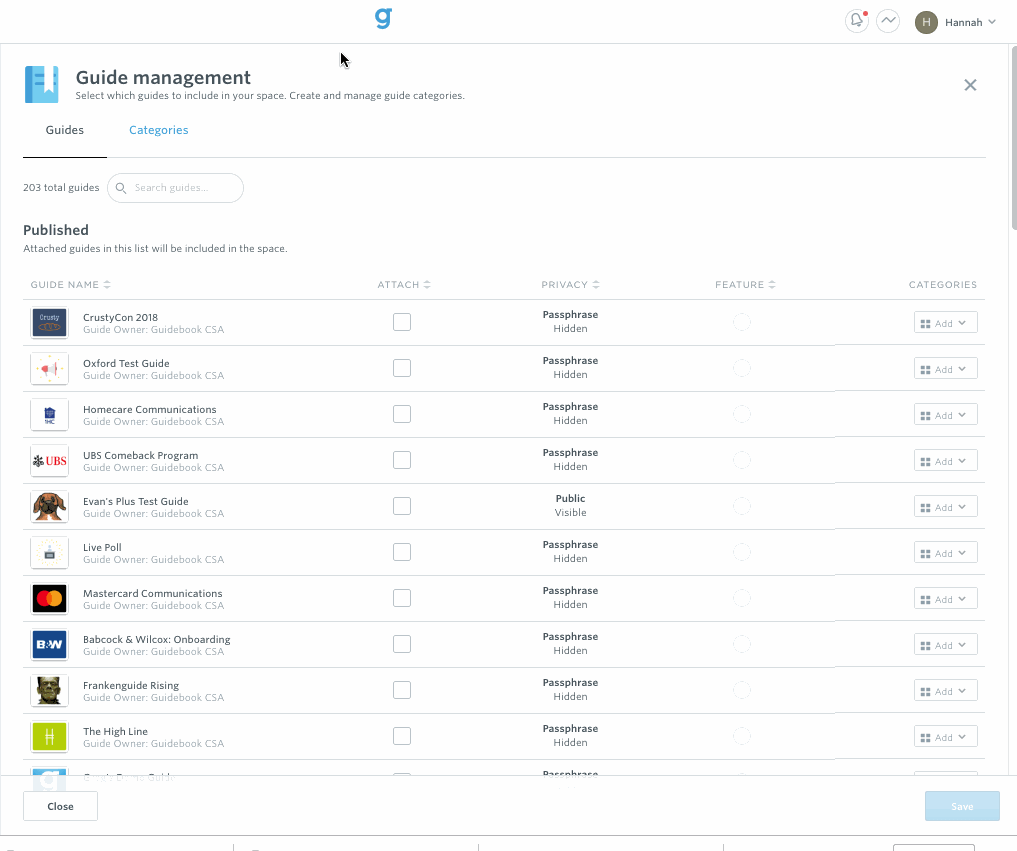 ---
The majority of the app is built within App Management. You'll see three tabs within App Management:

"App store info" includes App Name, App Short Name, Preview Description, Full Description, Product Features, and Keywords. Each section provides the character limit under the section title, and under each text box there is a brief description of the content.
"Images" is where you will upload the logos for your app (App Icon, Promotional Image, and the Splash Screen). There is a description that includes necessary dimensions and some brief information about the image. As well, there is a picture of where the image appears on a mobile device. Click on the pen icon to pick an image to upload.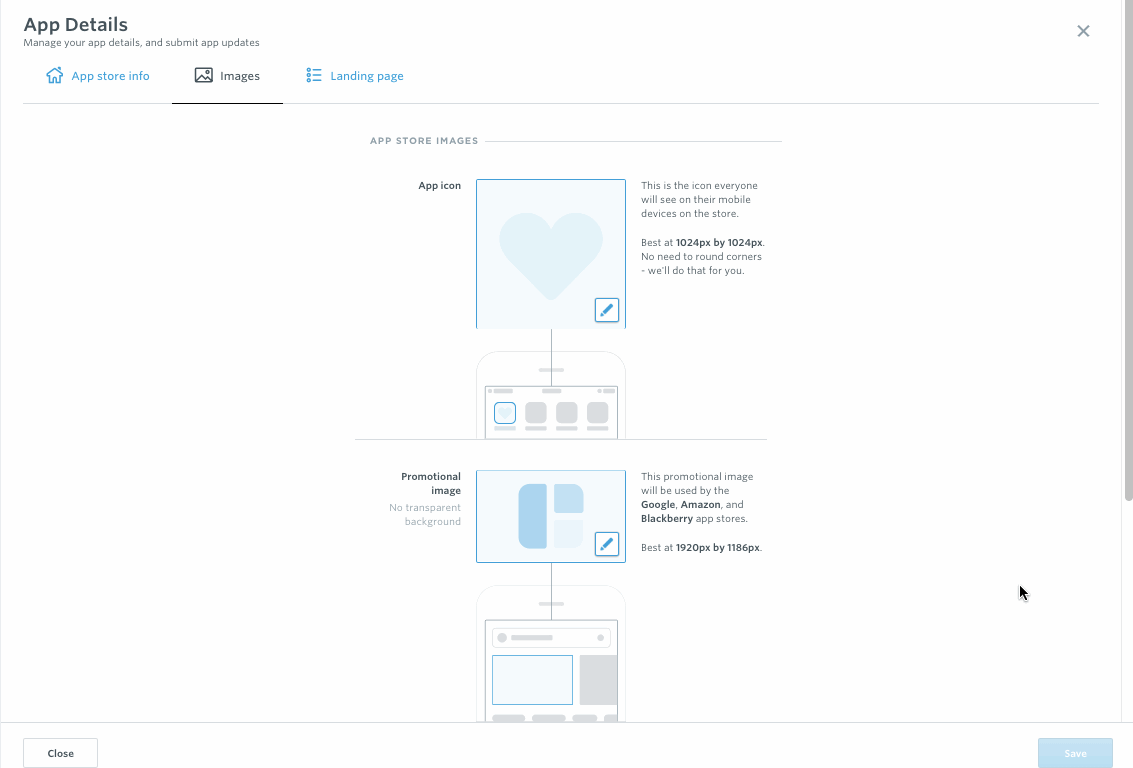 "Landing Page" includes the landing page name and the landing page short name. These are the same as what you filled out in "Details."
---
Metrics
The Metrics section becomes available once you've attaches guide(s) and the app is in the app stores. You are able to access data on app and guide downloads, guide sessions, and more. Click here for more information about App Metrics!
---
Once you've chosen your theme, filled out Details, and selected Guides to be attached to your space (at least one must be attached), the "Submit Space" button in the left column will no longer be grayed out. When you submit your space, it will be live in the Guidebook app immediately! You can change anything about the space at anytime, just remember to re-submit so the changes are published.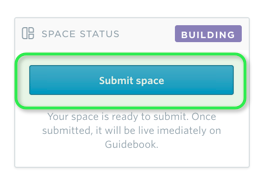 Submitting Your App to the Stores
So you've named your app, added all of the colors/logos necessary, and are now ready to reveal it to the world. Remember that at least one guide needs to be attached to your app before you can submit! Simply click the 'Submit for Review' button from the app dashboard and we will take it from there!
Clicking this button tells our team that your app is ready to be QA tested, then built and submitted to the stores. This may be your first go at building your own app, and we want to make sure you blow your audience away, so if we see any glaring color scheme or logo issues we will reach out to you.
Our team generally reviews and approves apps in ~1 day. Apps go live on Android in 1-2 days and iOS in 5-7 days.
Once you click 'Submit for Review' we will ask for one final confirmation. Please note that after this point, unless your app gets rejected, you will not be able to make any modifications to it until it successfully gets through the app store. 
Click Submit: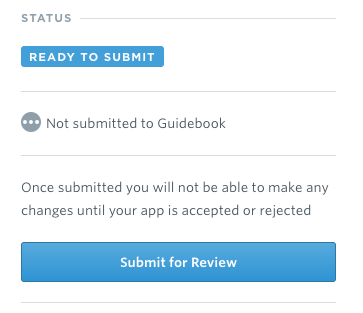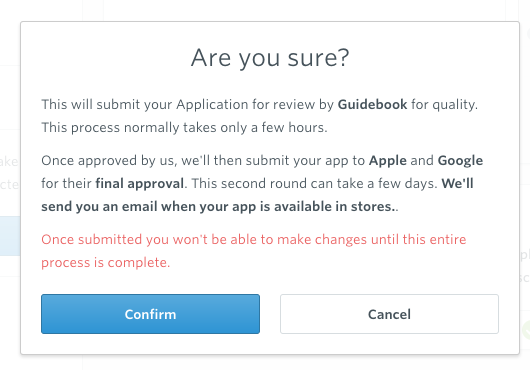 ---
Let's build an app from scratch (it's quick and easy)! If you're building a space, all the steps are the same except you don't have to worry about the App Management card!
Theme: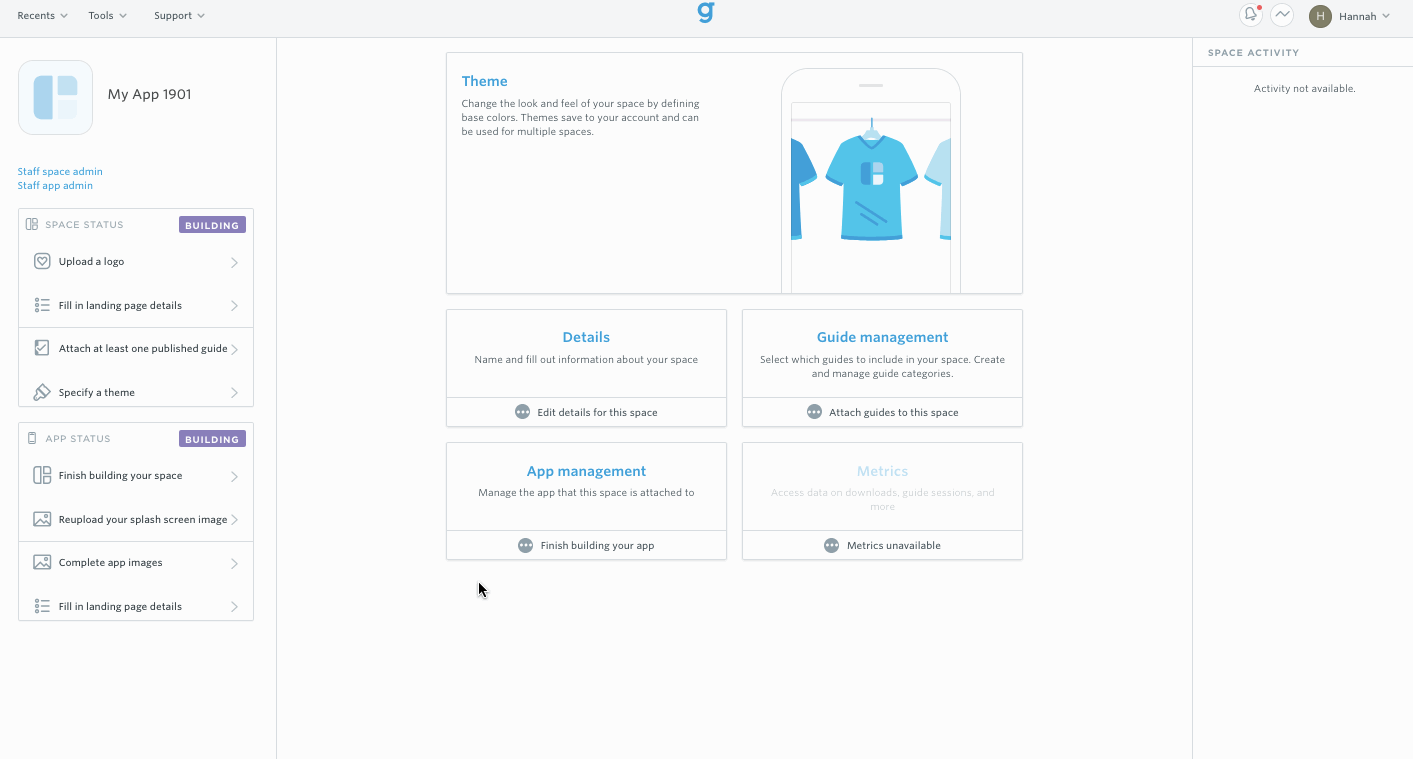 Details: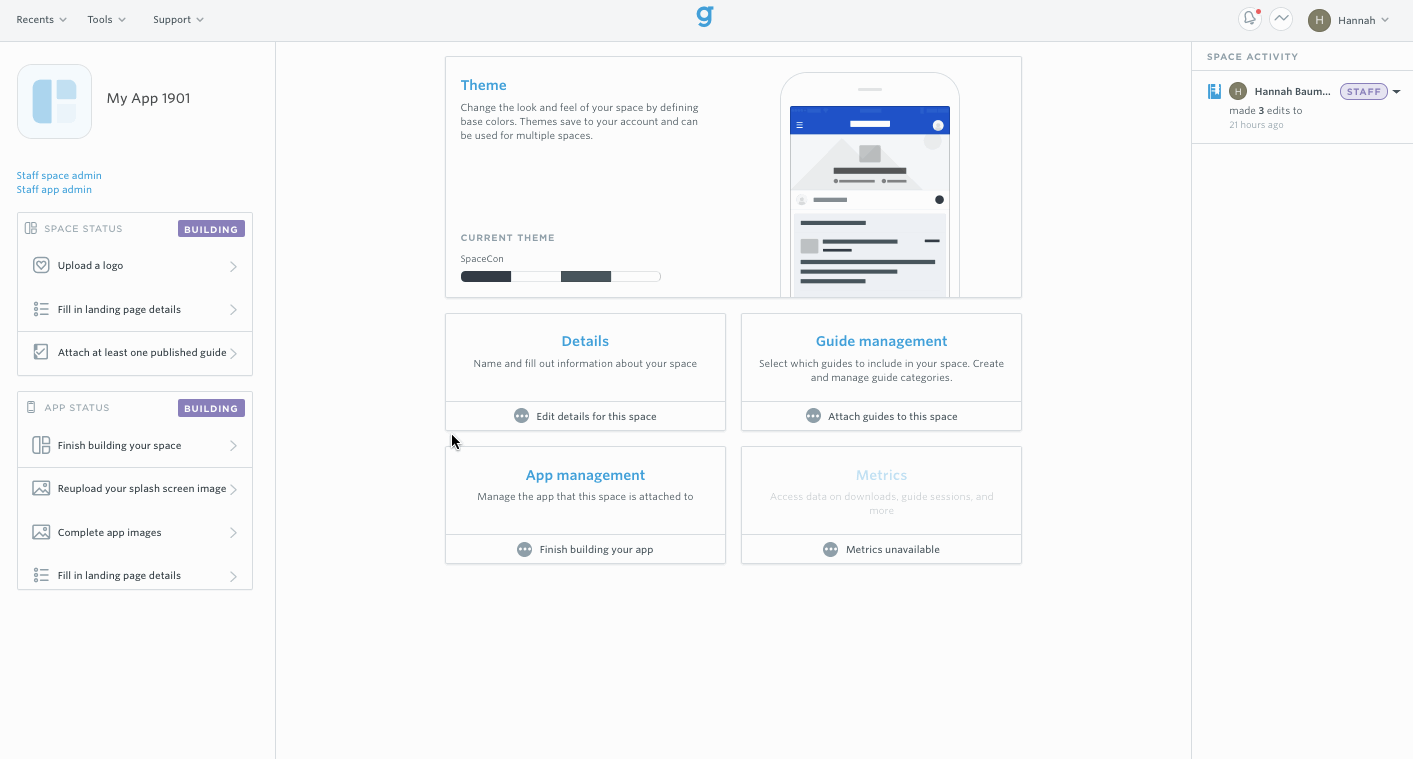 Guide Management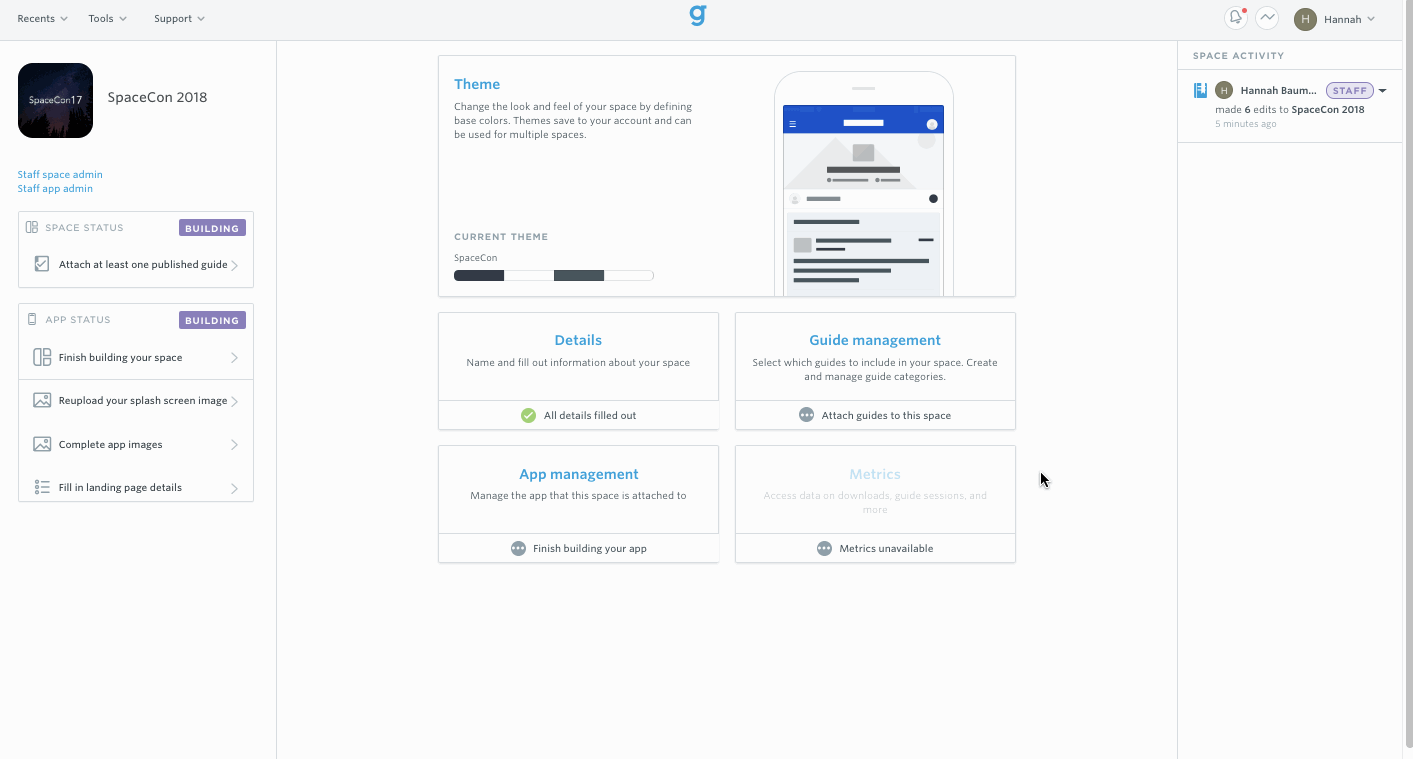 App Management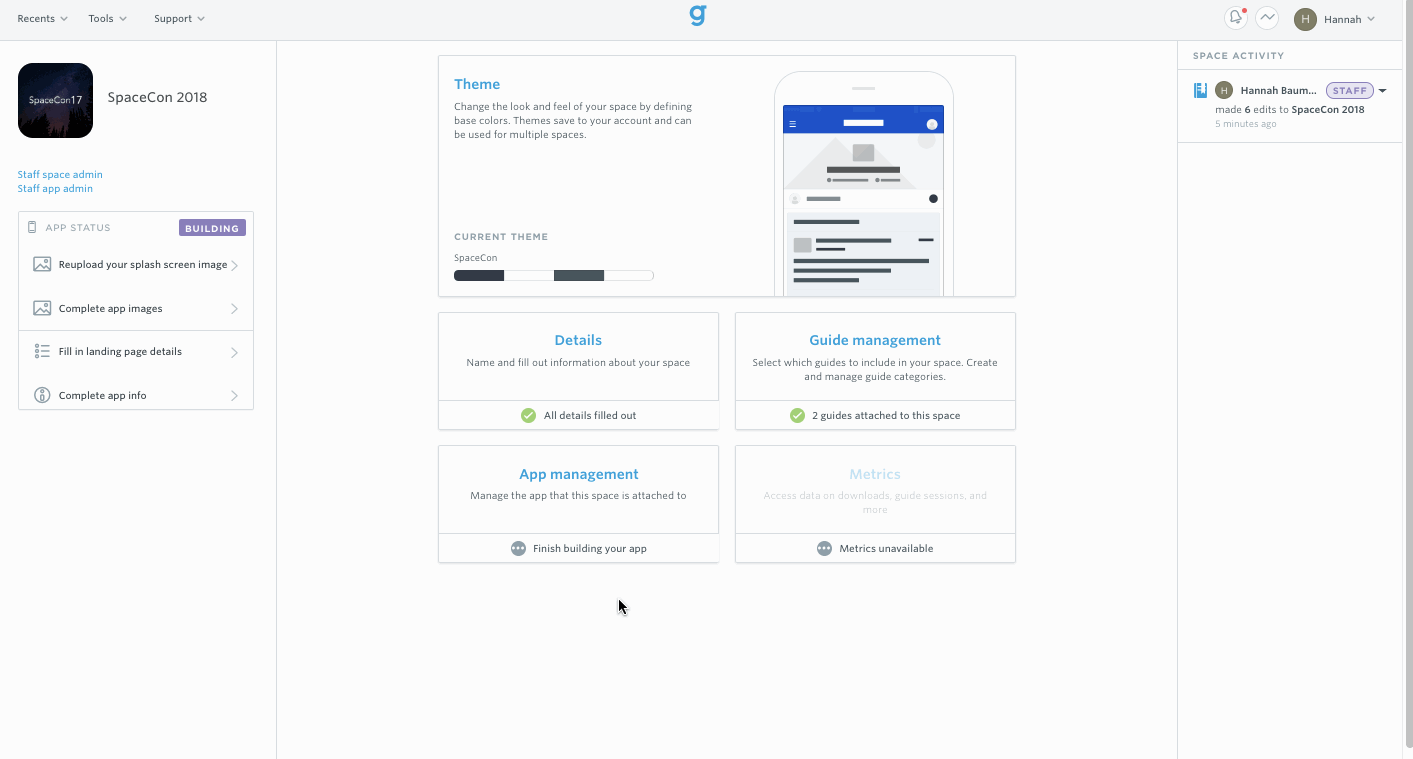 Submit!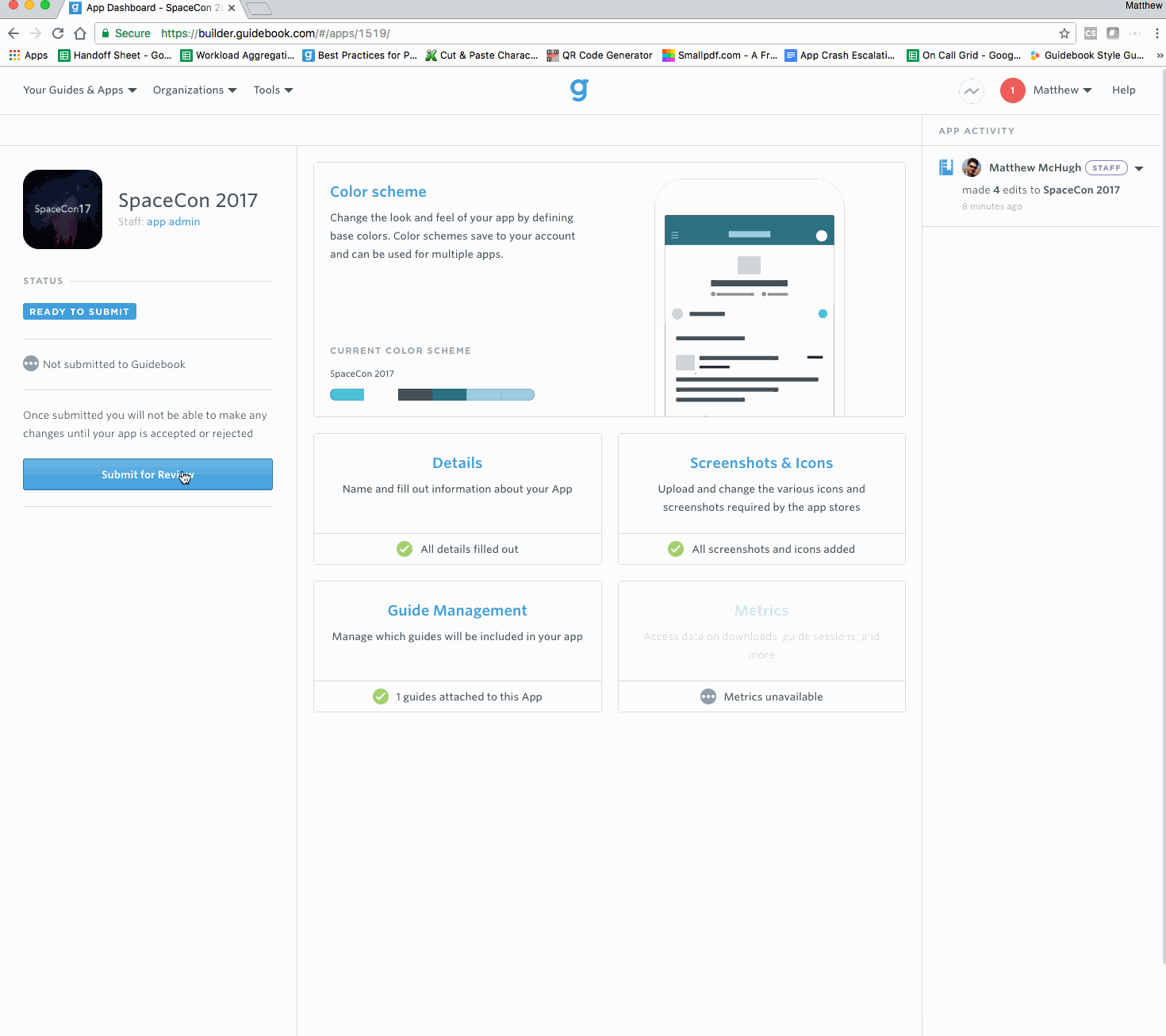 ---
Should I use a Single Guide or Multi Guide App?
Let your account manager know which of these two types of apps you would like to have in the app stores (the price is the same).
A Single-Guide app loads a single guide seamlessly upon launch. A Multi-Guide app allows the user to choose from multiple guides.
If you're not sure yet about which type of app you want it to be, you can always change it until you submit the app for publication. After that point, and once the app is live, you will need to resubmit it in order to change the app type (approval could take 5-7 days).
I would like to have a branded app through Guidebook, and I've heard about needing an Apple Developer account. Can you describe what this means?
Apple created new regulations in early 2018 that requires any app in their App Store to be owned and developed by the company or school for whom the app is built. So, all branded apps through Guidebook must go through the process of creating an Apple Developer account so we can transfer ownership of the app to you. From there, we manage the app like we always have. There are more details about the process here.
My App Management card is grayed out; why is that happening?
The App Management card is grayed out when the app is awaiting approval from the app stores. You are not able to make changes while the app is awaiting approval. Please reach out to your Guidebook contact if you have further questions.
Which changes require an app update and which changes happen instantly?
Theme changes happen instantly, as well as anything you are updating in specific guides. App images, text, and changing from a multi guide app to a single guide app, or vice versa, require an app update.